Where to Stay on Santorini
Top Tips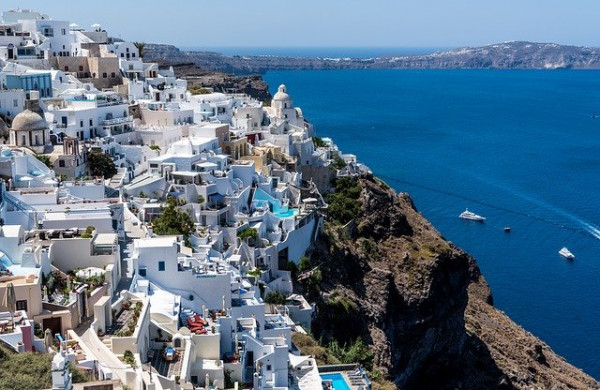 Michelle Maria from Pixabay
The Hotel Guru's guide to where to stay on Santorini has practical advice and recommendations about Santorini's main towns and centres — just what you need to help you decide which one will be the perfect base for your visit to this spectacular island. Whether you're here to admire the unique white, cubist architecture, soak up the sunsets across the caldera, spend time on black and white beaches, visit her wineries, archaeological treasures, or buzzing tavernas, or a combination of all of this and more, there will be some towns and centres offering you more than others. Plus they're all so beautiful it's difficult to choose on photos alone…
Guide to Santorini's Towns and Centres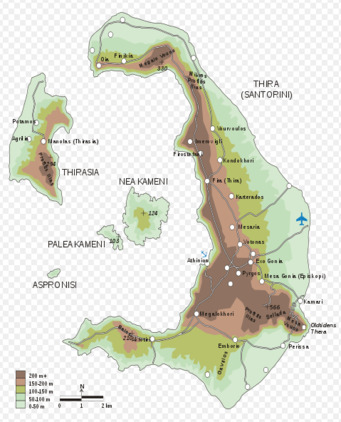 FinnWikiNo, CC BY-SA 3.0 via W
Santorini is one of the destinations most likely to appear on bucket list the world over. Anyone who has seen a photo of her dramatic volcanic cliffs in that near perfect arc of flooded, bright blue volcanic caldera, contrasting perfectly with bright white cubist architecture, will find it hard not to be drawn into investigating further. It's not just about the totally unique surroundings, and the incredible sunsets, Santorini is also known for its ancient vineyards and wineries — despite having only a single fresh waster spring; for its beaches, which have sand coloured red, black and white; its architecture and cave dwellings; and its incredible historic sights, including a 3500 year old Minoan town preserved, like Pompeii, in volcanic ash, and several serene historic monasteries. Santorini is also a fantastic place for diving and snorkelling.
Santorini isn't large, and you can easily walk between many towns, centres and highlights. You probably won't want to walk all the time though, some of the walks are beautiful, but long. For the return journey there's a choice of buses, which are inexpensive, but not always easy, comfortable or reliable; taxis, which might surprise you by offering a shared ride in the busy season, or a rental car.
Thira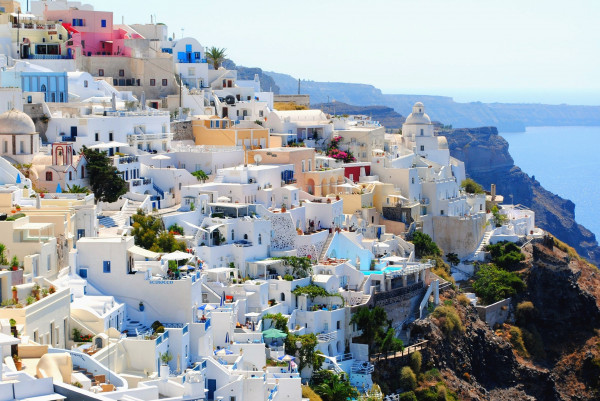 You might read about Thira as Fira or Thera, but they're all the same place: Santorini's main town, located in a really central position, on the top of a cliff overlooking the caldera. Thira isn't Santorini's most spectacular town, but it's still pretty amazing by global standards. And it's Santorini's transport hub. Most people will arrive on Santorini at the Old Port below Thira, and have the choice of coming by cable car or donkey ride up the 558 steps. Thira has narrow streets between white Cycladic villas and hotels, behind which there are shops, bars and restaurants. There's also a good range of boutique-y shopping, and some really excellent bakeries in Thira. The Museum of Prehistoric Thira is one of the largest museums on the island, and packed with relics from a variety of communities who have lived on the island, including Akrotiri. The Metropoli Church is unmissable, just because it's such a landmark; the other main landmarks are the Catholic Cathedral and Megaro Gizi. One of the most scenic streets for a stroll is Agiou Mina Street. You're 20 minutes by bus from Oia, or about three hours walk. All routes to Oia become crowded as it gets close to sunset, but the views from Thira are fabulous too.
Pros and Cons
Pros: spectacular views, central location, lots of places to eat and drink, relaxed vibe, luxurious accommodation, transport options, good shopping
Cons: some places are over-priced because it's such a tourist hub, cruise ships can make it busy
Ideal For: romantics, couples, families, history-buffs, shoppers, night-owls
Discover our recommended hotels in Thira, Santorini.
Oia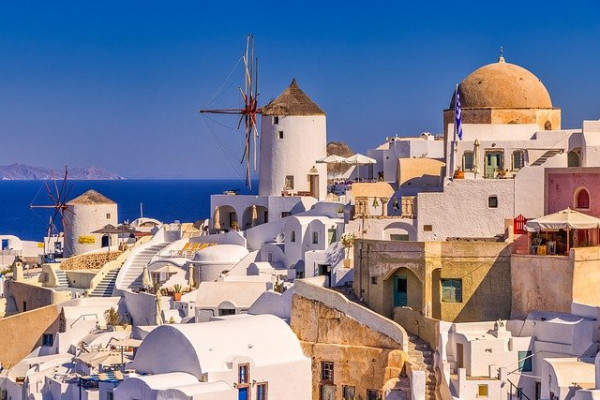 nextvoyage from Pixabay
Oia, is the town everyone is heading for at sunset, a charming little village at Santorini's northern arc, with sea views both to the west and east — which means it's spectacular at both sunrise and sunset. Part of the reason the view is so incredible is that it includes the cascade of sugar cube architecture that are Imerovigli and Thira. Oia is on the route of many cruise ships, so it's busy in the afternoon, but quieter at other times, and there's quite a bit to see along its meandering streets and lanes: interesting architecture, caldera views, a Maritime Museum, and a beach at Armeni Bay. This is a steep town to get around, and some parts can only be reached on foot — they still use donkeys to take the rubbish out, and you can use a donkey yourself too, if you need help. The road between Oia and Thira is meandering, to say the least, and many of the people using it aren't local drivers, so it can be more of an adventure than you might like. There are shuttle buses and taxis available too, and it's also an option to sail between ports.
Pros and Cons
Pros: spectacular, romantic, scenic, lots of places to eat and drink, luxurious accommodation
Cons: cruise ships are regular day visitors, sunset-visitors mean you might need to stake out your table for an evening meal — western side, remember
Ideal For: romantics, bucket-listers, couples
Discover our recommended hotels in Oia, Santorini.
Imerovigli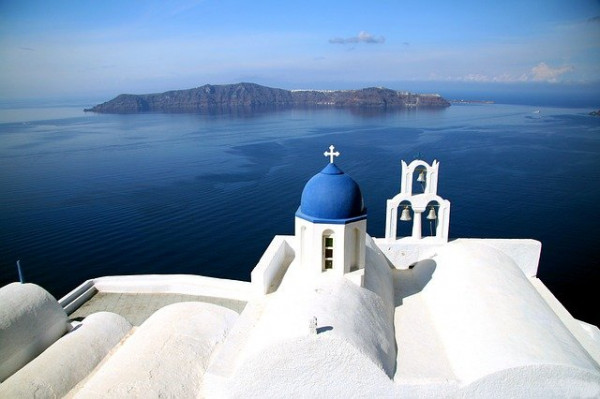 Klaus Stebani from Pixabay
Imerovigli is between Thira and Oia, and it has views of both. It's only two kilometres from Thira, but it's smaller and a lot more peaceful, so it doesn't just feel like an extension of the main town. Imerovigli also seems to have more notable buildings. There's a number of very beautiful Cycladic churches, Ai-Stratis and the Monastery of Saint Nikolaos being two of the most memorable, plus a 13th century Venetian castle, built by Marco Sanudo, who was, at the time, the ruler of the Cyclades. Imerovigli has great access to the bars, restaurants and nightlife of Thira, without the bustle associated with being in the thick of things, but it's also got a great collection of bars, restaurants and tavernas of its own, and its sunset views are almost as impressive as Oia's.
Pros and Cons
Pros: relaxed, peaceful, picturesque, incredible views, interesting architecture, small collection of bars, restaurants and tavernas
Cons: quiet, requires walking
Ideal For: romantics, couples, peace-seekers
Discover our recommended hotels in Imerovigli, Santorini.
Akrotiri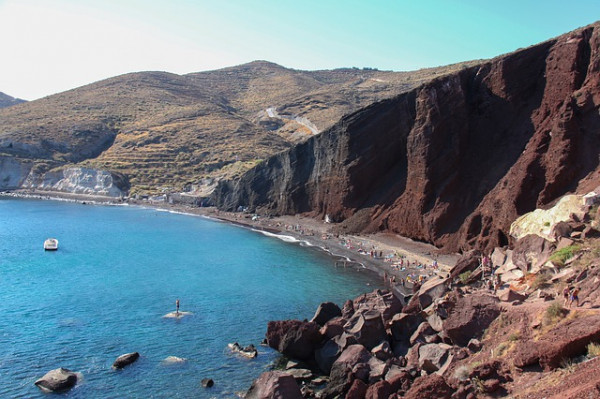 Pat_Scrap from Pixabay
Akrotiri is on the southwestern tip of Santorini, beside high caldera cliffs and a scoop of red sandy beach, from which you get amazing caldera views. This isn't a touristy, developed village, though, it's mostly known for the Bronze Age settlement of the same name, which is currently being excavated, just outside the modern town. Ancient Akrotiri was destroyed by a volcanic eruption in 1627BC, at the time it would have been home to about 5,000 people, and, like Pompeii, it was covered in ash, which has preserved so much of what the town looked like, including incredibly coloured frescoes. Modern Akrotiri might be undeveloped, but it's not without charms, and its castle, collection of tiny churches, plus its beach and fish tavernas make it a really fascinating place to stay. You can catch a bus or taxi in and out of Akrotiri, but there's also a water taxi.
Pros and Cons
Pros: historic site, major sights, peaceful, close to a great beach, collection of charming tavernas
Cons: quiet and out of the way
Ideal For: history-buffs, visitors wanting to stay somewhere unusual
Discover our recommended hotels in Akrotiri, Santorini.
Kamari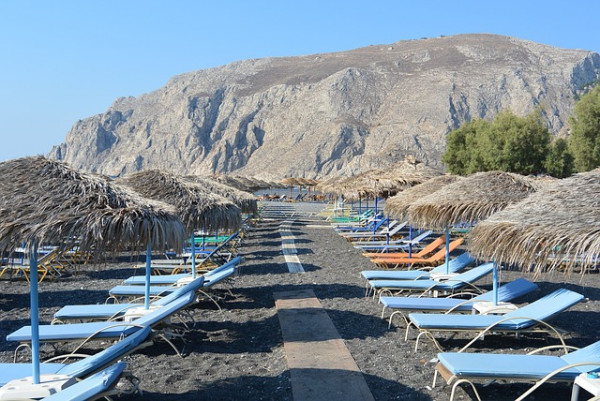 eartner from Pixabay
Kamari is a seaside village/resort on the southern side of Santorini, with a black pebble-y beach and a relaxed, but fun, vibe. As well as being beautiful, and by the sea, there are a few big draws to Kamari: its proximity to the airport; its proximity to Ancient Thira; and its fun, seaside resort atmosphere, complete with watersports, great bars, tavernas and restaurants. You can get here by road, but also by boat or water taxi, and Perissa especially is very close, just around the headland.
Pros and Cons
Pros: beach-side, resort atmosphere, watersports, airport adjacent, great bars, tavernas and restaurants
Cons: noise from the airport, not well connected to public transport
Ideal For: fly-and-floppers, beach-lovers, fun-seekers
Discover our recommended hotels in Kamari, Santorini.
Perissa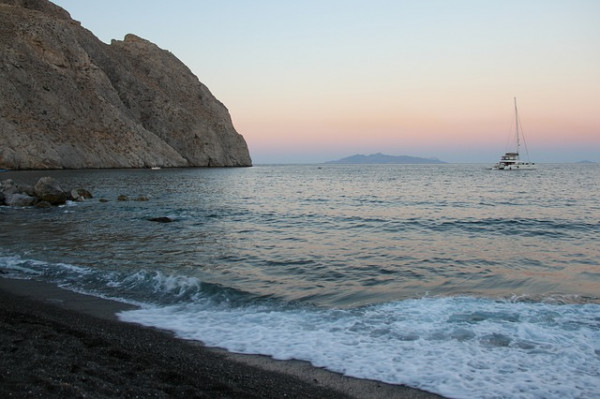 Pat_Scrap from Pixabay
Just around the headland from Kamari, Perissa is another black sandy beach with great watersports facilities. Although they're so close, it's quite an arduous walk between Perissa and Kamari, though it is via Ancient Thira, which sits atop the headland in between them. This is an incredible place to visit, but not usually busy. Perissa isn't as lively as Kamari, but it still has a good selection of restaurants, bars and tavernas, and you have similar road access to the rest of the island — and boat/water taxi access too.
Pros and Cons
Pros: beach-side, peaceful, good choice of places to eat and drink, watersports
Cons: quiet
Ideal For: fly-and-floppers, beach-lovers, family seaside holidays, value-seekers
Discover our recommended hotels in Perissa, Santorini.
Megalochori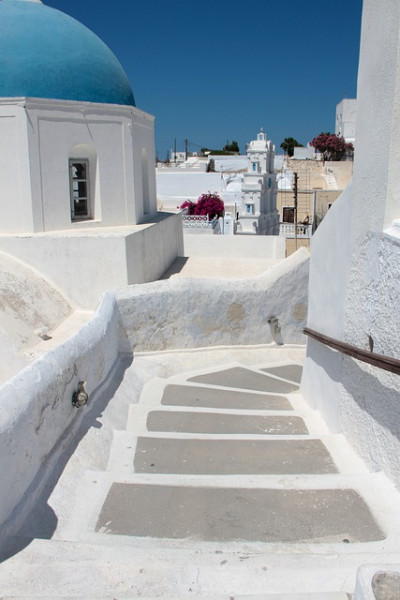 Pat_Scrap from Pixabay
Megalochori is a quiet, traditional looking Cycladic village on a hilltop, surrounded by vineyards. It's a narrow, rocky route up to Megalochori, but once you get there there's a charming central square lined with tavernas, a collection of beautiful, blue-domed churches and bell towers, and a village-worth of cream and white villas in the traditional style. This is a great place to taste wine, to learn Greek and to learn to cook, or sing. Each time you arrive or leave there's that steep, narrow road to contend with, but the bus still makes it though!
Pros and Cons
Pros: peaceful, traditional, vineyards, great place to learn
Cons: remote, quiet
Ideal For: food and wine lovers, an island escape, couples, visitors wanting to stay off-the-beaten-track
Discover our recommended hotels in Megalochori, Santorini.
Pyrgos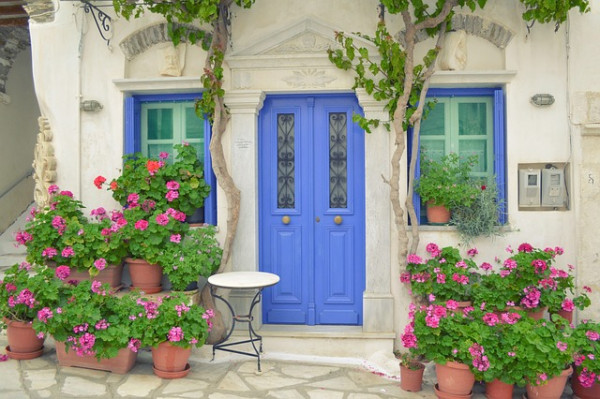 DanaTentis from Pixabay
Pyrgos is a small village built around a hill in the centre of Santorini, looking something like an amphitheatre in its arrangement, and with incredible views of the whole island and the ocean beyond. At the very top of the hill are the ruins of a Venetian fort or castle, and just below it there's a beautiful monastery. There's a path from Pyrgos to Ancient Thira, and then on to Perissa and Kamari beyond.
Pros and Cons
Pros: traditional, spectacular, great views, peaceful
Cons: small, very limited places to eat and drink, remote
Ideal For: peace-seekers, couples, visitors wanting to sample authentic Santorini
Discover our recommended hotels in Pyrgos, Santorini.
Search the best hotels in Santoríni