India's Best Summer Hill Station Escapes
If you think of India as being "off season" during the summer months, think again. As the country's thermometer begins to resemble that of cooking instructions, summer is in fact the perfect time to visit some of India's best hill station getaways. Benefitting from cut-price rates stay in colonial retreats, five star spas, secluded hideaways and traditional homestays: there really is something for every traveller, throughout the year. Browse our list of the best summer hill stations in India and start to plan your getaway.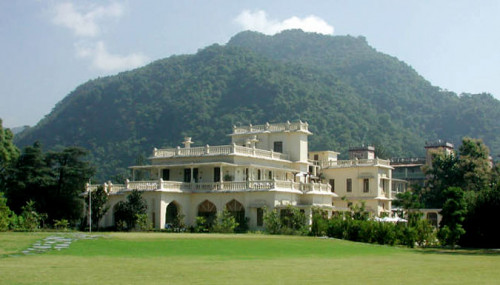 Popular amongst Delhi-ites owing to its close proximity and accesibilty you are spoilt for choice, with hotels, homestays and resorts in Uttarakhand. From the natural beauty of Almora, the heritage properties of Mussoorie, Nainital and its surrounding areas to Rishikesh's famed wellness retreats. Epithetically known as 'The Land of The Gods' it has an authentically spiritual feel which many travellers are drawn to.
For spa breaks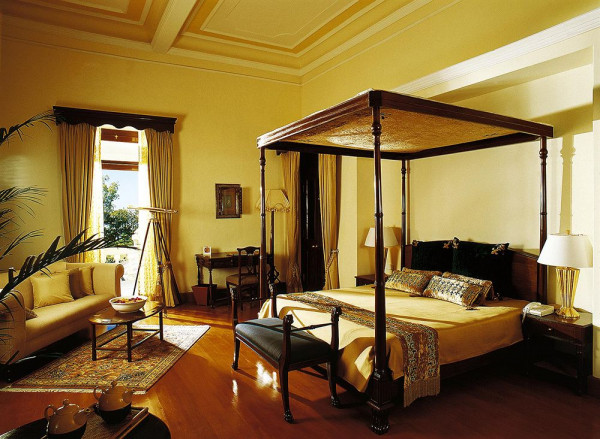 Between the two of them, Ananda in the Himalayas and Vana Malsi Estate, have won many a wellness award and provide five star luxury spa breaks. The former providing Ayurvedic treatments in the erstwhile maharaja's palace; the latter a unique amalgamation of traditional Tibetan panaceas and sleek contemporary living spaces.
With an authentic approach to homeopathic healing AyurVAID Kalmatia provides a picturesque hideaway in the Kumaoni hills. Offering Ayurvedic diagnosis, menus and treatments as well as yoga and meditation.
Both Raga on the Ganges and Marriott Mussoorie Walnut Grove Resort & Spa boast modern interiors with fabulous views. You will not want (or need) to leave!
For a colonial stay
Popular spots during the summer months both Rokeby Manor and The Retreat will transport you into another era with their classic décor and menus.
Historic with modern twists, Neemrana's Glasshouse on the Ganges is the perfect place to park yourself for a stay in Rishikesh.
For romance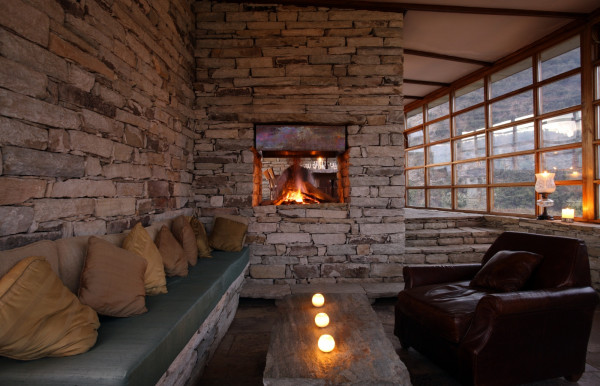 If you want a room with a view then Jilling Terraces and Leti 360° boast unspoilt vistas right from the comfort of your own bed.
Whilst Mary Budden Estate provides cosy and secluded cottage accommodation,
Te Aroha's charmingly decorated rooms, complete with four posters are simply made for romance.
For the perfect homestay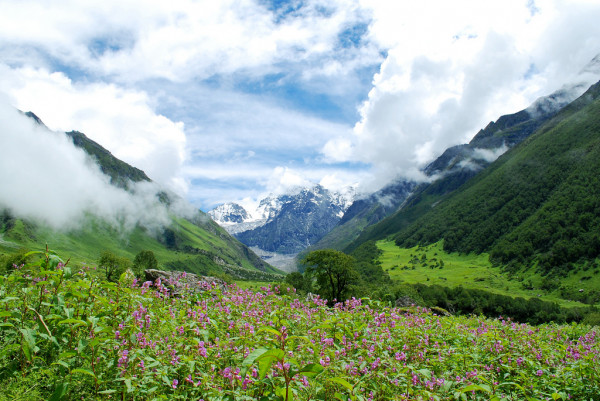 With quaint rooms and idiosyncratic owners both The Cottage and Fredy's Bungalow provide unique stays.
Or experience Kumaoni village life in the ultimate comfort at Dalar Village Homestay.
Traditional interiors and what is widely considered one of the best private gardens in all of Uttarakhand, Shaheen Bagh is homestay perfection.
For total relaxation
The clue is in the name with Soulitude in the Himalayas and Soulitude by the Riverside. Providing chic accommodation with a holistic approach towards tourism and the environment, both properties are good for the soul and their surroundings.
Uninterrupted views of the Ananda Devi mountain range on a good day, in room fireplaces and picturesque walks galore: Mohan's Binsar Retreat is the place to get away from it all.
A melting pot of cultures and religions. From the mountainscapes of Ladakh in the east, to "The Valley of Flowers", ski resorts, and floating lake villages of Kashmir to the west.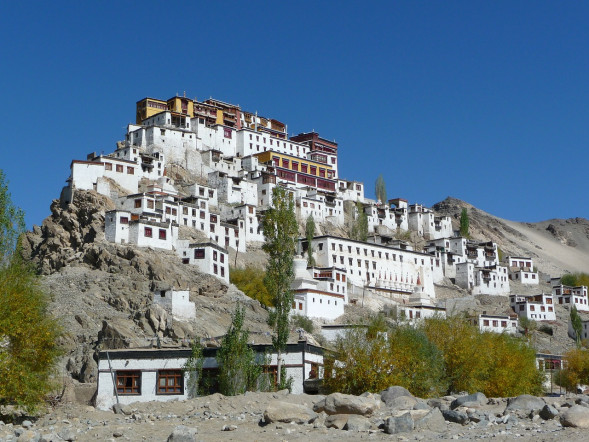 For heritage lovers
Located in a traditional village house, Nimmu House's accommodation is spread between the old house and chic tents dotted around its walled gardens. A great little find.
In the loving hands of the Nedou family since the 1960s, Hotel Highlands Park provides a stay in Gulmarg with plenty of history, divine interiors and delicious cuisine.
Famed for being the boat on which John Lennon learnt to play the sitar with the late great Ravi Shankar, Butts Clermont Houseboats has got plenty of stories to tell. And is a great stay on Dal Lake!
For a regal stay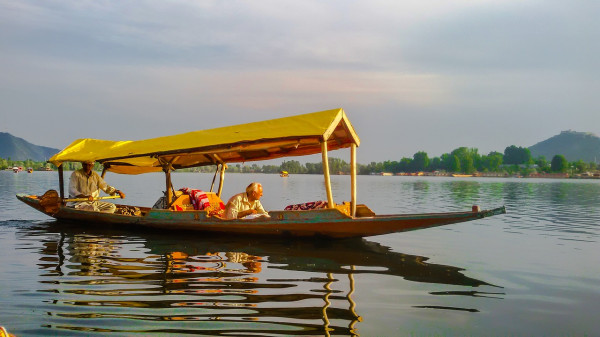 Still the residence of the current king, Stok Palace, whilst not to everyone's taste, is the ultimate, authentic Ladakhi stay.
The former home of the royal family of Kashmir, Lalit Grand Palace is a superb art deco stay, with first class views over the Dal Lake.
For ultimate luxury
Glamping fans, look no further than the Chamba Camp, Thiksey. Stunning views, colonial interiors and five star food. Nothing here is too much to ask.
Offering slopes for the adrenaline junkie and spa for the wellness enthusiast the Khyber Himalayan Resort and Spa provides something for all interests. That, plus indulgent rooms, menus and mountain views.
Right on the Dal Lake Vivanta by Taj - Dal View makes the most of its location with unspoilt vistas. Expect the usual world class Taj service and stylish interiors.
For back to nature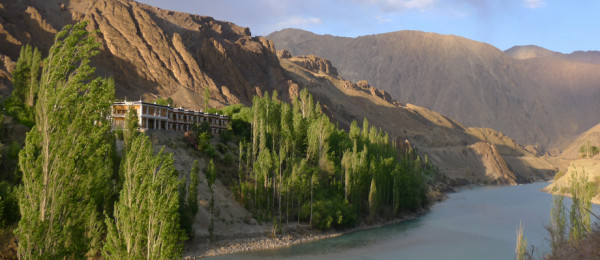 Right on the Indus River The Apricot Tree enjoys an enviable position. Rooms are comfortable and feature private balconies. Great for walking, cycling and trekking.
For a boutique stay
Kashmir's first eco-friendly, boutique houseboat Sukoon is changing the way things are done around here. A great option with colourful rooms. A houseboat favourite!
For a homestay experience
Srinagar, with its houseboats aplenty can be a bit of a tourist trip, but Mahatta Home Stay, run by the charming Anita Mehta, ensures that guests have an authentic and relaxing stay. All at a great price.
Enjoying a year round temperate climate Coorg, a picturesque drive from Bangalore is worth the trip at any time of year. Famed for its beautiful inhabitants, they reflect the surrounding scenery.
For an eco stay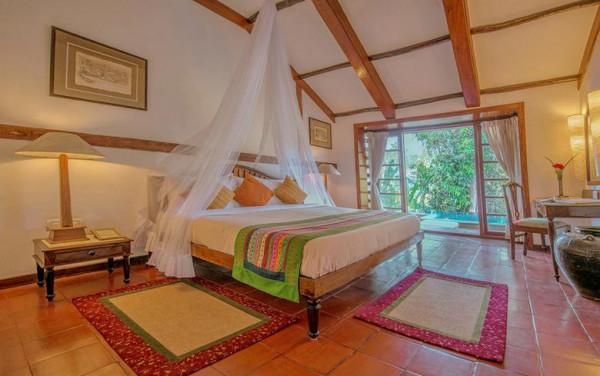 Spa break, romantic retreat and eco stay, Orange County has it all. Stay in private bamboo huts and dine on top class, locally sourced dishes.
For spa breaks
One of our favourite Taj properties and certainly one of its most handsome, Vivanta by Taj – Madikeri is consistently winning hotel awards: best pool and best spa to name a few.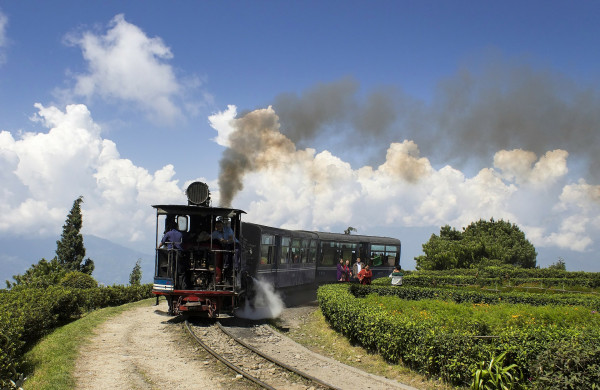 Beautiful in the monsoon and boasting an almost year round temperate climate Darjeeling has always been a favourite amongst those trying to flee the heat. Tea estates and charming colonial bungalows aplenty, it boasts some excellent accommodation options.
For a heritage stay
Transporting you into another century Windamere Hotel and Mayfair Darjeeling are the last bastions of a bygone era. What remains are classic interiors and silver service.
The former summer residency of the ruling Maharaja, The Elgin enjoys fabulous views and original grandeur.
For a homestay experience
Very simple but totally charming, what Makaibari Homestays lacks in luxury it more than makes up for with authenticity. A great opportunity to stay on a working tea estate.
For a luxury stay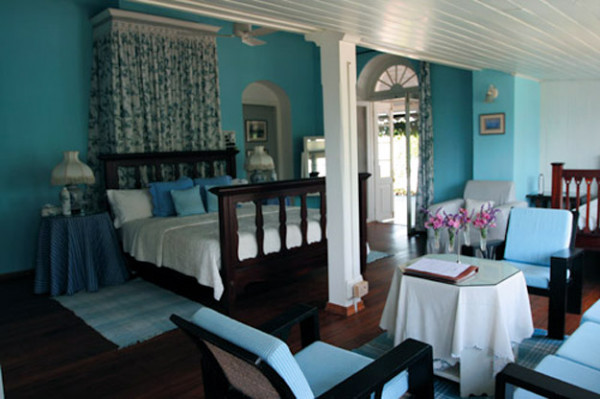 The best accommodation option in the area, without competition Glenburn Tea Estate is the reason many come to Darjeeling. Utterly delightful rooms, filled with antiques.
Popular amongst Bombayites and Pune locals, owing to their close proximity, both Lonavala and Matheran make superb weekend getaways. The former famed for its production of delicious chikki sweets and the latter, India smallest hill station, for its eco-credentials and 'no car' policy.
For a heritage stay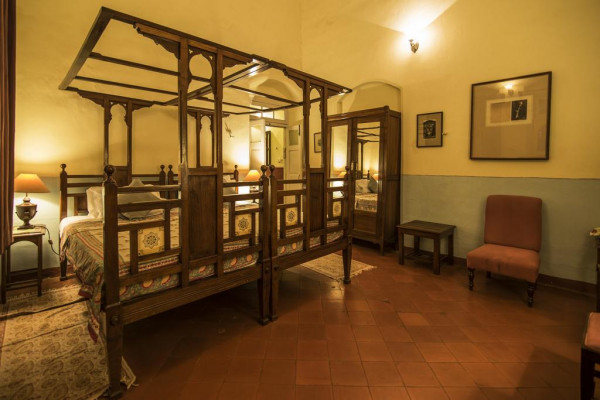 The 19th century Verandah in the Forest perfectly combines colonial and Indian décor. All for an absolute steal of a price.
For value chic
Providing individual cottage accommodation on a full board basis Lords Central Hotel is excellent value and very popular amongst families.
For families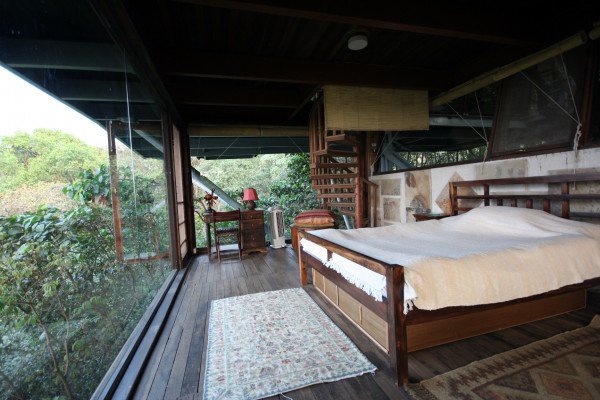 Children will love the tree house accommodation at The Machan, which literally translates as 'tree house' in the local tongue; whilst all ages will love the enveloping nature.
For a spa break
An indulgent stay in this low key hill station the Hilton Shillim Estate Retreat & Spa is the perfect getaway for total indulgence. Boasting 150 treatments you'd have to stay a while to go through them all!
Coonoor and Ooty are both unapologetically colonial. Home to some of the country's best schools and the famous Nilgiri Mountain Railway there are some truly charming places to stay in these antiquated hill stations.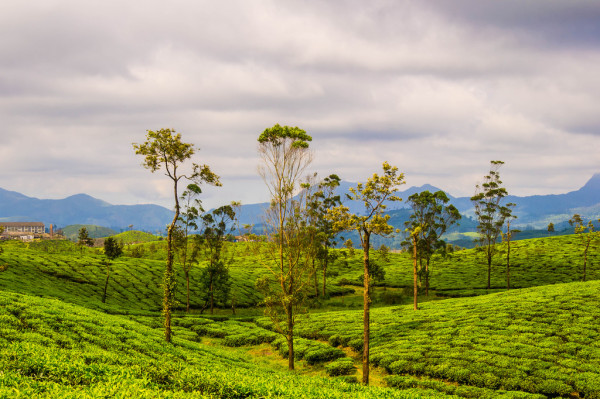 flickr user Kumaravel
For a heritage stay
A stay at Sherlock Hotel involves dining next to a crackling Victorian fireplace, high tea out on the lawn and other such period trappings,
whilst Taj Savoy Hotel boasts cosy cottage accommodation amidst six acres of manicured lawns.
For an eco stay
No AC here, owing the fact that Dindigul enjoys a year round temperate climate, Rajakkad is all about sensitivity to the local environment. A working tea estate, farm and boutique hotel it is a hill station escape in the truest sense.
"The Abode of the Clouds", Shillong is the state's most popular destination, whilst still remaining relatively unspoilt by the tourist trail.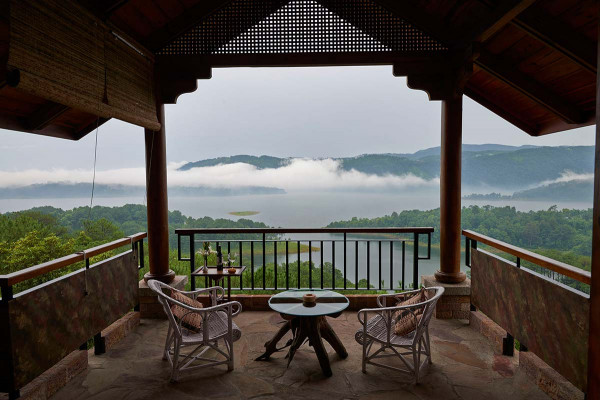 For a room with a view
Overlooking the Umiam Lake, Ri Kynjai makes the most of its beautiful setting with serene verandahs and rooms made for lingering. A truly relaxing escape, all year round.
India's second most popular state for hill station getaways, Himachal Pradesh is home to plenty of great stays: from an action packed few days in Manali or a country retreat in Kasauli; to a colonial stay in Shimla or spiritual experience in Dharamshala.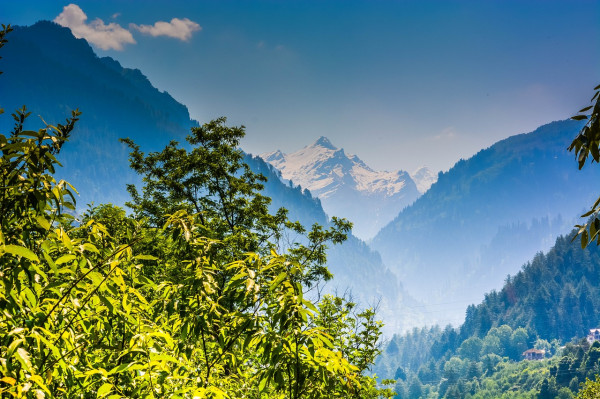 For a homestay experience
With a warm welcome and plenty of chintz, Urvashi's Retreat is a home away from home. Surrounded by apple orchards and mountain views it enjoys a picturesque setting too.
It might be a homestay but the food at 7 Pines surpasses "homecooked". Menus and décor to die for and a charming rose filled garden.
Value Chic
Well priced and offering activities galore, Johnson Lodge is a great little find – especially popular with families.
For a heritage stay
Popular amongst the British 130 years ago The Oberoi Cecil still attracts quite the crowd. Wood panelled dining room, billiards - even the swimming pool has exposed wood beams!
Home to Shimla's most popular restaurant and some grand interiors, Chapslee has been wowing guests for generations.
For a luxury stay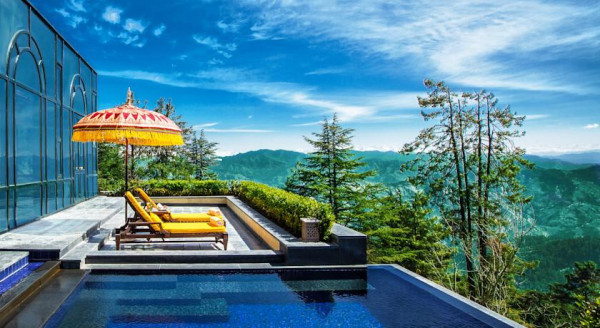 The best hotel in Shimla without comparison Wildflower Hall boasts divine interiors, indoor and outdoor pools and an utterly indulgent Oberoi spa.
Excellent value for such levels of luxury The Himalayan, behind its ostentations neo-gothic façade has cosy rooms with four posters and fireplaces. Delightful.
For a spiritual escape
Located just outside of Dharamshala, home to the Tibetan government in exile, Hotel Eagle's Nest is a luxurious yet authentic spiritual haven. Eight sumptuous suites are individually themed.
Spa breaks - One the most renowned spas and arguably the best in the world for Ayurvedic treatments.

Local markets - The town of Rishikesh is awash with shops and stalls selling local handicrafts and religious artefacts.

Private Hot Tub - Book the Vicregal Suite for your private terrace with hot tub

Sights nearby - For music fans The Beatles ashram is worth a visit.

Former palace turned luxury spa retreat. Rooms are decorated in natural palettes of creams and greens, all have balconies. The restaurant serves healthy cuisine and there is daily afternoon tea with sugar-free options. There is a pool, award winning Ayurvedic spa and fitness centre. See More

Check Availability

Vana Malsi Estate

Dehradun (Uttarakhand)

82 rooms from £462

Wellbeing

Restrictions on children - Guests must be aged 16 years and above.

Great walks - Around the estate's sprawling grounds.

Swimming Pool - Outdoor infinity pool

To call Vana a spa or retreat does not cover it; it is a philosophy. Combining ancient Indian and Tibetan traditions be transported into a realm of peace and tranquility. Rooms have natural decor and colour palettes and include private balconies. Cuisine is health conscious. Minimum seven nights. See More

Check Availability

AyurVAID Kalmatia

Almora (Uttarakhand,)

10 rooms from £98

Total relaxation - Yoga mats, a meditation park, plenty of hammocks, a well stocked library plus massage services - ideal for relaxation

Back to Nature - A walker's paradise you are ensconced by the sights and sounds of nature

Hideaway - Hidden away in the Kumaoni Hills this is a true country escape

Great walks - Through the rice terraces, Kumaoni villages and cedar forests. Utterly picturesque.

Wellness retreat hidden away in the Kumaoni Hills. Ten unique cottages allow ultimate privacy and mountain views. The emphasis is on wellbeing with a personalised vegetarian menu and wellness programme courtesy of the in house Ayurvedic specialist. Yoga and meditation also available. Unwind.. See More

Check Availability

Raga on the Ganges

Rishikesh (Tehri Garwhal)

31 rooms from £73

Views - Wonderful views over the surrounding countryside and the holy river Ganges

Swimming Pool - Outdoor pool

Secluded setting - For escaping.

Back to Nature

A design property and a perfect blend of active and pamper break. Boasting a spa with floor to ceiling windows and a bounty of excursions, there is something to suit every tempo. Rooms benefit from private balconies and are decorated in locally sourced woods and rich colours, with modern bathrooms. See More

Check Availability

Great walks - Camel's Back Road - Walking Trail

Local markets - Tibetan Market - Shopping area

Sights nearby - Bhatta Falls - Waterfall

Hideaway - Tranquil and intimate.

A luxury retreat in the heart of the Indian Himalayas. Spacious modern bedrooms, a large entertainment centre with expansive spa and fitness suite. Offers guests an elegant restaurant and conference space with stunning mountain views. A beautiful spot with plenty of activities for all the family. See More

Check Availability

Rokeby Manor

Mussoorie (Uttarakhand)

12 rooms from £98

Great walks - Parri Tibba (Witch's Hill)

Sights nearby - Khatling Glacier

Birdwatching - Har Ki Doon

Hideaway - Tranquil and intimate.

Rokeby Manor is a charming Himalayan hotel retreat with a quiet spa and outdoor hot tub. The hotel offers guests a number of suites and cosy bedrooms, including a three bedroom cottage. The restaurant has a homely feel and serves Indian and continental dishes. Enjoy peaceful evenings by the bonfire. See More

Check Availability

The Retreat

Bhimtal (Bhimtal, Uttarakhand)

3 rooms from £36

Back to Nature - Ensconced in the Kumaon region's tranquil nature, sonorous birdsong and ubiquitous lakes.

Great walks - Traverse the Lakeland Estate, a former British tea plantation.

Kayaking - On nearby Bhimtal Lake you can hire kayaks and pedalos.

Birdwatching - The Kumaon region is famed for its colourful birdlife.

Retreat to this charming 19th century colonial bungalow, which has been in the Smetacek family for decades. Owner Paddy knows the way to any guest's heart: through their stomach. The food is sublime. Rooms have barely changed since the 1950s and are filled with antiques. Leave the city life behind. See More

Check Availability

Back to Nature - Lying on the banks of the River Ganges this property reminds guests of the simpler things in life.

Sights nearby - Visit The Beatles' ashram, as it has now become known, where the group stayed in the 60's.

Local markets - Rishikesh market is a great place to pick up some trinkets to take home.

Birdwatching - There is an impressive variety of nesting birds along the river banks.

Another of Neemrana's faultless heritage hotels. With an enviable location on the banks of the River Ganges, nestled amid a mango orchard, Glasshouse boasts vintage decor and friendly service. Rooms are bespoke design, making the most of the views and filled with antiques. For true escapists! See More

Check Availability

Great walks - Jilling Terraces organises its own hiking trail itinieraries which are guided by local conservationists and experts.

Forest - Set in a clearing of a 100 acre forest

Back to Nature

Glamping

A unique retreat to experience secluded mountain living. Room design inspired by the flora of the mountains, with harmoniously coordinated furnishings and whitewashed stone walls. Peaceful and homely shared and private spaces create a sense of community and tranquillity. See More

Check Availability

Back to Nature - Not accesible by road and a two day journey from Delhi result in views that money can't buy

Romantic Break - Chic suites, private dining and ultimate seclusion make this a perfect romantic break

Eco break - Solar panels, local staff and organic vegetable garden

Great walks - Your dedicated guide will show you the trails

Recommended by - Relais & Chateaux, I Escape

Simply stunning, award winning wilderness retreat. Architects have combined locally sourced stone and timbers to create a modern design whilst traditional textiles and furnishings induce chic interiors. Staff are tirelessly helpful and food is delicious. There is a three night minimum stay. See More

Check Availability

Mary Budden Estate

Almora (Uttarakhand)

7 rooms from £230

Hideaway - Hidden away in the Kumaoni hills with nothing surrounding you but forest and wildlife

Romantic Break - In room fire places and private cottages make this a perfect escape for couples

Great walks - Guided walks through the Kumaoni hills

Cooking classes - Cooking lessons with the head chef

Utterly charming 19th century homestay. This family run affair offers you as warm a welcome as the crackling fire does in your room. Cosy cottages provide guests with mountain views, sitting rooms, antique furnishings and total seclusion. Delicious meals and cooking classes are available. See More

Check Availability

Te Aroha

District Nainital, Dhanachuli,, Uttarakhand

14 rooms from £72

Romantic Break - With charming suites and romantic dining this is the perfect spot for a Himalayan hideaway

Great walks - Through the surrounding pine forests, followed by a picnic

Views - Great views from hotel

Traditional

Romantic hill station hideaway, ideal for couples. Colonial bungalow turned boutique hotel rooms are filled with the antiques from the owner's personal collection. Continental and regional dishes are served at The Oaks restaurant whilst Cafe Flashback dishes up comfort food. The perfect retreat. See More

Check Availability

The Cottage

Jeolikot, Nainital

6 rooms from £45

Local markets - Amongst the bric-a-brac, shops like Pahari sell fair trade fabrics, candles and toiletries.

Hideaway - A sharp hairpin bend off the main road you feel a million miles away from civilisation.

Great walks - There are plenty of excellent valley walks directly from the property.

Sights nearby - Nainital, with its temples and mosques is just a short drive away.

A hidden gem, a rural idyll: call it what you will this property is unique. A hairpin bend off the Nainital road, once in The Cottage's verdant embrace you will forget the outside world. Large rooms with views are awash with antiques and vibrant prints. Meals are delicious Indian home-cooking. See More

Check Availability

Fredy's Bungalow

Bhimtal (Uttarakhand)

4 rooms from £62

Hideaway - No internet, beautiful surrounds - the ultimate hilltop hideaway

Local markets - Pop into Nainital town - and make sure to visit Sakley's Cafe when you do!

Great walks - The trail to Bhimtal Lake and back is a particurly beautiful one

Sights nearby - The next door Butterfly Museum is worth a visit

Cosy, colonial stone bungalow located in a secluded setting surrounded by hills and lakes. Interiors feature curiosities such taxidermy butterflies, hunting trophies and plenty of books on the local wildlife. Bedrooms are colourful and comfortable. No internet means it is a complete escape. See More

Check Availability

Hideaway - An authentic homestay hideaway - those after total escapism will love it here

Romantic Break - Large rooms and almost total seclusion make it a great break for couples

Cooking classes - Cooking classes with the head chef are a treat

Great walks - Guided nature trails or to sunset point

Two bedroom village house with charming vintage interiors. Plenty of exposed brick, thick rugs, colourful cushions, roaring fires and luxurious bathrooms make this an inviting stay. Meals are cooked with vegetables cooked from the kitchen garden and staff are effortlessly friendly and helpful. See More

Check Availability

Shaheen Bagh

Dehradun (Guniyal Goan)

5 rooms from £70

Garden - Considered one of the best private gardens in India, and filled with many rare trees and plants.

Swimming Pool - Unique infinity pool which is constantly refreshed with waters from the River Tons

Great walks - Get on your walking shoes and explore Dehradun's scenic countryside.

Birdwatching - A popular spot for birdwatching with a wide range of species.

This iconic home-stay owes its success to the sheer love that everything is done with: from the meals, to the decor, to the service. A colonial style bungalow the interiors hark back to the days of the Raj with intricate four posters and ceramics. There's an outdoor pool and stunning gardens. See More

Check Availability

Back to Nature - Boasting incredible views of the Nainital valley and plenty of great walks

Total relaxation - The clue is in the name: this property is nourishment for the soul

Sights nearby - Sakley's Mountain Cafe in Nainital is a must visit. Indulge your sweet tooth!

Sailing - Take a boat out on Nainital or Bhimtal Lake

With 180° Himalayan views and plenty of pine panelling there is something 'ski-lodge' about Soulitude - especially under a blanket of snow! Rooms include wood burners, living areas, stunning vistas and are decorated in pop colours. There is a small a la carte menu. A relaxing hill station retreat. See More

Check Availability

Back to Nature - The sound of bird call and the gushing river fills the air. Verdant forest surrounds you.

Total relaxation - The perfect escape from the freneticism of the modern world

Local markets - The market town of Nainital is worth a visit - stop at Sakley's Mountain cafe for lunch

Great walks - Through pine forests, along the river or to Chanfi village

A simply charming and very zen mountain escape. The architecture applauds the surrounding beauty with large windows whilst rooms embrace traditional decors. Bathrooms feature natural woods and stone. Meals are served in the Dhaba restaurant and many of the ingredients come from the property's farm. See More

Check Availability

Views - Stunning views of the snow-topped Himalayan mountains.

Birdwatching - Located in the Kasar Devi - Binsar Bird Sanctuary

Great walks - Staff at the hotel will be happy to advise on great hiking paths in the vicinity.

Sights nearby - Located near the historic Kasaar Devi temple.

Idyllic, intimate getaway location in the Himalayas. Warm, friendly, personalised service. Wood-panelled, inviting rooms with awe-inspiring views onto the stunning mountains. Authentic dining in the restaurant which looks out onto the carefully landscaped garden patio. Balconies and outdoor terrace. See More

Check Availability

Nimmu House

Leh, Ladakh

16 rooms from £90

Hideaway - Hidden in the picturesque village of Nimmu, yet still within easy reach of Ladakh's sights, it is a perfect hideaway.

Birdwatching - Ladakh is home to an impressive variety of bird life. Best spotted on the banks of the Indus in the early morning.

Great walks - There are plenty of scenic strolls leading directly from the property.

Sights nearby - The monastries of Alchi and Likir are a day trip away.

Housed in a traditional Ladakhi stately home this property provides a choice between tented accommodation or rooms in the house. All are effortlessly chic combining modern muted palettes and traditional Ladakhi fabrics and textiles. The food is superb, both French and Ladakhi and all included. See More

Check Availability

Sights nearby - One of Srinagar's most aesthetically pleasing structures, the spires of Khanqah Shah-i-Hamadan are worth viewing.

Sailing - Visit the floating villages and gardens of Dal Lake - an entirely different way of life.

Great walks - Walking distance from the tranquil Mughal Gardens.

Views - Great views from hotel

A collection of houseboats moored on the Dal Lake, moments from Emperor Akbar's famous Mughal Gardens. Decorated in a traditional style with wood panelling, chandeliers and locally made handwoven rugs. Serving indulgent Kashmiri dishes as well as European there is even a private garden. See More

Check Availability

Stok Palace

Ladakh

6 rooms from £170

Great walks - There are some beautiful walking routes, across the Indus River, leaving directly from the property.

Back to Nature - Surrounded by the Zanskar mountain range this property is ensconced by nature.

Cooking classes - See how it is done in the traditional, open plan, Ladakhi kitchen.

Hideaway - A historic hideaway with pristine rural surrounds.

Built in 1820, Stok Palace is still the abode of the remaining Namgyal dynasty. Now open to the public it houses a fascinating museum filled with family heirlooms. Rooms are decorated with authentic Ladakhi furnishings including hand painted mandala paintings. One of a kind. See More

Check Availability

The Lalit Grand Palace

Srinagar (Jammu and Kashmir)

113 rooms from £146

Spa - Provides complete holistic experience: aroma, ayurvedic, herbal & natural therapies, patented colour healing & yoga.

Sailing - A private boat trip on the Dal Lake where you can see the floating gardens and villages is an unforgettable day.

Birdwatching - Srinagar's lakes are a magnet for migratory birds as well as being home to many native duck species.

Swimming Pool - Large indoor pool

Built in 1910, Grand Palace was the former residence of Kashmiri royal family. True to its regal roots rooms are decorated in an opulent, yet not ostentatious style: quilted bedspreads, artwork and some four posters and fireplaces. There's a walnut clad bar and North Indian cuisine at The Chinar. See More

Check Availability

The Chamba Camp

Thiksey, Ladakh

14 rooms from £435

Back to Nature - Ladakh has some of the most dramatic landscapes in the world. Experience nature in its full force.

Restrictions on children - No restrictions on children however the campsite would not be suitable for very young children.

Local markets - Leh town with its Tibetan markets are a scenic drive away.

Sights nearby - Morning prayers at Thiksey monastry are an absolute must.

Overlooking snow-capped mountains and Thiksey monastery, The Chamba Camp's tents are superlative. With four poster beds, power showers, bespoke writing desks & private verandahs this is 'glamping' to the nth degree. The food is astounding: haute cuisine in high places. Operational June - September. See More

Check Availability

Trekking - In the summer months Gulmarg is a popular destination for trekkers.

Skiing - Gulmarg is India's prime skiing destination.

Sights nearby - When frozen over Alpather Lake makes for a picturesque ice skating spot.

Views - Great views from hotel

Recommended by - Small Luxury Hotels

High up in the Pir Panjal mountain range lies this luxurious retreat. Surpassing expectations it has four restaurants ranging from Kashmiri to Continental, afternoon tea and a cigar lounge. There is a sumptuous indoor pool and spa. Rooms include ornately upholstered furnishings and mountain views. See More

Check Availability

Sights nearby - The Khanqah Shah-i-Hamadan is an architechtural offering to Srinigar's religious culture.

Birdwatching - Migratory ducks and Kashmir's famous wild ducks can be spotted.

Local markets - The Kashmir Government Arts Emporium is a collector's dream.

Great walks - Meander through the rose scented Mughal Gardens.

1730 feet above Srinigar with far reaching views of the Dal Lake. Possessing all the style & service expected of a Taj: there's a top class spa. Restaurant-wise Latitude makes the most of those vistas whilst Jade Dragon serves Sichuan cuisine. Rooms are luxurious modern meets Mughal. See More

Check Availability

Back to Nature - Overlooking the River Indus with the Ladakh mountain range as its backdrop this property is surrounded by nature.

Sights nearby - Alchi and Lamayuru monastries are within easy reach.

Remote - Off the beaten track.

Secluded setting - For escaping.

In the most outstanding location, overlooking the flowing River Indus, Apricot Tree is a true escape. With intricate woodwork and ornate, colourful Buddhist paintings there is even a traditional Ladakhi kitchen where meals can be enjoyed. Rooms are large and bright and feature private balconies. See More

Check Availability

Sukoon

Srinagar (Dal Lake)

5 rooms from £90

Sights nearby - One of the most impressive examples of Kashmiri architecture the Khanqah Shah-i-Hamadan is a must visit.

Birdwatching - The Dal Lake attracts a most varied variety of birdlife. Wake up in the early mornings to spot them.

Local markets - The floating markets of the Dal Lake are quite spectacular.

Great walks - Up to the Shankaracharya Hill viewing point.

Sukoon is the first amongst equals on the Dal Lake. A comparatively new property they employ green credentials making it a stylish and sustainable stay. Intricately carved Kashmiri woodwork covers the walls and rooms feature bright pop colours, plus luxury bathrooms. There is a rooftop restaurant. See More

Check Availability

Sights nearby - Walking distance from the centre of town and just 4km from Dal Lake

Traditional

A quaint haven of verdant lawns, paved pathways and flowerbeds bursting with roses, situated in the heart of Srinagar. Rooms are clean and comfortable, but the welcome and hospitality are second to none. Come here for a real home from home experience and to soak up genuine Srinagar. See More

Check Availability

Back to Nature - Located amidst Coorg's rolling hills this property lies amongst the surrounding nature.

Sights nearby - The Bylekuppe Tibetan Settlement, the second largest in India, is well worth a visit.

Local markets - Visit Coorg market and pick up its local delicacies to take home: honey and coffee.

Great walks - The hotel guides can take you on nature and plantation walks.

Located in India's 'coffee cup' this property provides true escapism. Individual cottages, some with private pools, have terracotta floors, ornate embroidered fabrics, local artwork and gorgeous bathrooms with in and outdoor showers. There are four restaurants and an excellent Ayurvedic spa. See More

Check Availability

Views - Stunning panoramic views over the forest and hills from every room.

Great walks - With 180 acres, there is plenty of land to explore. Longer treks can be arranged with the hotel.

Local markets - Head to the local Coorg market for the honey, coffee and oranges that it is famous for.

Swimming Pool - Outdoor infinity pool

Tucked away in the Madikeri hills, set amid 180 acres of rainforest this property enjoys stunning views. Huge rooms are modern in style with dark woods, clean lines and floor to ceiling windows making the most of the amazing scenery. There are three restaurants, two pools and an award winning spa. See More

Check Availability

Windamere Hotel

Darjeeling, West Bengal

41 rooms from £122

Sights nearby - Located on Darjeeling's historic Observatory Hill

Views - Great views of the Himalayas and over Darjeeling

Great walks - Good for walkers.

Quirky - An experience!

Quirky and colonial: step back into the days of the British Raj. The Windamere offers a nostalgic stay in the heart of Darjeeling. The place oozes history with white gloved waiters adding to the atmosphere. A must visit for those who a love a slice of days gone by! See More

Check Availability

Back to Nature - The surrounding countryside is world famous for its beauty

Views - See the beautiful snow-capped Kanchenjunga

Kids Club - Fully staffed.

Great walks - Good for walkers.

It is clear that a lot of passion and a great deal of thought have gone into ensuring the ultimate satisfaction of guests at this beautiful heritage hotel. It boasts 2 restaurants, a bar, gym, spa, pool, games room, the list goes on. The rooms are spacious, tasteful and charming. See More

Check Availability

The Elgin

Darjeeling

25 rooms from £91

Romantic - The Honeymoon Package: 4 day tour of the Himalayas. Jam-packed with great activites, beautiful sights, and romantic extras

Spa - Offers massages and beauty treatment. Incluing aromatherapy, Swedish, Indian Head and Shoulder Massage and facials.

Great walks - A perfect base for exploring the spectacular mountain scenery, pine forests and ancient monasteries

Sights nearby - Well located for major sights.

This glorious former summer residence of a Maharajah is superbly located in the heart of Darjeeling, a stroll from the bars & cafes and with spectacular views of the mountains and pine forests. It has been wonderfully restored to its original grandeur. The rooms are elegant & beautifully furnished. See More

Check Availability

Less £

Sights nearby - Explore the many attractions in Kurseong; view points (Eagle's Craig), temples, lakes

Great walks - Explore the striking surrounding valleys

Traditional - Live as part of a local family

The Makaibari Tea Estate was the first to establish a factory, introduce organic farming, be certified as Fair Trade & to appoint women as supervisors. Its pioneering tradition continues with this wonderful homestay program. The rooms provided are clean & comfortable with western bathrooms. See More

Check Availability

Views - Breathtaking views to the Himalayas and Kanchenjunga

Birdwatching - The ideal spot for seeing over 100 different species

Great walks - Superb walking straight from the door

Rural

Recommended by - I Escape, Kiwi Collection

A working tea plantation retreat with spotless service and delicious food. Eight beautiful suites - each individually designed and all with magnificent views of the Himalayas and Kachenjunga. The perfect destination for a luxurious back to nature experience & complete getaway-from-it-all relaxation. See More

Check Availability

Local markets - The central bazaar has a fine collection of jewellery, books, spices and other interesting artefacts.

Hideaway - Located in the verdant Matheran forests this property is ideal for getting away from it all.

Great walks - Embark on a nature trail with one of the hotel's dedicated guides.

Views - Stunning views over the surrounding valleys

This 19th century abode provides guests with a characterful stay. Rooms feature antique Rajasthani beds with intricate tile work, traditional fabrics and views of the surrounding valleys. There is a formal dining room, great for groups and roof top terrace. Pick a book from the library and relax. See More

Check Availability

Lords Central Hotel

Matheran (Maharashtra)

23 rooms from £55

Less £ - All meals are included for an amazing price of £55 a night for a standard double.

Great walks - The quantly named Porcupine Point and Alexander Point are popular routes.

Birdwatching - The verdant tree tops attract an impressive variety of birdlife.

Views - Spectacular views over the surrounding countryside

Comprising individual cottages, with spectacular views, this quaint property is ideal for families. A myriad of on sight activities including a pool, badminton, table tennis, snooker and much more! Plus several nearby walking and cycle routes. Cuisine is a buffet of Indian and Continental dishes. See More

Check Availability

The Machan

Lonavala (Aamby Valley)

13 rooms from £105

Sights nearby - Historical forts including Koraigad Fort and Lohagad Fort, and Karla and Bhaja Caves

Birdwatching - Including Cattle Egret, White-backed Vulture and Leggar Falcon

Great walks - Good for walkers.

Views - Great views from hotel

A remote jungle escape near Lonavala, just a two-and-a-half-hour drive from the mayhem of Mumbai. Perfect for those who want to get away from it all, embrace nature and live in the tree-tops for a while. See More

Check Availability

Sights nearby - Pavana Dam and lake on your drive the hotel are worth a stop.

Fishing - Get a packed lunch and make a day out of it.

Cooking classes - A must try for food lovers.

Back to Nature - Mountains to die for.

Relax and re-energise in this modern Hilton a short break from Mumbai. The large spacious, airy and modern rooms overlook beautiful hills, as do the various terraces for sitting and dining. Seven different dining options and over 150 spa treatments - could be heaven on earth. A true country break. See More

Check Availability

Sherlock Hotel

Ooty (Upper Thalayatimund)

9 rooms from £45

Great walks - 1.9 miles from Sharing Cross Station

Full of character

Views - Great views from hotel

Romantic - Good for couples.

Sherlock Hotel in the southern hill station of Ooty lives up to its name. Victorian fireplaces and wooden furnishings. It boasts two dining rooms, a reading room, a games area as well as the great outdoors. The location lends itself to an activity filled holiday for the family, or a mini break. See More

Check Availability

Rajakkad

Dindigul, Tamil Nadu

7 rooms from £90

Eco break - On 60 acres of farmland most of the food is grown here. Green fingers plus green credentials makes this an ultimate eco break.

Total relaxation - Time slows down here. There's no pool or TVs but there is a well stocked library. That is the point.

Back to Nature - Surrounded by verdant hills enjoy guided nature trails, bird and animals spotting.

Hideaway - A quiet spot in less touristy Tamil Nadu: the ultimate south Indian hideaway.

Recommended by - I Escape

Ingenious and utterly charming. An 18th century palace constructed by the Maharaja of Travancore and re-erected in the Western Ghats by Jeremy Fry in the 1990s. Enjoying a cool climate there is no AC - just large sliding doors. Understated chic reigns supreme. Communal dinners are delicious. See More

Check Availability

Ri Kynjai

Shillong (Ri Bhoi District)

17 rooms from £70

Total relaxation - Come here for a total chill out experience - do as much or as little as you like and breathe in the views!

Views - Hotel has picturesque views over the azure waters of Umiam Lake

Spa - Undergo traditional Khasi spa treatments

Great walks - Trekking

Serene, elegant resort perched on a forested hillside. Rooms panelled in red-pine, neo-traditional thatched roofs, and large windows with a breathtaking view of Umiam lake. Relax into natural surroundings, dine on Chinese, Indian and continental fare in the restaurant, and feel bliss wash over you. See More

Check Availability

Urvashi's Retreat

Manali (Himachal Pradesh)

6 rooms from £53

Back to Nature - Surrounded by Manali's dramatic mountains and set within a fragrant apple orchard this property lies amidst nature.

Fishing - Famous for its trout you can catch yourself a fish supper from the River Beas.

Great walks - There are some excellent walking trails right from your front door.

Full of character

A charming home stay located within easy reach of Manali town. Pine clad rooms are decorated with floral fabrics and include modern bathrooms, some with private balconies and mountain views. Feel a part of the family by the log fire in the comfy sitting room or with a book in a sun dappled garden. See More

Check Availability

7 Pines

Kasauli (Himachal Pradesh)

8 rooms from £117

Great walks - There are several walks right from the doorstep - take the dogs with you if you like!

Back to Nature - In the foothills of the Himalayas with only the sound of birdsong for distraction.

Sights nearby - Kuthar Palace houses an impressive collection of artwork and antiques.

Cooking classes - Ask Prem, the head chef, to teach you some of his secrets!

Tucked away in Kasauli's tranquil hills this Himalayan homestay is a labour of love. Anglo-Indian in style the decor is English country house meets Indian chic. The food is far superior to that of an ordinary homestay with Indian and Western dishes on offer. Relax with a book in the fragrant garden. See More

Check Availability

The Oberoi Cecil

Shimla (Himachal Pradesh)

75 rooms from £127

Back to Nature - With nature trails and a bounty of outdoor activities this property is great for getting back to nature.

Local markets - Head to The Ridge for some fine examples of colonial architechture and great antique and book shops.

Sights nearby - Just a short walk away is the Vice Regal Lodge, the former summer residence of the Viceroy of India.

Great walks - There are many nature trails beginning right from the hotel.

Welcoming guests for over 130 years Cecil was a popular hotel amongst Britishers escaping the heat of the planes in the summer months, and still maintains its colonial white facade. Featuring a cavernous lobby, wood-beamed indoor pool and rooms decorated in classic colonial style. A historic stay. See More

Check Availability

Chapslee

Shimla (Himachal Pradesh)

5 rooms from £200

Local markets - The Mall with its lines of shops is great for shopping and picking up trinkets.

Great walks - The 30 minute walk up to Jakhu Temple is well worth it.

Sights nearby - Viceregal Lodge is just a short walk away.

Full of character

The former residence of the Hon'ble Raja Charanjit Singh is today a boutique property boasting luxury from a bygone era. With a library, cards room, tennis court and croquet lawn you truly are transported into another time. Plus what is regarded as the best restaurant in Shimla can be found here. See More

Check Availability

Wildflower Hall

Shimla (Himachal Pradesh)

85 rooms from £196

Back to Nature - The hotel has gorgeous gardens and stunning vistas of the surrounding hills and mountains.

Great walks - Finish off a walk amongst the fragrant pine trees with a gourmet picnic.

Full of character

Views - Great views from hotel

Recommended by - Tablet

Perched at an altitude of over 8000 ft with indescribable views of the surrounding hills. Full on old world, colonial charm rooms are understated luxury with polished woods, antiques and open fireplaces. Enjoy indoor-outdoor dining or a whiskey at The Cavalry Bar. There is a sumptuous pool and spa. See More

Check Availability

The Himalayan

Manali (Kullu Valley)

24 rooms from £57

Great walks - Manali is trekkers country and there are plenty of great trails on your doorstep.

Fishing - Manali is famous for its trout which can be found in the River Beas.

Romantic - Good for couples.

Views - Great views from hotel

Manali has a coveted new address: bringing boutique luxury to within a short walk of town The Himalayan has eight castle rooms and eight private cottages in charming neo-gothic style buildings. Rooms include open fire places and four posters. Plus a spa, pool and views! A total delight. See More

Check Availability

Hotel Eagles Nest

Dharamshala (Himachal Pradesh)

8 rooms from £102

Back to Nature - Located in bucolic Dharamkot this property is surrounded by deodar forest and the sound of birdsong.

Birdwatching - There are 556 species of birdlife - step out with your dedicated naturalists for help spotting them.

Sights nearby - A trip to Mcleod Ganj and Gangchen Kyishong is a must.

Local markets - Good for local colour.

Located in the quiet village of Dharamkot away from this bustle of town is this family run eco property. With eight rooms, each individually and thoughtfully decorated it provides an intimate stay. There is a comfortable sitting room and home cooked food is served. Plus plenty of on-site activities. See More

Check Availability
posted Wednesday, 6th February 2019
Search the best hotels in India