19 Best Wine hotels in Chianti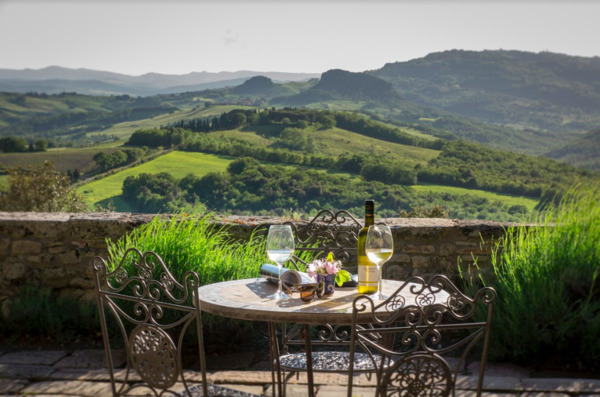 Chianti's borders are as wonderfully fluid as its main export, with the name actually referring to the hills and valleys between Florence and Siena where the grapes are grown that go into Chianti and Chianti Classico. And if you draw a loopy line around that region it includes some of Tuscany's most scenic spots. So the best wine hotels in Chianti offer incredible views of vineyards, medieval hilltop towns, sunburnt wheat fields, rows of poplars and cypresses and olive groves — as well as opportunities to taste incredible wines grown against this backdrop. And if you're thinking "well, that's nice but I'm a bit peckish", the best wine hotels in Chianti definitely have the menu sorted too. Some of our Gurus' recommendations are restaurants with rooms, or hotels offering cooking classes; there are a couple of castles too, not to mention villas and converted farmhouses. So whatever your taste or budget, we should be able to recommend a great option!
For the Album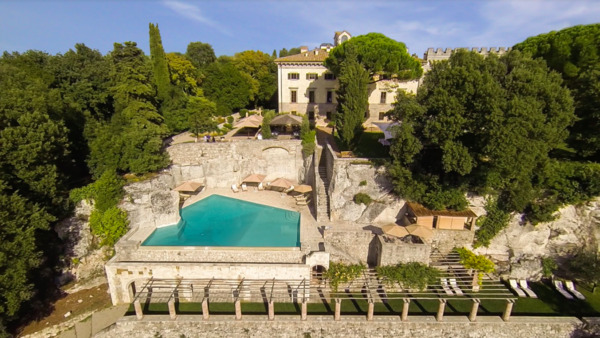 The Borgo Pignano is a handsome, traditional villa on a private Tuscan estate turned luxury haven. Set on a hilltop, overlooking 750 acres of farmland, the views around are beautiful, both from the villa, and from the terraces that descend the hill, with their pool, vines and romantic corners. Inside are 17 rooms and suites, beautifully decorated in the Tuscan style, with frescoes, vast fireplaces, high ceilings and terracotta tiled floors — some are in the main house, but there are also separate cottages and maisonettes, perfect for groups of families. Then there are the added extras, like the infinity pool, private-feeling cinema, art classes, yoga classes and billiard table.
For a Special Occasion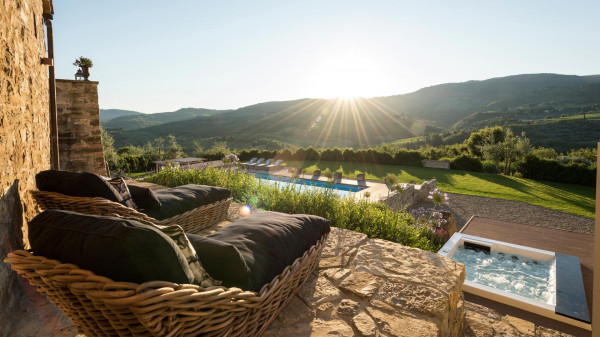 The Vitigliano Relais & Spa has been built in the ruins of the old hamlet of Vitigliano, occupying an idyllic hilltop position overlooking Chianti country. There are only six rooms and suites, all individually designed and elegantly decorated, but all huge, with charming traditional features, roomy bathrooms and all the mod cons. There's a beautiful pool and terrace, complete with hot tub, plus a small spa. And a gourmet restaurant. Refined, remote and romantic.
For the Views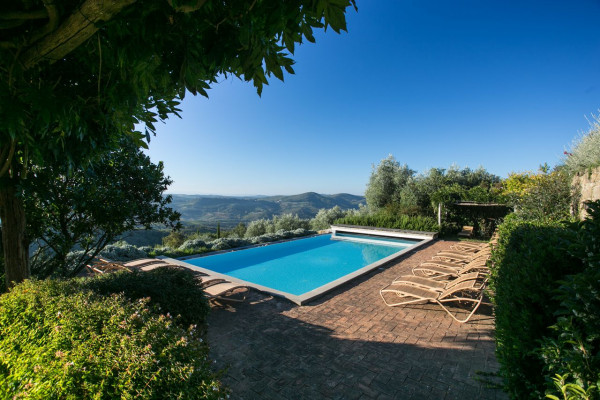 The Relais Borgo san Felice is a sprawling country house hotel, overlooking its own vineyards from a glorious hilltop position. It also has a billiards room, tennis courts and pool. Plus an extremely well regarded Mediterranean restaurant. Accommodation is in 33 spacious rooms and suites, elegantly decorated in pale shades that make the most of the original features. Expect plenty of space everywhere you go, and a long, long wine list — which they use for their comprehensive tastings.
La Locanda is a small, hilltop hotel, with wonderful traditional Tuscan charm, and incredible vineyard and valley views. Inside this converted villa are seven beautiful rooms and suites, which feature original details like terracotta floors, beamed ceilings and exposed stone floors, plus a collection of elegant but homely antiques. Each room is different, but our favourites have private terraces. There's also a delightful library, a bar and lounge. Outside is a shaded terrace and a divine infinity-pool-with-a-view.
For Foodies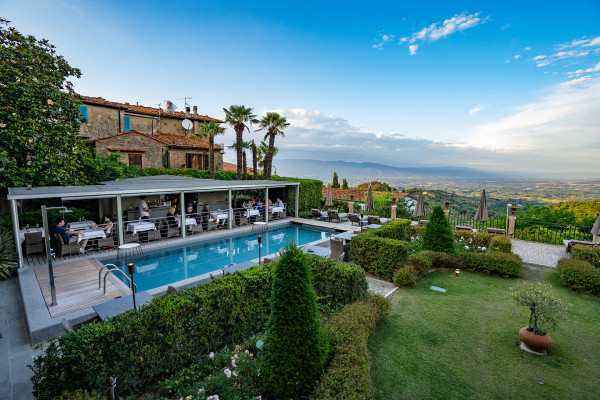 Villa Sassolini is a charmingly rural gastronomic restaurant with rooms in the hills of Chianti. In addition to the gourmet menu, cooking classes, and incredible views, Villa Sassolini has five spacious and elegant rooms and suites, with a muted neutral colour scheme, large bathrooms and romantic details. There's also a beautiful pool with wonderful views, gardens drenched in lavender and rosemary, and a collection of sunny terraces.
The Villa Bordoni is a beautifully decorated country villa, with 11 rooms and suites, and wonderful views over the hills of Chianti. The blue exterior feels a little Mediterranean — especially beside the palm trees, but inside the terracotta floors, beamed ceilings, and canopied beds feel very Tuscan. There's an excellent restaurant, complete with a cooking school, and there are a number of vineyards within walking distance.
For Romantics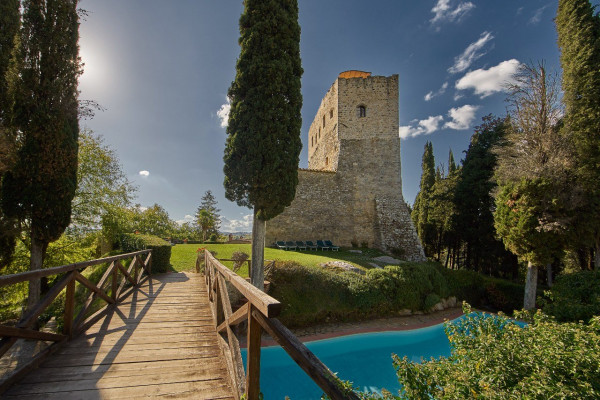 The Castello di Tornano, is perched on a hilltop near Lecce, and has magnificent panoramic views over the vineyards and olive groves of the surrounding area. And it ticks all the boxes a castle should: bedrooms in turrets, four-poster beds, beamed ceilings, and a pool where the moat would be. There are even stables, should you choose to arrive on horseback, and tennis courts. There are 11 rooms and eight apartments, and you can either self-cater or enjoy locally grown local cuisine in the traditional restaurant.
The Castelletto di Montebenichi is an historic 12th century castle hamlet in the Chianti hills, with nine charming apartments. This is a really special place to stay, complete with wonderful antiques, stained glass windows, an ornately carved stone exterior, wonderful tiled roofs, and terraces running down the side of the hill like steps. The grounds around the castelletto are large, and there are so many places to enjoy the view.
Salvadonica is a small, and delightful, farmhouse-turned-hotel, surrounded by vineyards and overlooking a beautiful valley. The hotel has just 19 rooms and suites, decorated with contemporary minimalism set against the farmhouse's original features — the terracotta tiles, exposed beams and stone walls, and frescoes. There's also an excellent Tuscan restaurant which spills out onto an idyllic terrace, with views of the pool, the boules green, olives groves, and the hotel's tennis courts. Relaxed and romantic.
For a Rural Retreat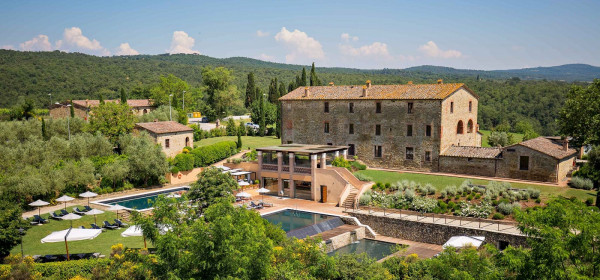 The Castel Monastero is a magnificently restored 11th century hamlet tucked into the Chianti hills, complete with 61 guest rooms and suites arranged, village-style, amongst beautiful gardens, in cottages, villas and larger buildings. As well as beautiful places to sleep and relax, the Castel Monastero has two restaurants, one overseen by Gordon Ramsay, and an impressive cellar bar. Plus postcard perfect waterfall pools, and a wellness centre and spa. Ideal for visitors to the Chianti hills who want to return home at the end of a day's explorations to a luxurious, pampering cocoon.
For Families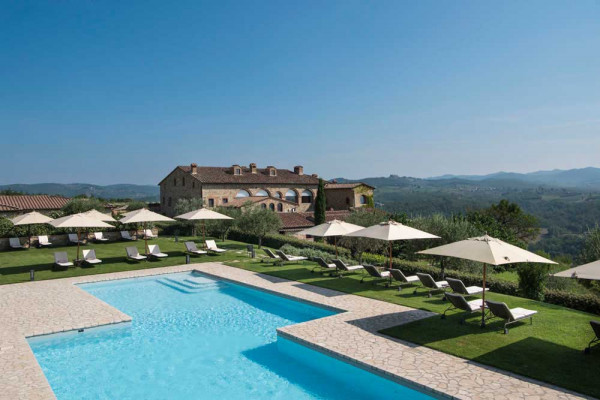 Discreet yet sprawling, Hotel Le Fontanelle is a collection of 25 rustic rooms, villas and cottages in a hamlet-style setting, surrounded by olive groves, lemon trees and vineyards. It sounds simple, but it's a five star experience, with luxurious, but homely decor, and all sorts of added extras. There are incredible views from the pool and the gardens surrounding it, a fantastic restaurant known for its local specialities, and a spa complete with indoor pool, sauna and hot tub.
The Castello di Spaltenna is a stunning country house resort, near Gaiole in the peacefully rural Chianti hills. The castello has 37 beautiful rooms, suites and apartments, all traditionally decorated, featuring exposed stone, beamed ceilings and antique furnishings, and many with fantastic views over vineyards and sunburnt wheat fields. Some of the apartments comfortably sleep four, and have their own kitchens. The wine cellar is huge, and there are two restaurants on site, including a very creative Tuscan restaurant with a Michelin star, plus both indoor and outdoor pools, and a state-of-the-art spa and fitness centre. And they offer babysitting.
Castello di Bibbione is a traditional Tuscan castle, in a hilltop spot that affords glorious views of the Chianti region. There are 13 apartments, some in farmhouse-style outbuildings, and all traditionally decorated, with terracotta floors, whitewashed stone walls and exposed beam ceilings, and furnished with antiques. Apartments sleep between two and six, and there's one whole farmhouse, which sleeps 12 — ideal for groups or extended families. The large grounds incorporate gardens, terraces and a huge infinity pool.
For a Countryside Escape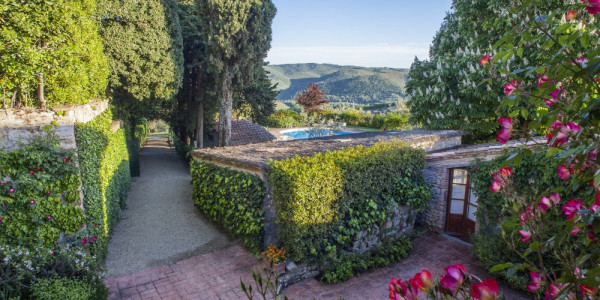 Enquiring minds might try the the Villa Le Barone, a gorgeous, 14th century Tuscan villa near Panzano, known for its tutored wine tastings and cookery lessons. Its kitchen and restaurant are impressive places, and there's an onsite winery, you're also able to learn about. Accommodation is in 28 rooms and two suites, all carefully, and romantically, decorated with antiques, and many offering beautiful views. Outside there are gardens and a heated, salt-water pool.
Il Borgo di Vescine is a collection of 13th century stone buildings connected by cobbled paths into a little hamlet, and now turned charming hotel. There's plenty of privacy, space and peace, but also the opportunity to enjoy the company of fellow guests in the restaurant or on the terrace, where local cuisine is served, paired with local wines. You're just 20 minutes from Siena, but there's plenty to do onsite, including wine tastings, cooking classes, horse riding, using the gym and pool, or exploring the grounds. Explore further afield on the hotel's bikes.
For Traditional Charms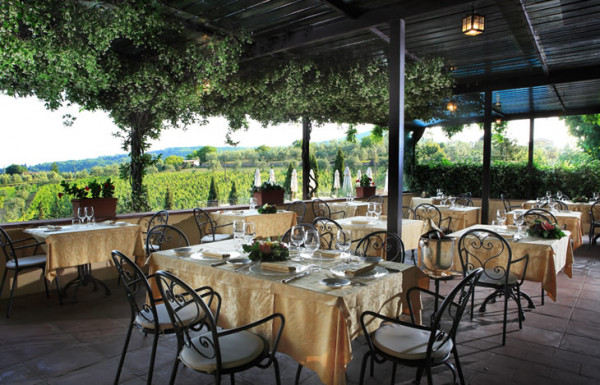 Relais Vignale is an 18th century country house, carefully and sympathetically restored to its traditional elegance, and transformed into a 42 room country hotel. Rooms have terracotta-tiled floors, whitewashed walls, and exposed beams on the ceilings, plus a collection of simple, locally made antiques. Outside there are gardens, a lovely outdoor pool, and a Tuscan terrace restaurant with vineyard and olive grove views. They offer wine tastings onsite, but you're surrounded by vineyards and cellar doors.
For Great Value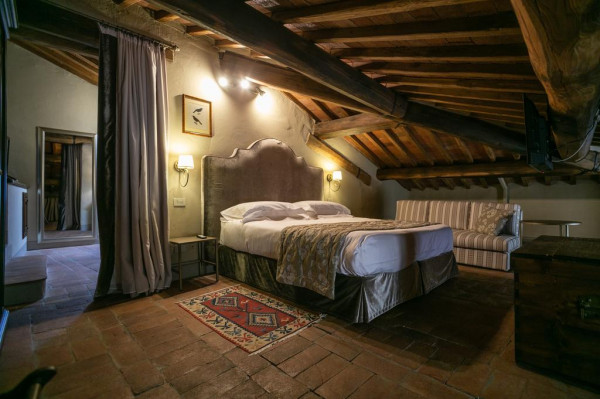 The Palazzo Leopoldo is a traditional Tuscan hilltop hotel with just 14 rooms and suites, and a beautiful restaurant with incredible valley views and a welcoming terrace. The decor is perfectly Tuscan, with terracotta-tiled floors, exposed beams on high ceilings, and a collection of antiques. There are hot tubs on the terrace, and an indoor pool in the cellars, along with a luxurious spa.
The Castello di Fonterutoli is a medieval villa in charming Castellina, with 12 smartly decorated rooms and a wonderful restaurant with an exceptional wine list. While the exterior is certainly wonderfully traditional, the interiors are stylishly decorated in Farrow&Ball-esque colours, with art on the walls, and a sitting room packed with books.
Best B&Bs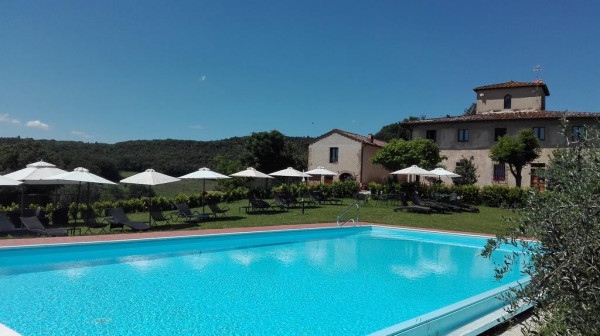 The Agriturismo Poggiacolle is a Tuscan farmhouse B&B with its own vineyards and saffron farm, just outside San Gimignano. It has just four guest apartments, self-catering, with rustic, romantic details: think beamed ceilings, terracotta-tiled floors, four-poster beds and wonderful views of the surrounding countryside. To share between just these four apartments are a tennis court, gardens, a children's play area, and an infinity pool.
Still not sure where to book?
posted Monday, 4th April 2022