10 Best Wine hotels in Chianti
Chianti's borders are as wonderfully fluid as its main export, and the name really refers to the hills and valleys between Florence and Siena where the grapes are grown that go into Chianti and Chianti Classico. An area which covers some of Tuscany's most scenic spots, including Pisa to the west and Arezzo to the east. As well as providing world class wine tasting opportunities, the 10 best wine hotels in Chianti also offer incredible views of vineyards, medieval hilltop towns, sunburnt wheat fields, rows of poplars and cypresses and olive groves. And now imagine sitting out with a glass of chianti in your hand and taking all of that in…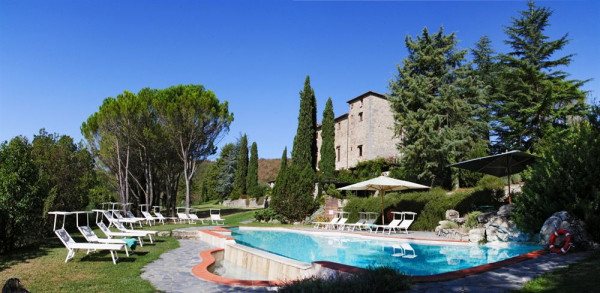 And if you're thinking "well, that's nice but I'm a bit peckish", don't worry, the best wine hotels in Chianti definitely have the menu sorted as well. Some of our Guru's picks to be included in our list of the 10 best wine hotels are luxurious - we have a couple of castles in there, and some are on working vineyards, and some are in villas or converted farmhouses - we have also included some of the best value wine hotels in Chianti too.
The best wine hotels in Chianti's castles
If you have a suspicion that your wine might taste even more delicious if served within the grounds of your own castle accommodation then you've come to the right region. Chianti is awash with suitable castello conversions.
Perched on a hilltop with magnificent 360-degree views over vineyards and olive groves, the Castello di Tornano, near Lecce, ticks all the right boxes for a castle: bedrooms in turrets, four-poster beds and beamed ceilings. There are even stables, should you choose to arrive on horseback. There are 11 rooms and eight apartments, and you can self cater or enjoy locally grown local cuisine in the traditional restaurant.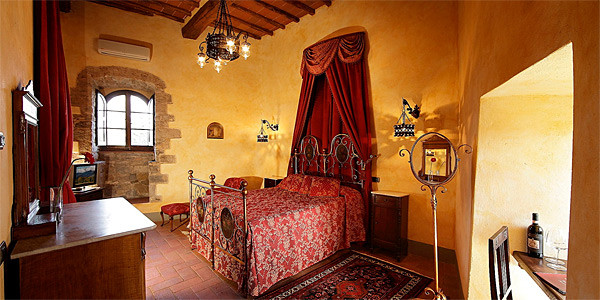 Near Gaiole in the Chianti hills, the Castello di Spaltenna is a stunning country house resort with 37 beautiful rooms, suites and apartments, all decorated traditionally and many with fantastic views over vineyards and sunburnt wheat fields, with the odd popular sprouting along the road. The wine cellar is huge, and they have a very creative Tuscan restaurant on site, as well as two pools and a modern spa and fitness centre.
The best Wine hotels in Chianti for foodies
If you want your wine choices served with gourmet cuisine then these are the best wine hotels in Chianti for you.
The Relais Borgo san Felice is a sprawling country house hotel with it's own vineyards to look out over from its hilltop position. And it's own billiards room, tennis courts and pool. Plus an extremely well regarded Mediterranean restaurant. Expect plenty of space and a long, long wine list, which they use for their comprehensive tastings.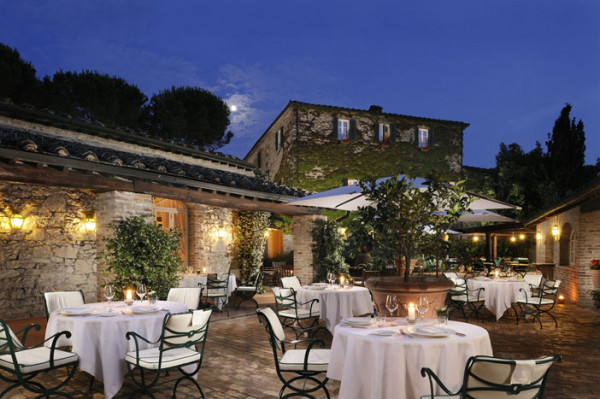 The Castel Monastero is a magnificently restored 11h century hamlet tucked into the Chianti hills. As well as two restaurants, one overseen by Gordon Ramsay, and an impressive cellar bar, the Monastero has 61 elegant, luxurious rooms and a pool and wellness centre and spa.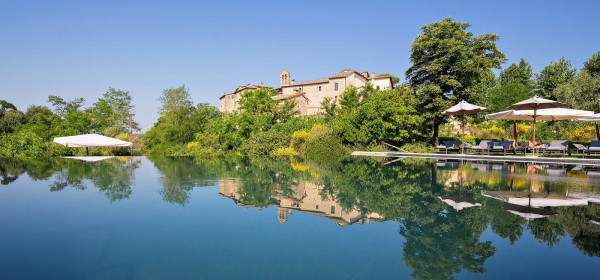 If you want some tutored wine tastings, or a cookery lesson, the Villa Le Barone, a gorgeous, 14th century Tuscan villa near Panzano, fits the bill. As well a winery, and an impressive kitchen and restaurant, there are 28 rooms and two suites, all carefully decorated with antiques and many of them with beautiful views. Plus there's a salt water swimming pool.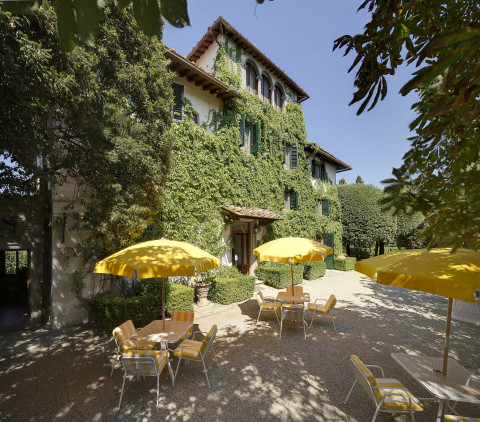 The Best Wine Hotels in Chianti for an Escape
The Borgo Pignano is a handsome house on a private Tuscan estate turned luxury haven. Take breakfast in the ballroom, enjoy screenings in the private cinema, go truffling, take an art class, or swim in the magical infinity pool. The no-added extras are the beautiful vies, frescoed walls and roll-top baths.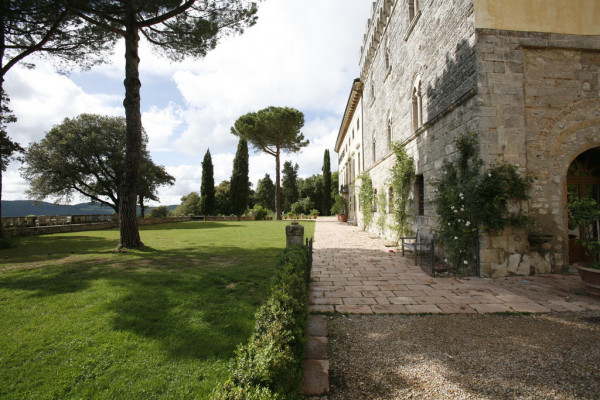 Discreet yet sprawling, the Hotel le Fontanelle is a series of individual, rustic houses, elegantly presented with terracotta tiles, raftered ceilings, archways and private terraces. Surrounded by olive groves, lemon trees and vineyards, it has the timeless feel of a Tuscan hamlet. And the restaurant and spa are fantastic.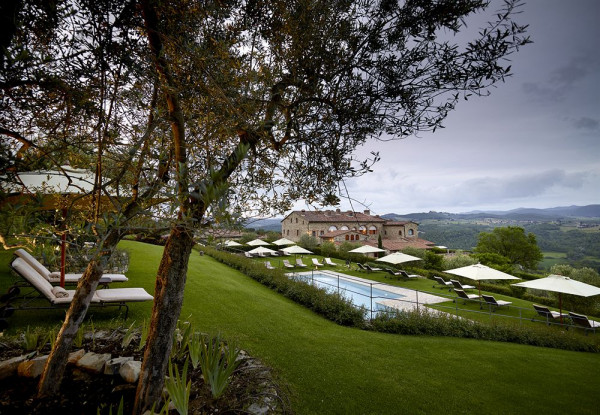 The Best Value Wine Hotels in Chianti
The Agriturismo Poggiacolle is a Tuscan farmhouse B&B with its own vineyards and saffron farm near San Gimignano. Rooms are rustic-romantic plus there are tennis courts, a swimming pool, and self-catering apartments, if you prefer. There are just four rooms, which start from only €85 per night including breakfast.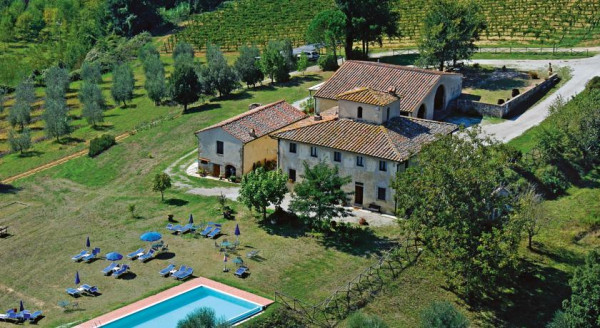 The hilltop Palazzo Leopoldo, at Radda, is equally charming, with traditionally furnished rooms with terracotta-tiled floors, exposed rafters and four-poster beds. There's a terrace restaurant with lovely views over the vineyards. Doubles start from €120 per night.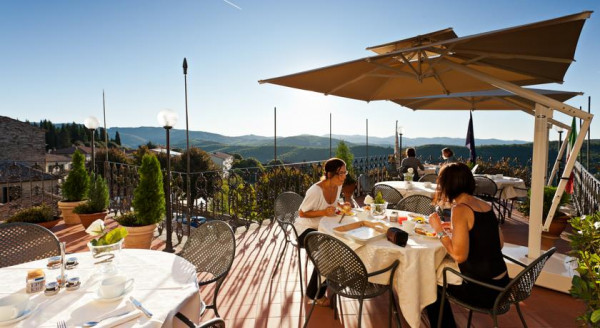 The 10 Best Wine Hotels in Chianti
posted Monday, 5th August 2019