10 Best Tuscan Hotels for Food and Wine
There are so many reasons to visit Tuscany. What with the Uffizi and its art treasures, those rolling hills dotted with medieval hilltop towns, and the beyond romantic towns and cities with their central squares and glorious churches. And, while for some visitors, the delicious gelato eaten in front of the tower of Pisa, the fanatic Chianti sipped on a sunny terrace looking out from beautiful San Gimignano, or the perfect coffee to accompanied ones musing over David, are a very pleasant bonus, for some of us they're one of the main reasons to visit Tuscan. Because Tuscany is delicious!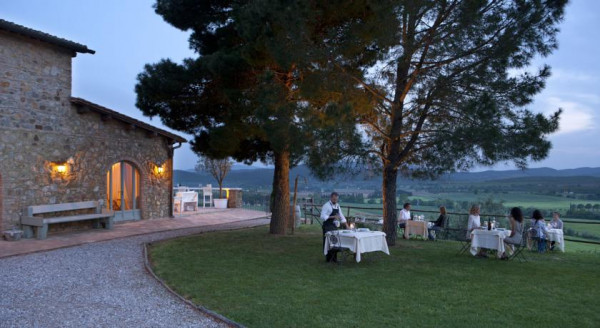 You might want to delve deep into the flavours of the local Montepulciano and Montalcino wines, or learn about the 'Super-Tuscans' from those who know them best. Or you might what to dive deep into the Ribollita or Pappa al Pomodoro, or even just the region's olive oils - and possibly take home a few recipes of your own? Well our list of the 10 best Tuscany hotels for food and wine is a great place to start planning, and drooling, over your Tuscan travel plans. We've included some of the best Tuscan hotels for food, and some of the top wine hotels in Tuscany, but also the best vineyard hotels in Tuscany too.
The Best Vineyard Hotels in Tuscany
The Castello di Vicarello is one of the best luxury hotels in the Tuscan countryside, a seven room castle hotel with panoramic views over its own working vineyards. The decor is Italianate opulence: traditional and romantic, and there's a top of the range spa and pool and a restaurant serving local sourced regional cuisine.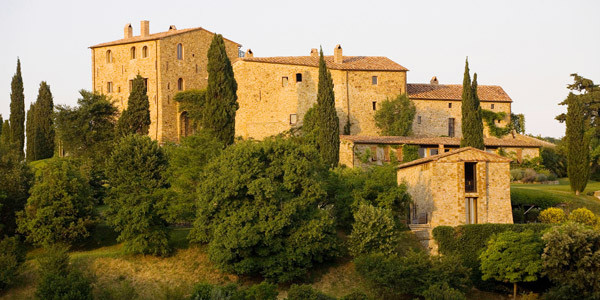 Conti di San Bonifacio is a stunning, five room Tuscan farmhouse renovation set in the hills above its own wine estate. Expect four-poster beds, furniture throws, marble bathrooms, fireplaces and terraces, and an infinity pool with incredible views. And of course fantastic food and wine.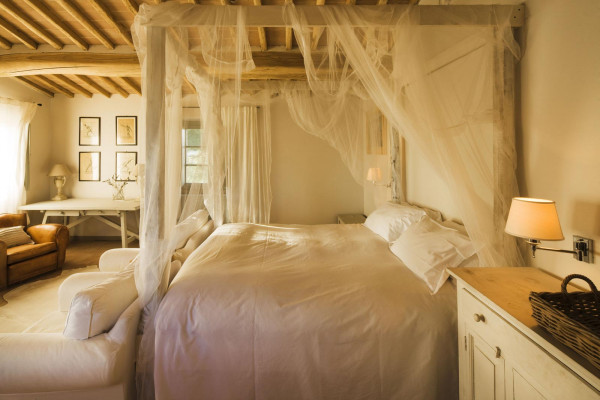 The Best Tuscan Hotels For Food, Wine and Views
Montepulciano is a big name in Italian wine, and this gorgeously cobbled, Medieval hilltop town bats above its weight in the calibre of its restaurants too. The Locanda di San Francesco is a great gourmet restaurant in the centre of town, with just four rustic chic rooms - all with fabulous views over the surrounding countryside. Their wine tasting events are excellent too…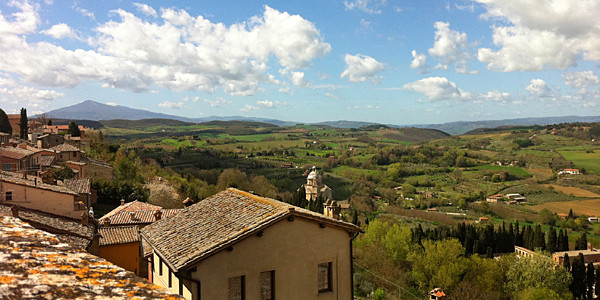 The Villa Campestri Olive Oil Resort is another treat for anyone who appreciates the pleasure of great food against a great view. This country house estate is certainly one of the best hotels in the Tuscan hills and has a range of rooms, suites, family suites, and apartments, all decorated with antiques and killim rugs, with glorious views over cypresses and olive groves. They offer cooking classes too.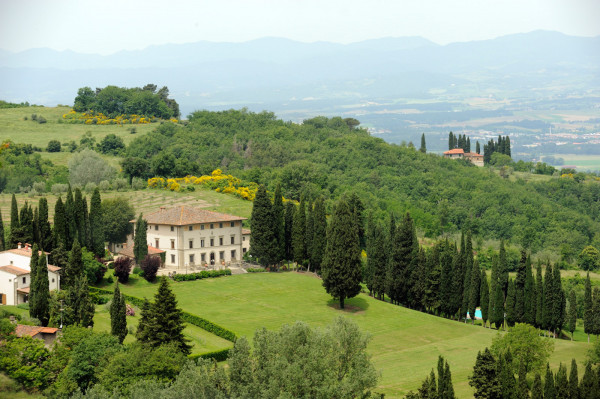 If you're here to learn how to cook like the Tuscans consider staying at the Tenuta San Pietro, a small gourmet hotel with just ten rooms. Its location is superb, just outside Lucca, and surrounded by olive groves and vineyards. And the interiors of this 16th century farmhouse are lovingly restored, yet still charmingly rustic. They also run art classes.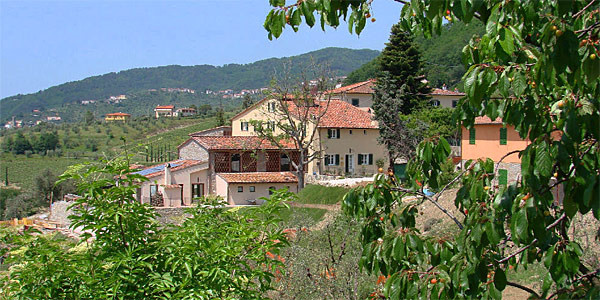 The Best Tuscan Hotels For Food, Wine and Luxury
One of Tuscany's finest hotels, Il Falconiere is all calm sophistication, elegance and superb service. Its Michelin-starred restaurant, where you can also take cooking classes or wine tastings, is set on a lovely romantic terrace with views over the surrounding countryside. The pool and spa are completely charming too.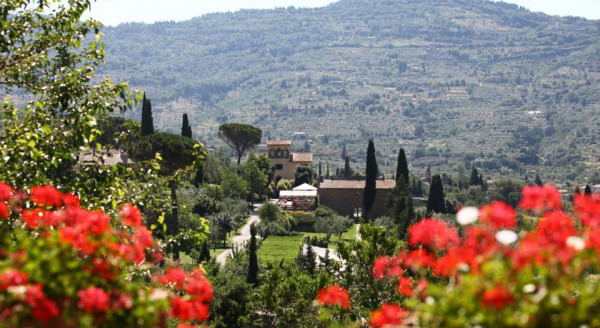 We also like Florence's Villa Tolomei, which is an elegant, 14th century villa converted into a 31 room retreat, surrounded by gardens, olive groves, vineyards and an outdoor pool, yet just five minutes from the centre of Florence. The views over the city are peaceful, and the restaurant is wonderful.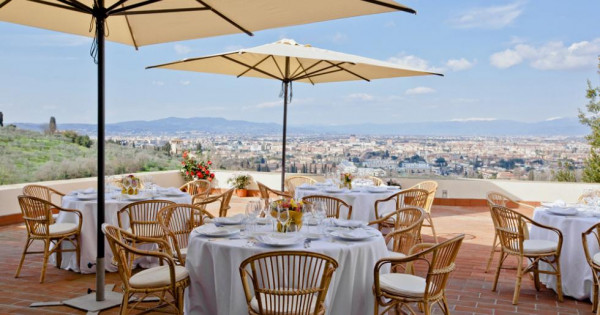 The Best Tuscan Hotels For Food, Wine and Romance
The Villa di Piazzano was built by the Medici family as a hunting lodge, just outside of Cortona, and is now a magical, family-run hotel with 21 romantic rooms, a beautiful pool and Italianate gardens and a restaurant serving excellent Tuscan food and wine. They have an excellent cellar and run cooking classes too…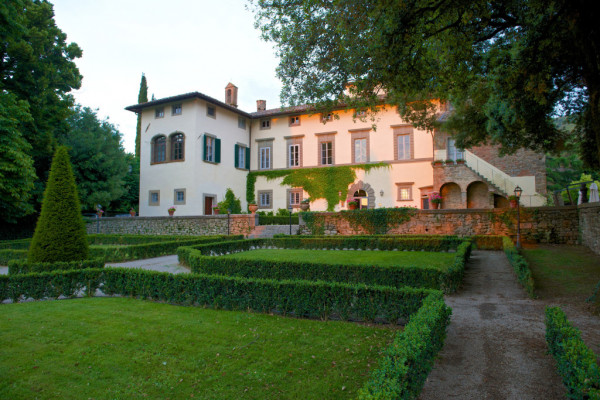 La Bandita Townhouse in Pienza is a sophisticated, ten room townhouse with a modern Italian restaurant that people have been known to refer to as 'divine'. The decor is minimalist: think exposed brickwork, whitewashed walls, angular four-poster beds and stand along baths.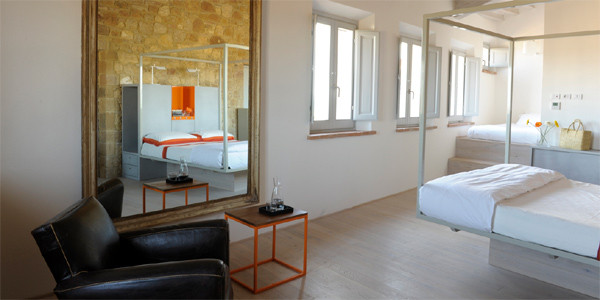 The Best Tuscan Hotels For Food, Wine and Great Value
The Relais Villa Baldelli is a striking country house hotel just outside Cortona. Its 15 rooms are traditionally decorated and quite romantic. And there's a restaurant where they offer cooking classes and wine tastings, plus an enormous pool and lush gardens. And the room rate starts from under £90 per night.

In the heart of Renaissance Pienza, Il Chiostro di Pienza is a former monastery, overlooking the peaceful Orcia valley. Bedrooms are graceful and simple with tiled floors and raftered or arched ceilings. Dine in the cloisters and relax in the pool with those lovely views.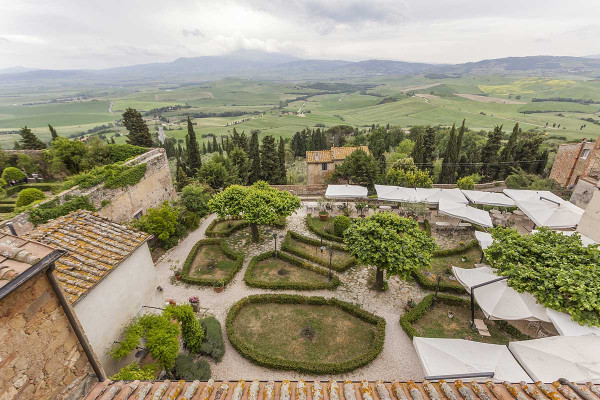 If you haven't found the perfect Tuscan hotel on our list of the 10 best Tuscan Hotels for food and wine you could:
The 10 Best Tuscan Hotels for Food and Wine
Tuscany

A highly luxurious boutique hotel perched on a hilltop with panoramic views over its own vineyards. Romantic rooms and suites have traditional decoration and Italianate opulence. A top of the range spa, fabulous regional cuisine fresh from the garden, and a pool. Glorious, rural, romantic.

Views - Stunning valley views of the vineyards beyond.

Romantic - Rural romance and glorious countryside.

Spa breaks

Romantic Break

Recommended by - Mr & Mrs Smith, I Escape

Check prices

Gavorrano Grosseto, Tuscany

Stunning Tuscan farmhouse renovation set in hills overlooking its wine estate. Superbly luxurious rooms and suites with four poster beds, fur throws, marble bathrooms, fireplaces and terraces. Fantastic food, infinity pool, wine tasting and endless views. Utterly romantic.

Honeymoons

Romantic Break

Luxury

Sights nearby - Explore the mediaeval hilltop villages of the Maremma region

Recommended by - Mr & Mrs Smith, Tablet

Check prices

Montepulciano Siena, Tuscany

A small hotel and restaurant in a charming hilltown. Four rustic chic bedrooms with fabulous views, excellent gourmet restaurant, and lots to do in the surrounding area from wine tasting to local music festivals.

Foodies

Sights nearby - Located in the centre of historic Montepulciano

Views - Wonderful views across the Val d'Orcia

Great walks - Good for walkers.

Recommended by - I Escape

Check prices

Cortona, Tuscany

Romantic setting for food lovers. Dine at a Micehlin-starred restaurant in a stunning 17th Century Tuscan manor. Beautiful, spacious rooms are a perfect blend of homely meets luxury. Relax by the pool or at the spa. Dining is top class plus you can take part in cooking classes and wine tasting.

Sights nearby - Take a picnic to Lake Trasimeno and spend a summers day in the water.

Cooking classes - On site cookery school, led by Chef and owner Silvia Baracchi.

Swimming Pool - Indoor Pool

Full of character

Recommended by - I Escape, Tablet, Relais & Chateaux

Check prices

Vicchio di Mugello, Tuscany

Gorgeous country house olive estate in the Tuscan hills. Timeless rooms, suites, family suites, and apartments have canopied beds, killim rugs, antique artworks and glorious views over cypresses and olive groves. Excellent restaurant, art and cookery classes.

Groups - Group bookings are popular, a great place to spend time with friends.

Families - Rooms can fit 5 with an extra bed on the ground floor of the villa.

Great walks - Wide selection of walks on the doorstep

Sights nearby - Explore the Mugello Valley

Recommended by - Sawdays

Check prices

Florence

14th century frescoed villa five minutes from the centre of Florence. Villa Tolomei is a Five Star hotel set in a peaceful 20 hectares with olives groves and vineyards, a spa, outdoor pool, lovely gardens and a wonderful restaurant. Beautiful views overlooking the city.

Outstanding location - In a tranquil setting, the beauiful cty of Florence with its exceptional churches, galleries, art and shopping is close by

Restaurant - The Il Conventino a Marignolle restaurant, offers exquisite Tuscan cuisine using fresh produce from the estate

Views - Fantastic views over Florence and the Arno Valley

Sit-out Terrace

Recommended by - Tablet

Check prices

Pienza, Tuscany

Sophisticated townhouse oozing contemporary chic with a fantastic restaurant. Minimalist bedrooms and suites have exposed brickwork, white washed walls, delicate four poster beds and stand alone bath tubs. Divine modern Italian food with daily changing menu. Very grown up & totally laid back.

Honeymoons

Foodies

City Style

Sights nearby - Situated right in the heart of Unesco-listed Pienza.

Recommended by - CN Traveller, Mr & Mrs Smith, I Escape

Check prices

Lucca

A small gourmet hotel with rustic rooms, sweeping valley views, an olive farm and surrounding vineyard. Bedrooms with stone walls, wooden beams, and private terraces. Fabulous food, cookery lessons, and art classes. An excellent choice for an active gourmet holiday.

Foodies

Sights nearby - Not far from Lucca. The hotel provides a free shuttle service to and from the town

Cooking classes - One day classes or cooking holidays available

Views - Great views from hotel

Recommended by - I Escape, Tablet

Check prices

Cortona (Tuscany)

This former Medici hunting lodge is now a magical Tuscan family-run hotel. Retreat to the romantic rooms, relax by the pool, stroll around the beautiful gardens, and feast on delicious Tuscan food and wine. The perfect country escape for all to explore Tuscany. Foodies will love the cooking classes.

Great walks - The Umbrian countryside is simply stunning and offers plenty of walking trails.

Sights nearby - Hop in the car to Lake Trasimeno. Take a picnic and make a day out of it.

Cooking classes - Cooking classes avalaible for all guests. Enquire before arrival.

Swimming Pool - Outdoor Pool

Check prices

Pienza, Tuscany

Former monastery in the heart of Pienza offers elegance and style, with delightful bedrooms in natural tones with tiled floors and arched ceilings. The cloister terrace restaurant serves delicious food and there are beautiful gardens and a pool that overlook the undulating valley. A romantic spot.

Romantic Break - Candlelight meals on the rooftop, lazy days by the pool and magnificant suites, some featuring original ceiling frescoes.

Local exploring - Right in the centre of this ancient and orginal example of Rennaissance townplanning, explore and soak up the history.

Sights nearby - In the historic central square of Pienza, only 100m from the famed Pienza Cathedral

Great walks - The Tuscan hillsides and vineyards make for some spectacular walking.

Check prices
posted Saturday, 10th November 2018
Search the best hotels in Tuscany