The Best Hotels near the NEMO Centre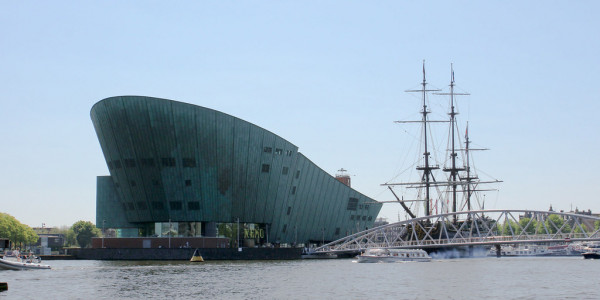 Flickr user Robert Falk
Amsterdam's NEMO Science Museum is an unmissable landmark poised above the water of the Oosterdok. It's one of the city's top family attractions. You'll find some of the best hotels near NEMO close to Centraal Station in Amsterdam Centrum and on the Waterfront. Architect Renzo Piano's stunning building juts like the prow of a giant copper-green ship over the Oosterdok. There are fab views from the wide rooftop terrace, home to an open-air sculpture exhibition and a family-friendly restaurant. In summer, water cascades through dozens of pools where children are welcome to paddle. Below, five floors of interactive exhibits and displays introduce young visitors to the wonders of science and technology through games, workshops, video and live performances. More of the best hotels near NEMO are in the Jewish Quarter and Plantage neighbourhood or the Eastern Docklands, both areas still within walking distance of the science museum.
FOR FAMILIES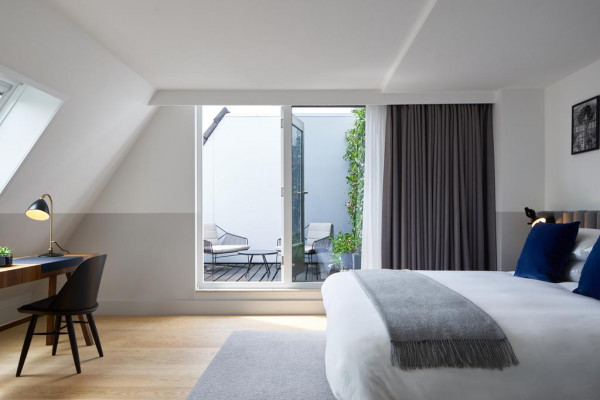 At De Witt Hotel you'll find attractive accommodation including family suites and a good restaurant. It's less than 300 metres from Centraal Station. Handy for arriving and leaving as well as exploring.
The Wittenberg has smart self-catering apartments in a tranquil spot, making it ideal for visiting families, with the added bonus of bikes for hire on site.
Eric Vokel Amsterdam Suites offers roomy self-catering apartments with fully equipped kitchens and harbour views. A perfect home from home for visitors with kids.
Still not sure? Expand your search to include all our Amsterdam recommendations, or contact one of our gurus for advice.
De Witt Hotel

Amsterdam

274 rooms from £207

Short break - Located just across the way from Centraal Station, this is a convenient choice for a fly-by city break

Intimate - The 5pm Wine Hour (offering free wine and snacks) becomes genuinely relaxed and chatty

City Style - A chic design hotel complete with atmospheric bar and a lively restaurant

Artworks - Enjoy the hotel's collection of ever-changing artworks by Dutch talents

A sleek hotel occupying two 17th-century hotels just minutes from the Centraal Station. Rooms vary slightly in design but all follow a blue and white scheme, and have wooden floors and luxurious bathrooms. American comfort food is served in Wyers restaurant and there's a lively cocktail bar too. See More

Check Availability

The Wittenberg

1018 VL Amsterdam

115 rooms from £187

Groups - With the option of two or three bedroom apartments complete with living areas and kitchens, these are ideal for a group getaway

Local exploring - The apartment style living is ideal for more independent travellers, and it's well located to easily access the famous sights

Chic - Enjoy the best of both worlds with your very own 18th century Amsterdam apartment (with very chic modern interiors)

Sights nearby - Head to the nearby Hortus Botanicus just across the canal, the world's oldest botanic garden

Historic accommodation in a peaceful, leafy central area consisting of chic self-catering apartments, ideal for independent travellers. The decor is simple and fresh, with a muted palette of greys and creams and hip statement pieces. A stylish home-away-from-home. See More

Check Availability

Local exploring - Located in a prime, central location in Amsterdam, these apartments make a great base for local exploring

Families - These self-catering apartments are great for families travelling with children

City Style - With chic, designer interiors, this hotel has lots of contemporary city style

Sights nearby - Visit the Basilica of St. Nicholas in Amsterdam's old town, a short distance from the hotel

This hotel offers luxury suites in the centre of Amsterdam, close to Amsterdam Centraal. Apartments have custom layouts and designer interiors with large windows and ample living space; book the penthouse suite for fantastic river views. Book a free breakfast kit online; a chic and modern city stay. See More

Check Availability
posted Tuesday, 12th July 2022