Our 7 Favourite Hotels near the Van Gogh Museum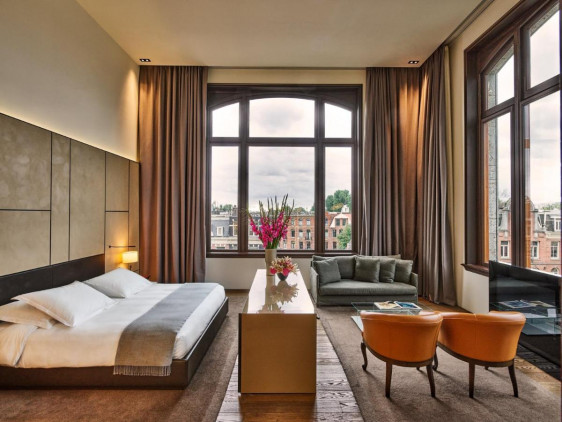 Overlooking Museumplein in the heart of the Museumkwartier, the Van Gogh Museum is a breathtaking collection of works by one of the 19th century's most brilliant and tragic painters. You'll find some of the best hotels near the Van Gogh Museum in the Museumkvartier, which surrounds Museumplein. However, our hotel experts have compiled a collection of the best hotels within easy reach of the museum ranging from chic design hotels to luxury options and some great value stays too. So why not browse through our collection to start planning your next cultural break?
For luxury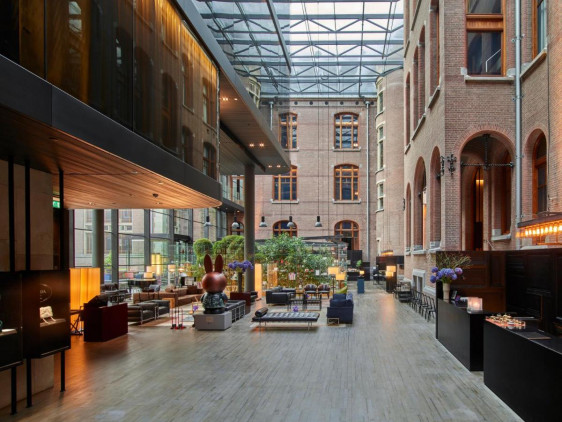 Conservatorium is one of Amsterdam's most luxurious hotels, with a choice of restaurants and bars, a pool, spa and large, airy, stylish rooms. This is the closest hotel to the Van Gogh Museum.
For the design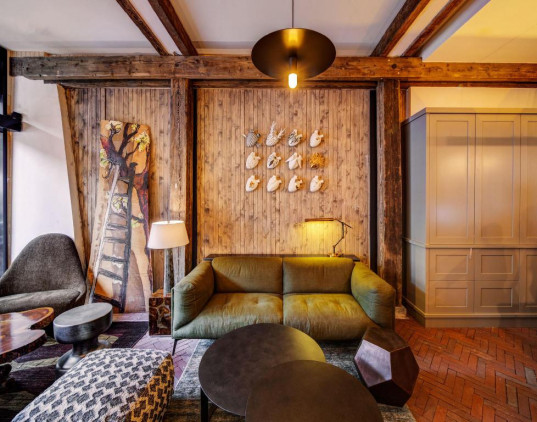 Hotel JL No76 is a haven for lovers of contemporary style. You'll find funky modern art and design, plus a popular restaurant.
Hotel Van de Vijsel is a beautifully crafted hotel offering cool contemporary aesthetics in the heart of the city. Designed in and out with wood while mixing traditional and modern designs. Rooms are simple with a Scandi-chic feel (plenty of wood again and simple crisp white linen). A stylish choice.
For foodies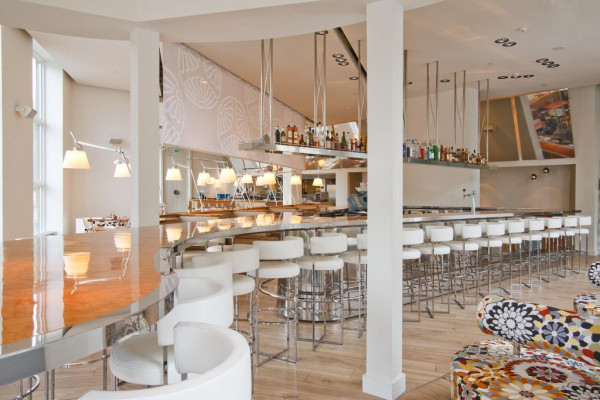 Park Hotel offers understated elegance in a prime canalside spot. MOMO is its award-winning restaurant where you can dine on the fabulous Far East meets West cuisine
For families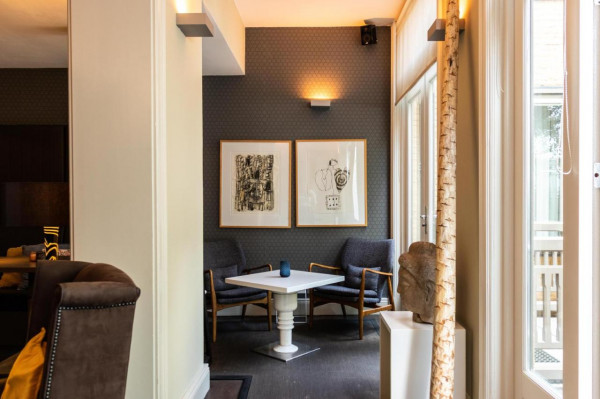 Hotel Roemer is set in an 18th-century townhouse near Vondelpark, this is a simply styled boutique stay with a homely feel. Rooms range from compact doubles to well-designed family rooms. There's an honesty bar, a courtyard garden, and bikes available — an easy city base for museum go-ers.
For good value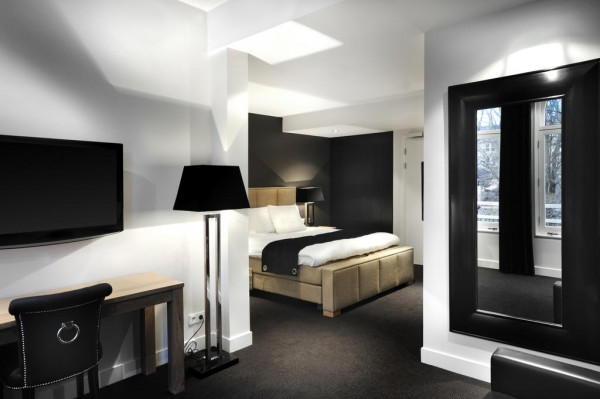 Piet Hein Hotel offers an unfussy, well-priced place to stay beside tranquil Vondelpark, a short walk from the Van Gogh Museum.
Catalonia Vondel Amsterdam is a modern hotel with a lively atmosphere near Amsterdam's nightlife, shopping, and museums. The decor is chic: courtesy of designer owner Arjen van den Hoff. A no-frills stay that's all about the location.
Still not sure which to book?
Expand your search to include all our Amsterdam recommendations.
Refine your search and look at our favourite hotels on Amsterdam's Waterfront or our favourite hotels in Amsterdam's Canal Belt.
Alternatively, contact one of our friendly Gurus for advice.

Architectural - A grand 19th century building that's been artfully turned into a modern hotel without losing the building's original character

5* Luxury - With a spoiling spa, healthy dining, a chic lobby lounge, and standout service — this ticks all the luxury criteria

Local exploring - Well positioned bang in between Museumplein and Amsterdam's chicest fashion street

Museums - The Rijksmuseum, Van Gogh Museum, and Stedelijk Museum are right next door

Recommended by - Tablet, Kiwi Collection

A homage to modern design in the centre of Amsterdam. Huge open rooms, minimalist furniture, and natural light. There are the option of two very good restaurants, an indoor pool, and a spoiling spa. Located in the heart of Museum Square district this is both a convenient and indulgent choice. See More

Check Availability

Hotel JL No76

Amsterdam

39 rooms from £136

Contemporary - A beautifully converted 19th-century property with a typical townhouse appearance from the outside and chic modern design inside

Boutique - With a charming courtyard garden, friendly staff, bike rental, and an honesty bar - this has a charming home-away-from-home feel

Families - The Family Room is a great option for those travelling with kids. There are bunk beds and even a whirlpool tub that fits four!

Local exploring - Set on a quiet residential street near Leidseplein, Museumplein, P.C. Hooftstraat and the Vondelpark

Recommended by - I Escape, Tablet

A chic modern hotel in a 19th century townhouse on a residential street right in the heart of the city. Interiors are fresh and contemporary with interesting works of modern art, plenty of light, and unique design pieces. A courtyard garden, honesty bar, and bike rental makes this an easy city base. See More

Check Availability

Local exploring - Well positioned between Leidseplein and Vondelpark giving guests access to both the city's best nightlife and major attractions

Families - Spacious Family Suites are made for contemporary families with coffee machines, living areas, and a separate area to work

Foodies - Home to the award-winning MOMO restaurant which is Amsterdam's first upscale Asian-fusion restaurant

Contemporary - Stylish contemporary style sees steely hues, hip Scandi-esque furniture, and modern artworks

Recommended by - Tablet, Fodors, Michelin Travel

A stylish contemporary hotel well located between Leidseplein and Vondelpark. Spacious rooms and suites are decorated in cool steely hues and feature coffee makers and modern artworks. Home to MOMO Restaurant, there's excellent fusion Asian cuisine plus there's a chic cocktail bar. See More

Check Availability

Local exploring - Located right in the thick of it, between Utrechtsestraat and De Pijp areas with restaurants, shops, and sites nearby

Museums - Learn of The Netherlands' history in the impressive Rijksmuseum or visit the Hermitage Museum

Designer - Expect urban-chic design with exposed brickwork, thick carpets, and a subdued colour palette

Designer Shopping - The adjacent Utrechtsestraat is one of the nicest shopping streets in Amsterdam

A stylish hotel well positioned in the city centre with museums, shops, and restaurants nearby. Rooms have a cool urban feel with steely hues, exposed brickwork, and vast windows. There's a hip lounge for your morning coffee. A laidback city base to explore from. See More

Check Availability

Local exploring - Just one street from Vondelpark & Leidseplein, you are right in the city centre with museums, nightlife, and restaurants nearby

Charming - Designed to feel like a home-away-from-home. There's an honesty bar, and bikes available - great for independent travellers

Families - Spacious (for Amsterdam) Family Rooms with a double bed and bunk beds plus there is the park nearby for kids to run around

Historic - Set in an iconic 18th century Amsterdam townhouse

Recommended by - I Escape, Tablet, Michelin Travel

Set in an 18th-century townhouse near Vondelpark, this is a simply styled boutique stay with a homely feel. Rooms range from compact doubles to well-designed family rooms - all decorated in a neutral palette. There's an honesty bar, a courtyard garden, and bikes available - an easy city base. See More

Check Availability

Contemporary - Set in a collection of 18th century buildings that have been simply and artfully converted into practical minimalist spaces

Local exploring - Located in a desirable part of town near the nightlife-centric Leidseplein and close to the Museumplein

Less £ - The hotel has a good range of rooms with several options for a budget-friendly stay

Romantic Break - Pick one of the suites with an in-room whirlpool tub for a romantic stay

Recommended by - Tablet, Frommers, Michelin Travel

A modern hotel with a lively atmosphere near Amsterdam's nightlife, shopping, and museums. The decor is chic: courtesy of designer owner Arjen van den Hoff. Untreated wooden furniture and white-washed walls create a minimal feel with cosy textiles. A no-frills stay that's all about the location. See More

Check Availability

Local exploring - Set right between two of Amsterdam's most desirable places — to the east, the canal district, and to the southwest, Vondelpark

Architectural - Once home to the timber trade family business, it has been artfully designed using lots of reclaimed wood - a design masterpiece

Museums - Stroll down to the Rijkmuseum and marvel at the Dutch Golden Age painting masterpieces and vast European art collection

City Style - An architecturally slick property crafted from fine wood craftsmanship in the heart of the city

Recommended by - Tablet

A beautifully crafted hotel offering cool contemporary aesthetics in the heart of the city. Designed in and out with wood while mixing traditional and modern designs. Rooms are simple with a Scandi-chic feel (plenty of wood again and simple crisp white linen). The city's sights are a stroll away. See More

Check Availability
posted Wednesday, 20th July 2022