The 25 Best Hotel Views in New York
New York is home to a lot of great views, it's just a fantastic, lively skyline to admire. You've got your obvious contenders for views and for viewing, like the Empire State Building and the Brooklyn Bridge, the Rockefeller Centre, the One World Observatory or the roof garden of the Metropolitan Museum of Art - all of these are great places for looking out and down. Or for views closer to ground level where you can look out and up you could try the Staten Island Ferry, Belvedere Castle in Central Park where they have telescopes on hand, the Meatpacking District's The High Line park or the Gantry Plaza State Park - it might not ring a bell but it's the star of many films. But you could also plan to stay in one of the hotels with our Guru's choices for 25 of the best hotel views in New York, and potentially see a fantastic view out of your own hotel room window - or from the hotel roof terrace.
The 25 Best Hotel Views in New York
Classic New York Hotel Views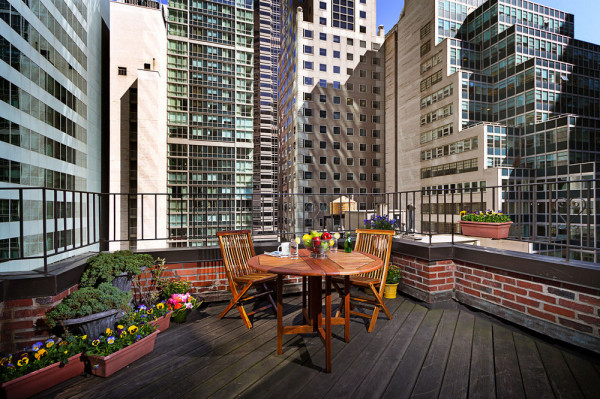 The Hotel Elysee was once hosted Manhattan's literary elite - most famously Tennessee Williams, who spent his final years living here. It's classy, elegant and intimate so you can see why people lived here. The suites feature French style furnishings, rich fabrics and plush carpets and the Monkey Bar has become one of Midtown's most iconic and hip bars.
The Carlyle Hotel is a luxurious, landmark hotel on the Upper East Side, they say it's: 'a showcase of great art, a purveyor of privacy and a sanctuary of refined taste'. Expect opulence, but in a timeless, classic style, plus great views and maybe a piano in your room. And before you book into The Carlyle Hotel you should check out the newly revamped cafe's performance schedule, you might get a chance to see Eartha Kitt or Woody Allen's New Orleans Jazz Band.
The Most Luxurious Hotel Views in New York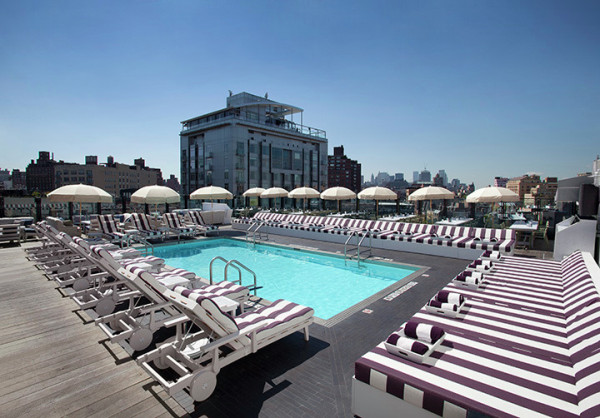 Soho House New York has the name because of the other Soho, the one in London, as this is the New York outpost of Soho House, the London Private Members Club. But, as with the majority of their properties, you don't have to be a member to stay here and enjoy the epitome of cool that this band has come to represent. In the case of Soho House New York you've got the cool associated with the location in the Meatpacking district, the cool of their 44-seater private cinema, their heated rooftop pool and there's a great spa. Plus, just 24 rooms, and all of them different.
The Refinery Hotel is not a luxury hotel converted from an oil refinery, but a hat factory. The 197 plush rooms have high ceilings, hardwood floors, contemporary artworks and some offer views of the Empire State Building. The industrial conversion vibe is mixed with a suave contemporary flare to great effect.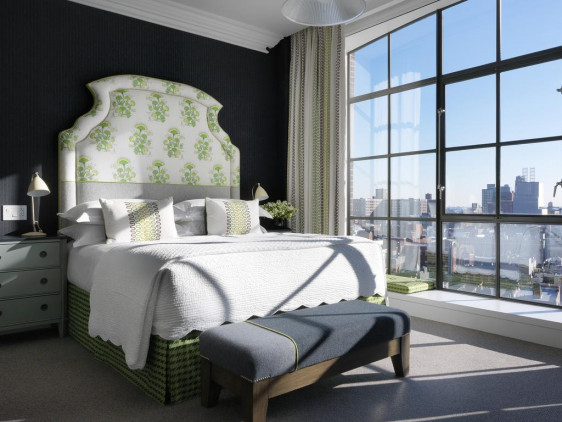 The Crosby Street Hotel is an achingly cool, 86 room SoHo hotel loved by celebrities and design addicts for it's chic Kit Kemp interiors. You're surrounded by cool, with original art on the walls and an impressive list of celebrity guests - including James Bond himself, but yet the hotel is on quite a quiet street, and the main event of most rooms are the floor-to-ceiling views of Manhattan's skyline.
The Most Romantic Hotel Views in New York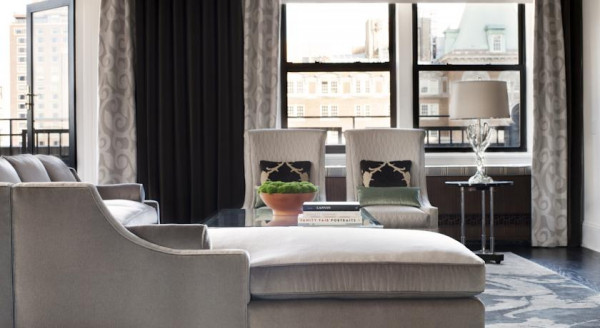 The Surrey is a grand and gracious, five star Upper East Side hotel with a fantastic Art Deco inspired lobby, a private roof garden, an exceptional spa and a decadent bar. Plus you're right on the doorstep of Central Park close to some of New York's best restaurants.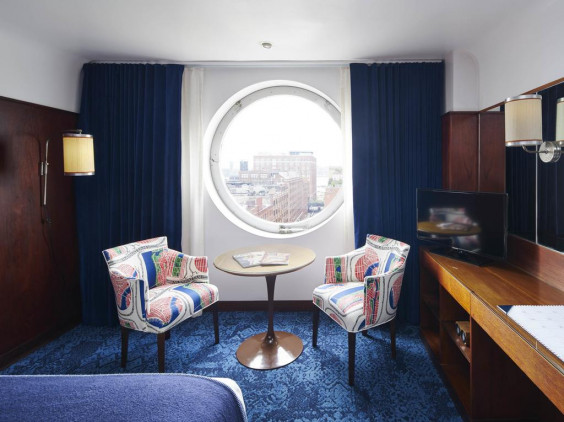 The Maritime Hotel has really taken the nautical theme and run with it throughout its 125 cabin-style rooms and suites, it's library, lounge, it's pool, cafe, bar and both restaurants, and all the way out its porthole shaped windows overlooking the Hudson River. And they have a 10,000square foot terrace.
New York's Best City Break Hotel Views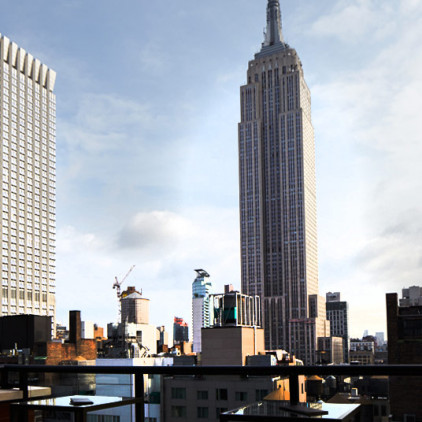 About a mile from Times Square and just four blocks up from the Empire State Building, the Archer New York offer a quirky blend of downtown-style industrial chic and uptown decorative influences. The 180 rooms are modern and there's a cool rooftop bar called Spyglass - named for its panoramic views.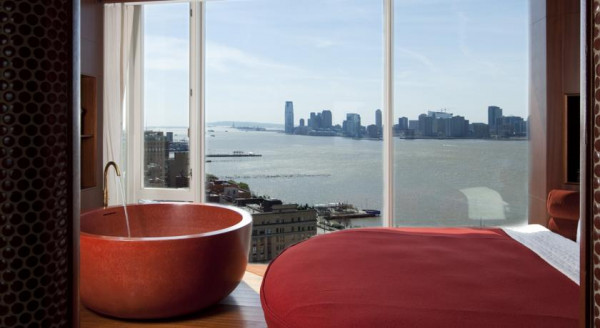 The Standard is tall, thin and covered in windows, so you have views from every room - even from the comfort of your bath. The decor is chic, and a bit edgy to suit the neighbourhood, and the bar and restaurant are places to be seen in, as well as to enjoy hip all-American food. The 18th floor lounge has 360degree views, and becomes a nightclub after 9pm.
The Roxy Hotel TriBeCa offers downtown chic in it's most classic form, from its in-house cinema to its suave roof terrace and sleek, mid-century and modern rooms all fitted out with the latest technology. This is the sister hotel to the SoHo Grand just two blocks away, and two blocks makes for some difference when it comes to design aesthetics. This is a lively place frequented by beautiful people, yourself included.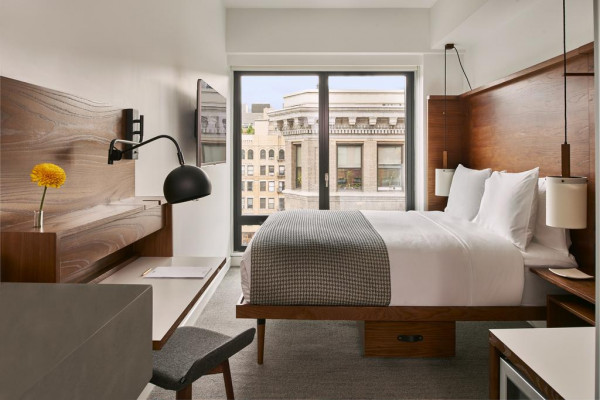 Arlo Soho is a 325 room boutique hotel with plenty of light and plenty of beautiful wood furniture. Rooms have their own fridge, or you can enjoy a drink and excellent food in the rooftop bar. The best rooms have balconies with more incredible views. If you like mid-century design you'll like it here.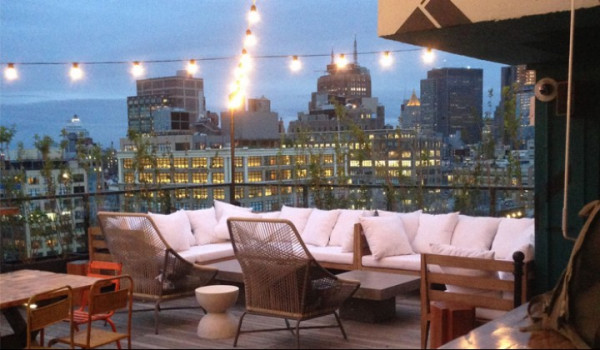 The Hotel Hugo is a retro delight, with 122 rooms designed by architect Marcello Pozzi and decorated with custom-made Italian furnishings. You're on the edge of SoHo with views of the Hudson River and the skyline of Downtown Manhattan, which you can really enjoy from the double storey rooftop bar.
The Hotel on Rivington is close to Wall Street and the World Trade Centre, SoHo, TriBeCa and Chinatown, and it's about five minutes from Little Italy. It's also hip and youthful, with floor-to-ceiling window and bright, modern furnishings. The restaurant is a fusion of an America brasserie and a sushi restaurant.
The Hippest Roof Terraces in New York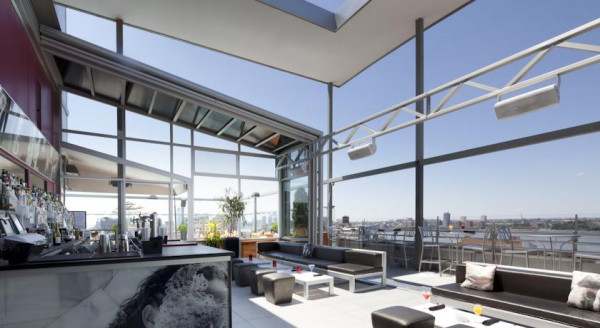 Gansevoort Meatpacking is a vibrant, 186 room hotel with a fantastic rooftop pool and terrace with 360degree views of New York, a relaxing spa and a reputation being being a fun place after dark. The decor is modern in a 60s way and stylish, with an industrial feel that goes with the area, and rooms have big windows and high ceilings. The bistro is good too.
NoMad is calling itself an art boutique hotel, but whatever the title it's super stylish, hip and arty, and in a great location close to Madison Park, just five blocks from the Empire State Building. As well as 168 rooms, great views, a lively bar and a refined restaurant, Nomad also has a two-story library and plenty of art by local artists.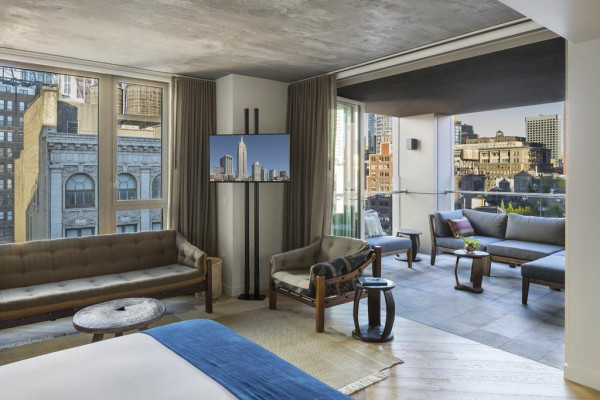 MADE Hotel is super cool, from its leafy, coffee shop/ cocktail bar lobby to its reclaimed walnut floors, brushed concrete walls and rooftop bar and terrace with show-stopping views of New York and superb food.
The Hotel Americano is the creation of Enriques Norten, an award-winning Mexican architect, and his efforts have resulted in an ultra-stylish, urban hotel with some old fashioned comforts like natural materials, warm lightings, hot tubs and fireplaces. Plus there's a choice of restaurants including a roof terrace with a grill and outdoor patio.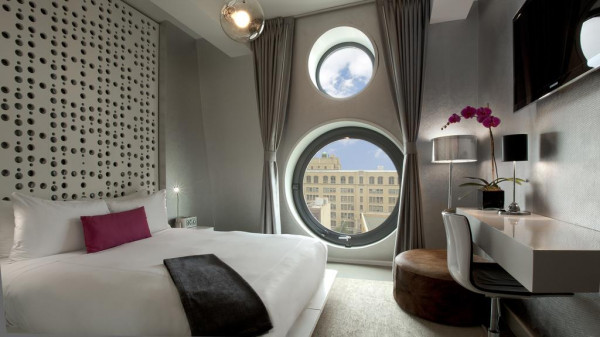 Dream Downtown is in a fantastic spot on the border of Chelsea and the Meatpacking District and has a trendy, industrial vibe that suits both, with large portal windows, metallic walls and tiled floors. It has two nightclubs downstairs and one rooftop pool upstairs.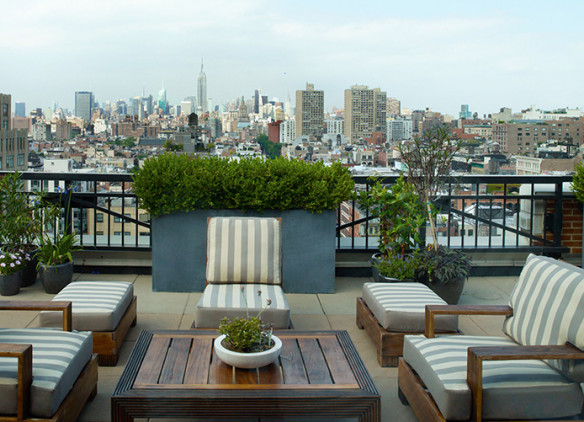 The SoHo Grand Hotel is in lively, fashionable SoHo, and is a sumptuous, elegantly designed 353 room hotel - think the gilded cage of the 1870s meets the lux. fashion of the 1970s? Perfect for your average ultra-chic New Yorker, with the original artworks, the stylish bar, sophisticated club and acclaimed restaurant. Plus, if you didn't bring your pet you can ask for a complimentary goldfish?
The Best Hotel Views of Times Square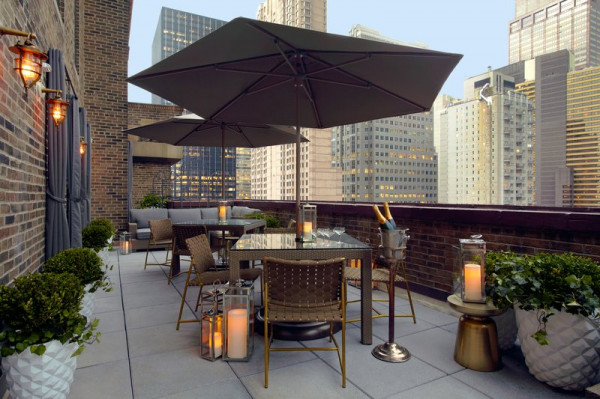 The Westhouse Hotel is technically closer to MoMA than Times Square, but this exclusive hotel's location is just really convenient for a lot of places, Central Park and Times Square included. Channeling rich 1920s glamour with a touch of Art Deco, it boasts crystal chandeliers, polished wooden floors, a vintage speakeasy bar and al fresco dining on the 23rd floor.
The Dream Hotel has more going for it than just a great name, this modern hotel has 210 smartly decorated bedrooms and suites, a cool nightclub/ cocktail bar on the roof terrace with a panoramic view of Times Square, and quirky details - think a statue of Catherine the Great in the lobby and a two storey aquarium.
The Best Hotel Views of the Empire State Building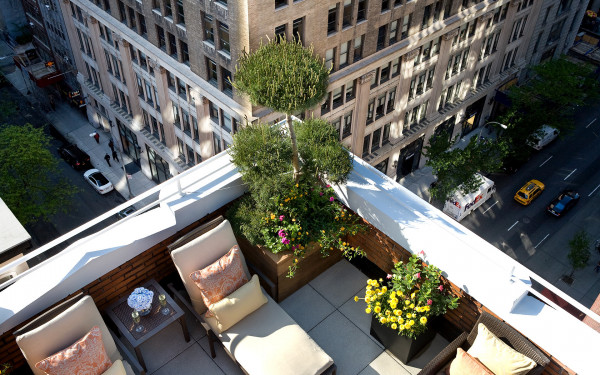 Stylish and recently renovated, The Roger is contemporary, elegant and in a great spot on Madison Avenue offering views of the Empire State Building from some of its cooly luxurious 194 rooms and suites - some even have a private balcony or terrace with ESB views. The lobby doubles and a bar and bistro offering a relaxed vibe and excellent cocktails.
The Best Hotel Views in Brooklyn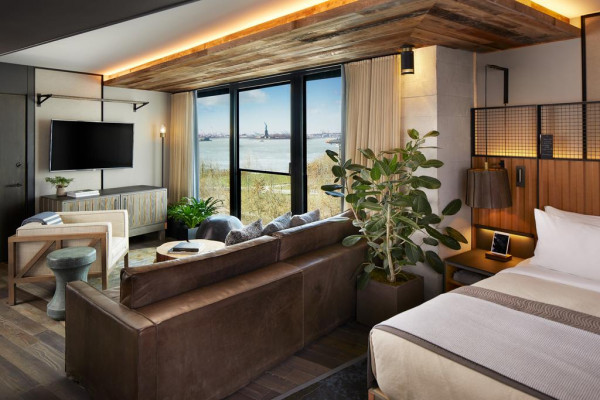 1 Hotel Brooklyn Bridge is a contemporary design hotel with wood-hewn furniture, clean lines and fantastic views! You're right by the Brooklyn Bridge Promenade with views across to the Statue of Liberty and Manhattan.
For around $200 per night you can stay at McCarren Hotel & Pool, at Greenpoint, overlooking McCarren Park, with one of New York's largest outdoor saltwater pools on the premises. The views are leafy in the foreground and the Manhattan skyline is in the background. The rooms are clean and elegant and there's an elegant roof terrace and a restaurant with a Michelin-starred chef.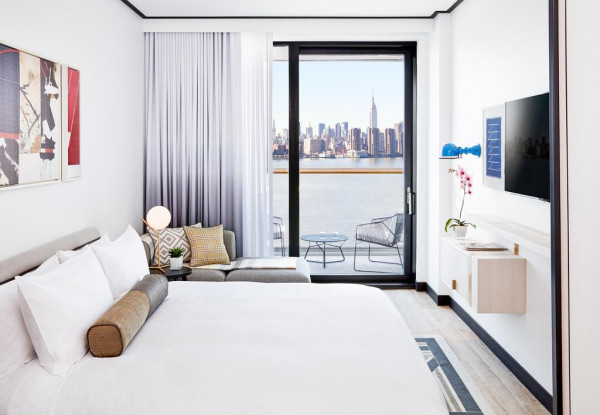 The William Vale is in uber-cool Williamsburg, an 183 room modern hotel with sleek, futuristic interiors and floor to ceiling windows.The rooftop pool is New York's largest, and the hip, happening bar draws crowds of a Saturday night. Plus the restaurant menu is prepared by two of the city's top chefs.
The Best Value Hotel Views in New York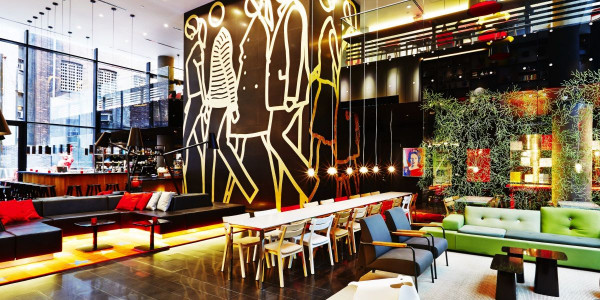 CitizenM New York is another in that set of innovative, modern, no-frills-hotels-with-funky-design-frills. It's about one minute from Times Square, has wall-to-wall windows and a panoramic rooftop bar.
If you haven't found you idea of the best hotel view in New York on our Guru's list of 25 you could try:
The 25 Best Hotel Views in New York
posted Monday, 5th August 2019
Search the best hotels in New York