The 20 Best Midtown Manhattan Hotels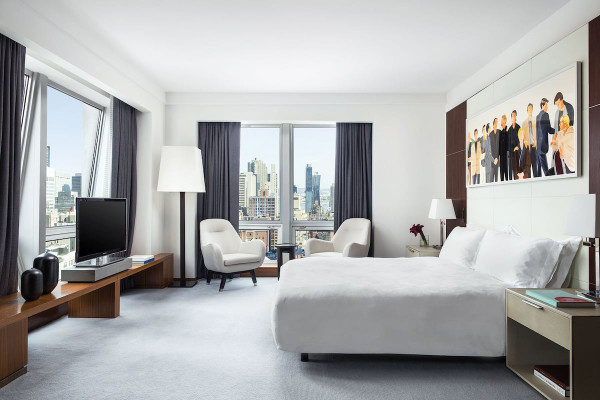 The world's most vibrant and exciting city, 'the city that never sleeps', New York has become popular as a short-break destination. And Manhattan's Midtown is a great place to stay. Not only is it in the centre of things, but it's also home to the Empire State Building, the Chrysler Building, MoMA, Broadway and Times Square. There are a lot of hotels here, but our Guru's have saved you the trouble of trawling though them by creating a list of the best Midtown Manhattan Hotels. There are hotels which offer unbeatable luxury, some classic options, and those whose USP is more on the design side. But we've also found some properties which won't break the bank and others that are perfect for a family break. So use this guide and get planning your trip!
For the Scrapbook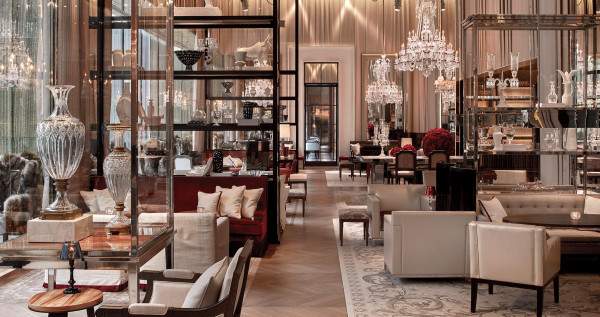 The Baccarat Hotel is a deliberately swanky pick just off Fifth Avenue, close to MoMA and the Rockerfeller Center. The Baccarat's decor is fancy, with oversized chandeliers and plenty of glass cases, white leather and red velvet, but it feels super stylish with it. The 114 rooms and suites are decorated in white, with clean lines, elegant details and indulgent marble bathrooms. The restaurant is fine dining, the cocktail bar hip and there's an impressive pool and spa.
For Classic New York Style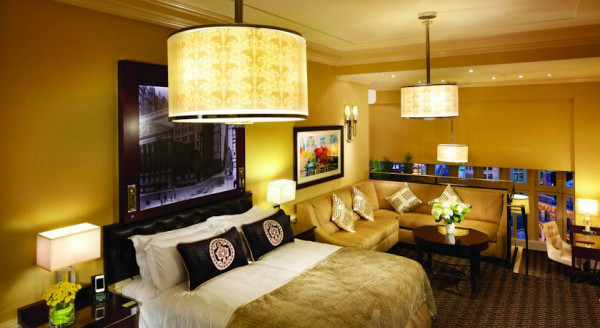 The Algonquin Hotel is a New York icon that's hosted the world's cultural and artistic elite on their visits to Manhattan. Opened in 1902, this is one of New York's most historic and beautiful hotels. It was here where Dorothy Parker and the Algonquin Round Table (otherwise known as the 'vicious circle') would meet everyday for lunch throughout the 1920s. Recently renovated and reopened in 2004, the Algonquin retains the rich aura of its past within an understated modern feel.
The Lotte New York Palace is a gilded-age institution, with a contemporary tower extension. So you can reference your style preferences within the one super-central landmark hotel. There are now 909 rooms and suites, with impressive facilities to serve that many guests, including a library, a spa and gym, lounges, terraces and and historic New York dining institution for a restaurant.
For New York Views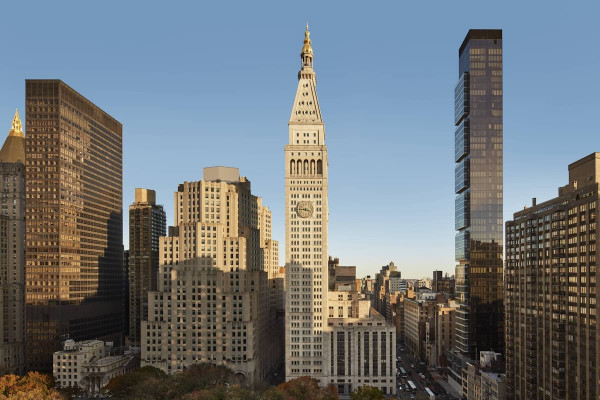 New York EDITION occupies many stories of an historic clock tower opposite Madison Square Park, with many rooms offering expansive city views. The hotel also offers chic, contemporary minimal design in 257 spacious rooms and suites, but wonderfully old fashioned glamour in the lively cocktail bar and Michelin-starred restaurant. There's a gym and sanctuary of a spa too.
The Langham New York on Fifth Avenue is elegant and luxurious, with 234 rooms and suites and an impressive array of art, and facilities. In addition to original art in the rooms, they have spacious marble bathrooms and incredible city views — the deluxe rooms and suites have private balconies, and the largest have between one and four bedrooms. There's also a gym, spa, cocktail bar, and a Riviera inspired restaurant.
For Seeing the Sights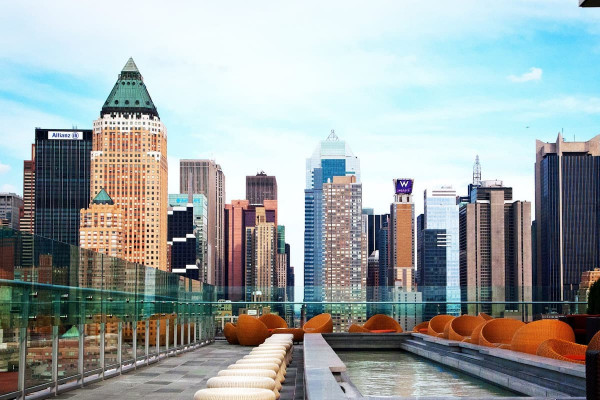 Ink48 is a chic, contemporary hotel in Hell's Kitchen, overlooking Manhattan on one side and the Hudson River on the other. There are 22 rooms and suites in a range of shapes and sizes, but they're all decorated with a sense of space and peace in mind, with lots of light and black and white photos on the walls. The roof terrace cocktail bar is really something, and the farm-to-fork restaurant is both stylish and popular.
The Hotel 48Lex is a smart hotel that's doing everything right: think floor-to-ceiling windows with incredible city views, stylish, contemporary decor that feels fresh yet timeless, a restaurant serving organic farm-fresh produce, and a bar known for its chic cocktails. And a 24 hour gym.
For a City Break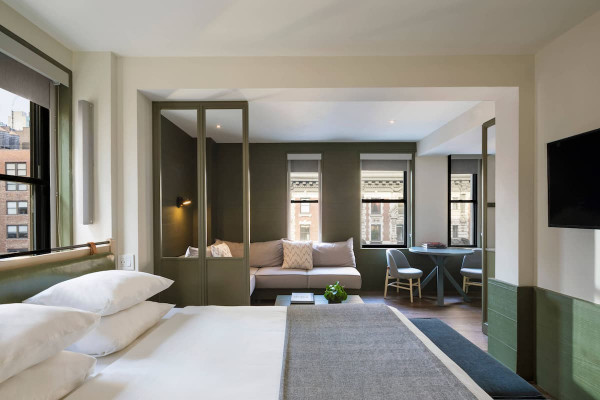 For Romance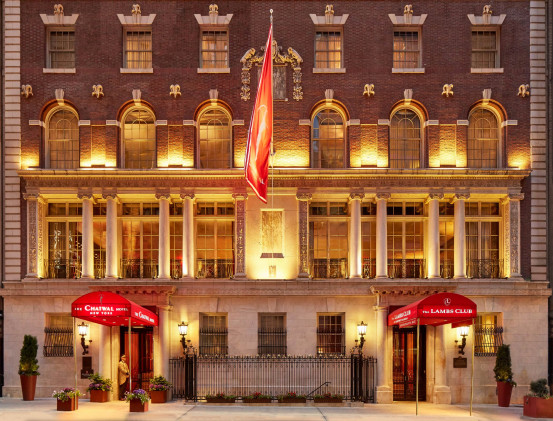 Built in 1905, The Chatwal on 44th Street is a grand hotel of that era, with incredible original Art Deco details in the lobby, bar and restaurant, and 76 stylishly contemporary rooms and suites. A personalised butler service comes as standard, which may date for the earliest service standards, and The Lambs Club restaurant has become an historic and well regarded culinary landmark.
The Casablanca Hotel has uniquely Moroccan-style decor and an enviable location just steps from Times Square. The funky themed rooms and opulent old school bars featuring live piano sets, will transport you to another time; it's a warm and welcoming spot in an enviable location — perfect for a charming city stay.
Or there's the Library Hotel, a peaceful spot with a literary theme, obviously, with themed rooms, a poetry garden and a writer's den.
For Design Chic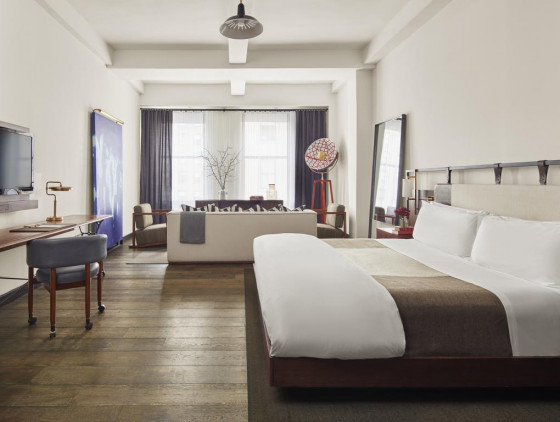 Converted from a former hat factory, the Refinery Hotel is beautiful, with just the right about of quirk and reference to the building's heritage to make it memorable, without impeding the feeling of contemporary spaciousness. The 197 rooms and suites have wooden floors and high ceilings, contemporary art and the odd impressive antique. The prohibition-style jazz bar is super cool and lots of fun, and the rooftop bar, from which you can see the Empire State Building, is relaxed and stylish.
For Families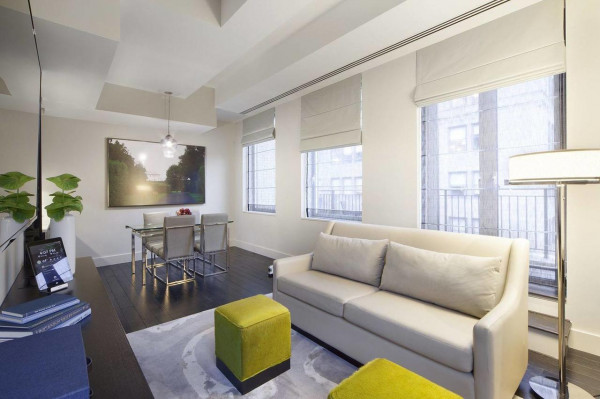 The Marmara Park Avenue is an elegant hotel, with a beautiful Art eco entrance and lobby and 128 well laid out rooms and suites. The suites have kitchenettes, making this an excellent choice for families or those planning a longer stay. 40 of the suites have a private terrace. The decor feels luxurious but unfussy, with high ceilings, hardwood floors, marble bathrooms and quality fabrics.
The William is a collection of just 32 rooms and suites in the heart of Bryant Park. Though the hotel is small by New York standards, the suite are spacious, and decorated in vibrant monochrome colour schemes. You can self cater if you want, but there's also an American/British restaurant, and a speakeasy style cocktail lounge.
For Something Different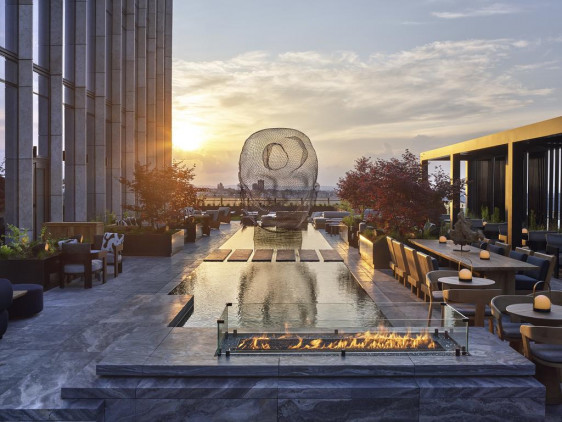 If you're looking to leave New York changed for the better you could help yourself out by staying at the Equinox Hotel, which is geared up to leave you feeling fitter and better when you hand over your room key. There are both indoor and outdoor pools, a spa is aimed to recuperate you, and they offer personalised fitness plans and a healthy menu in the chic restaurant.
For Great Value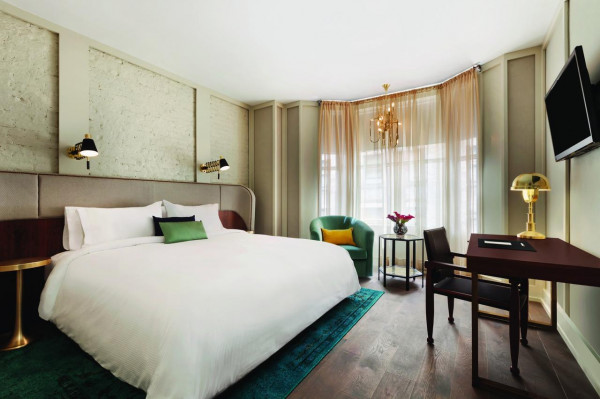 Located just behind Madison Square Garden in hip NoMad, the Evelyn Hotel is chic, and surprisingly affordable with it. There are 160 rooms and suites in a range of shapes and sizes, but all decorated with a Neo Deco vibe that really complements the original Art Deco features of the lobby, lounge and restaurant.
Still not sure where to book?
You could expand your search to include our Guru's recommendations for all the best places to stay in New York
Or consider our Guru's picks for Best Hotels in Manhattan, the Best Uptown Manhattan Hotels or our Guru's list of the Best Hotels in Downtown Manhattan
Alternatively, you could contact one of our friendly Gurus for advice.

Sights nearby - This downtown hotel is just seven minute walk from Times Square and ten from the Rockefeller Center.

Literary - A well-known literary history.

Historic - Oldest-running hotel in NYC.

Business Hotel

Historic Manhattan hotel and host to the city's artistic and cultural elite. Old-world charm and contemporary comforts to suit anyone on business or leisure. The hotel was newly refurbished in 2004 but retains its original opulent charm. See More

Check Availability

Sights nearby - Located just a few steps from Times Square and Rockefeller Center.

Great walks - Bryant Park is just a seven minute walk away from the hotel.

Romantic - Good for couples.

Lively - Hip and happening.

Recommended by - Fodors, Frommers

An individual and stylish hotel just steps from Times Square. The funky Moroccan themed rooms and opulent old school bars featuring live piano sets, will transport you to another time. A warm and welcoming spot in an enviable location - perfect for a charming city stay. See More

Check Availability

Hotel Elysee

New York

100 rooms from £166

Great walks - Central Park is under ten minutes from the hotel with plenty of trails for walking, running and cycling.

Views - Great views from hotel

Restaurant - Recommended.

Designer - Uniquely designed interiors.

Recommended by - Frommers

The Elysee, formerly a host to Manhattan's literary elite, has retained its iconic old world charm. The suites feature French style furnishings, rich fabrics and plush carpets. The Monkey Bar has become one of Midtown's most iconic and hip bars. Classy, elegant and intimate. See More

Check Availability

Hotel Giraffe

New York

72 rooms from £196

Roof terrace - Rooftop restaurant.

Sights nearby - The Empire State Building is only eight blocks away, and commands views of the whole of New York.

Great walks - Explore this hip area on foot, there is no better way to take in the sights!

Views - Great views from hotel

Luxurious boutique hotel with outstanding service. Rooms in neutral tones ooze understated elegance - chocolate leather headboards and pearlized platinum walls. Complimentary breakfasts and complimentary wine and cheese every evening except Sunday. A hotel with sophistication and urban style. See More

Check Availability

Theme hotel - Floors are themed around a category of the Dewey Decimal system

Writing a novel - A literary-themed hotel with library and poetry garden

Literary - The free public library is within walking distance

City Style - Contemporary comfort in the heart of the city

Recommended by - Fodors, Frommers

A book-lovers' paradise between Grand Central and Bryant Park. Literary themed rooms and writer's den. The rooftop bar and poetry garden offer excellent cocktails and city views. Complimentary continental breakfast is served in the Reading Room. A truly unique place to absorb art and culture. See More

Check Availability

Local exploring - Discover Union Square and Greenwich Village to the south, Chelsea to the west, NOMad to the north and Gramercy Park to the east

Foodies - Jason Atherton's Michelin starred Clocktower Restaurant should not be missed

Spa - Set on the 39th floor of The New York EDITION, a serene sanctuary with various treatments, therapies and massages offered

Sights nearby - Close by are Union Square, the Empire State Building, Grand Central Terminal and The Morgan Library & Museum

An upscale hotel, set in a historic clocktower, near Madison Square Park. Luxurious rooms and suites feature fur throws, sweeping vistas of the Manhattan skyline and large bathrooms with rainfall showers. More of an adult-vibe offering a tranquil spa, cocktail bar and a Michelin-star restaurant. See More

Check Availability

Evelyn Hotel

New York

160 rooms from £105

Foodies - Benno, the hotel's Michelin star restaurant, offers a distinct fine-dining experience featuring coastal Mediterranean cuisine

Local exploring - From uptown to downtown, east side to west, The Evelyn Hotel is situated conveniently to all of Manhattan's destinations

Value chic - Really affordable prices, especially for this area of Manhattan

Restaurant - Three dining options with a casual Roman-inspired bakery, café and trattoria, as well as, a fine-dining Mediterranean restaurant

An affordable art-deco hotel set just north of Madison Square Garden in trendy NoMad. Stylish and sophisticated rooms have vintage touches, antique furnishings and marble bathrooms with heated floors. Michelin starred Benno restaurant is unmissable and there's Leonelli's for a cocktail or two. See More

Check Availability

Local exploring - Ideal for sightseeing – just 7 minutes' walk from the Empire State Building

City Style - Magnificent hotel with all the sophistication you'd expect in New York

Families - Rooms with kitchenettes are perfect for families

Weddings - Chic and elegant venue for weddings

Recommended by - Tablet

Supremely elegant 5* boasting magnificent Art Deco entrance and lobby. Expect luxurious fabrics - velvets, leather and silks - high ceilings, hardwood floors and marble bathrooms. Find complimentary iPads in all rooms and the suites with kitchenettes are perfect for families or long stays. See More

Check Availability

Local exploring - Close to Bryant Park and the Empire State Building, discover a metropolitan style that embodies the dynamic spirit of the city

City Style - Nestled in the city's most coveted district, Midtown Manhattan, a limestone tower that soars 60 stories into the sky

Sights nearby - The famous Times Square is only a 15 minute walk away and the Empire State Building is just around the corner

Restaurant - Chic settings, inspired menus showcasing a celebration of the French and Italian Riviera

An opulent 5* hotel situated on the iconic 5th Avenue. Luxurious contemporary rooms have indulgent amenities, original artworks, large marble-clad bathrooms with rainfall showers and sweeping views of the Manhattan skyline. Taste Riviera-inspired cuisine and sip artisan cocktails at the lounge. See More

Check Availability

The William Vale

New York (Brooklyn)

183 rooms from £211

Hotel Entertainment - The hotel boasts New York's largest outdoor pool, a massive 5,000 square-foot number surrounded by a pool deck and loungers

City Style - This hip new hotel offers wonderful views of the NYC skyline, killer food, funky futuristic interiors and private balconies

Views - Great views from hotel

Restaurant - Recommended.

Recommended by - Mr & Mrs Smith

A trendy new hotel in Brooklyn's uber cool Williamsburg neighbourhood. The ultra modern building is matched by sleek futuristic interiors, floor to ceiling windows and white on white tones. The food is curated by two of the city's top chefs and the rooftop draws a crowd on a Saturday night. See More

Check Availability

Ink48 Hotel

New York

222 rooms from £181

Local exploring - Ink 48 Hotel is just steps from some of the world's most famed theatrical attractions, shopping meccas and cultural experiences

Great walks - Stroll along the High Line: rail tracks turned garden with cultural experiences dotted along the way

Restaurant - PRINT serves dynamic farm-to table fare that's a favourite of locals and travellers alike

Sights nearby - Visit Hudson Yards, a cultural centre with art, shopping and immersive experiences

A modern marvel set in the creative centre of New York City, Hell's Kitchen. Light and airy rooms have B&W wall photos, magnificent views of Manhattan or the Hudson River and spacious bathrooms with deep-soaking tubs. Enjoy handcrafted cocktails on the roof terrace and farm-to-table fare at PRINT. See More

Check Availability

Equinox Hotel

New York

212 rooms from £589

Spa breaks - Aimed to accelerate recovery. Expect tailored treatments, an indoor salt water pool, hot and cold plunge pools, and E.scape Pods

Active Holiday - Named as 'New York's fittest hotel' this luxury stay offers a lifestyle experience with fitness and wellness at the heart of it

Sights nearby - Climb up the spiral staircase (an art installation) in Hudson Yards

Restaurant - Electric Lemon serves clean, seasonal, American cuisine

Recommended by - Kiwi Collection

A luxury stay offering cutting edge design and a wellness philosophy. Expect to leave here fitter than you arrived. Fitness plans are personalised and the spa is framed around recuperation. Meanwhile, minimalist rooms offer plenty of comfort. Dine (healthily) at the chic restaurant. A unique stay. See More

Check Availability

Refinery Hotel

New York

197 rooms from £324

City Style - A fashionable hotel in the heart of the Garment District- boasting a jazz bar, buzzy restaurant and chic interiors

Great walks - You are just moments from the lovely Bryant Park

Romantic - Good for couples.

Lively - Hip and happening.

Recommended by - Small Luxury Hotels, Tablet

A fabulous luxury hotel in a former hat factory, in New York's Garment District. Plush rooms boast high ceilings, hardwood floors, contemporary artworks and some offer views of the Empire State Building. The industrial conversion vibe is mixed with a suave contemporary flare to great effect. See More

Check Availability

Local exploring - A New York minute from everywhere you want to be: the Theater District, Garment District, 5th Avenue shopping and Hudson Yards

City Style - Sip on artisan cocktails whilst gazing at the skyline at THE best rooftop bar in the whole of Manhattan

Hotel Entertainment - Magic hour has an "urban amusement park" concept, nightly live DJs and epic skyline views

Value chic - Contemporary and stylish rooms in a prime location at an affordable price

A lively and social boutique hotel just steps from Times Square. Contemporary rooms are compact yet well designed with epic city views. Relish the sunset and savour a cocktail at Magic Hour, the largest all-season, indoor/outdoor rooftop bar in NYC with its own mini amusement park. Manhattan chic. See More

Check Availability

The Chatwal

New York (Midtown Manhattan)

76 rooms from £398

Romantic Break - Impressive and decedant, the plush rooms and unparalleled services lend themselves to a romantic stay

Foodies - Gourmet dining at The Lambs Club, a historic culinary landmark set in gilded deco period surrounds

City Style - One of the city's most beloved and eminent establishments, in the heart of stylish Manhattan

Designer - The hotel features a collection of specially designed suites by Thierry Despont

This historic 44th St. hotel, built in 1905, continues to impress and enchant with art-deco design blending seamlessly with modern conveniences. Equipped with an excellent restaurant, spa and sauna, and a personal butler as standard, the Chatwal offers a personal and bespoke service for every guest. See More

Check Availability

Lotte New York Palace

New York (Midtown East)

909 rooms from £267

Weddings - 900 bedrooms, a courtyard on Madison Avenue and neo-Italian Renaissance architecture make this perfect for big society weddings

City Style - The ornate vaulted Gold Room - a historic New York dining institution - is worth the visit alone

Sights nearby - Rockefeller Center & St Patrick's Cathedral are around the corner; make sure to climb the 'top of the rock' to admire the view

Spa - ILA Only Spa is the first in the US, offering stress relieving treatments in its rooms with sound healing experiences

Recommended by - Kiwi Collection

Glitzy, glamorous & Gilded-Age at its very best. This classic luxury city hotel is comprised of a 19th-century mansion & contemporary tower. The ultimate blend of old and new, rooms are slick in the new wing and decorative in the historic. Channel your inner Gossip Girl on a special weekend away. See More

Check Availability

Hotel 48Lex

New York

116 rooms from £149

Foodies - A selection of unique culinary experiences steps from the door, from NYC steakhouses to upscale Mexican, Italian and seafood

Local exploring - Experience unrivaled access to the very best of NY, from world-class businesses, landmarks, shopping, art, theatre etc

Restaurant - Lexington Brass serves progressive farm-to-table cuisine. Using only the finest, locally sourced ingredients

Sights nearby - Visit the iconic landmarks of Times Square and the Empire State Building less than 15 minutes walk away

A boutique luxury hotel set in the heart of Midtown Manhattan. Sleek modern rooms have local artworks and floor-to-ceiling windows showcasing super Manhattan vistas. Refined art, exemplary elegance, craft cocktails, organic food and more provide an atmosphere of relaxed sophistication. See More

Check Availability

City Style - In the heart of New York, the city that never sleeps, guests are just a minute away from all the fun

Local exploring - Catch a Broadway show, sample international cuisine or admire world-famous attractions

Sights nearby - Visit iconic NY landmarks like Times Square and Rockefeller Plaza, less than a 10 minute walk away

Restaurant - Serafina, located on the first floor, is a charming dining spot with its heart in Northern Italy

A hidden gem nestled in the Theater District, just steps from Times Square. Spacious, stylish and contemporary rooms have dusky pastels and slate bathrooms reimagined as wetrooms with rainfall showers. Intriguing geometric artwork; a chic lounge and bar; this hotel is full of surprises. See More

Check Availability

Baccarat Hotel

New York

114 rooms from £679

Local exploring - Set just across from the MoMA this hotel is located in the heart of Midtown with numerous sights within walking distance

City Style - About as stylish as it gets, this design hotel is the height of sophistication

Sights nearby - The Rockefeller Center and Times Square are both within walking distance

Swimming Pool - Huge heated indoor pool surrounded by cabanas for a Cote d'Azur vibe

A swanky New York establishment in the heart of Midtown. Enormous rooms are all white on white style with indulgent marble bathrooms. Complete with a fine-dining restaurant and hip cocktail bar as well as the obligatory spa and indoor pool, it may not be cheap but it's certainly worth the price. See More

Check Availability
posted Tuesday, 14th June 2022