40 of Manhattan's Best Hotels, New York
There's more to New York than Manhattan, but if you're visiting the city for the first time then this is The City. It's easily the most densely populated of the five boroughs, home of many of New York's most famous sites and sights, and it's birthplace. The tiny island of Manhattan is also home to THREE of the world's ten most-visited tourist attractions! Times Square, Central Park and Grand Central Station. And we've got recommendations for Manhattan's Best Hotels near all of them. Plus MoMA, The Metropolitan Museum of Art, the Guggenheim, Broadway and all the best districts to stay in.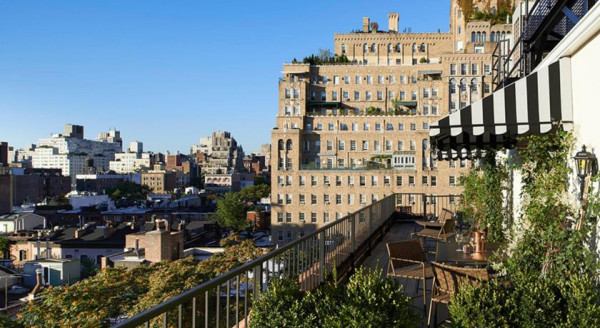 Manhattan also has plenty of the world's most famous landmarks, and it's not just the Empire State Building, the Chrysler Building, Rockerfella Plaza and the Brooklyn Bridge, it's also the Stonewall Inn, Federal Hall, the Guggenheim building, the Flatiron, the New York Stock Exchange, One World Trade Centre and of course the Statue of Liberty! And that's honestly just for starters.
Starting from the top of the island you have Harlem, then Mornington Heights and East Harlem, the Upper West Side and the Upper East Side, then on either side of Times Square you have Midtown West and East. Then it's Chelsea and Gramercy, Greenwich Village, the West Village and East Village, and the Meatpacking District, SoHo, Little Italy, the Lower East Side, TriBeCa, Chinatown and Wall Street and the Financial District are at the bottom of the island. Whew!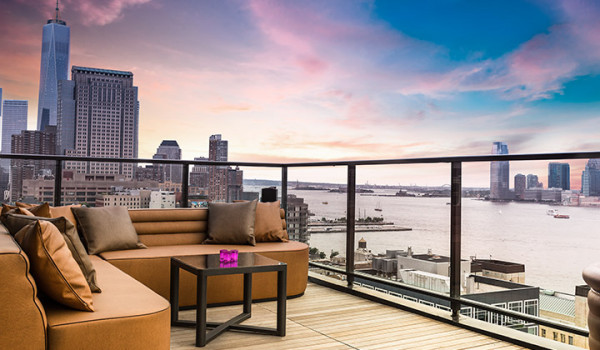 One of the things visitors are often thankful for about Manhattan is it's simple grid of streets, which makes it a lot easier to get around than other cities - the subway is excellent too. Fifth Avenue runs north to south, dividing the island in half, the East Side running to the East River and the West Side to the Hudson River. It's a bit more complicated when it comes to dividing the grid up laterally, but basically uptown means north, and downtown south, running from 1st Street up to 220th Street. Uptown is the bit above 72nd Street, Downtown Manhattan is below 14th Street and Midtown is in the middle. Just as a heads up when you're trying to cross the road: most odd numbered streets and one way from east to west and most even numbered streets run west to east. Sounds complicated, maybe, but it's a lot simpler than in your average historic city?
40 of Manhattan's Best Hotels
Classic Manhattan Hotels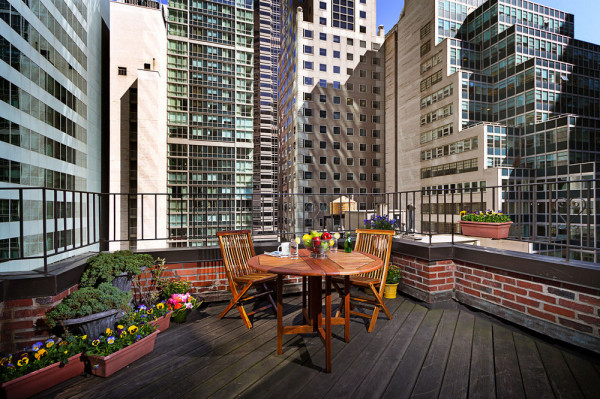 The Hotel Elysee was once hosted Manhattan's literary elite - most famously Tennessee Williams, who spent his final years living here. It's classy, elegant and intimate so you can see why people lived here. The suites feature French style furnishings, rich fabrics and plush carpets and the Monkey Bar has become one of Midtown's most iconic and hip bars.
The Algonquin Hotel opened its doors in 1902 and has been doing a roaring trade ever since, probably helped along by the fact that Dorothy Parker and the Algonquin Round Table (otherwise known as the 'vicious circle') would meet everyday for lunch throughout the 1920s. The decor is gorgeous, an antique lover's dream, and they even still have a hotel cat - her name is Matilda.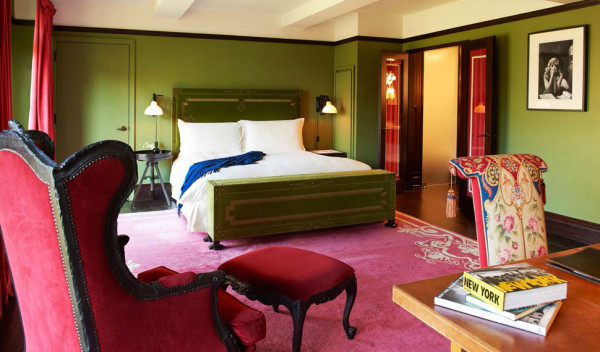 The Gramercy Park Hotel is a New York classic for a slightly different reason to some of the other hotels here, it's a boho beauty with a bar packed with art by Andy Warhol and Damien Hurst, access to private Gramercy Park and some seriously good pieces of 20th and 21st century art and furniture.
Manhattan's Best Hotel Views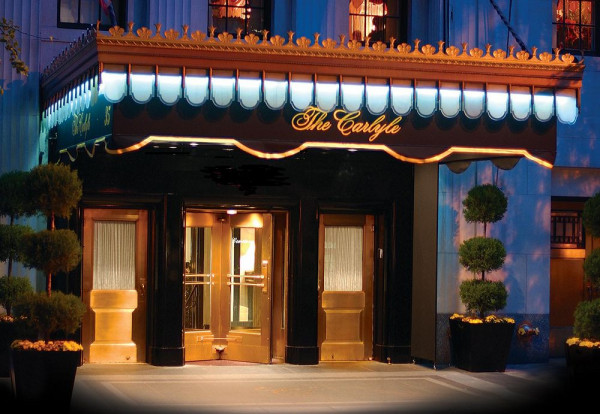 The Carlyle Hotel is a timeless, classic, luxurious, Upper East Side landmark hotel with 190 rooms and opulent suites. As well as park views, the best rooms also have grand pianos. And before you book into The Carlyle Hotel you should check out the newly revamped cafe's performance schedule, you might get a chance to see Eartha Kitt or Woody Allen's New Orleans Jazz Band.
The Dream Hotel has more going for it than just a great name, this modern hotel has 210 smartly decorated bedrooms and suites, a cool nightclub/ cocktail bar on the roof terrace with a panoramic view of Times Square, and quirky details - think a statue of Catherine the Great in the lobby and a two storey aquarium.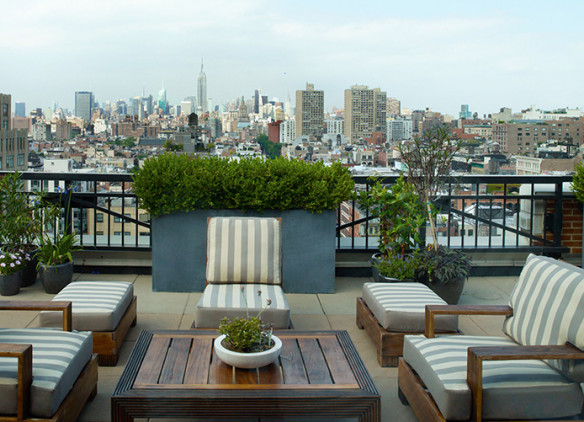 The SoHo Grand Hotel is in lively, fashionable SoHo, and is a sumptuous, elegantly designed 353 room hotel - think the gilded cage of the 1870s meets the lux. fashion of the 1970s? Perfect for your average ultra-chic New Yorker, with the original artworks, the stylish bar, sophisticated club and acclaimed restaurant. Plus, if you didn't bring your pet you can ask for a complimentary goldfish?
Manhattan's Best City Break Hotels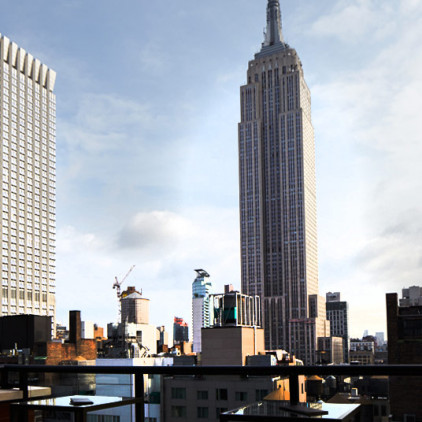 The Archer New York is about a mile from Times Square, which some might say is too far, however it's also close to the Garment District, Grand Central Station and the Empire State Building. The feel is quite quirky, blending downtown-style brick walls and industrial spaces with uptown decorative influences. Plus, the rooftop bar, Spyglass offers irresistible panoramic views.
The Bryant Park Hotel is a black and gold, Gothic landmark overlooking Bryant Park. The 128 rooms are light and minimal feeling, but with bathtubs and city views. The KOI sushi restaurant is popular with locals and the bar is a lively start to the night.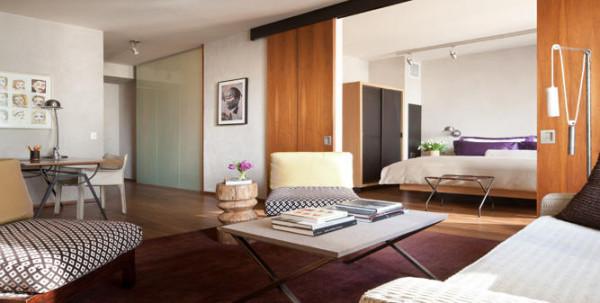 Chambers Hotel is a just off 5th Avenue on 56th Street, so super close to MoMA and Central Park. The spacious bedrooms are on the edgy-side of modern with architects' drawing lamps, as well as a roll of tracing papers and coloured pens to release the inner designer, on the hip glass desk. It probably feels like staying at a very creative friend's smart, central apartment - which is a great vibe for art museum visitors.
I'm not sure if The London appeals because I imagine it to be a home from home, or because it's stylish and understated, with surprisingly expansive rooms and suites and a restaurant by Gordon Ramsey?
The Hotel Giraffe is an elegant boutique hotel known for its excellent service, and spacious rooms - of which there are 73, decorated in the rich colours of the Modern Period. Those who have stayed here already also know it for its complimentary breakfasts and complimentary champagne, wine and cheese of an evening.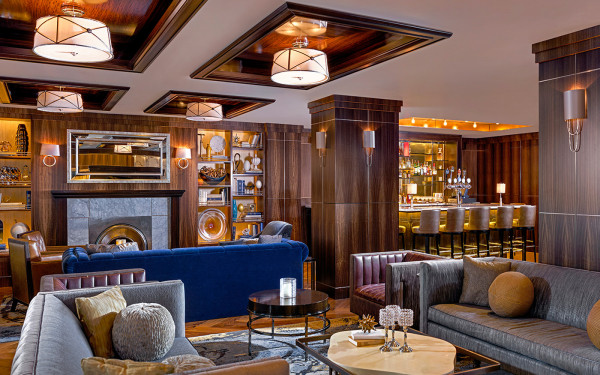 The Westhouse Hotel is closer to MoMA than Broadway or Times Square, but this exclusive hotel's location is just really convenient for a lot of places, Central Park and Carnegie Hall included. Channeling rich 1920s glamour with a touch of Art Deco, it boasts crystal chandeliers, polished wooden floors, a vintage speakeasy bar and al fresco dining on the 23rd floor.
The Most Romantic Hotels in Manhattan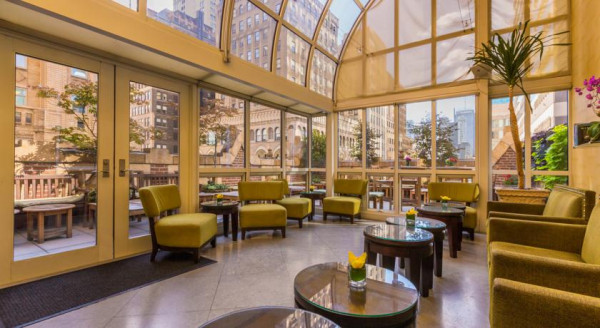 The Library Hotel is a book-lovers' paradise between Grand Central and Bryant Park. As well as the literary themed rooms and writer's den, there's also a rooftop bar and a poetry garden - which has excellent cocktails and city views. A complimentary continental breakfast is served in the Reading Room, and the service is warm and friendly.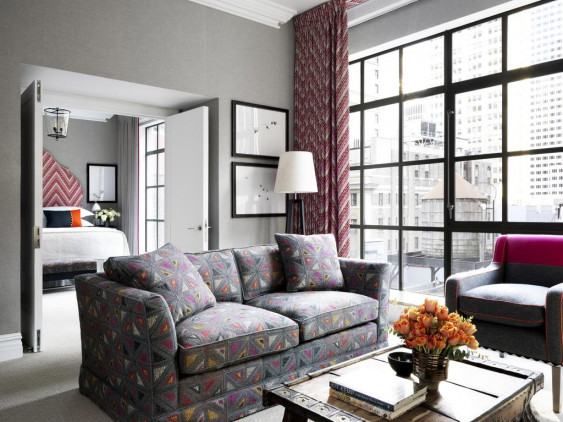 The Whitby is one of the newest additions in husband and wife duo Tim and Kit Kemp's portfolio and it doesn't disappoint. Their beautifully designed rooms makes traditional style contemporary - and the best rooms have large terraces. There's also a chic bar, an excellent restaurant and a cinema!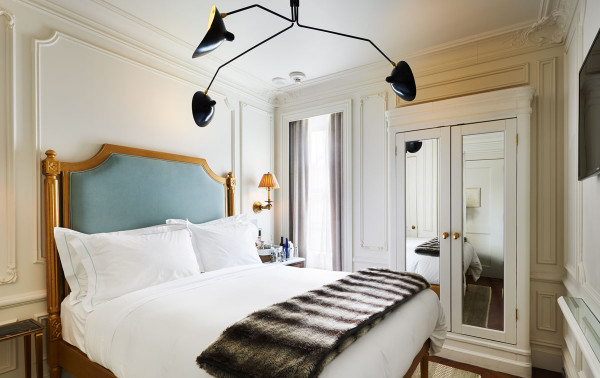 The Marlton in Greenwich Village has plenty of style and atmosphere, plus marble bathrooms, parquet floors, oak panelled walls and brass fixtures. It also has a cocktail bar, which is lovely, and a very nice French restaurant, also lovely - and an espresso bar! Now you're really talking. There are 107 rooms and suites starting from around £250 per night.
Manhattan's Best Luxury Hotels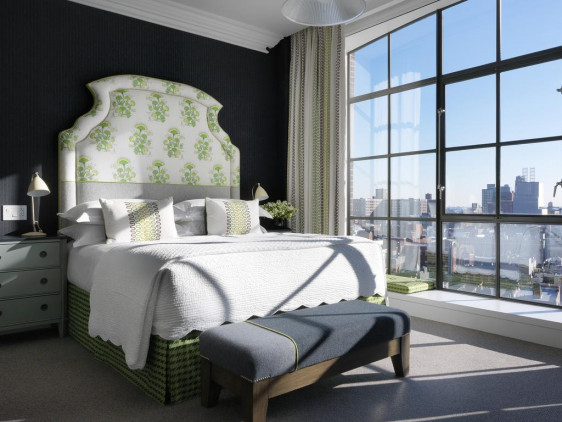 The Crosby Street Hotel is an achingly cool, 86 room SoHo hotel loved by celebrities and design addicts for it's chic Kit Kemp interiors. You're surrounded by cool, with original art on the walls and an impressive list of celebrity guests - including James Bond himself, but yet the hotel is on quite a quiet street, and the main event of most rooms are the floor-to-ceiling views of Manhattan's skyline.
Called The Greenwich, yet in the TriBecCa neighbourhood, this hotel is a prime cut for foodies, with just 88 rooms, plus a fantastic bar and restaurant and a Shibui Spa and indoor pool. Perfect for Manhattan's nightlife, and daylife too.
Manhattan's Hippest Hotels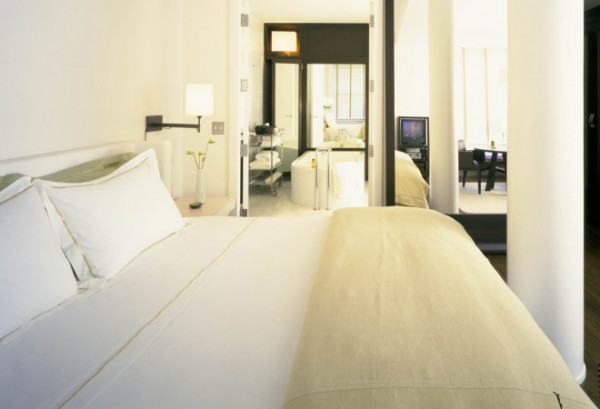 The Mercer is an iconic New York hotel offering the ultimate in SoHo chic. If you dream of being an arty New Yorker living in a fantastic loft apartment and that's not exactly who you are then this is the place to stay to live out your dream, surrounded by artistic cool and modernist designs. The Kitchen restaurant is another institution.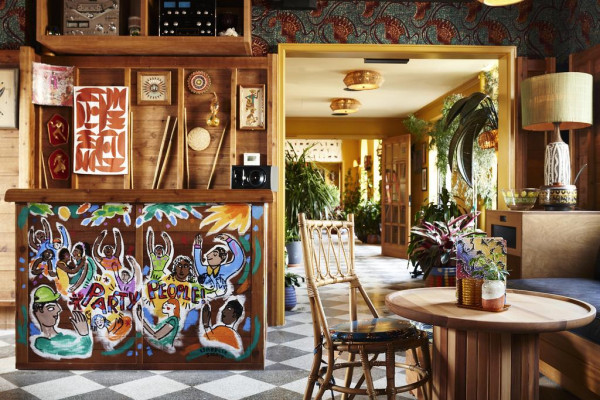 The Freehand hotel is hip, affordable and central - it's close to Gramercy Park. The interiors are bold and interesting, with walls covered in murals painted by local artists. It also has three restaurants, two bars and a 24hour gym - and all of them are achingly cool. As are the 340 rooms and suites.
Manhattan's Best Design Hotels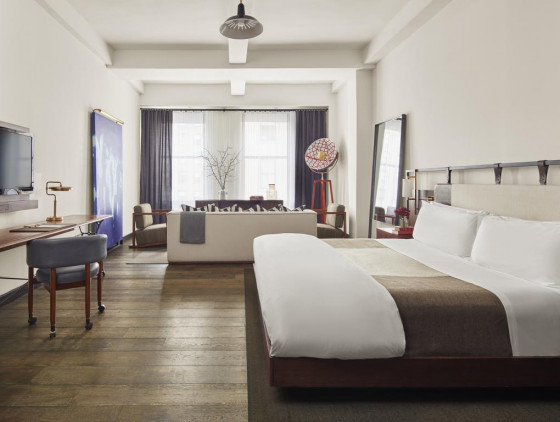 The Refinery Hotel is not a luxury hotel converted from an oil refinery, but a hat factory. The 197 plush rooms have high ceilings, hardwood floors, contemporary artworks and some offer views of the Empire State Building. The industrial conversion vibe is mixed with a suave contemporary flare to great effect.
Right on Canal Street, on the edge SoHo and Chinatown, 11 Howard is another super chic Scandi-style design hotel. The floors are oak, the ceilings high, the restaurant French - with a Michelin star, and the art is original and contemporary.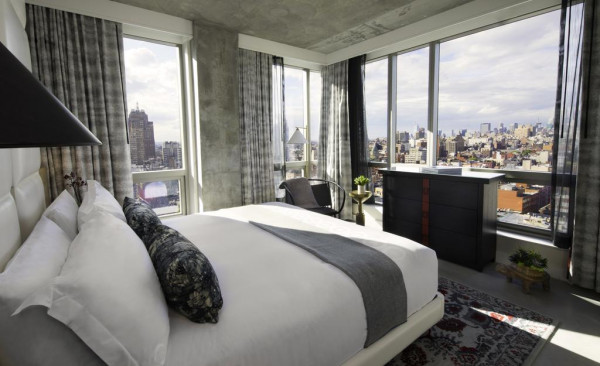 The Hotel 50 Bowery is new and chic, with the latest in design taste - think exposed brick and brushed concrete walls, fantastic hanging lights and trendy colours, the kind you'd see in a Scandinavian film, or an Art Nouveau era factory? There are also Chinatown inspired splashes of red and lantern-esque lights. The views are excellent, from both the 229 rooms and suites and from the incredible rooftop bar.
The Best Hotels for Central Park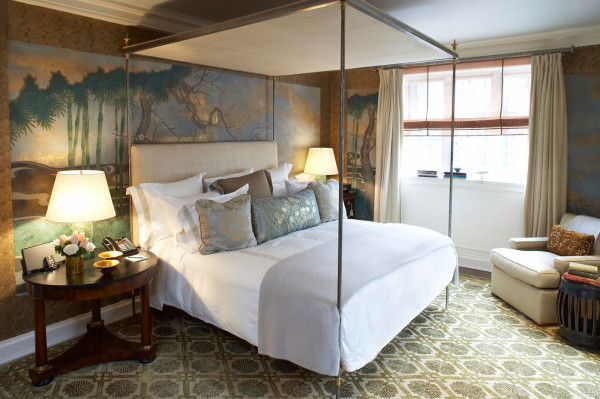 The Lowell is a charmingly crafted Upper East Side Hotel, just a block to the east of Central Park. The decor is very classical, think marble bathrooms, neutral tones, elegant furnishings and art and even proper wood-burning fireplaces. The location is residential, a quiet, tree-lined street off Madison Avenue, and the overall feels is of staying in a gorgeous, 70 room townhouse.
The Surrey is a grand and gracious, five star Upper East Side hotel with a fantastic Art Deco inspired lobby, a private roof garden, an exceptional spa and a decadent bar. Plus you're right on the doorstep of Central Park close to some of New York's best restaurants.
The Best Uptown Manhattan Hotels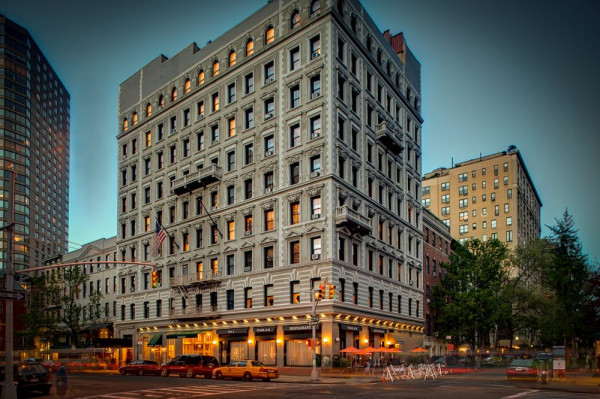 Upper Manhattan isn't a budget choice, but for great value for your dollar, they the Hotel Wales, an aristocratic hotel on Madison Avenue, with a rooftop garden overlooking the park. For what you pay there's a lot to enjoy about this hotel.
The Mark is right in the heart of the Upper East Side, and offers an old fashioned elegance, despite a recent refurbishment by French designer Jacques Grange, who put in a fantastic, Esher-esque restaurant which has become extremely popular with celebrities and New York royalty.
The Best Midtown Manhattan Hotels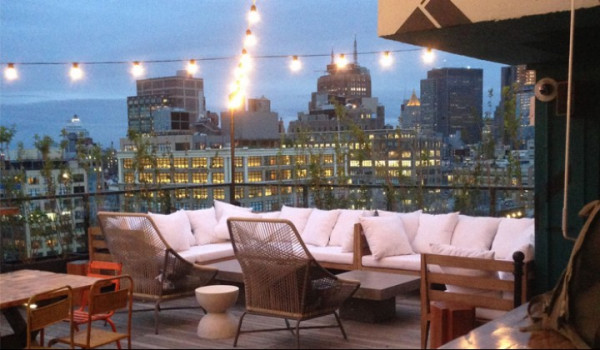 The Hotel Hugo is a retro delight, with 122 rooms designed by architect Marcello Pozzi and decorated with custom-made Italian furnishings. You're on the edge of SoHo with views of the Hudson River and the skyline of Downtown Manhattan, which you can really enjoy from the double storey rooftop bar.
The Roger is a stylish, 194 room hotel on Madison Avenue. Many rooms have views of the Empire State Building, some from their private terraces, and all are cool, colourful and bright.
The Best Downtown Manhattan Hotels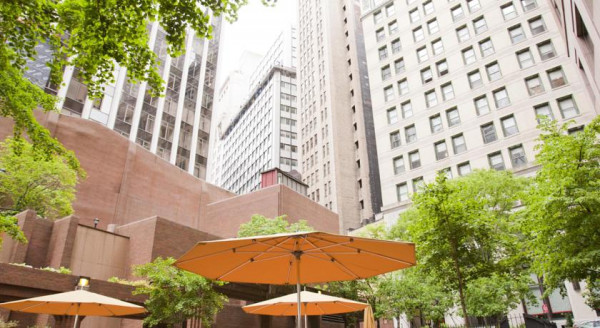 The Andaz, Wall Street, is the only hotel on Wall Street. It may also be the only hotel in the world which used to be a Barclays Bank. They've renovated with clever, innovative design - think sharp shiny edges in warm colours - it has an excellent spa.
The Ludlow is a stylish hotel with a touch of the avant garde, located in the trendy Lower East Side. There are 184 rooms and suites, many with large casement windows, Moroccan lamps, vintage details and handmade silk rugs. There's a French bistro and a trellised garden bar.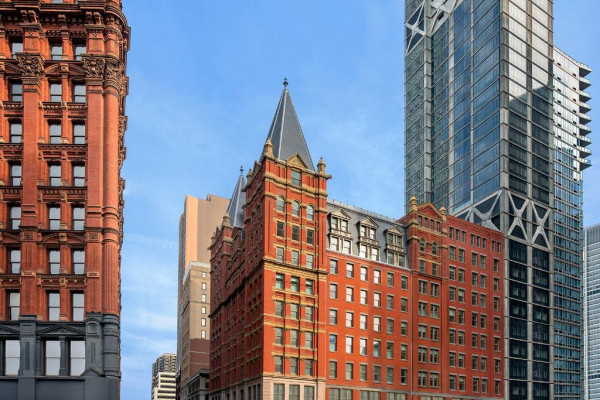 The Beekman has a jazz-age style to it, with simple, elegant design and an atmospheric cocktail bar that Jay Gatsby would adore. The downtown location is excellent too. Or, for modern New York style try the Smyth Hotel, a sleek, fashionable feeling hotel with spacious, colourful rooms, mid-century, Danish furniture, art from local galleries, and an authentic 60s era 'den bar'.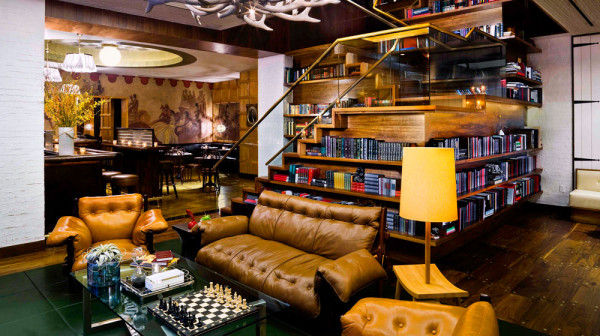 Wall Street adjacent, Gild Hall, A Thompson Hotel is both totally charming and great value. The 126 rooms are decorated with strong, dark colours and plenty of extra style, leaving he communal areas to really style it up - take their split-level library for example and their rustic-glam bar and restaurant. Rooms start from around £140 per night - great value for such a chic hotel.
Manhattan's Best Hotels for Families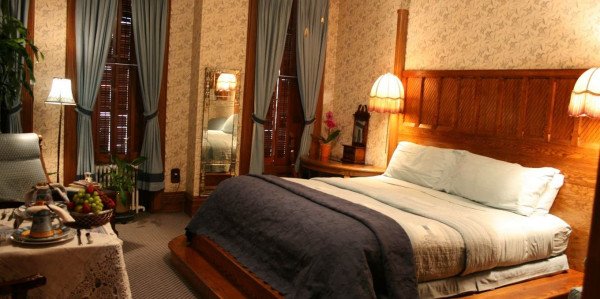 The Inn New York City is a charmingly intimate Upper West Side hotel, with just four suites, but bursting with old-world charm. Each suite is individually decorated with fine paintings, sculptures and elegant furnishings and the location is genteel, leafy and residential. Some of the suites sleep four so it's perfect for a family.
Manhattan's Best Value Hotels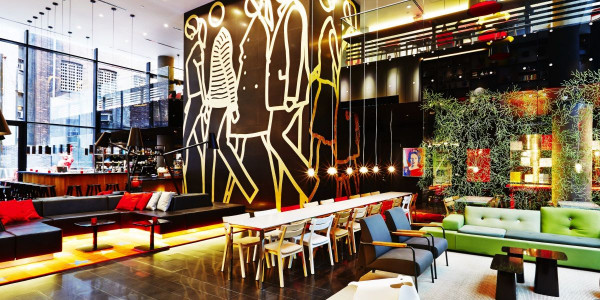 CitizenM New York is another in that set of innovative, modern, no-frills-hotels-with-funky-design-frills. It's about one minute from Times Square, has wall-to-wall windows and a panoramic rooftop bar.
Room Mate Grace is a funky and lively hotel just minutes from Times Square with surprisingly great spa facilities, a colourfully illuminated indoor pool with underwater music and a swim-up bar. Rooms start from about £130 per night.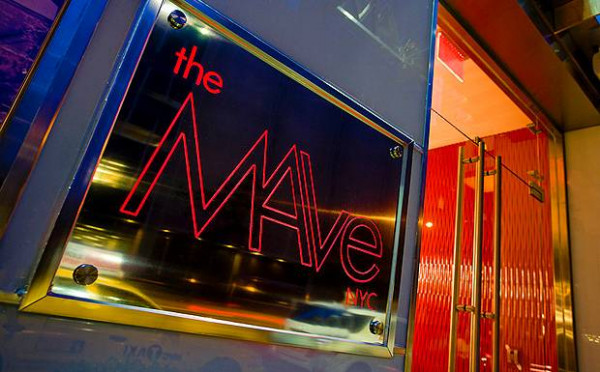 The MAve breaks down into M(adison)Ave, which gives away the location, close to the Flatiron Building. Inside it's stylish and chic, with 72 rooms with high ceiling and bigger-than-you're-expecting bathrooms. Expect a fairly neutral colour palette with colour in the contemporary prints on the walls and all the mod. cons.. Rooms start from around £130 per night.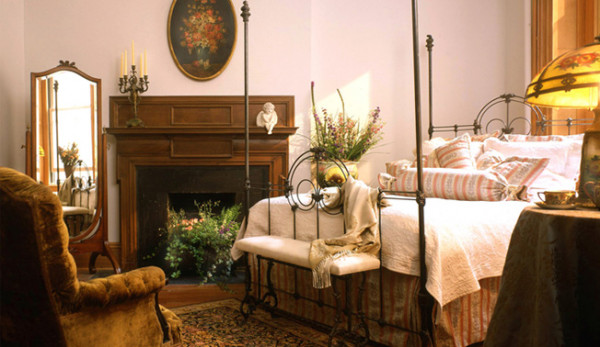 The Inn at Irving Place is a gorgeous inn converted from two 1830s brownstones in a quiet part of the Gramercy neighbourhood. The inside is just as beautifully classic as the outside, with cherrywood floors and beautiful antiques. They serve an excellent afternoon tea in their grand, Victorian-style tea rooms. There are just 12 bedrooms, which start from around £150 per night.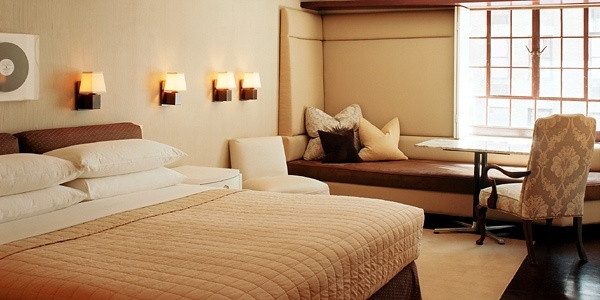 The City Club Hotel feels like a gentlemen's club because that's what it used to be: subtly luxurious, classy and welcoming. The French-American restaurant is curated by award-winning chef Danial Boulud, and it's got a bit of French glamour too.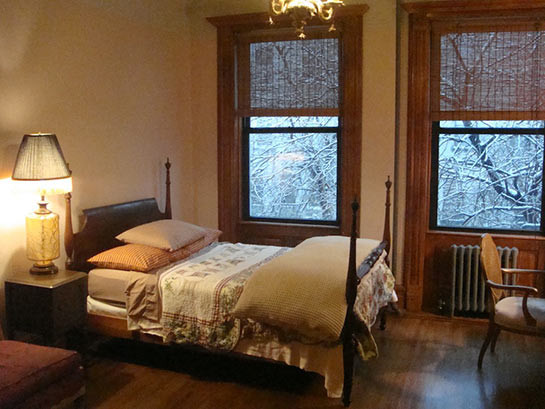 The Harlem Flophouse is one of our favourite New York B&Bs, lovingly, and recently restored, The Flophouse represents an opportunity to stay in a real New York Victoria brownstone, with cosy rooms with wooden floors and fireplaces. This is a really welcoming place to stay, you're on a quiet street in Harlem's cultural quarter, and the place is owned and run by local artists who really want to show you a fantastic time in Harlem. There are just five rooms, so book ahead!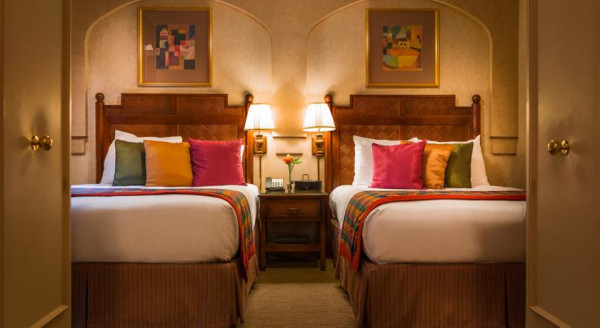 Vibrant and friendly, the Casablanca Hotel is one of the best places to stay if you want to be right in the heart of things. The decor, as you may have guessed, is Moroccan, with beautiful mosaics, tapestries ad paintings, impressive rugs and even ornate ceiling fans. These unique, careful touches, and the fact that it's incredibly well priced for the location, means that the 48 rooms are often booked solid with repeat guests.
If you haven't found you idea of Manhattan's best hotels on our Guru's list of 40 you could try:
40 of Manhattan's Best Hotels
posted Thursday, 25th July 2019