9 of NoMad's Best Hotels, New York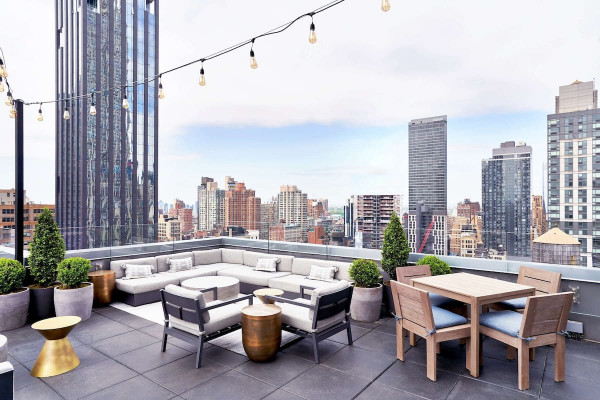 NoMad may not be as familiar sounding as Greenwich Village, SoHo or the Meatpacking District but it is one of New York's hottest addresses. Located above Madison Square Park, between East 25th, East 30th and Sixth Avenue and Lexington — it is close to Flatiron and Madison Avenue. Among local NoMad landmarks are the New York Life Building, the American Academy of Dramatic Arts, the restaurant Delmonico's, the New York Comedy Club, the Museum of Sex and a host of great weekend flea markets. Nomad's best hotels, like the area itself, tend to be hip and stylish. Our hotel experts have compiled a collection of their favourite hotels in the area based on their design, amenities, and service. So why not browse through our collection to start planning your next break?
For a contemporary stay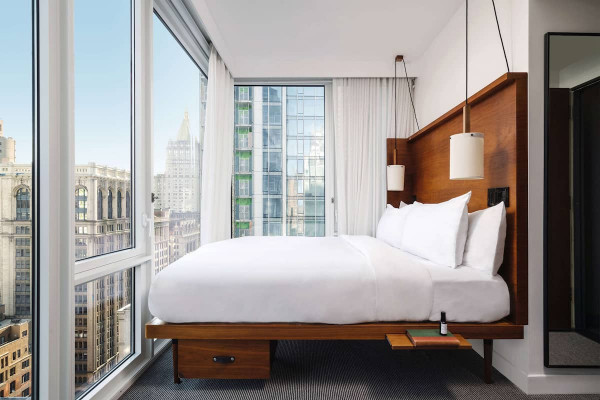 Arlo Nomad is a slick modern hotel set in the heart of the NoMad district. Craftily designed rooms use limited space well with expansive floor-to-ceiling windows and smart wood furniture. The restaurant Lamalo serves Middle Eastern cuisine and has quickly become one of NoMad's newest hidden gems.
For a boutique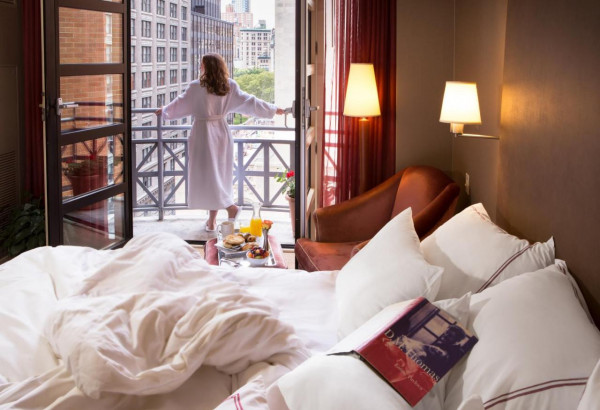 Hotel Giraffe is a luxurious boutique hotel with outstanding service. Rooms are understated and elegant with chocolate leather headboards and pearlized platinum walls. Complimentary wine and cheese every evening has a convivial feel. A hotel with sophistication and urban style.
For a hip hotel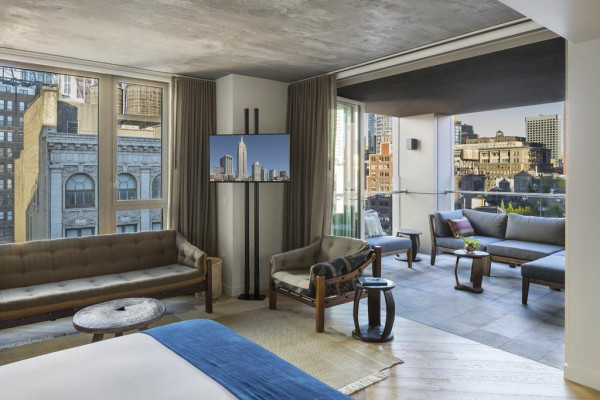 For the views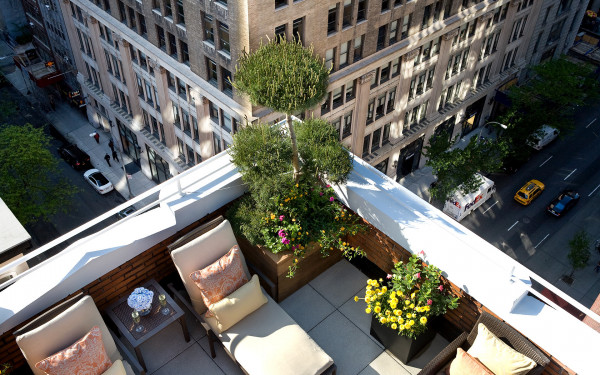 Stylish and recently renovated, The Roger is contemporary, elegant and in a great spot on Madison Avenue offering views of the Empire State Building from the best of its luxe rooms and suites — some even have a private balcony or terrace. The lobby doubles as a bar and bistro offering a relaxed vibe and excellent cocktails.
For foodies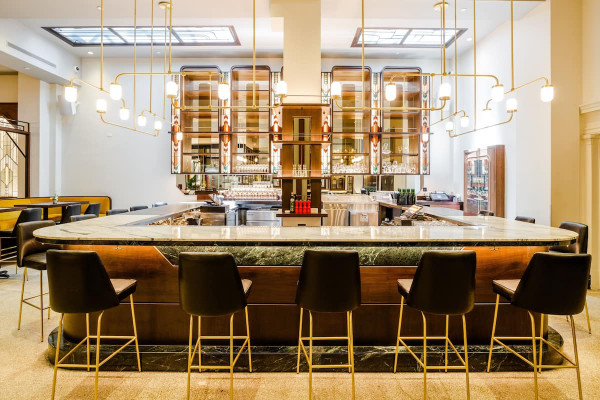 Evelyn Hotel is a surprisingly affordable art-deco hotel. Stylish and sophisticated rooms have vintage touches and antique furnishings. Benno, the hotel's Michelin star restaurant, offers a memorable fine-dining experience featuring coastal Mediterranean cuisine. Complete with a renowned cocktail bar — this is an alluring choice.
For families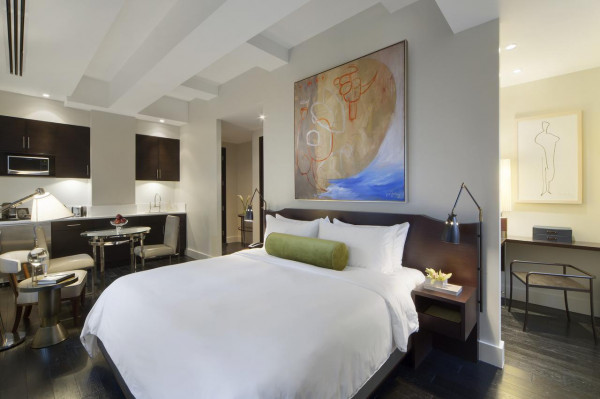 The Marmara Park Avenue is an elegant collection of 128 rooms and suites — the suites, with hardwood floors and high ceilings, all have kitchenettes making them a good option for families. The bathrooms are marble, the details beautiful and the lobby is quite magnificent.
Still not sure where to book?
Try expanding your search to include our list of the best places to stay in New York or our Guru's recommendations for Manhattan's Best Hotels.
Or you could try our Guru's recommendations for the Best Midtown Manhattan Hotels, the Best Uptown Manhattan Hotels, the Best Hotels for 5th Avenue or Times Square's Best Hotels.
Or you could contact one of our friendly Gurus for personalised advice.

MADE Hotel

New York (NY)

108 rooms from £195

Local exploring - Located in the famed NoMad area with plenty to explore, and views of the Empire State Building from it's terrace bar

City Style - A hip and happening hotel with uber cool interiors (and an excess of plantlife) that draws a young creative crowd

Sights nearby - The Empire State Building is literally a stone's throw away, and so are many other imporatant NY sights

Great walks - Wander down to Madison Square Park and explore this stunning stretch of greenery

Recommended by - Mr & Mrs Smith, Tablet

A cool and collected hotel in the hip NoMad area of New York. The atmosphere is young and vibrant, from its leafy coffee shop/cocktail bar lobby to the reclaimed walnut floors and exposed concrete bedrooms. The rooftop bar and terrace offer show-stopping views and the food is by chef Greg Proechel. See More

Check Availability

Ace Hotel, New York

New York (Manhattan)

258 rooms from £202

City Style - Eclectic hotel with vintage and retro pieces is in very central Manhattan, and with extremely knowledgable staff

Local markets - In neighbouring boroughs Brooklyn and Queens; hotel can advise

Sights nearby - Empire State Building, Times Square, Madison Avenue

Great walks - Up to Madison Square Park and Central Park

Recommended by - Tablet, Fodors, Mr & Mrs Smith

Eclectic designer hotel in central Manhattan. Rooms are filled with contemporary and vintage pieces, modern bathrooms and quirky extras. Sublime food in both restaurants, very cool bar. Gym, art gallery and shop inside hotel. Excellent, friendly service, in this great city hotel. See More

Check Availability

NoMad

New York State

168 rooms from £324

Sights nearby - Empire State Building - Travel five blocks north and 102 floors up, and you'll be at the top of the Empire State Building.

Views - Great views from hotel

Lively - Hip and happening.

Romantic - Good for couples.

Recommended by - Tablet, Mr & Mrs Smith

This broadway and art boutique offers a lively bar and a two-storied library. Notably large, contemporary rooms house local artist works and show off with spectacular city views. Refined dining complimented by a renowned wine list. Very close to Madison Park, offering local exploring with ease. See More

Check Availability

The Roger

New York

194 rooms from £159

Foodies - On the edge of Madison Square Park and the Flatiron District, which feature plenty of high-end restaurants and stylish bars.

Local exploring - A little off the beaten track but well connected to the major tourist sites and buzzing with local offerings.

Views - Some rooms with terraces have breath-taking views across Manhattan.

City Style - A landmark location on Manhattan's Madison Avenue.

Recommended by - Mr & Mrs Smith, Tablet

Stylish, recently renovated hotel with contemporary and elegant designer furnishings & a fantastic location on Madison Ave. Many rooms have stunning views of the Empire State Building and private furnished terraces. Colourful, bright, and buzzy this hotel is perfect for a cool city break. See More

Check Availability

Evelyn Hotel

New York

160 rooms from £105

Foodies - Benno, the hotel's Michelin star restaurant, offers a distinct fine-dining experience featuring coastal Mediterranean cuisine

Local exploring - From uptown to downtown, east side to west, The Evelyn Hotel is situated conveniently to all of Manhattan's destinations

Value chic - Really affordable prices, especially for this area of Manhattan

Restaurant - Three dining options with a casual Roman-inspired bakery, café and trattoria, as well as, a fine-dining Mediterranean restaurant

An affordable art-deco hotel set just north of Madison Square Garden in trendy NoMad. Stylish and sophisticated rooms have vintage touches, antique furnishings and marble bathrooms with heated floors. Michelin starred Benno restaurant is unmissable and there's Leonelli's for a cocktail or two. See More

Check Availability

HGU New York

New York

90 rooms from £82

Local exploring - Situated in the heart of NoMad - perfect for discovering trendy restaurants, landmark sites and more

Sights nearby - Explore Central Park with the Zoo, Rumsey Playfield, Delacorte Theatre and John Lennon's iconic memorial at Strawberry Fields

Restaurant - Ground floor stylish restaurant serving lunch and dinner from a simple bistro-style menu

Great walks - Take a trip to the High Line and see art installations

A mindfully designed and eco-conscious hotel in the NoMad district of New York. Luxurious rooms and suites feature chic modern art collections, custom Turkish patchwork rugs and white-tiled bathrooms. Sip on artisan cocktails on the terrace and eat at the delicious bistro. A hip base. See More

Check Availability

Local exploring - Ideal for sightseeing – just 7 minutes' walk from the Empire State Building

City Style - Magnificent hotel with all the sophistication you'd expect in New York

Families - Rooms with kitchenettes are perfect for families

Weddings - Chic and elegant venue for weddings

Recommended by - Tablet

Supremely elegant 5* boasting magnificent Art Deco entrance and lobby. Expect luxurious fabrics - velvets, leather and silks - high ceilings, hardwood floors and marble bathrooms. Find complimentary iPads in all rooms and the suites with kitchenettes are perfect for families or long stays. See More

Check Availability

Hotel Giraffe

New York

72 rooms from £196

Roof terrace - Rooftop restaurant.

Sights nearby - The Empire State Building is only eight blocks away, and commands views of the whole of New York.

Great walks - Explore this hip area on foot, there is no better way to take in the sights!

Full of character

Luxurious boutique hotel with outstanding service. Rooms in neutral tones ooze understated elegance - chocolate leather headboards and pearlized platinum walls. Complimentary breakfasts and complimentary wine and cheese every evening except Sunday. A hotel with sophistication and urban style. See More

Check Availability

Arlo Nomad

New York

248 rooms from £132

Local exploring - Situated in the neighborhood North of Madison Square Park, convenient to Madison Avenue, Murray Hill and Midtown East

Foodies - Discover a wide range of dyanmic and innovative eateries and restaurants in NoMad, with every cuisine imaginable

Business meetings - Arlo NoMad provides an easy and well positioned base for business and leisure travellers alike

Sights nearby - The Empire State Building is just two blocks north; Penn Station, Madison Square Garden and Korea Town are three blocks west

Recommended by - Mr & Mrs Smith

A slick modern hotel set in the heart of the up and coming NoMad district. Craftily designed rooms use limited space well with expansive floor-to-ceiling windows and smart wood furniture. The restaurant Lamalo serves Middle Eastern cuisine and has quickly become one of NoMad's newest hidden gems. See More

Check Availability
posted Monday, 21st June 2021