Top Tips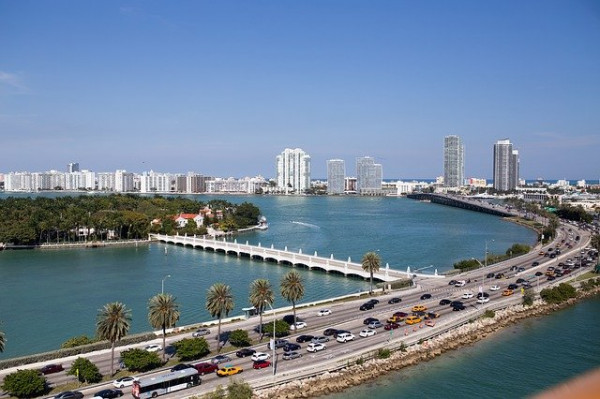 kendallpools from Pixabay
Miami, and Miami Beach, are sandwiched between the Everglades and the Atlantic Ocean, so their neighbourhoods are pushed up against about 180kms of beach, but the city never spreads more than 35kms off the coast. So wherever you stay in Miami you'll be close to the ocean. Beyond that Miami's neighbourhoods are a really varied collection, and your choice of where to stay in Miami will have a huge impact on your visit. Our guide to Miami's neighbourhoods has tips and recommendations to help you pick the one that best matches your plans.
Guide to Miami's Neighbourhoods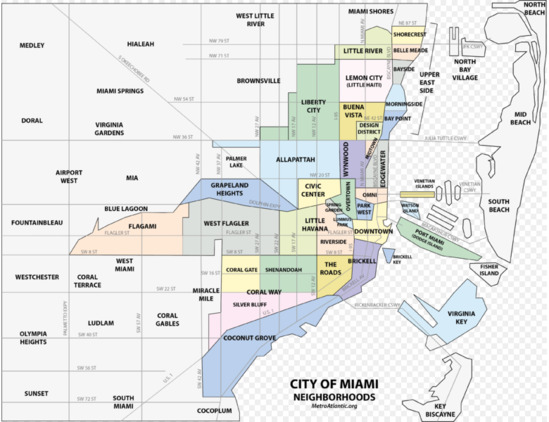 Comayagua99 at English Wikiped
Miami offers modern glamour in a sunny, sandy setting: a bright blue sky as backdrop to the angles and rounded edges of its pastel-coloured, Art Deco beauties and glittering glassy skyscrapers. There aren't many cities in spots so beautiful, with such long stretches of white sand and aquamarine waters. And the playful rows of Art Deco buildings up against the waterfront, with their nautical, tropical themes — to match the setting — give Miami the feeling of being on a perennial holiday. And the cocktail bars, restaurants and nightclubs don't hurt either. Once the spectacular sunset has made way for the stars, the music starts up, salsa, piano, phat beats, it's all here, accompanying the good times.
If you're looking for landmarks Miami's Downtown is packed with museums and art galleries, ranging from traditional in style, to unexpectedly creative. There are botanical gardens, neighbourhoods of incredible mansions, and shopping streets to please everyone. And in Miami 'everyone' is about as broad as you can get, this city is known for its colourful collection of nationalities. Surrounding the city is a playground for outdoors enthusiasts, from the unique landscape of the Everglades to the equally unique landscape of the Florida Keys.
Miami Beach is technically a separate city, built on a barrier island across the Biscayne Bay from Miami, but in practical terns it's just a drive across the bay, so we're including Miami Beach's most popular neighbourhoods too, because this is the Miami a lot of people are dreaming of.
Miami is big, and if you want to see more than just your immediate neighbourhood you'll need transport. Miami has a Metrorail line, which connects many tourist areas, a large bus network and a free trolley bus service in the centre of town, plus taxis.
Downtown Miami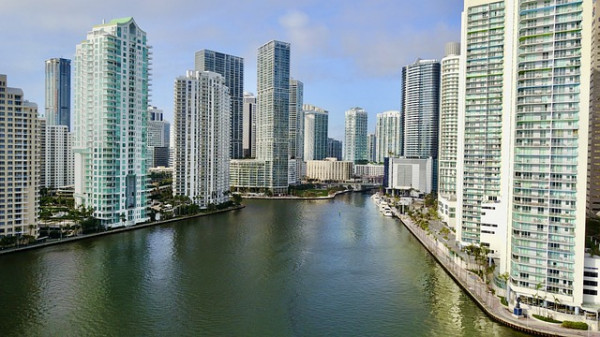 José Mª Gómez from Pixabay
Downtown Miami reflects the city's new status as one of the country's financial capitals, and has plenty of hustle and bustle during the day, plus towering glass skyscrapers, shops, and museums and galleries, and other entertainment venues. Downtown Miami's museum highlights include HistoryMiami, the Perez Art Museum, the Miami Centre for Architecture and Design, and the Patricia & Phillip Frost Museum of Science. There's also a zoo called Jungle Island, the Miami City Cemetery and Bayfront Park, which overlooks the Biscayne Bay, and is lively with performances in its two amphitheatres year round. And at the very heart of Downtown Miami is the Historic District, which is a collection of about 60 buildings dating from Miami's early days, including Freedom Tower, the old post office and courthouse. But Downtown Miami does quieten down at night, at least in comparison with some of Miami's other central neighbourhoods.
Pros and Cons
Pros: central, major sights, museums, art galleries, great shopping, water views, huge choice of places to eat and drink
Cons: quieter of an evening
Ideal For: sight seers, first-time-visitors, families, history buffs, museum visitors
Discover our recommended hotels in Downtown Miami.
Brickell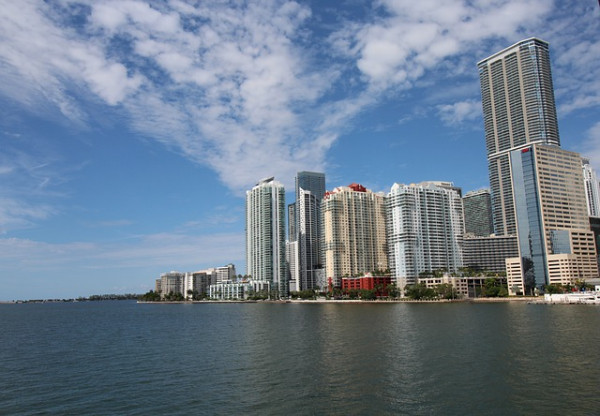 Karen Bargery from Pixabay
Just south of Downtown Miami is Brickell, which is a chic hub of cafes, bars and restaurants. Brickell has a lot of choice when it comes to apartment rentals, and there are plenty of luxury hotels here — with more being built all the time — but its main road, Brickell Avenue, is linked with skyscrapers home to law firms, banks, real estate companies and similar. So this is another area that's bustling with industry during the day. The water views, and relaxed atmosphere make this a really nice place to stroll around too, with a great collection of shops and boutiques that reflect this city's creative, multicultural background well. And an even better range of places to eat and drink. Brickell is only 15 minutes from South Beach, and close to the airport too.
Pros and Cons
Pros: water views, relaxed atmosphere, excellent places to eat and drink, central, major sights
Cons: a business district
Ideal For: families, sight seers, museum visitors, first-time-visitors
Click here for our recommended hotels in Brickell
Design District and the Upper Eastside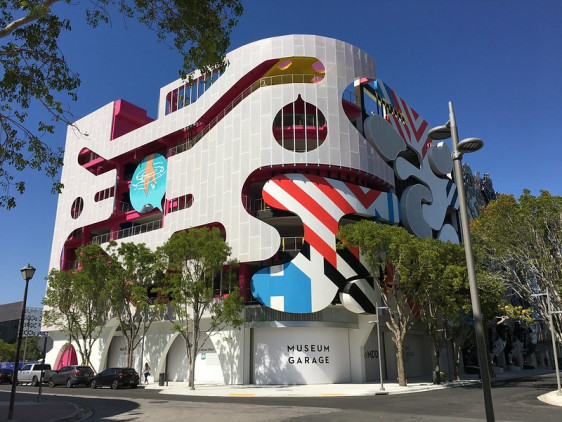 By Flickr user Phillip Pessar
Miami's Design District is a pocket of a neighbourhood, to the north of Downtown, known for hip design boutiques and places to eat. This whole district was born to create a great showroom for Art Deco gorgeousness in the 1920s, and now it's doing a similar thing, albeit with a different look, and more fashion, food and art galleries. The Design District is also home to a few niche museums, including the Haitian Museum, which makes sense because this neighbourhood is next-door to Little Haiti. The Upper Eastside neighbourhood is nearby too, which is where you'll find some of Miami's best hotspots for "Miami Modern" architecture. If you want to do a fair bit of shopping and eating in Miami the Design District is the place to do it.
Pros and Cons
Pros: central, excellent shopping, excellent bars and restaurants, unique architecture
Cons: limited hotels
Ideal For: architecture aficionados, design lovers, foodies, hipsters, shoppers, cool cats
Little Havana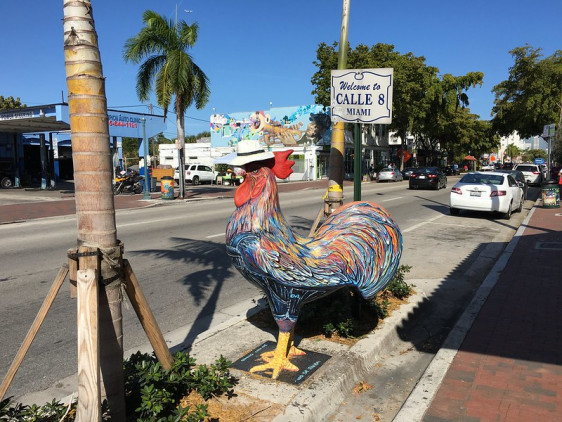 By Flickr user Phillip Pessar
As you might imagine from the name, Little Havana started out as a neighbourhood popular with Cuban exiles, but since the 1990s it's become popular with folks from many South and Central American countries, and these days you might also hear it referred to as the Latin Quarter. The hub of the neighbourhood is Calle Ocho, which is a long boulevard west of the Downtown area, packed with a really authentic collection of shops, bars and restaurants representing this neighbourhood's heritage. One of the other highlights of Little Havana is Máximo Gómez Park, also called Domino Park, because of the huge number of people who come here to play dominoes and chat. There are also some cool domino motifs in the design of the park. The Tower Theatre is nearby, a fantastic example of Miami's Art Deco architecture, and at the corner of Calle Ocho and 13th Ave there's a Cuban Memorial, with monuments, statues and an eternal flame burning in the memory of the Bay of Pigs invasion.
Pros and Cons
Pros: lively, historic, colourful and atmospheric, great restaurants, unique community
Cons: Spanish signage
Ideal For: cool cats, history buffs, foodies
Discover our recommended hotels in Little Havana, Miami.
Coconut Grove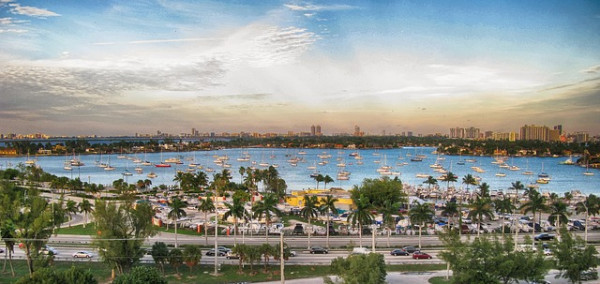 Patrice Audet from Pixabay
Coconut Grove used to be known for its hippy vibe, but today any tie-dye you see will be in a chic boutique, or worn by a hip barista in a cool cafe. This is another great place to dine out, with some especially appealing options on the neighbourhood's southern border, which is Biscayne Bay — there are a couple of yachting and sailing clubs here, as well as the Miami City Hall, which occupies the old Pan Am building. Aside from shopping and dining, Coconut Grove is known for the Barnacle Historic State Park, which is an old estate, complete with a grand mansion, built at the end of the 19th century. The architecture really represents what this area was like, and the forest which surrounds the house is uniquely preserved. The views are good too. Coconut Grove's other main attractions include the Frost Science Museum. You can get in and out of Coconut Grove via MetroRail or bus.
Pros and Cons
Pros: ocean views, great restaurants and cafes, great shopping, village atmosphere
Cons: off-centre, middle-class
Ideal For: families, shoppers, treating yourself, a city break escape, luxury lovers, night-owls
Discover our recommended hotels in Coconut Grove, Miami.
Miami Beach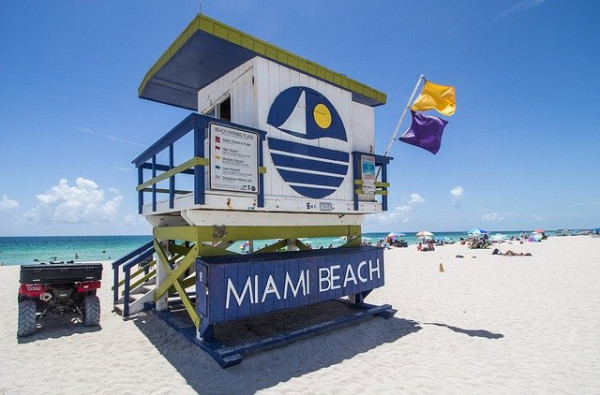 Alexander Gresbek from Pixabay
Miami Beach is a barrier island just across the water from Downtown Miami, and this is the Miami a lot of us think of: sand and sunshine and long boardwalks, beach cafes and clubs, beach bodies, and famous faces. It's been one of America's best known and loved beach resorts for more than a century now, and since the 1950s it has promised fun and glamour as well as sunshine. Miami Beach has three neighbourhoods, North Beach, from the tip of the island to 63rd street, Mid Beach, from 63rd downwards to 23rd, and then South Beach, which is probably the hub of beach-y fun. Miami Beach is pretty easy to get around; if you have to go further than you want to walk you can use the free Miami Beach Trolley, the bus, or hire a bike, or a golf cart! Or you can catch a taxi.
Pros and Cons
Pros: beach! ocean views, relaxed atmosphere, easy to get around, great choice of bars and restaurants, interesting architecture
Cons: busy, touristy
Ideal For: beach lovers, beach breakers, fun!
Discover our recommended hotels in Miami Beach.
South Beach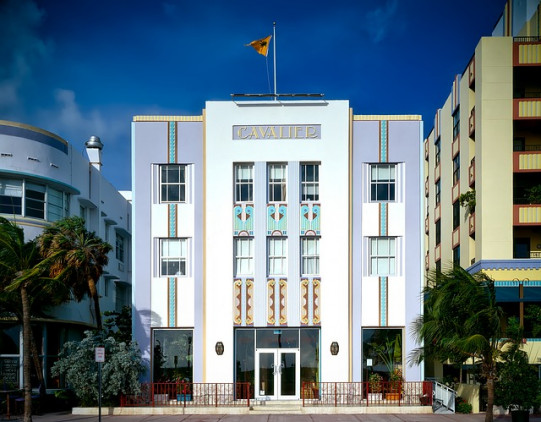 David Mark from Pixabay
South Beach is the liveliest of Miami Beach's neighbourhoods, known for its gorgeous sandy beaches, and glamorous nightlife and locals. There are a number of really impressive residences here, especially along Collins Ave. But Ocean Drive is probably South Beach's most famous street, an incredible collection of Art Deco buildings, beautifully preserved, and playing regular host to themed events. Other local landmarks and sights include the Holocaust Memorial and Jewish Museum of Florida, the Miami Beach Botanical Gardens, the Bass Museum of Art and the Wolfsonian-Florida International University Museum which is a fascinating collection of art and objects. And of course there's the beach, and the beach parks, which are probably what you're here for, well organised and with great facilities, plus the Atlantic here is warm enough to swim in year round. You can reach South Beach from the MacArthur Causeway from mainland Miami, and you can use the free trolley bus to get around.
Pros and Cons
Pros: beautiful clean beaches, beach facilities, colourful atmosphere, interesting architecture, lively nightlife, great bars and restaurants, luxurious
Cons: busy, can be expensive
Ideal For: fun lovers, city beach breaks, nightlife loves, party people, celebrity spotters, beach breakers
Mid Beach and North Beach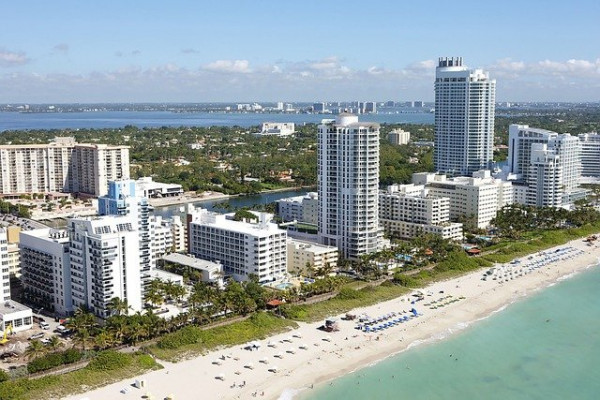 Antonio Cuellar from Pixabay
Mid Beach is quieter than South Beach, with a collection of attractions and facilities more aimed towards relaxation and families. The local architectural landmarks are on Collins Ave, which is the barrier island's main street, and it's a more eclectic collection than South Beach's primarily Art Deco style, with buildings from the 40s, 50s and 60s, and the highlights probably being the 'Miami Modern' style. Mid Beach has great beach parks and facilities generally, but some have watersports facilities too. And there's a golf club.
Pros and Cons
Pros: beautiful clean beaches, beach facilities, family friendly, interesting architecture, relaxed atmosphere
Cons: limited variety
Ideal For: great value, families, beach breakers, relaxing
Discover our recommended hotels in Mid Beach and North Beach, Miami.
Key Biscayne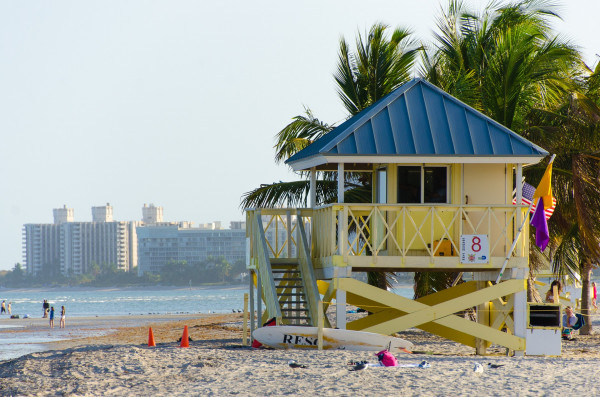 Image by Damon Warren from Pix
Key Biscayne is another of Miami's barrier islands. Quieter and more tropical than Miami Beach, it's south of South Beach, with lots of residential properly and a peaceful, village-y atmosphere. Key Biscayne has a real island feel to it, with palm trees and long stretches of white, sandy beach. There are a couple of beach parks, and the Bill Baggs Cape Florida State Recreation Area, which is like a nature reserve and beach park rolled into one. There are other outdoors-y facilities here too, walking trails, and cycling and rollerblading tracks, plus watersports facilities. And there's a good collection of shops and restaurants.
Pros and Cons
Pros: long sandy beaches, family-friendly, peaceful, watersports facilities, great shops and restaurants, village-y atmosphere
Cons: too quiet?
Ideal For: families, beach breakers, outdoors-folks, peace-seekers, beach lovers
Discover our recommended hotels in Key Biscayne, Miami.
Search the best hotels in Miami