Top Tips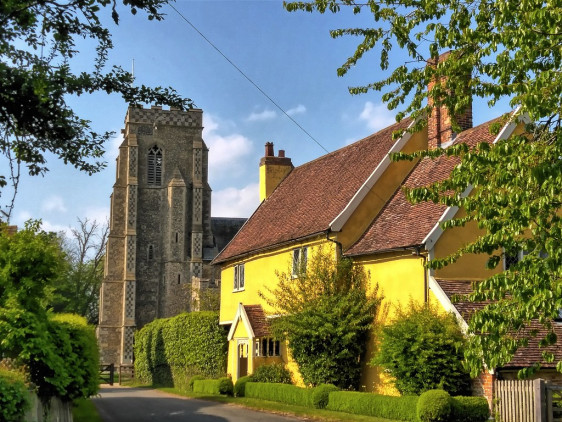 Flickr user Nik Morris (van Le
The Hotel Guru's Suffolk guide will help you find the perfect part of Suffolk to stay in, whatever reason you have for visiting this picturesque and gently charming part of England. We love Bury St Edmunds with its historic buildings, the races at Newmarket, Lowestoft for its beautiful sandy bay, pretty Aldeburgh and Southwold, and the incredible Broads, shared with Norfolk. But there's a lot more to Suffolk besides.
Guide to Suffolk's Towns and Centres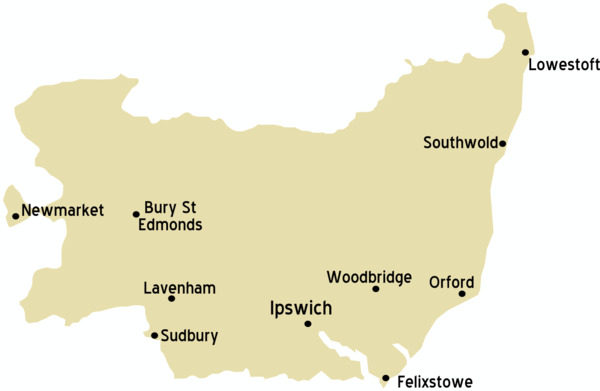 By User: (WT-shared) Paul. at
Suffolk has a lot going for it as a British holiday destination. Including fifty miles of beautiful coastline, which incorporates lovely sandy beaches, dramatic cliffs and maritime history; a generous collection of medieval towns and picturesque villages, some of them recognisable from Constable paintings; bustling, lively centres like historic Bury St Edmunds, and Newmarket, the 'home of horse racing; incredible green landscapes, some tame, some wild; and an impressive array of highlights, things like Sutton Hoo, the Anglo-Saxon ship burial, and the ruins of the abbey at Bury St Edmunds.
Suffolk has its own ports and, depending on which part you want to visit, good links to Stansted and Norwich airports. You certainly don't need a car to get around Suffolk, but if you want to visit out of the way places and do some real exploring, it will definitely help.
Ipswich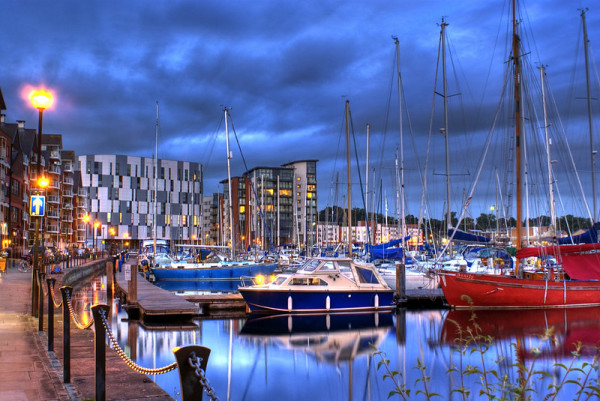 By Flickr user Steve Arnold
Ipswich has been an important town since the Anglo-Saxon period, and has been an important port too, so it's extremely rich in history and legend. The Ipswich Museum is crammed with historic treasures and the city's art galleries have more Constables and Gainsboroughs than anywhere outside London. Its mish-mash of architecture is testament to its past — you'll see timber framed Tudor houses sat beside Norman Foster projects. These days Ipswich is arty and cool, known for its theatre and hip gastronomic scene.
Of the areas of Ipswich, the central and waterfront quarters are busiest. These are where you'll find shopping and dining precincts, as well as the gentrified old port and the Cornhill, which is the historic town square. Ipswich has two train stations, and is well connected to London, Cambridge, Norwich and Peterborough, as well as the rest of Suffolk, and within the city there's a good bus service
Pros and Cons
Pros: buzzy, arty, lots of entertainment options, great bars and restaurants, historic and full of sights
Cons: popular
Ideal For: city-breakers, history-buffs, foodies, art lovers
Discover our recommended hotels in Ipswich, Suffolk.
Bury St Edmunds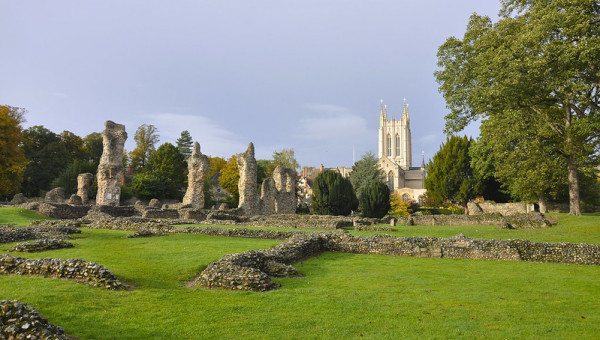 By Flickr user Martin Pettitt
It sounds like a joke, but it's true that Bury St Edmunds is where St Edmund is buried, and pilgrims have been coming to visit his shrine, which now has an abbey built on top of it, for centuries. Edmund was the last Saxon king, and so it was a truly impressive Benedictine abbey built on his burial site, but today it's a beautiful ruin, surrounded by an equally lovely park, which has two very large medieval gatehouses and a Norman Tower, and this complex is still one of the town's major visitor attractions. Bury St Edmund's has a second royal interment too; Mary Tudor, Henry VIII's sister is buried here, in St Mary's Church. But Bury's largest church is its Gothic Revival cathedral. But that just scratches the surface of the history of this place... Today Bury is still a market town, with a twice weekly produce market (Wednesdays and Saturdays), when much of the town is pedestrianised. And it's the centre of East Anglia, so a great base for exploring the whole region. It's small, though, and most easily explored on foot or by bike. Most of Bury's hotels are in the centre of town, close to the majority of pubs, cafes and restaurants.
P.S. 'Bury' has a similar meaning to the German 'burg', it doesn't have anything to do with burials.
Pros and Cons
Pros: historic, beautiful, rural and charming, great base for exploring the region
Cons: small, limited public transport
Ideal For: mini-breakers, history-buffs, couples
Discover our recommended hotels in Bury St Edmunds, Suffolk.
Newmarket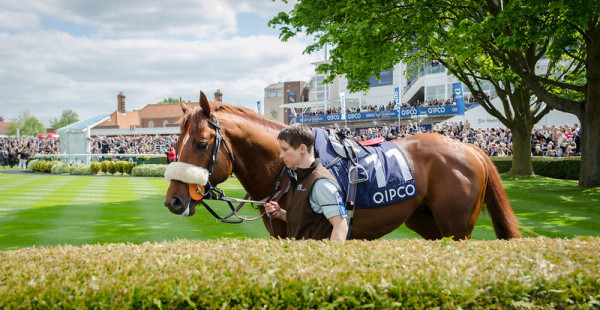 By Flickr user Florian Christo
Newmarket is a market town and a key location in the English Civil War, but it's better known for something else: horse racing. It's the home of the Jockey Club, which oversees all British horse racing, but it's also considered to be the birthplace of thoroughbred racing, which means it has museums and plaques, as well as over fifty stables, two very large tracks and three major public horse exercise grounds. Numerous British monarchs have been ardent horse racing enthusiasts, so Newmarket has a good collection of palaces, hunting lodges and impressive architecture. During the racing season Newmarket really bustles: there's lots on to do, to eat and to drink, and some super flash options for wealthy trainers and celebrating track winners. At other times of year it's still a busy centre with good rail access to other local centres and a local bus service.
Pros and Cons
Pros: lively both day and night, both high end and affordable food and drink options, good transport links
Cons: very busy during the racing calendar, very horsey
Ideal For: horse-lovers, racing-enthusiasts, foodies, mini-breakers
Discover our recommended hotels in Newmarket, Suffolk.
Lowestoft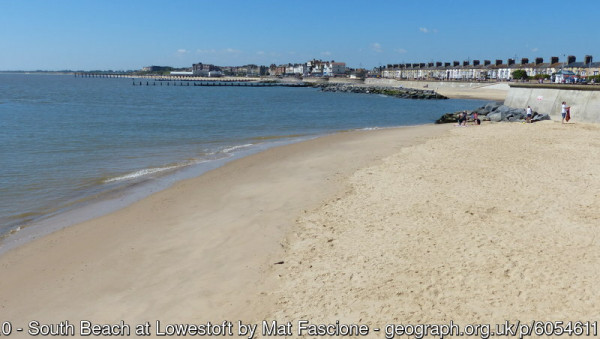 https://www.geograph.org.uk/pr
Lowestoft has some of the best sand beaches on England's east coast, and it's a regular fixture on the Blue Flag list. It's also where you'll find Britain's most easterly point: Ness Point, and it's very close to the Broads. Beyond the beach Lowestoft has a couple of excellent parks, a very good maritime museum, a family theme park and an impressive little zoo. The town is mid-renovation, with some rather run down bits, but also new parts, and the same could be said for the food and drink options, with not too much variety and a big range in quality. There are a couple of decent pubs and cafes, but if you're looking for a lively evening or an excellent meal you might want to visit Oulton Broad, rather than the centre of Lowestoft.
Lowestoft Station is right in the middle of town, and is connected to two lines, the Norwich line and the Ipswich line. Once you've arrived in town you can walk to most places, and you can catch a train to Oulton Broad.
Pros and Cons
Pros: beautiful sandy beaches, close to the Broads, historic, green, relaxed
Cons: limited range of dining, shabby in places
Ideal For: families, beach-lovers, Broads-explorers
Discover our recommended hotels in Lowestoft, Suffolk.
Felixstowe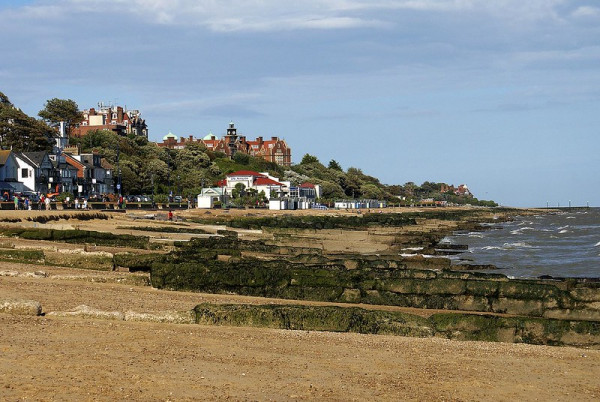 By Flickr user Martin Pettitt
Felixstowe is a faded seaside town and large port, with a pretty estuary, a pier and a long promenade. It still has all the essentials of a seaside resort, the pier, the arcades, amusement rides, mini golf and a good collection of fish and chip shops. Most importantly for many visitors is the long stretch of beach; part sand, part shingle, and lined with beach huts. Three are lots of nice walking trails around the outskirts of the town and along the coast, and there's an old fort, originally built in the 18th century, which is popular with birdwatchers too. Plus there's a museum and a string of Martello Towers. Felixstowe isn't known for its shopping, but it does have a couple of excellent second hand book shops.
Felixstowe is connected by train to Ipswich, and there's a bus service to get yourself around town, including an open top tour bus during the summer months. Felixstowe isn't chic, it's a bit faded from its Victorian heyday, but it is pretty and peaceful, with nice beaches.
Pros and Cons
Pros: pretty, peaceful, long stretch of beach, traditional seaside charm
Cons: small, fading, provincial
Ideal For: families, traditional seaside holidaymakers
Discover our recommended hotels in Felixstowe, Suffolk.
Lavenham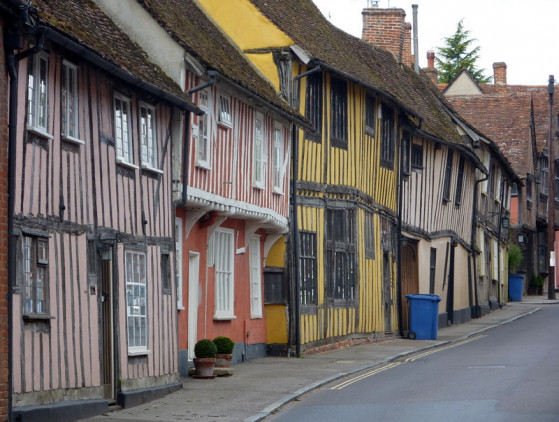 By Flickr user Andrew Hill
If you've ever wondered what medieval towns might have looked like, a visit to Lavenham will go a long way towards answering your question, because the majority of its buildings were built between 1450 and 1500, when the town was a wealthy wool producing centre. And most of them have been kept in an excellent state of repair. Some buildings are open to the public, some have been converted into hotels or guesthouses, but just strolling the streets, lined with half-timbered houses and thatched cottages all leaning against each other with age, is an experience. The crookedness of some of the buildings really adds to Lavenham's charms.
Lavenham is small, and for many people a day trip is enough, but there's a choice of atmospheric pubs and restaurants if you do stay over. There's no rail link to Lavenham, and its narrow streets make it difficult for traffic.
Pros and Cons
Pros: historic, atmospheric, charming, atmospheric pubs and hotels
Cons: small, can be busy
Ideal For: history-buffs, mini-breakers, romantics
Discover our recommended hotels in Laverham, Suffolk.
Long Melford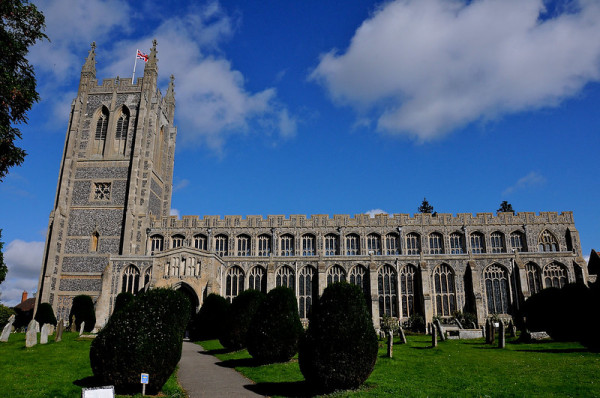 By Flickr user Martin Pettitt
Long Melford is a largish village with a very beautiful church, two Elizabethan manors and a couple of excellent restaurants. Another one of Suffolk's old wool towns, this ex-market town still has some of its wealthy trappings, including beautiful medieval stained glass in the Lady Chapel of the church. The Elizabethan manors, Melford Hall and Kentwell House were both visited by Queen Elizabeth, and are both open to the public today. And there are a hundred other listed buildings in the village, including several inns on the main street, which are also great places to eat. Long Melford isn't large enough to have a station, but it is connected to other local towns by a bus service.
Pros and Cons
Pros: historic, picturesque, peaceful, impressive architecture
Cons: small, quiet
Ideal For: mini-breakers, history-buffs, romantics
Discover our recommended hotels in Long Melford, Suffolk.
Aldeburgh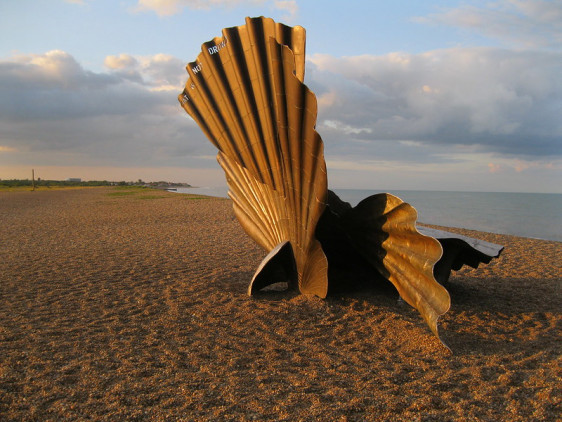 By Flickr user Andrew Bone
Small but perfectly charming, Aldeburgh is a collection of pastel-coloured buildings beside a sweep of Blue Flag shingle beach. Known for its independent shops and art galleries, and great, fresh seafood, this is a picturesque town with a few unexpected highlights. First is the Scallop, a four metre tall stainless steel sculpture which looks like two interlocking scallop shells, dedicated to composer Benjamin Britten, who lived here. Second is its Martello Tower: several of Suffolk's coastal towns have them, built to defend against a possible Napoleonic invasion, but Aldeburgh has the largest and northernmost. Two of the fish and chip shops in Aldeburgh regularly appear in lists of the best in the country.
Aldeburgh doesn't have a railway station anymore, but it is connected to other local towns, and Ipswich, by bus, and it's very easy to get around on foot.
Pros and Cons
Pros: picturesque, traditional seaside charm, great seafood, independent shops
Cons: small, beach is shingle
Ideal For: mini-breakers, foodies, romantics, music-lovers
Discover our recommended hotels in Aldeburgh, Suffolk.
Southwold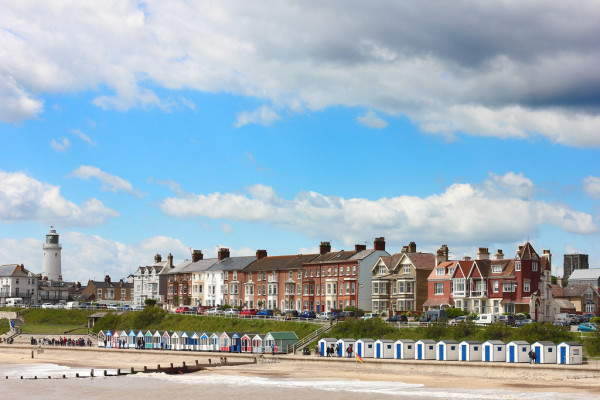 Flickr user Roger Blackwell
Southwold is a classic of a seaside town at the mouth of the River Blyth, near the Heaths Area of Outstanding Natural Beauty. Southwold offers the quintessential British seaside holiday: a long, surprisingly sandy beach, with its beach huts, pier, and lighthouse, and its charming promenade with its quirky gift shops and vintage arcades. Of course here's a mini golf course and tea rooms, but there's also a paddle boating lake. Southwold has some great pubs too, most of them owned by a local brewery, and offering decent food. Southwold's olde world seaside charm comes at a price, and the reason Southwold's beauty hasn't faded, and its pier is still popular, is that it's been invested in, but it's worth it!
The nearest station is eight miles away, but you can catch a bus from local towns, but once you're here you can get around on foot.
Pros and Cons
Pros: charming seaside town, traditional atmosphere, long beach, great shops, pubs and restaurants
Cons: can be expensive, limited public transport access
Ideal For: mini-breakers, families, romantics, beach-breakers, charm-seekers
Discover our recommended hotels in Southwold, Suffolk.
Search the best hotels in Suffolk