The 20 Best Romantic Hotels in Puglia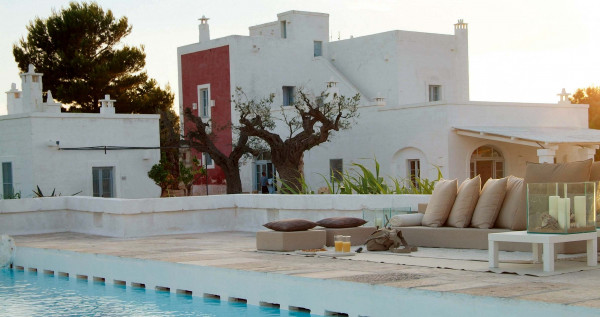 Puglia has all the ingredients for a romantic holiday — beaches, sunlit olive groves, fine wines and the cobblestone streets of whitewashed ancient towns. Puglia also has a lot of truly romantic hotels to cater to the couples who come there in yearly droves. To make booking your next romantic break just that bit easier, our Hotel Gurus have hand-selected the best romantic hotels in Puglia. From hotels with Michelin-star chefs to charmingly renovated former monasteries or ancient castles and chic B&Bs — there is something for all tastes and budgets. So why not browse through our collection to start planning your next escape?
For a historic stay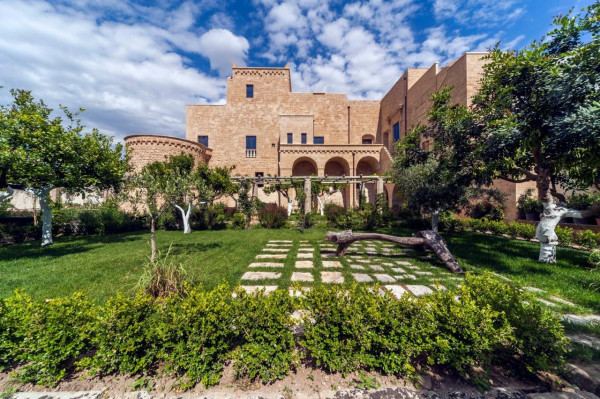 Castello di Ugento is a 17th-century palazzo in a sleepy town by the sea. Rooms are beautifully restored in a contemporary white style with breezy linens and artisanal pieces. Walk past restored frescoes, dine in the Norman tower or get lost in the walled garden. This is a truly unique place, in an unbeatable location.
Masseria Cimino was built with stone stolen from a nearby Roman ruin. On an 18-hole golf course, this 18th-century farmhouse exhibits the best of rustic-chic decor with uneven whitewashed walls and bold design pieces. Homely yet hip - a great place to escape with your significant other.
For a coastal break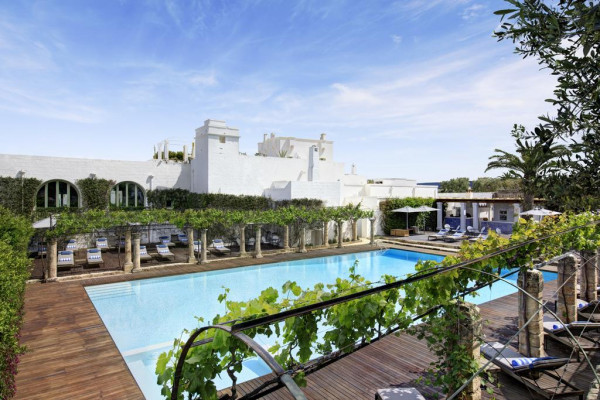 For a townhouse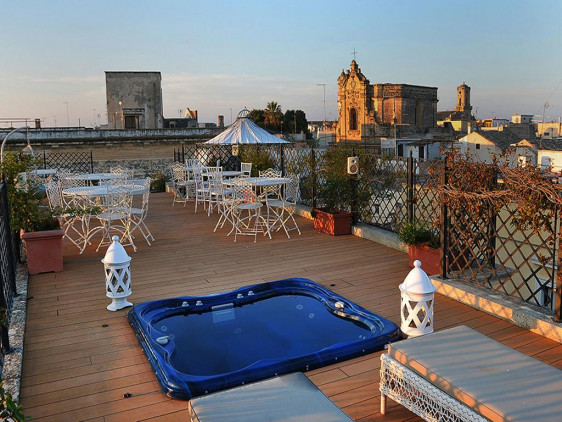 Relais Il Mignano offers a contemporary take on a 16th-century palace. The simple, light-filled, rustic rooms are beautiful and the roof terrace and leafy courtyard garden make it one of Puglia's most romantic hotels. Plus, it's incredible value for money.
For a hideaway in an ancient town, La Fiermontina ticks all the boxes. The rooms have vaulted or pinnacled ceilings and exposed stone walls adorned in cool modern art. While it's in the heart of Lecce, there's a pool and olive groves to enjoy - an idyllic couples bolthole.
Masseria le Fabriche is a charming adults-only boutique set on a flagstone street in the heart of Lecce. The perfect Puglian romantic hideaway, offering ancient rooms beautifully renovated in a light contemporary style. The roof terrace plunge pool is a real lure as is the owner's own modern art gallery.
For a B&B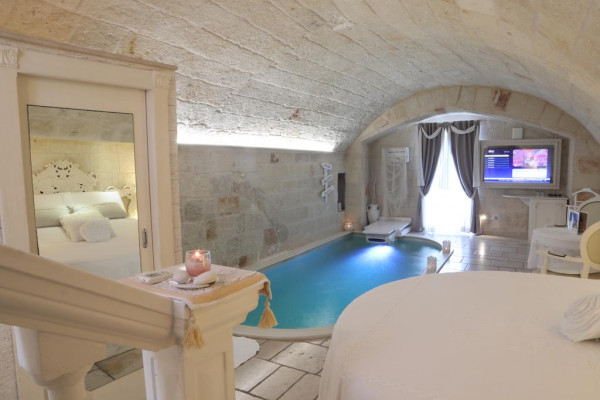 Bellavista B&B is not your ordinary B&B. Built inside the 16th-century walls of an ancient town overlooking the sea. The vaulted rooms are made of faded stone and have romantic white drapes. Each suite comes with a private spa pool. A romantic and peaceful choice.
For luxury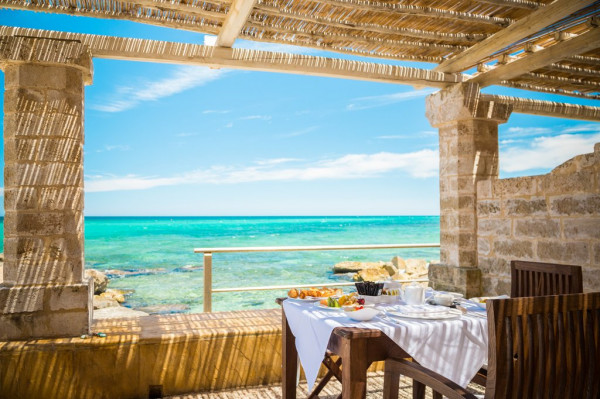 La Peschiera is an adults-only boutique set right on the aquamarine waters of the Adriatic Sea. The white-on-white rooms are intimate and airy while alfresco fine-dining set above the water is truly romantic - a simple, luxury seaside escape.
Il Melograno was the first farmhouse converted into a luxury hotel in Puglia. Expect flower-filled courtyards, Moorish outbuildings, tennis courts, tiled rooms decked in floral linens and fireplaces. The spa is a pampering affair and the beach club is divine.
For a country escape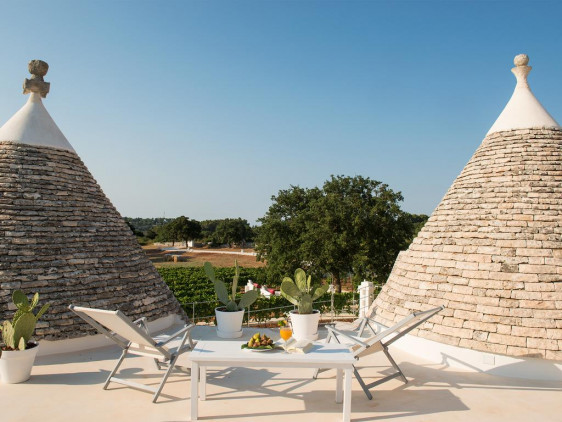 Still not sure where to book?
Local exploring - Set within the heart of the historic centre with many of the city's attractions within walking distance

Value chic - A luxury property with exceptionally good rates

Great walks - Just a 10 minute drive from the Portoselvaggio Nature Park where one can set out on gorgeous coastal walks

Sights nearby - Make a trip to the historical town of Lecce 30 minutes from the property

A 16th century palace situated in the heart of Nardò. Stunningly renovated rooms keep their original charm with exposed stone, beamed ceilings and antique furniture. The simple design throughout gives a contemporary air. A rooftop terrace and hot tub are ideal for unwinding with a drink. City chic. See More

Check Availability

Romantic Break - Privacy, tranquility and al fresco baths designed for two.

Total relaxation - A secluded abode ideal for lazy days under the sun.

Sights nearby - Visit the trulli houses in the UNESCO heritage Alberobello. The towns of Ostuni, Gallipoli & Martina Franca are nearby.

Cooking classes - Offered in spring & autumn, specialising in Cucina Povera. Enquire for dates of cooking weeks.

Recommended by - Mr & Mrs Smith

An immaculately converted Masseria providing the ultimate in laid-back luxury. Airy rooms and suites feature large floor to ceiling windows, exposed stone walls and delicate cast iron beds. Sample the best of Puglian cuisine with much of the produce coming from the kitchen garden. Total bliss. See More

Check Availability

Active Holiday - Explore the rugged countryside on the hotel mountain bikes, head down to the beach, or grab a round of golf.

Sights nearby - Head to the nearby Mozzarella Palace for a cheese tasting then down to the local fishing village of Savelletri for seafood.

Spa - Fabulous subterranean Aveda Spa with indoor pool, relaxation area and wide range of treatments on offer.

Romantic - Good for couples.

Recommended by - Mr & Mrs Smith, Kiwi Collection

An elegantly restored historic fortified farmhouse, minutes from the sea. Wonderful rooms and suites with rough white washed walls, fine linens and silks - one suite occupies a cave and has its own olive grove and pool. Fabulous regional cuisine, Aveda spa and its very own private beach club. See More

Check Availability

Country Escape - Surrounded by ancient olive groves and fruit orchards, with fantastic walking, produce straight from the farm, and beach club.

Romantic Break - A grown up choice with luxurious rooms, wonderful food, and picturesque scenery.

Great walks - Explore trulli country on foot or by bike- discover it's ancient olive groves, fruit trees and miles of scrub.

Cooking classes - Pick fresh olives and vegetables from the olive groves and use them in yummy Apulian dishes.

Recommended by - Mr & Mrs Smith, I Escape, Tablet

Sophisticated, contemporary hotel with a young, hip vibe. Smart contemporary bedrooms, some with open fires and private pools. Wonderful courtyard bar with Balinese sofas and excellent restaurant overlooking the pool. Irene Forte spa, golf course and private beach clubs. See More

Check Availability

Honeymoons - A sophisticated honeymoon choice- ornate four-poster beds and panoramic views over Puglia, with fine dining and pampering spa.

Active Holiday - Lovely grounds and beaches for walking, bikes for rent, tennis courts, golf course, and both indoor and outdoor pools.

Sights nearby - Visit the nearby village of Alberobello with its fascinating domed trulli houses.

Great walks - Wander the fragrant gardens or take a stroll down to the coast.

Recommended by - Tablet, Kiwi Collection

One of Puglia's best hotels offering a luxurious spa and golf course. Rooms and fabulous suites decorated with romance - white washed walls and rich drapes, some have private gardens, hot tubs and balconies. Fantastic selection of restaurants and stunning salt water pool. A heavenly spot. See More

Check Availability

Honeymoons - A tranquil and romantic spot for honeymooners, each of the elegant suites faces onto the gardens and the soothing countryside.

Cooking classes - The hotel organises cooking classes, learn to whip up your favourite dishes frm the menu.

Sights nearby - Explore the lovely Otranto, with its lively bars, restaurants and squat Aragonese castle.

Great walks - Take a wander around the lush gardens, or further a field into this scenic landscape.

Recommended by - I Escape, Fodors

Relaxed retreat with a contemporary twist surrounded by olive trees, vines and date palms. Sophisticated, airy white on white rooms with cool flagstone floors, delicate wrought iron beds, Pugliese embroidery and Moroccan lamps. Lovely pool, local food and stunning surrounding farmland. See More

Check Availability

Country Escape - Expect very stylish suites scattered throughout, a winery and gourmet dining; rural chic

Restaurant - Serving delicious traditional Puglian cuisine

Designer - Uniquely designed interiors.

Romantic - Good for couples.

A traditional masseria set within its own winery which has been carefully renovated to create the ultimate chic rural escape. Smart rooms are minimalist and contemporary with large floor to ceiling windows to take in the views. The cuisine is superb and wine selection (unsurprisingly) very good. See More

Check Availability

Total relaxation - Completely unwind at this rustic chic family run property offering pool, gardens and views of the sea- perfection.

Active Holiday - Whether playing golf, swimming in the sea or cycling is you're thing there's plenty to keep you active and alert.

Sights nearby - Check out the fascinating Gnatia archaeological ruins, right beside the hotel.

Great walks - Wander down to the coast and explore the beaches on foot.

Rustic-chic and a laid-back atmosphere on an 18-hole golf course. Rough white walls, grey paintwork and candlelit rooms adorn this former Roman villa. Breakfast and superb set dinners are served on a covered terrace. A great choice for those who want understated luxury. See More

Check Availability

Total relaxation - A modern retreat in the heart of town - an urban idyll

Romantic Break - A great escape to take a loved one

Sights nearby - Within five minutes walk of Basilica of Santa Croce, Roman Amphitheatre and Duomo Square.

Local markets - Browse the local markets of Lecce.

Recommended by - Mr & Mrs Smith

A small corner of tranquility in central Lecce. Bearing distinctive local architecture, the hotel's minimalist aesthetic is complimented by pinnacled ceilings and tasteful modern art. Relax by the swimming pool, surrounded by olive groves, and enjoy some delicious Pugliese cuisine. See More

Check Availability

Romantic Break - Original stone wall suites, with private hot tubs overlook the Adriatic Sea

Swimming Pool - Situated on the seaview terrace you'll find a small infinity hydromassage pool with stunning views

Great walks - Walk along the coast to Polignano a Mare

Seaside - Ideal for a seaside holiday.

Gorgeous suites within 14th century building overlooking the sea. Creamy stone walls are complimented by white furnishings in the guestrooms, with marble bathrooms sinks and soft lighting. Each suite has a private spa pool, and breakfast is served on the sunny terrace. Romantic and peaceful. See More

Check Availability

Romantic Break - A romantic boutique in the White City of Ostuni, boasting chic piano bar, spa, hot tub, Hammam and elegant Italian cuisine.

Spa - Featuring sauna, Chromotherapy shower, Turkish bath, hot tub, wide range of massages and relaxation area.

Great walks - A 15 minute drive brings you to the beautiful sandy beaches of Pugila.

Sights nearby - Visit the nearby cathedral, built in late gothic style.

A romantic, stylish and refined hotel that features modern comforts and excellent personal service. Beautiful airy bedrooms in whites and pastels with ethereal drapes. Wonderful restaurant, roof top terrace and private beach just a few kilometeres away. The perfect romantic getaway. See More

Check Availability

Romantic Break - This charming palazzo is ideal for couples on a romantic getaway

Sights nearby - The cathedral towers over an elegant square and Byzantine and Baroque churches can be seen down tiny alleyways

Restrictions on children - Children over the age of 10 can be accommodated in extra beds in two of the rooms

Restaurant - The superb Il Tempo Nuovo serves contemporary, gourmet Pugliese cuisine.

A magnificent castle hotel in a lovely sleepy town by the sea, combining old-world elegance with contemporary sophistication. Expect restored frescoes rubbing shoulders with modern art and artisanal pieces. The food is outstanding and guests can learn some tricks at the in-house cookery school. See More

Check Availability

La Peschiera

Savelletri

12 rooms from £347

Honeymoons - The majestic seaside setting and superb suites make it perfect for honeymooners.

Beach Life - Right on the sea with exclusive access to a beach and a relaxed seaside vibe.

Sights nearby - Visit the stunning historic UNESCO protected Trulli of Alberobello.

Restrictions on children - Adult only.

Recommended by - Small Luxury Hotels

A stunning five-star hotel, set right on the Adriatic Sea. The luxury design and magnificent location combine to create a tranquil atmosphere that is perfect for a relaxing seaside break. Enjoy sumptuous seafood and staggering sea vistas at the hotel's restaurant. The embodiment of serenity. See More

Check Availability

Nina Trulli Resort

Monopoli (Bari), Puglia

6 rooms from £165

Local exploring - Hire a vespa and discover the surrounding villages and towns

Country Escape - A converted farm set in picturesque Puglian countryside

Sights nearby - Explore the churches and palaces of beautiful Lecce

Swimming Pool - Outdoor pool

A chic converted Masseria set in the picturesque rural landscapes of Puglia. White washed rooms, uneven walls and well placed ornaments all lend an air of rural-cool. A good sized pool, fantastic restaurant (serving regional produce) and easy access to Puglia's sights make this a fantastic stay. See More

Check Availability

Local exploring - Set in the heart of the city with many of the main attractions within walking distance

City Style - A stylish design hotel filled with antiques and artworks

Sights nearby - Visit the 17th century Basilica di Sante Croce and admire its stunning Baroque facade

Swimming Pool - Small plunge pool on the roof terrace

A boutique property in the heart of historic Lecce. The old building has been renovated by its art-loving owners and now also boasts a superb contemporary art gallery. Rooms are spacious and bright with a simple white-on-white-style, and there's the added bonus of a roof terrace with plunge pool. See More

Check Availability

Ottolire Resort

Locorotondo (Ba), Puglia

14 rooms from £156

Country Escape - Set in picturesque countryside this traditional trulli has been given a modern touch making it a stylish rural escape

Spa - The wellness trullo comes with hammam, hot tub, and sensory shower, plus treatments aplenty!

Sights nearby - Visit the pretty town of Alberobello known for its traditional trulli houses

Restaurant - Serving delicious Puglian dishes that have been given a fresh, modern twist.

Once a traditional farmhouse this beautiful Trulli now offers guests a slice of contemporary Italy in a picturesque rural setting. Rooms see chic contemporary furniture perfectly set amongst the building's original features. The spa and excellent Mediterranean restaurant make this an alluring pick. See More

Check Availability

Il Melograno

Monopoli

38 rooms from £156

Beach Life - This chic hotel offers access to their own private beach with white sands and blue waters and a seafood restaurant and bar.

Spa breaks - Refresh and revive with the spa's extensive therapy list, sauna, frigidarium, turkish bath and hammam.

Tennis - Enjoy the hotels two floodlit tennis courts and catch a game when the sun cools off.

Sights nearby - Make a trip to the UNESCO-protected Trulli of Alberobello.

Recommended by - Relais & Chateaux

A five star family-run hotel with a delightful down-to-earth atmosphere. Renovated 16th century farmhouse with sprawling Moorish outbuildings and flower-filled courtyards, terraces, big pool and tennis courts. Charming rooms in florals, tiled floors and fireplaces. Excellent spa and beach club too. See More

Check Availability

Borgo Canonica

Cisternino (BR), Puglia

14 rooms from £154

Hideaway - A charming Puglian retreat designed to completely unwind.

Great walks - Discover the beautiful countryside on long walks starting straight from the property.

Sights nearby - Visit the architecturally unusual cathedral in Trani.

Traditional

Recommended by - Tablet, Sawdays

A collection of white washed trulli cones sitting pretty against a Puglian hill. Designed impeccably throughout with the soft yellow stone set against beige and white hues and the odd pop of colour coming from a contemporary chair or painted window frame. A tranquil and romantic hideaway. See More

Check Availability
posted Wednesday, 14th July 2021