London's 20 Best Boutique Hotels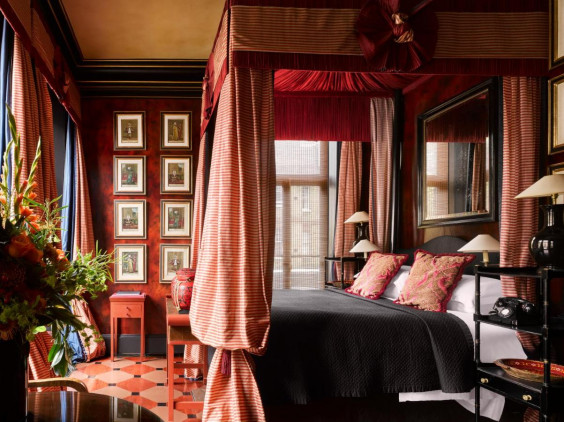 Blakes, which opened in London in 1981, is now widely considered to be the world's first boutique hotel. While it easily remains one of London's best boutique hotels, and is one of our favourite London hotels full stop, there are now plenty of other great boutique properties in London. Our hotel experts have compiled a collection of London's best boutique hotels to make choosing your next city break pad a quick and convenient choice. Whether you want something grand and traditional or a little more contemporary there is a good choice of properties to select from across the city. So why not browse through our list to start planning your next city break?
Our all-time favourite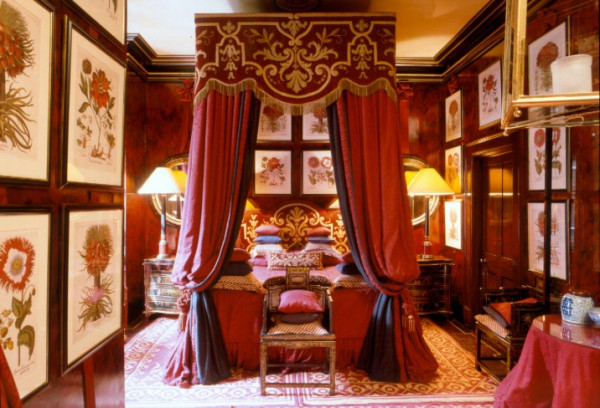 Where better to start than at Blakes? In a quiet residential street behind South Kensington, it's home is an imposing but discreet building with 41 rooms. Still one of the best boutique hotels in London, actress, Gwyneth Paltrow described it as "a super-chic design hotel but comfortable and sexy" and she pretty well nails it. Some of the classic darker rooms with their rich fabrics and Eastern art will be a little too opium den for some tastes but there are brighter, whiter rooms that are equally luxurious. The cocktail bar and restaurant are well-thought-of.
For the West End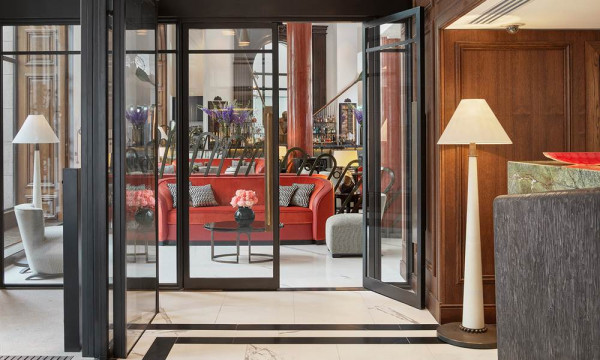 Situated on vibrant Frith Street, Hazlitt's is where to head for if you want to stay in one of the most characterful of our recommendations. Within this row of Georgian houses, you'll find bedrooms decorated with antique furniture, busts and portraits. And the nightlife of Soho is just outside your door.
One Aldwych is an Edwardian building, once the home of the Morning Post, which resembles the Flatiron building in New York but has a very London interior. Rooms are minimalist but still comfortable and luxurious, and there is an 18-metre swimming pool and two restaurants.
Henrietta Hotel is a small boutique stay in Covent Garden, well placed for theatreland and close to many shops. A friendly hotel that offers discreet charm and an international feel in a surprisingly peaceful location. There's a lovely bar with a restaurant serving delectable food. Expect friendly staff and atmospheric rooms.
For star-spotting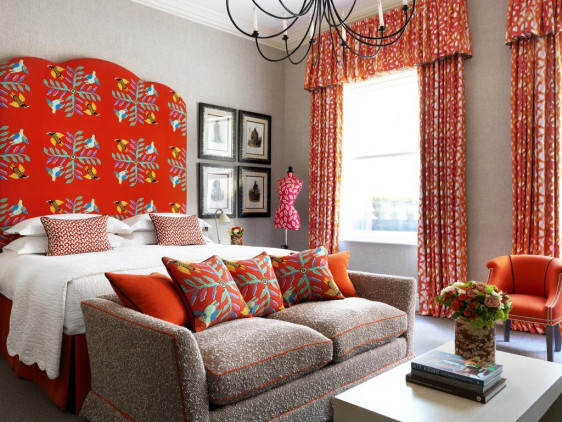 At first glance, the Covent Garden Hotel looks fairly traditional, but once you're ensconced in its snug fabulousness, you'll notice the funky, modern touches which qualify it for our list of the best boutique hotels in London. It's in an unbeatable position for West End theatres, and it's great for celeb-spotting too!
For the City of London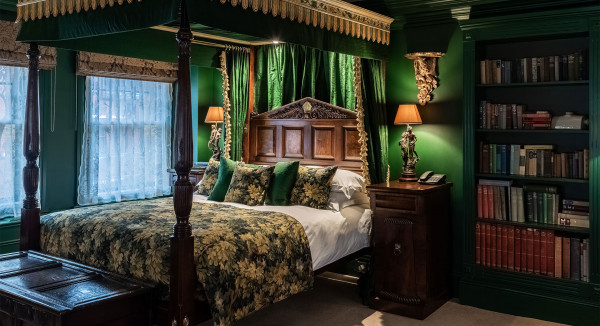 With its intimate rooms and leafy verdant garden, The Rookery doesn't feel like it is in The City at all. Which is probably exactly why it is popular with people who have spent long hard days slogging in the Square Mile.
Batty Langley's is situated in the heart of trendy Spitalfields. The 29 rooms and suites boast over-the-top interiors filled with antiques and period features from wooden panelling and fireplaces to four-poster beds and gorgeous artworks. Plus there's the added bonus of a courtyard for sitting out when the weather allows.
For a pub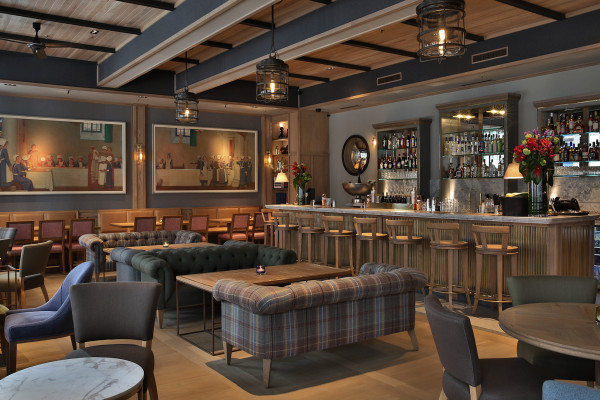 Combining a lovely pub with sublime upstairs rooms, The Culpeper is a great option for those looking to stay in central London. You can expect elegant, comfortable rooms, an excellent restaurant and one of London's finest roof terraces. A stylish option, ideal for exploring the city.
The Grazing Goat boasts an enviable location in the heart of Westminster. Rooms ooze charm with muted Farrow & Ball colour schemes and wooden furnishings. Expect upmarket British pub classics in the restaurant. A splendid spot for city explorers.
For luxury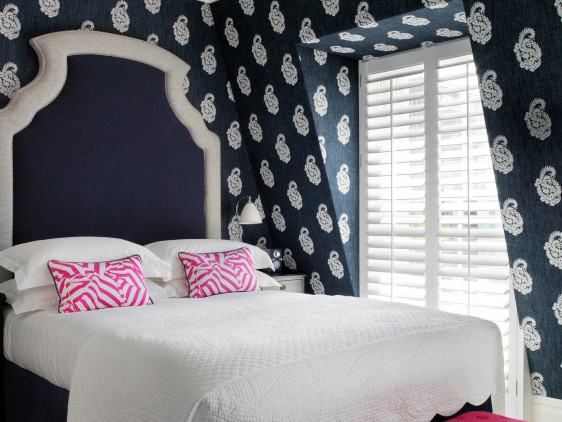 For boho chic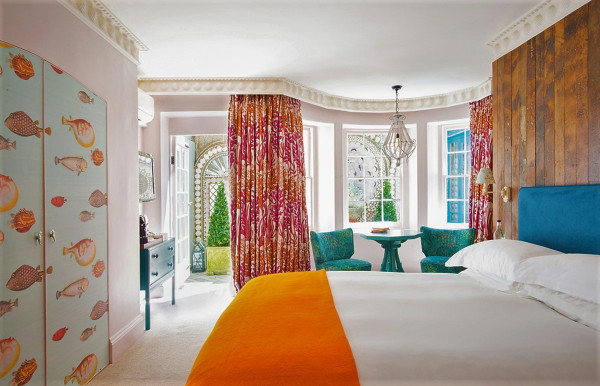 The Portobello is the quintessential shabby-chic boho London bolthole in one of the city's most popular locations — Notting Hill. A characterful choice with round the clock room service meaning you can live like a rock star and order scrambled eggs and champagne at four o'clock in the morning!
For a Townhouse Hotel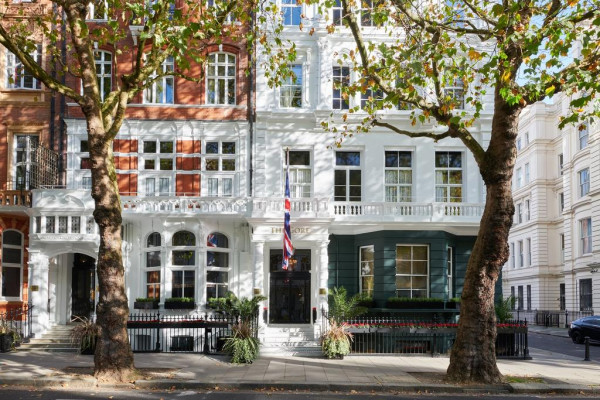 The Gore Hotel on Queen's Gate is on the quirky side of grand, with plush, traditional bedrooms, an inviting restaurant, an oak-panelled bar and walls which are covered in over 5,000 paintings and prints. And the service is spectacular, it's an excellent location for city exploring and the G&Ts are spot on.
For trendsetters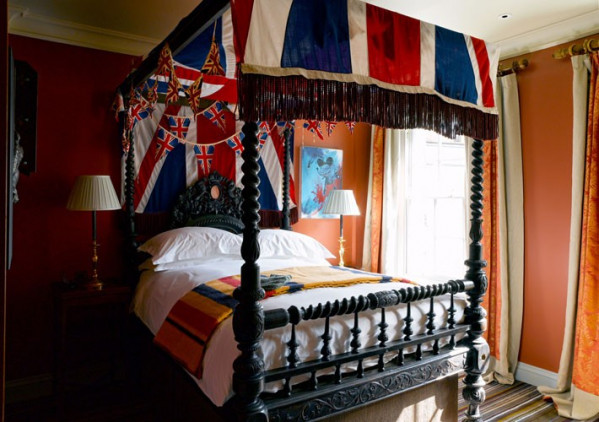 On the other side of Clerkenwell Road from the Rookery is The Zetter Townhouse. Quirkier and less grand than the Rookery it is still a very comfortable addition to our best boutique hotels in London list; decked out with wit, flamboyance and plenty of four-poster beds. The tiny bar has the feeling of a homely parlour and has more of a whisky than a champagne vibe.
Charlotte Street Hotel is a fashionable media land hangout with stylish contemporary interior design, a private cinema, buzzy public areas and a cosy sitting room. A hip choice in the West End.
For an art hotel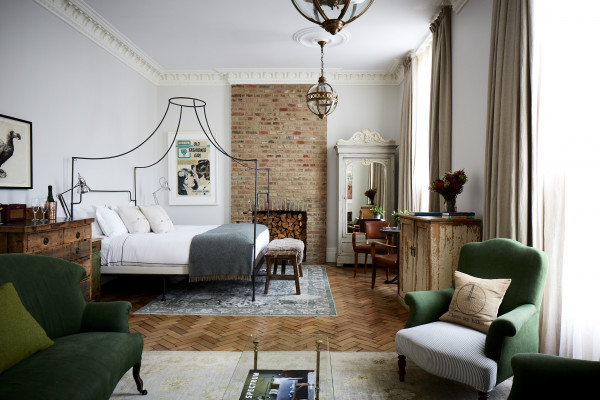 Artist Residence London has a homely lived-in feel. Rooms feature exposed brick walls adorned with Warhol-esque pop art, desk lamps standing on old wooden crates and wood-panelled bathrooms that resemble Alpine saunas. A neon-lit café/bar opens from breakfast till late. It's a cool and colourful place, perfect for longer stays.
Still not found the perfect London hotel?
You could browse through our list of all the best places to stay in London.
Or consider our recommendations for London's 10 Best Character Hotels, our Guru's list of London Cheap and Chic Hotels or one of our Top 5 Cosy London Boltholes.
Alternatively, you could contact one of our friendly Gurus for personalised advice.

Blakes

London (South West)

45 rooms from £340

Restaurant - Recommended.

Boutique

Landmark - Comes with a reputation.

Quirky - An experience!

Recommended by - Mr & Mrs Smith, Tablet, Frommers, Kiwi Collection, Michelin Travel

The grandaddy of boutique hotels, theatrical creation of actress and designer Anouska Hempel; a decadent and moody institution on the edge of Chelsea. Individually themed rooms are crammed full of oriental and Indian antiques, plus there's an excellent restaurant. See More

Check Availability

One Aldwych

London (West End)

105 rooms from £335

Restaurant - Indigo - modern British & Eneko Basque Kitchen & Bar

Child friendly - DVD and games library plus wii console and games

Theatre - Perfectly positioned for London's theatreland

Swimming Pool - Large Indoor Pool - chlorine free

Recommended by - Tablet, Frommers, Good Hotel Guide, Kiwi Collection, Michelin Travel

The perfect base for those wanting to be in the heart of Covent Garden and Theatreland. Classic on the outside, but wonderfully contemporary on the inside. Spacious rooms and suites, buzzy lobby bar, superb dining and a luxury spa for relaxing after a hard day's sightseeing! See More

Check Availability

Batty Langley's

London (The City)

29 rooms from £170

Sights nearby - The property is minutes from Liverpool St so there's easy access to all of London's highlights.

Local markets - Old Spitalfields market is just round the corner

Romantic - Good for couples.

Full of character

Opulent, sumptuous and quirky converted 18th-century townhouse in the trendy Spitalfields district. Gorgeous over-the-top rooms and suites offer stunning traditional interiors and equally impressive bathrooms. A romantic bolthole in the city of London perfect for a cosy getaway! See More

Check Availability

Hazlitt's

London (West End)

27 rooms from £209

Full of character

Lively area - In the thick of the action.

Boutique

Traditional

Recommended by - Mr & Mrs Smith, I Escape, Tablet, Frommers, Good Hotel Guide

This charming Georgian boutique hotel is full of character and literary associations. Since 1718 Hazlitt's has been in the thick of it on vibrant Frith Street in the heart of Soho. Elegant wood-panelled rooms are the perfect base, relax with a book or explore the city. See More

Check Availability

Sights nearby - You're bang in the centre of London, so everything is within easy reach!

Local markets - Covent Garden is known for its famous early-morning flower market

Romantic - Good for couples.

Four poster beds - For romantics.

Recommended by - Mr & Mrs Smith, Tablet, Fodors, Frommers, Good Hotel Guide, Kiwi Collection

Traditional elegance meets sexy chic, making a sexy and buzzy, designer hotel in prime Covent Garden location. Classic rooms are exquisitely decorated, with all luxuries considered and children more than catered for. Breakfast is a lavish affair, as is an evening cocktail in the drawing room. See More

Check Availability

The Rookery

London (The City)

33 rooms from £282

Exclusive offer

Sights nearby - Barbican is a cultural hub worth checking out for performances, screenings and more.

Full of character

Lively area - In the thick of the action.

Boutique

Recommended by - Mr & Mrs Smith, I Escape, Tablet

Fashionable Clerkenwell is home to this intimate, period charm City bolthole which prides itself on homely atmosphere across three 18th Century houses. Rooms are full of character, classic antiques, open fires and roll top baths. Breakfast in bed or in the garden is the perfect way to start the day. See More

Check Availability

Restaurant - Guests can dine in the main hotel's top restaurant across the road.

Four poster beds - For romantics.

Lively area - In the thick of the action.

Romantic - Good for couples.

Recommended by - Tablet, Good Hotel Guide, Kiwi Collection

Intimate boutique townhouse offshoot of the modernist Zetter, with quirky and eclectic vintage decor and just 13 rooms. See More

Check Availability

The Culpeper

London

5 rooms from £120

Sights nearby - So many sights to see such as Trafalgar Square and Big Ben just minutes away.

Local markets - Browse the bustling Petticoat Lane Market.

Restaurant - Recommended.

Combining a superb pub with sublime upstairs rooms, The Culpeper is a great option for those looking to stay in central London. Elegant, comfortable rooms, an excellent restaurant and one of London's finest roof terraces come together to create a standout guesthouse. See More

Check Availability

The Grazing Goat

London (Bayswater)

8 rooms from £195

Local exploring - The Grazing Goat is the ideal base from which to explore London

Sights nearby - Be sure to visit Buckingham Palace, Big Ben, the Houses of Parliament and London Eye!

Great walks - Head off to Hyde Park, situated less than a mile away from The Grazing Goat

Restaurant with rooms

Recommended by - Mr & Mrs Smith, I Escape

The Grazing Goat boasts an enviable location in the heart of Westminster. Their rooms ooze charm with muted Farrow & Ball colour schemes, large beds and wooden furnishings. Upmarket British pub classics are served in the restaurant downstairs. A splendid spot for city explorers! See More

Check Availability

Great walks - Through nearby Hyde Park, London's largest park, where one can go horse riding, boating, cycling and picnicing.

Sights nearby - The London Eye, The Tower of London, Buckingham Palace and St Paul's Cathedral are all within easy reach.

Designer - Uniquely designed interiors.

Full of character

Recommended by - Mr & Mrs Smith

Regency property from the outside; full of fun, character and modern art inside. Individually decorated rooms and bathrooms are of a good size. Popular restaurant 'The Clubhouse' and just a short walk from Victoria. A design lover's dream! See More

Check Availability

The Pelham Hotel

London (South West)

52 rooms from £230

Local exploring - With its prime South Kensington location, The Pelham is ideal for exploring London's sights.

Value chic - With rooms starting from only £230 per night, this is 5* luxury without the price tag.

Restaurant - La Trattoria by Alfredo Russo offers authentic, relaxed Italian all day dining.

Sights nearby - Steps from the South Kensington museums

Recommended by - Tablet, Fodors, Good Hotel Guide

A stunning luxury townhouse hotel in the heart of South Kensington. Individually designed rooms and suites are filled with beautiful objets and the decor is country house chic. Relax in the drawing room or library, and enjoy authentic Italian cuisine in La Trattoria. Simply superb! See More

Check Availability

Restaurant - The Potting Shed is open all day and features a Chef's Table every couple of months.

Local markets - Camden Lock market is not far

Full of character

Romantic - Good for couples.

A stunning regency townhouse conversion on leafy Dorset Square. The thirty eight rooms are individually designed in typical quirky Firmdale fashion, with beautiful fabrics and a quintessential English country house feel throughout. Excellent restaurant and bar. A stylish and central treat! See More

Check Availability

Restaurant - Restaurant 190 Queen's Gate is overseen by Michelin starred chef Daniel Galmiche.

Sights nearby - Great location for the Royal Albert Hall and Hyde Park.

Romantic - Good for couples.

Full of character

Recommended by - Tablet

A quintessentially British townhouse that prides itself on spectacular service with laid back vibes. Classic-styled rooms house period pictures, antiques & comfortable beds. Restaurant 190 Queen's Gate offers contemporary classic dishes and Bar 190 superb G&Ts! Spot on location for city exploring See More

Check Availability

Lively - Hip and happening.

Four poster beds - For romantics.

Restaurant - Recommended.

Recommended by - Mr & Mrs Smith, Tablet, Frommers, Kiwi Collection, Michelin Travel

Fashionable media land hangout, with stylish contemporary interior design, a private cinema, buzzy public areas and a cosy sitting room See More

Check Availability

Henrietta Hotel

London (West End)

18 rooms from £236

Sights nearby - Within striking distance of many of London's central sights.

Local markets - Browse the charms of London's historic Covent Garden.

Romantic - Good for couples.

Lively area - In the thick of the action.

Well placed for theatreland and close to many shops, this newly-opened, friendly hotel offers discreet charm and an international feel in a surprisingly peaceful location. There's a lovely bar with a restaurant serving delectable food, friendly staff and atmospheric rooms. See More

Check Availability

The Hari

London (South West)

85 rooms from £320

Romantic Break - With its superb location, design-led interiors and great bar and dining too — The Hari is ideal for a romantic city break

Local exploring - A superb central location in the heart of leafy Belgravia, makes The Hari ideal for sightseeing all over the city

Sights nearby - Twenty minutes walk from Buckingham Palace, and a similar distance from the V&A and Natural History Museum

Views - Make sure you book a room on one of the upper floors for great views over London

The Hari is a great base in central London whether you are there to shop and spoil yourself, sightsee or do deals. Designer interiors ensure seriously stylish accommodations with indulgent marble bathrooms. Plus there's Italian fine dining at Il Pampero and a buzzing bar. Hip, happening and smart! See More

Check Availability

San Domenico House

London (South West)

19 rooms from £255

Romantic Break

Sights nearby - South Kensington's Museums are close by. Minutes from Sloane Square.

Opulent

Four poster beds - For romantics.

Recommended by - Good Hotel Guide, Mr & Mrs Smith

Flamboyant, Italian-family-owned London guesthouse close to Chelsea hotspots. Over the top rooms and suites feature four poster canopied beds, panelled walls and velvet galore. Book one with a terrace for your own room with a view. Perfect for an indulgent city break in the heart of London. See More

Check Availability

Romantic Break - With its sumptuous rooms, sexy decor and happening bar it's ideal for a couples' treat

Sights nearby - You're minutes from the Royal Academy, Green Park, and Picadilly

Designer - Uniquely designed interiors.

5* Luxury - Very high service standards.

Recommended by - Mr & Mrs Smith

A stunning new lifestyle hotel in the heart of Mayfair. This townhouse conversion oozes with sultry sophistication and luxurious rooms range from the affordable to the utterly decadent. The Dandy Bar slings a top-notch cocktail and is the place to party till late. A chic stay in the centre of town. See More

Check Availability

The Portobello

West London

21 rooms from £195

Sights nearby - Madame Tussauds and the amazing wax works is a memorable day for all the family.

Local markets - Come Saturday be sure not to miss Portobello Road Market.

Romantic - Good for couples.

Full of character

Recommended by - Frommers, Good Hotel Guide

Legendary, laid-back chic boutique in Neo-Classical mansions loved by an eclectic clientele of business travelers, fashionistas and musicians. Varied, funky styles are adopted for the rooms and with delicious breakfast. Location in the heart of Notting Hill, for boutiques and food, is perfect. See More

Check Availability

Sights nearby - A stone's throw from the famous V&A and Natural History Museums, and the rest of London's highlights easily accessible.

City Style - With interiors designed by Anouska Hempel, this is a seriously stylish stay.

Designer - Uniquely designed interiors.

Full of character

Recommended by - Mr & Mrs Smith

Intimate discreet townhouse hotel with interiors by Anouska Hempel. Thirty five sumptuous rooms and suites with rich silks & velvets, Frette linens and marble bathrooms as standard. Superb restaurant serving inventive Italian cuisine, excellent service and access to the private Egerton Gardens See More

Check Availability
posted Tuesday, 23rd November 2021