15 of the Best Hotels with Pools in Marrakech
Hot, dusty, frenetic…all words you'd associate with a day in Marrakech. So what you're looking for at the end of that day is the best Marrakech hotels with pools. Whether simply a small plunge pool in the heart of an interior courtyard or a larger offering surrounded by alluring loungers; a hotel with a swimming pool really is a must.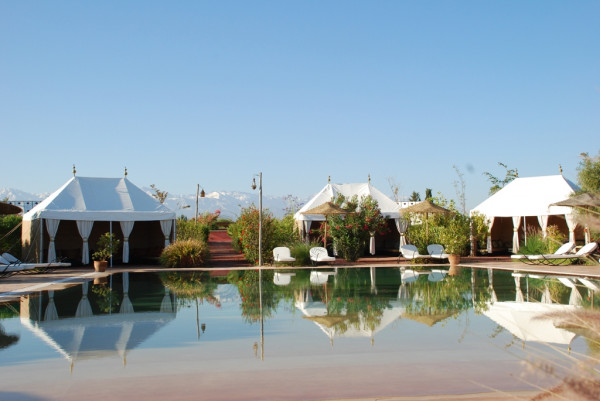 There are many reasons to visit Marrakech. It's only three hours flying from the UK, the weather is reliably good and the atmosphere at Djemma el Fna is something everyone should experience at least once. Because of these and many more reasons besides, Marrakech is an increasingly popular destination with an ever growing myriad of places of stay.
Our selection of Marrakech hotels with swimming pools will help you narrow down the choices. We only select properties which offer something a little special, whether it be superb service, gorgeous bedrooms, delicious food or in these cases fab pools.
15 of the Best Hotels with Pools in Marrakech
The Best Hotel Pools in Marrakech's Medina
The majority of our Marrakech hotels can be found in the Medina, but this does not necessarily mean that there is no outside space. You'll often find a hidden courtyard with plunge pool plus a roof terrace with stunning views over the city.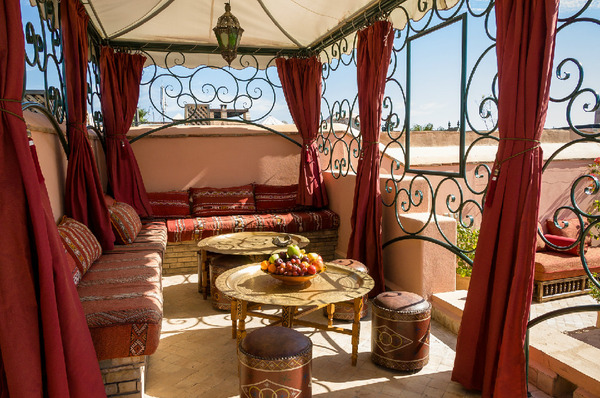 Riad al Bushra is located in the heart of the Medina, and as well as a plunge pool for cooling off, it offers a fab roof terrace and all suite accommodation. It's also well know for its friendly vibe and is great value too.
Riad Jaaneman is right in the heart of the medina, and it too offers a tropical plant filled courtyard with plunge pool for cooling off. The five luxurious rooms are traditional in style and the vibe is understated elegance throughout.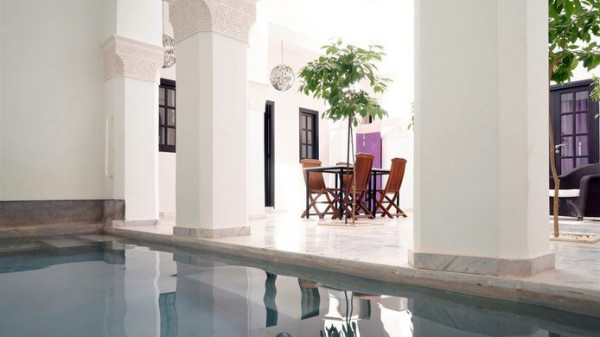 Riad Sapphire & Spa is a seriously stylish option with eight beautiful suites and a larger than average pool. Plus there's a hammam and delicious moroccan food.
English owned and run Riad dar Zaman is another central pick. The four chic rooms are traditional in style, plus there's a leafy courtyard with all important plunge pool and roof terrace with views over to the Atlas Mountains.
The Best Hotel Pools in The Palmeraie
If you venture just twenty minutes from the city centre you'll find yourself in the leafy Palmeraie district. Here, outside space and a decent sized garden is the norm, so pretty much every property has a pool – it's more a case of sorting out the best hotels to stay in.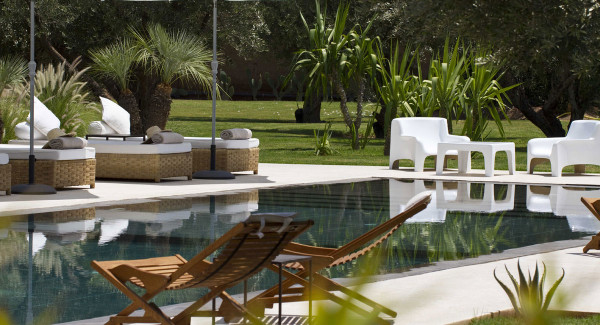 Les Cinq Djellabas offers a spot of unashamed barefoot luxury. 10 eco-friendly African style thatched lodges offer sumptuous interiors and all are dotted around a divine swimming pool – which is heated during the cooler winter months.
Dar Zemora is one of the Palmeraie's best kept secrets. Here you'll find just six beautiful rooms, gorgeous gardens, fantastic food and pool surrounded by teak loungers.
The Most Romantic Hotels with Pools in Marrakech
For those wanting to treat their loved ones to something special, and need a pool to tick all the boxes then we'd suggest: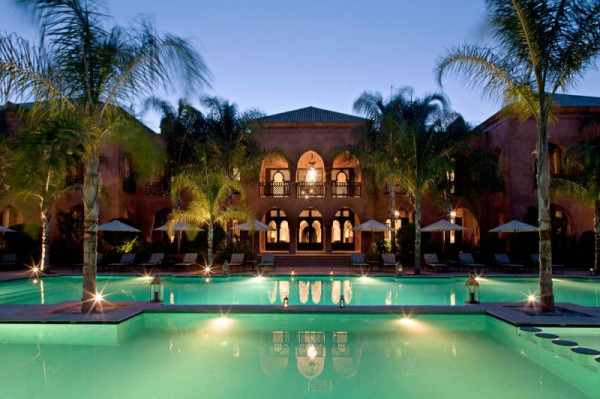 Mosaic Palace Aziza is a romantic, secluded hotel offering luxurious accomodation, plus a pool, spa and two on-site restaurants. Perfect for couples who want to escape the crowds.
Dar Rhizlane is located in L'Hivernage district, a lively spot just outside the centre. Here there's a spa, tranquil gardens and pool, plus gourmet cuisine, and no young children in sight!
Dar Ayniwen is a romantic's dream - eight suites with elegant interiors, five acre gardens, delicious Moroccan food and that all important pool for cooling off!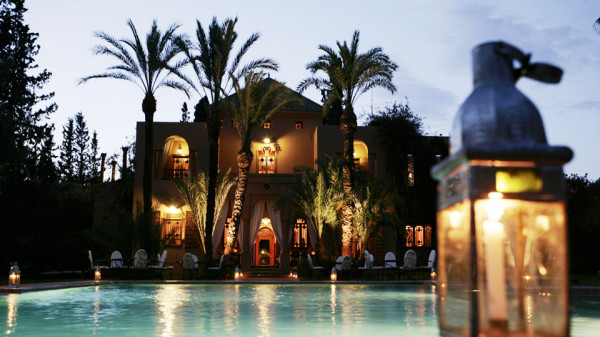 The Best Value Hotels with Pools in Marrakech
There's no shortage of great value accommodation in Marrakech and we're lucky enough to have found some that even have a swimming or plunge pool.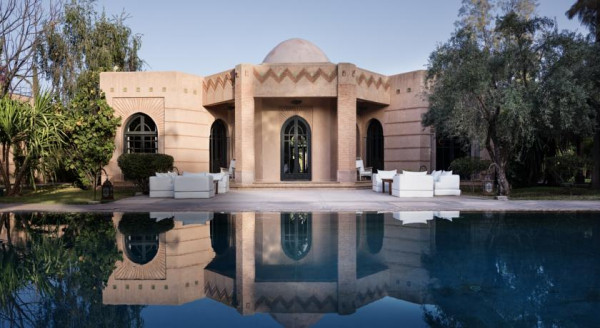 Villa al Assala can be found in the Palmeraie, just ten minutes from the souks. The rooms are simple but very spacious and the large pool is perfect for unwinding. Plus you can stay for as little as €75 per night.
Riad Shambala offers a lovely blend of old meets new and East meets West. Rooms are simple but stylish and there's a little couryard pool for cooling off. Doubles start from only €65 B&B.
Family friendly Hotels with Pools in Marrakech
Marrakech is a great destination to bring the family. It's full of exciting new sounds and smells and a wonderfully buzzing spot for all ages to enjoy. Our pick of the best places to stay with kids in tow are: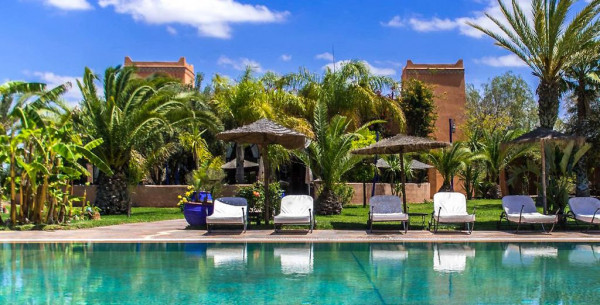 Jardins d'issil is also just outside Marrakech (about 8 miles). Here you'll find a charming cluster of Caidal tents (all with air conditioning) arranged around a fabulous infinity pool. There are great on site facilities including mini golf and the family tents sleep up to four.
if you haven't found your idea of the perfect place to stay in Marrakech on our list of 15 of the Best Hotels with Pools in Marrakech you could:
15 of the Best Hotels with Pools in Marrakech
posted Wednesday, 12th January 2022