10 of the Most Romantic Hotels in East Sussex, UK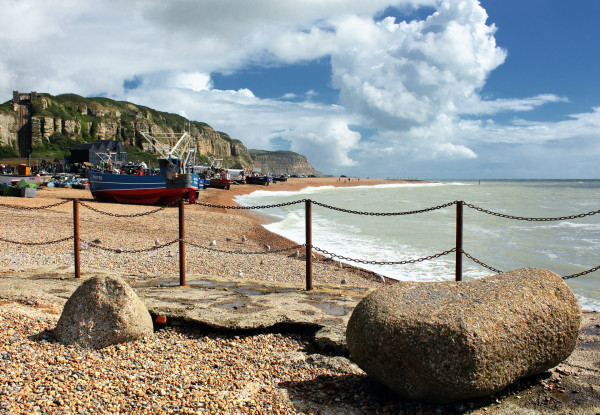 One of the greenest and least spoilt of England's counties, East Sussex has those striking white cliffs, lush fields, the rolling hills and bluebell woods of the Weald, a wealth of historic treasures, including Hastings and Battle, charming market towns, bubbly Brighton and picturesque Rye, plus castles, galleries and boutiques aplenty. So whatever your loved one's taste you're sure to find something to fall in love with on our Guru's list of the most romantic hotels in East Sussex.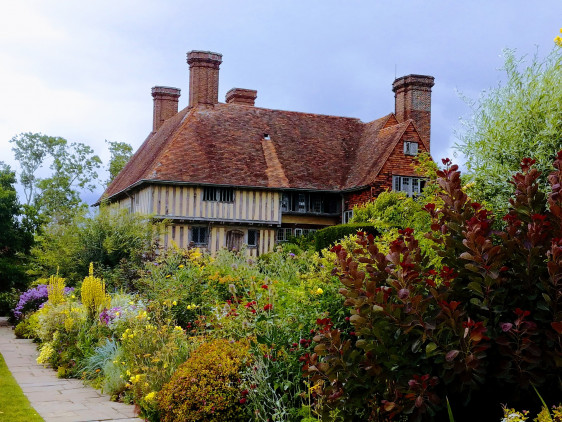 They recommend a luxury, listed B&B near Glyndebourne, a windmill in Rye, a Tudor coaching inn and several Grand Hotels. They also have some great picks for the most romantic hotels in East Sussex for under a hundred pounds a night. Read on and start to plan your romantic treat...
10 of the Most Romantic Hotels in East Sussex, UK
The Most Romantic Country House Hotels in East Sussex
Buxted Park Hotel is a Palladian mansion turned 44 room country house hotel close to Uckfield, Wakehurst Place and Hever Castle. The modern, British restaurant has 2 AA Rosettes, and offers cookery classes, and the hotel is set amidst three hundred acres of stunning grounds, which includes three lakes, a deer park and a walled garden.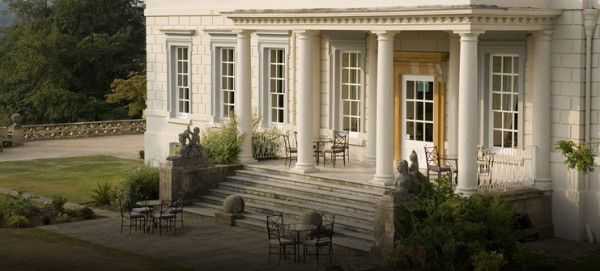 Ashdown Park Hotel is a country house hotel with excellent facilities for the whole family. The hotel has direct access to Ashdown Forest, with acres of parkland, plus a golf course, tennis courts, an award-winning restaurant with first views and a beautiful spa.
East Sussex's Most Romantic Special Occasion Hotels
Jeake's House is a quirky, old fashioned and slightly theatrical B&B in the centre of characterful Rye. The 11 bedrooms and public spaces have some great antiques, including beautiful four-poster beds, and they do a truly epic breakfast.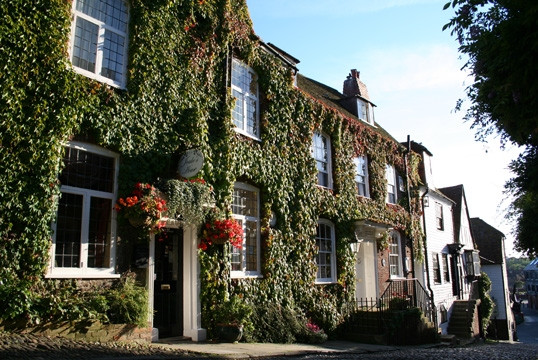 The Rye Windmill B&B has been converted from a Grade II listed windmill. Importantly, only two of the ten rooms are in the windmill itself, and these are the ones to book. You're right next to the river and within a short walking distance of Rye. The decor is simple and the breakfasts generous.
The Mermaid Inn is an historic inn in the centre of Rye, dating back to the 13th century. There are 31 rooms, oozing with charm and original features: think carved four-poster beds, sloping, beamed ceilings and a vast fireplace in the bar. The restaurant has 2 AA Rosettes.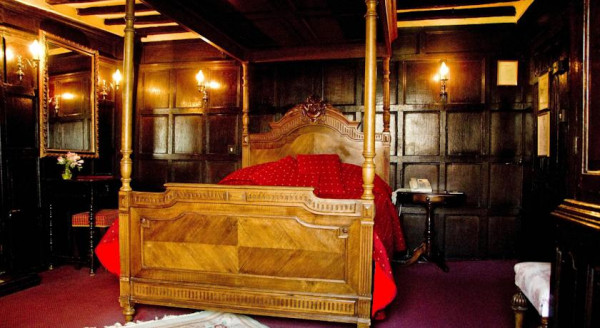 The Grand Hotel, Brighton is a glorious Victorian hotel right on the Brighton's front. There are 200-odd elegant rooms and suites over seven floors - some with amazing views. Everything is luxurious, from the spa to the piano bar to the afternoon tea.
The Most Romantic Hotels with Hot Tubs in East Sussex
The Grand Hotel in Eastbourne is a top contender if your idea of a romantic getaway includes time spent in a luxurious spa. There are also indoor and outdoor pools, an award-winning restaurant, a putting green and a children's playroom. Pets are welcome too. The Victorian stucco exterior and five stars help make for a memorable stay.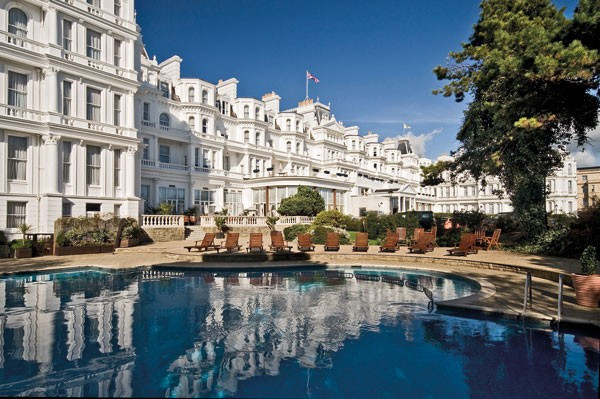 The Zanzibar International Hotel in St. Leonards on Sea, is a stylish, modern refuge right on the seafront. There are just eight rooms, impeccably, and individually, decorated in whites and nudes - some with double spa baths, a great seafood restaurant and complimentary champagne.
If you like the sound of those hotels, check out our Guru's recommendations for 3 of the best hotels with hot tubs in East Sussex?
The Most Romantic B&Bs in East Sussex
The Old Rectory, Hastings is a great choice for walkers and history buffs. The eight elegant rooms are in an 18th century building, complete with sitting rooms and beautiful gardens. The fresh cooked breakfasts include locally caught fish.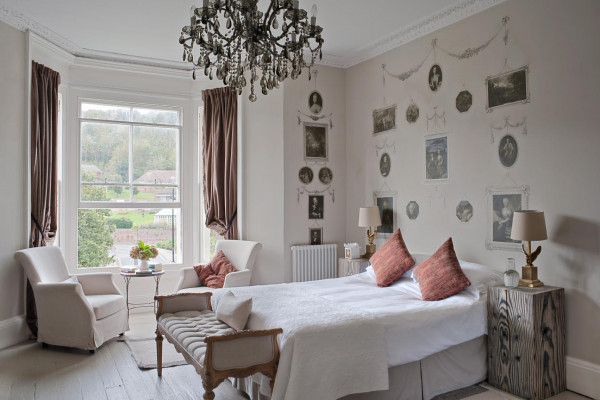 The Best Value Romantic Hotels in East Sussex
For under a hundred pounds a night you and your loved one can stay at Old Whyly, a listed manor house set amongst charming gardens. There are just three bedrooms, decorated with some beautiful antiques, plus an outdoor pool. Well located for Glyndebourne, there's also a heated pool and tennis courts.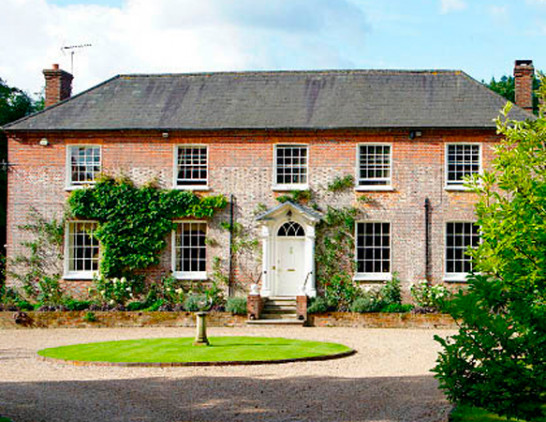 Another romantic option for under a hundred pounds a night is Pelham Hall, a gorgeous little B&B in picturesque Burwash in the High Weald Area of Outstanding Natural Beauty. There are just three elegant bedrooms, decorated with plenty of character, plus a fantastic breakfast. You're well positioned for National Trust properties, local market towns and beautiful scenery.
If you're looking for a lively mini-break, Brighton is always a good choice, and the Artist Residence Brighton, is an arty, centrally located place to stay with great views and a cool cocktail bar. The 23 rooms and suites have been individually decorated and you're close to the beach and everything else in Brighton.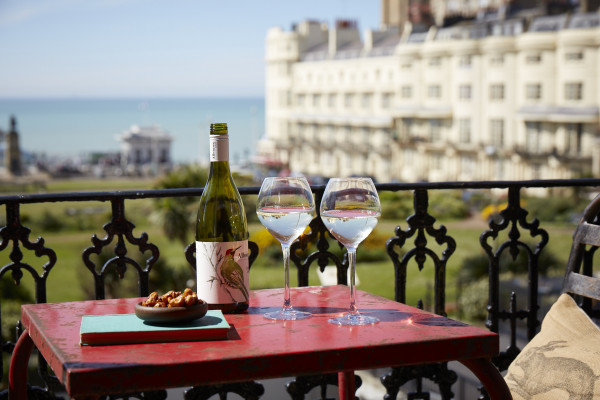 If you haven't found your idea of the most romantic hotels in East Sussex on our Guru's list of 10 of the Most Romantic Hotels in East Sussex you could:
10 of the Most Romantic Hotels in East Sussex, UK
Buxted Park Hotel

Buxted, East Sussex

44 rooms from £95

Sights nearby - Close to Ashdown Forest and the famous Winnie the Pooh bridge, Hever Castle and Wakehurst Gardens

Cooking classes - Check for timings.

Great walks - Good for walkers.

Traditional

Palladian mansion, now a luxury country house hotel close to Uckfield. Ideal for a relaxing country getaway and close to sights such as Hever Castle and Wakehurst Gardens. 2 AA Rosette standard modern British cuisine and cookery classes too. See More

Check Availability

Restrictions on children - Children from 10 and up only

Great walks - Good for walkers.

Elegant guest rooms provided in an eighteenth-century building. Guests can enjoy sitting rooms, beautiful gardens and the nearby town of Hastings. Freshly cooked breakfasts on offer, including locally caught fish and free-range eggs. See More

Check Availability

Sights nearby - Situated bang in the centre of town.

Full of character

Four poster beds - For romantics.

Traditional

Recommended by - Good Hotel Guide, Sawdays

An old favourite; quirky, old-fashioned and slightly theatrical B&B bang in the centre of Rye. Full of character, in a wonderful town for weekending. See More

Check Availability

Rye Windmill B&B

Rye, East Sussex

10 rooms from £80

Landmark - Comes with a reputation.

Traditional

Charming and unusual B&B - two rooms in the mill itself (one of Rye's most famous landmarks) the rest attached. Next to the river and within walking distance of Rye town centre. See More

Check Availability

Seaside - Ideal for a seaside holiday.

Kids Club - Fully staffed.

Traditional

5* Luxury - Very high service standards.

Recommended by - Small Luxury Hotels, Michelin Travel

Eastbourne's 'White Palace' - a luxurious English seaside hotel. A host of facilities - spa, indoor and outdoor pools, award-winning restaurant, children's playroom. See More

Check Availability

Restrictions on children - No children under 5 years.

Sights nearby - Well located for major sights.

Seaside - Ideal for a seaside holiday.

Recommended by - Good Hotel Guide, Michelin Travel

Contemporary and stylish romantic refuge on the seafront. Impeccably decorated in whites and nudes, large light rooms, sea views. Fish restaurant. See More

Check Availability

Old Whyly

Lewes, East Sussex

3 rooms from £98

Garden - Attractive outside space.

Swimming Pool - Outdoor Pool

Great walks - Good for walkers.

Sights nearby - Well located for major sights.

Recommended by - Good Hotel Guide, Sawdays

Listed manor house set in beautiful gardens with heated pool and tennis court. Luxury B & B with antiques and a house party feel. Dinners can be arranged. Good base for Glyndebourne. See More

Check Availability

Pelham Hall

Burwash, East Sussex

3 rooms from £90

Sights nearby - East Sussex boasts National Trust properties, world-famous gardens, important historic monuments from the Norman Conquest.

Local markets - Rhye, Lewes, Tunbridge Wells nearby for antique shopping.

Great walks - Along the North and South downs.

Romantic - Good for couples.

A gorgeous little B&B in picturesque Burwash. Elegant romantic bedrooms impeccably decorated with lots of character. Fantastic breakfasts, friendly hosts, and plenty of local exploring. Perfect for a romantic getaway. See More

Check Availability

Close to nightlife - Explore everything this eclectic city has to offer.

Great walks - A stones throw from the beach front

Sights nearby - Walking distance to Brighton Pier

Other Activities - Visit The Theatre Royal

Recommended by - I Escape, Sawdays

This arty 23 bedroom hotel, cocktail bar and restaurant is centrally located in Regency Square, with sea views over the iconic West Pier. Cool, contemporary decor in the middle of Brighton with lots of galleries and good restaurants just minutes away. Really great for weekend group getaways. See More

Check Availability
posted Monday, 13th May 2019
Search the best hotels in East Sussex