20 Best Hotels in Maine with a Pool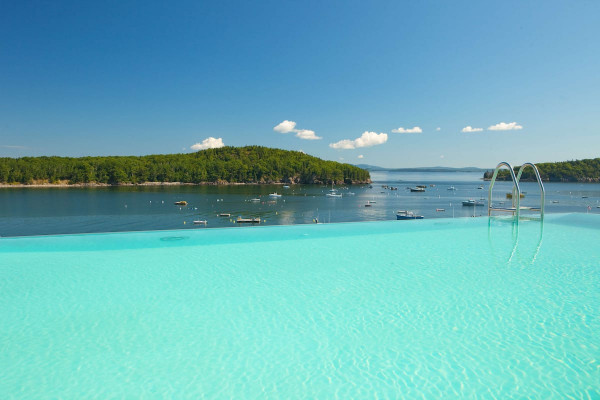 Maine's coastline is famously varied and beautiful, but it's certainly not always conducive to swimming. It was one of our Gurus who pointed this out, having been asked multiple times for a recommendation for a hotel in Maine with a pool. There are plenty of great replies to this question, and we've included twenty here, including a hotel with a gorgeous roof terrace pool, and couple of huge resort pools, and a few pools cut into the coastline itself — pools with a view. Our list of the best hotels in Maine with a pool also includes some fantastic family holiday options, and a couple of romantic retreats too.
For the Album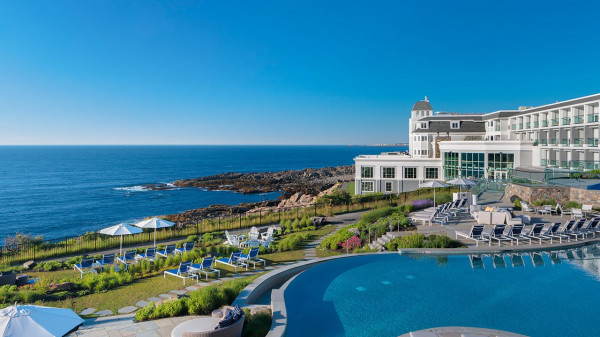 Cliff House Maine is a luxurious, clifftop resort, set on seventy acres of land overlooking the ocean outside Ogunquit. There are more than 200 rooms and suites, and a large number of them have panoramic ocean views and private balconies, as do the four dining venues, the vast spa, and both indoor and outdoor pools. This resort is so large and luxurious that there's really plenty for everyone to enjoy.
For the Views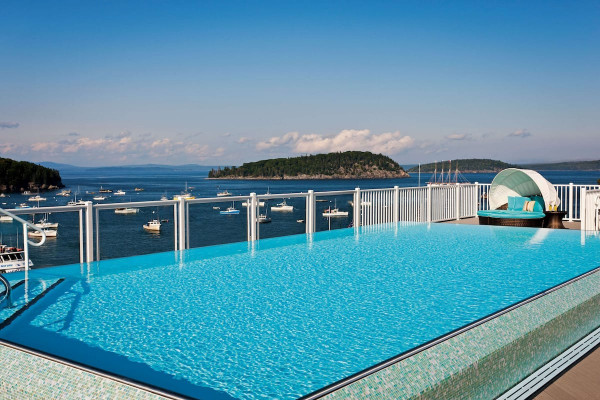 The West Street Hotel has one of the coolest pools on our list: a rooftop pool with a view of Bar Harbor's marina. There's also a bar and restaurant on the roof. Many of the hotel's 85, nautical themed rooms and suites benefit from water views too, and several have private balconies. Guests also have access to the spa and tennis courts at the Bar Harbor Club. The rooftop pool is adults only, but there some great family-sized suites, and a welcoming pub.
York's Viewpoint Hotel is one of the smallest recommendations on our list of the best hotels with pools in Maine, which is worth noting because there are only nine rooms sharing the saltwater, heated pool — though some of those rooms are moult-bedroom suites. Some of the other noteworthy things about this hotel are its location, overlooking the ocean, with only grass and glass as an obstruction, and that guests are welcomed at a beach club associated with a sister property.
On the Waterfront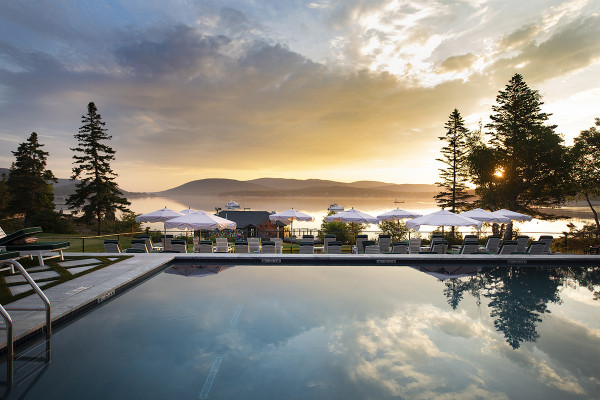 The Claremont in Southwest Harbor, is an historic, waterfront inn turned family-friendly resort, with chic accommodation in the original inn, and in a charming collection of lodges and cabins in the grounds — the largest has seven bedrooms. The views are incredible, over stunning Somes Sound, and all around are mature gardens and sweeping lawns. There are two restaurants, though some of the accommodation is self-catering. And there's lots and lots to do onsite and in the area.
Blackpoint Inn is a small inn, with fantastic bay views, and a country club feel: think a smart, fine dining restaurant, a chic pool, and golf club access. One of the best things about this inn is that it's on a stretch of land with water on three sides, so all of the 25 rooms and suites have water views, and some come with a private balcony or terrace too.
For Families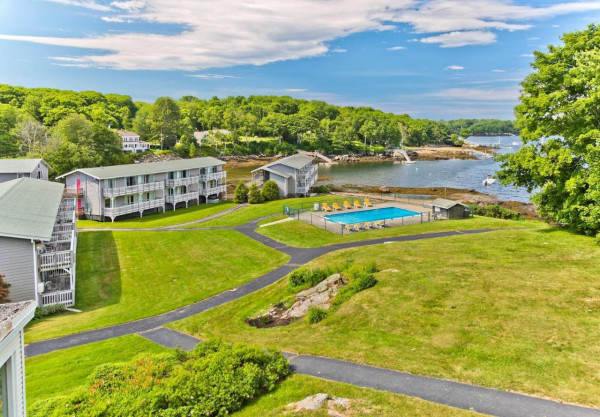 The Smugglers Cove Inn is idyllically positioned on a waterfront plot just outside Boothbay Harbor. A collection of 50 rooms and suites surrounds a central pool and green lawns. All the rooms have been recently renovated and decorated with a fresh, nautical theme, and feature private balconies or patios, and enough beds to sleep four. You can see the sea from the pool, and from the snack bar, and the kids' playground.
The Nonantum Resort is right on the Kennebunk River, in a beautifully converted former captain's home. Since the home became a hotel in 1883 outbuildings and new-builds have been added to the main house, so that there are now 109 rooms and suites, including huge family suites. The decor is pleasingly nautical, to match the resort's heritage, and there are three restaurants. The pool is set in the gardens, which is also where you'll find the fire-pits that host the regular campfire sing-alongs, plus there's a croquet pitch, lawn bowls and other garden games on offer, not to mention the kids club!
Sitting on the outskirts of Kennebunkport, The Lodge on the Cove is a collection of just four lodges, which house accommodation for 30 groups or individuals, in a range of rooms and suites that's designed to provide flexibility for families of all shapes and sizes. There's a retro feel to the decor, which runs to the activities too, with regular campfire nights — complete with s'mores — a games room, movie nights, kids' crafting and an 'all-American' restaurant that the younger family members will love.
For New England Chic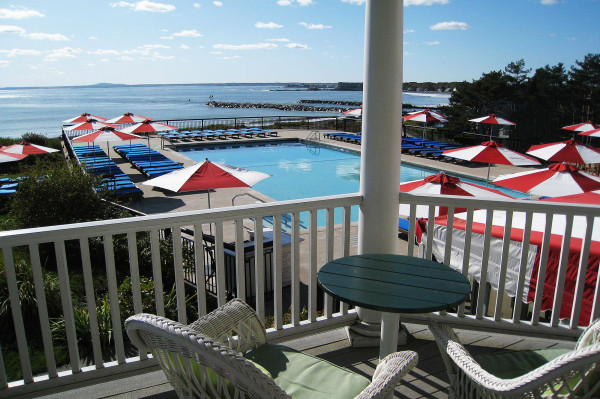 The Colony Hotel is another family-friendly hotel in a picturesque, waterfront position, this time overlooking the Atlantic Ocean and the Kennebunk River in Kennebunkport. White-painted wood, a red roof with a tower, and a grandly pillared entranceway, decorate the facade of these 125 rooms and suites, and there are two private cottages in the grounds, with three and five bedrooms. The pool overlooks the private beach, and is surrounded by lawns, and there's lots and lots to do, both on and off land.
With a long, elegant, New England style facade facing the ocean, the Inn by the Sea is a great water-view pick, because many of its 61 rooms and suites can see the sea, with large windows, balconies and terraces. There's a resort vibe, with resort-style activities on offer, like early morning yoga classes, garden tours, nightly fire pits, a spa, and a large and lovely pool.
Maine Resorts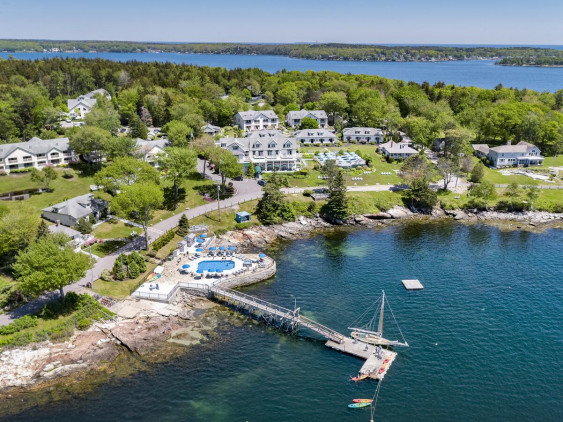 Boothbay Harbor's Spruce Point Inn is a classic New England coastal resort, offering a beautiful bar, lush gardens, and accommodation ranging between the white clapboard inn, and multi-bedroom lodges and rustic cabins. It has two pools, including one just by the water, and a choice of four places to dine. It's also got an impressive spa, and lots of facilities and activities running onsite.
The Anchorage by the Sea is a large, waterfront resort in Ogunquit, offering accommodation that ranges from simple rooms, to stand-alone cottages and condos with the option to self-cater. The facilities are scaled to match the number of rooms and villas, so the outdoor pool is huge, and there's an indoor pool too, plus a sauna and hot tub, a bar and two restaurants. And it's all surrounded by gardens. Ogunquit is known for its sandy beaches, and there's a beautiful one just a few minutes' walk from the resort.
The Linekin Bay Resort is a small, picturesque waterfront resort in the typical New England style: think painted timber facade, a nautical theme, and a jetty in pride of place. There's a good range of accommodation on offer, ranging from rooms in the main building, to multi-bedroom cabins and small private lodges, all scattered over the twenty acres of grounds. There's lots to do for all the family, on land and sea, including a great kids club, and relaxed restaurant.
For a Waterfront Retreat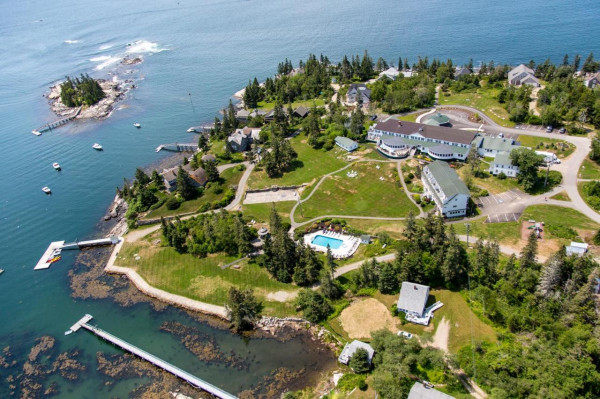 The Newagen Seaside Inn is a peaceful, New England charmer in a quietly idyllic spot outside Southport. With a white-board facade, and large windows and verandahs, this is the perfect place for relaxation, but also great for destination for walking (there's a number of nature trails through the grounds), fishing and rowing (because you're just steps from the beach), and the large lawns are well set for croquet or bowling. There are just 35 rooms and suites, with some great family-sized options, and excellent facilities for kids.
The 26 room White Barn Inn is idyllically positioned on the Kennebunk River, just outside Kennebunkport, and surrounded with picturesque views. The inn has been converted from a 140 year old barn, and there's a charmingly rustic feel, which would be cosy at Christmas, and a beautifully landscaped pool that makes it feel breezy in summer. There's also an excellent spa and restaurant.
For Romantics
The Cape Arundel Inn & Resort is a 30 room resort in an enviable spot overlooking Walker's Point, Kennebunkport. Here the traditional New England style ranges from the white board exterior to the cosily luxurious interior, where you'll find art depicting lobsters, cosy throws, wooden fans, fireplaces, balconies, plump sofas and all sorts, because each of the rooms and suites has been uniquely decorated. The garden goes all the way to the cliff edge, and there's a charming pool. Adults only.
The Balance Rock Inn is an historic inn with all the antique trimmings, and a fantastic Bar Harbor location. There are just 27 rooms and suites, all individually decorated — some feature whirlpool and jetted baths — four-posted beds and fireplaces. The restaurant feels grown-up and special, and serves American cuisine with a Nordic twist. The pool is outdoor.
For a Beach Break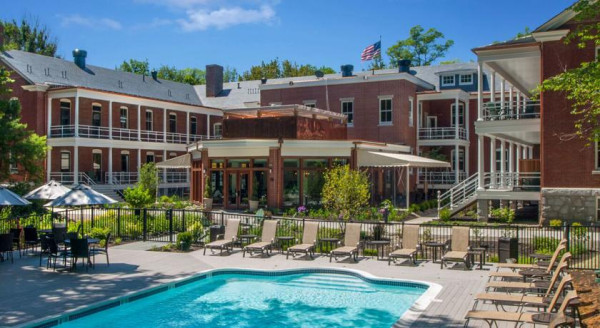 The Inn at Diamond Cove is well positioned on Casco Bay, Portland, so that it overlooks the water, and has direct access to Pebble Beach. Just back from the water is the pool and Cabana Bar, complete with fire pits, and behind that there's a collection of 44 rooms and suites decorated with plenty of New England charm. Many rooms feature kitchenettes. The inn has great facilities, especially considering its size.
New England Inns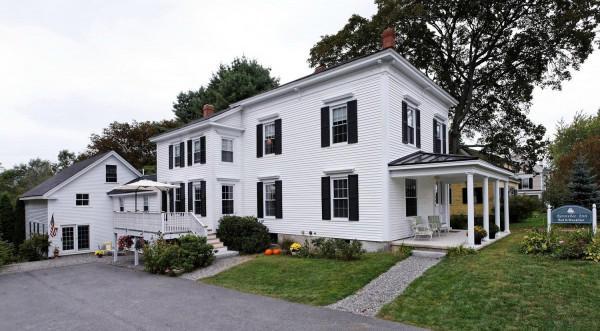 The Kennebec Inn is a charming, four room, New England style inn, set back from the water in historic Kennebec. The rooms are spacious, and decorated with a collection of antiques and a country chic feel, Athough there's no restaurant, they offer a gourmet breakfast in the regally painted dining room. The pool is set on a grassy spot of garden.
For Great Value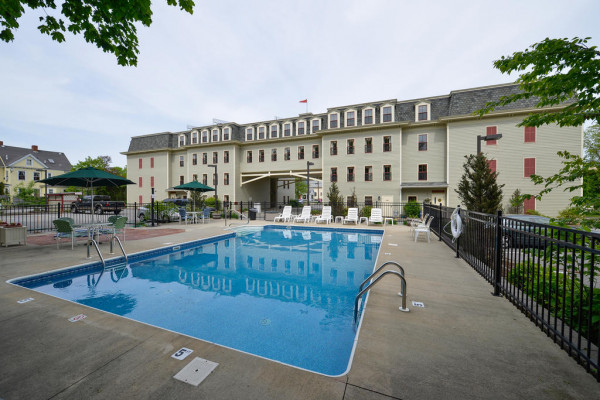 The Bar Harbor Grand Hotel is a fantastic old grand dame hotel on charming Mount Desert Island, Bar Harbor. The facade is pleasingly wooden-clad, with large windows and elegant towers, and inside the 70 rooms and suites are charmingly traditional, from the plush green carpet to the ceiling fans and heavy wooden furniture. The location is central, the staff friendly, and the pool is a great addition.
Still not sure where to book?
posted Wednesday, 2nd March 2022
Search the best hotels in Maine