20 of the Best Hotels in Downtown Manhattan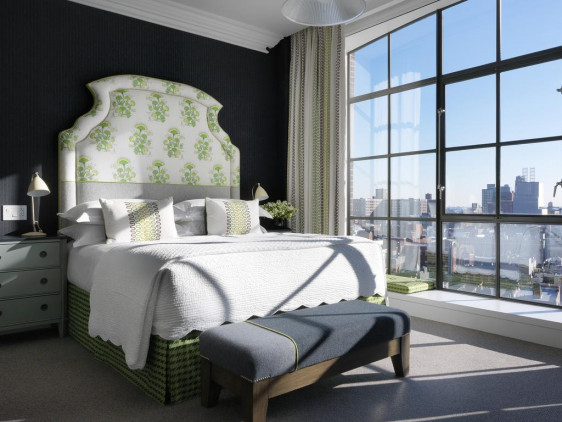 While many associate Downtown Manhattan (or Lower Manhattan) with the Financial District, there is actually much more to this area for travellers beyond those booking a stay for business. The district is home to the National September 11 Memorial and Museum, the One World Observatory and the Fraunces Tavern to name just a few. While just offshore is Ellis Island, which houses the site arguably most synonyomous with New York City, the Statue of Liberty. While cultural sites are found in abundance here, excellent dining and drinking options are too. With the competition for real estate high, it is no wonder that the best hotels in Downtown Manhattan jostle to stand out. Expect cutting-edge design, world-class amenities, and slick service. The choice is also broad and ranges from all-out luxury stays to independent boutiques. While it doesn't apply to all, there are also properties offered at pretty reasonable prices. So why not browse through our collection to start planning your next stay?
For luxury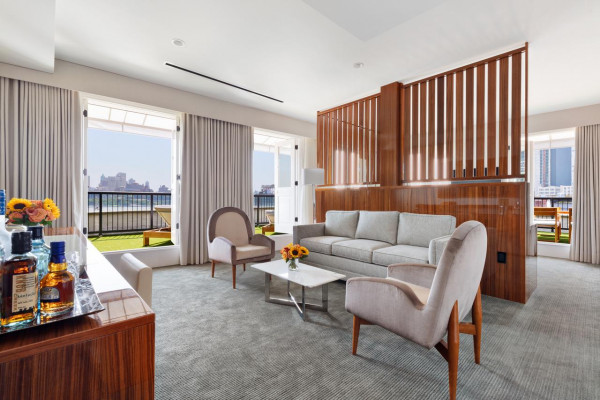 Mr C Seaport is a luxury hotel with a modern take on classic European glamour. Rooms feature lacquered wood panelling, crisp white linens, and skyline views framed by floor-to-ceiling windows. With a romantic Italian restaurant and an unbeatable Wall Street location, this is a very comfortable city crashpad.
Crosby Street Hotel is an achingly chic hotel in the SoHo district which attracts celebrities and design aficionados alike, with its cool interiors by Kit Kemp. Despite the enviable location, it's on a quiet street so you can leave the city chaos behind. Service is impeccable while still being relaxed.
Nomo Soho is a luxury hotel boasting a curated collection of vintage and contemporary art. Stylish rooms are decorated in white and blue hues and boast luxe bathrooms and epic city views. Complete with an American restaurant serving creative dishes and superb cocktails. A hip luxury choice.
For a classic New York Hotel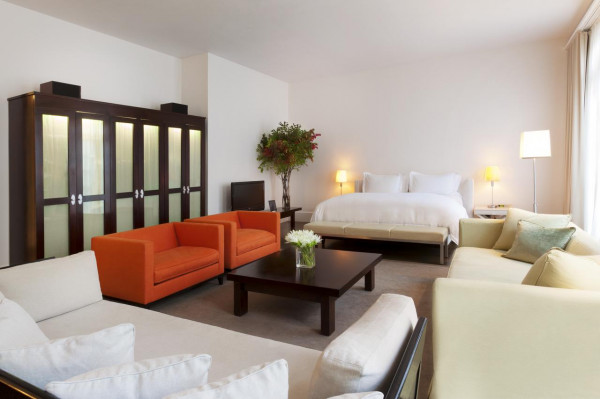 The Mercer is a New York classic, offering the ultimate in SoHo design chic plus a world-class restaurant. Interiors have that converted loft look that is so synonymous with this area of the city. A hip choice where you can live and eat very well.
The SoHo Grand Hotel is sumptuous and elegant. Its interior design blends the 1870's Gilded Age with 1970's luxury — catering to the ultra-chic New Yorker. Rooms have stunning views and are decorated with original artworks. The hip dining options, stylish bar and sophisticated club room make this an unforgettable stay.
For a historic hotel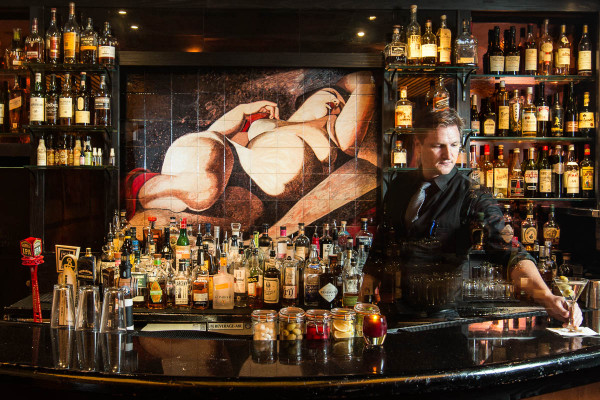 Washington Square Hotel is a historic 1902 residence in Greenwich Village. Art-deco style furnishings and dark mahoganies make up the subtly lit rooms. With its prime location by Washington Square Park, good value accommodations, and old-world feel — this is an appealing choice.
The Beekman has a definitive jazz age vibe. Rooms are swish and elegant with simple designs and comfortable furniture. An atmospheric bar evokes a Gatsby-esque air with its booth bar and chandeliers. A five-star downtown stay.
For a hip stay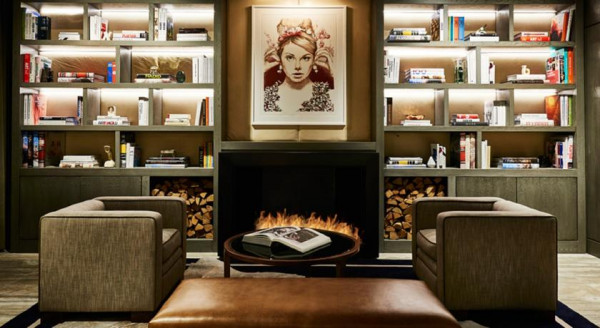 Sixty Soho is a hip SoHo hotel with chic rooms that boast individual design details such as artworks by Harland Miller and selected literature. With a phenomenal rooftop bar and restaurant, this is a lively spot to see and be seen.
The Bowery Hotel is a young, hip and delightfully atmospheric hotel in trendy East Village. Chic and comfortable rooms with large windows provide plenty of light and splendid views. The vintage bars and restaurants are full of old-world charm. An undeniably hip destination.
The Standard High Line offers oh-so-chic rooms in the edgy ambient neighbourhood of Lower West Side. Floor-to-ceiling windows offer stunning views across New York, even from your bathtub. There's a hip all-American restaurant and a 'to-be-seen-in' bar. A hyper-modern way to experience New York.
The Roxy Hotel Tribeca is The SoHo Grand's cooler little sister and is the ultimate in downtown chic. Sleek, mid-century modern rooms are fitted with the latest technology while an in-house cinema, live music and suave rooftop terrace all attract a fashionista crowd.
Hotel 50 Bowery is a hip new addition to the hotel scene on the Lower East Side. Interiors are on point, with exposed brick walls, hanging Edison light bulbs, Chinatown inspired splashes of red and lantern style lamps. The views are remarkable — from the fantastic rooftop bar as well as from the chic suites and rooms.
The Ludlow is a stylish hotel with a touch of the avant-garde in the trendy Lower East Side. Large casement windows flood natural light into the rooms furnished with vintage items including handmade silk rugs and Moroccan lamps. Complete with a trellised garden bar and authentic french bistro, this property ticks all the boxes.
For a spa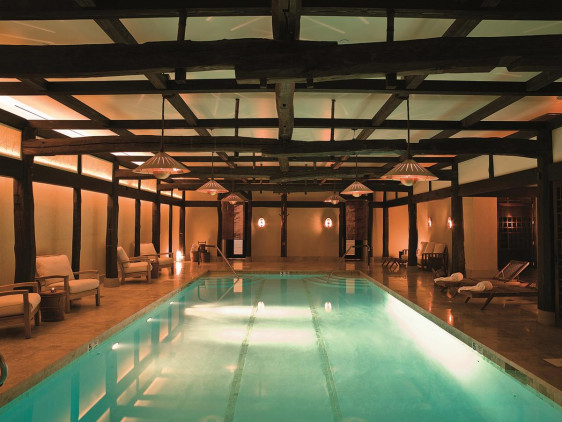 The Greenwich is a luxury hotel with chic rooms that effortlessly blend contemporary and traditional styles. Casual Italian dining in the courtyard in Locanda Verde is a real lure but it is the Shibui Spa and indoor pool that seal the deal!
For the views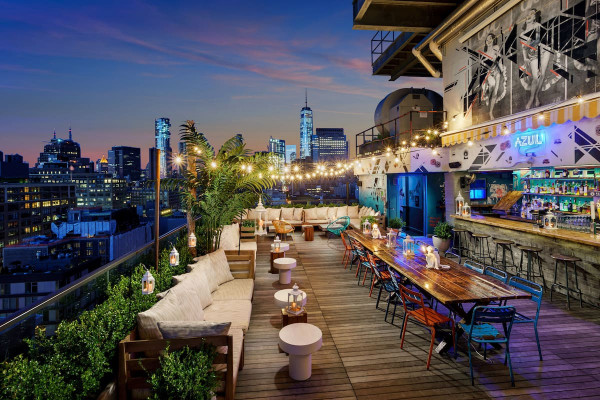 The Hotel Hugo is a retro delight, with 122 rooms designed by architect Marcello Pozzi and decorated with custom-made Italian furnishings. You're on the edge of SoHo with views of the Hudson River and the skyline of Downtown Manhattan, which you can really enjoy from the double-storey rooftop bar.
For a design hotel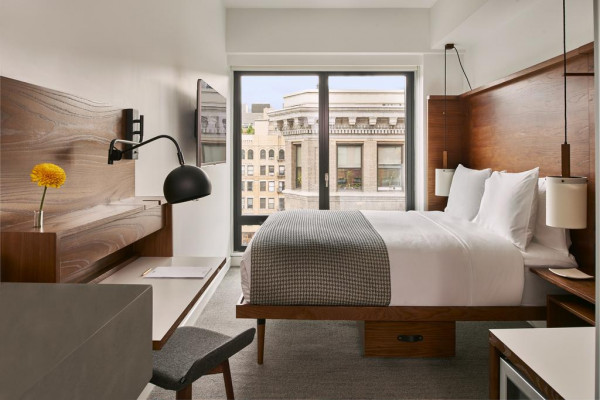 Arlo Soho is a large boutique hotel with plenty of light. Stylish rooms are the epitome of minimalist chic; the best have a balcony with epic views. There's excellent food and cocktails served in the rooftop bar and restaurant. A hip design-led base.
For Wall Street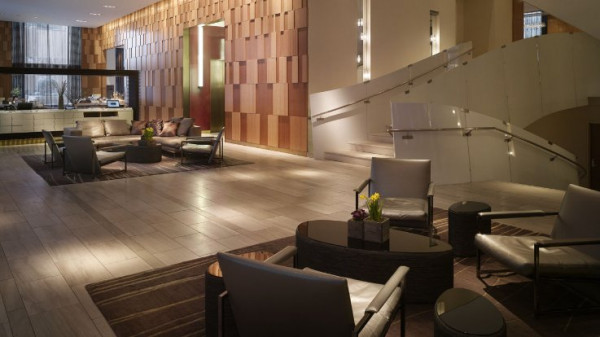 The Andaz Wall Street is worth a mention as the only hotel with a Wall Street address. It's hip and happening and has a fantastic spa and bar.
Hotel on Rivington is a youthful and modern hotel in the trendy Lower East Side, located near Wall Street and the World Trade Centre. The bright rooms feature floor-to-ceiling windows with spectacular views and sleek furnishings. The restaurant blends American brasserie cuisine with sushi and adds to the liveliness of the hotel. Works for either business trips or pleasure.
For a boutique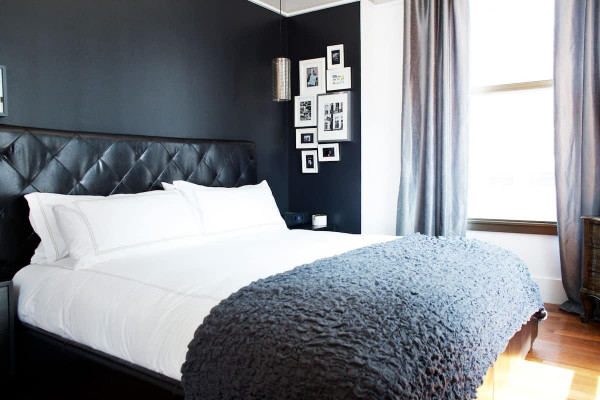 Duane Street Hotel is an intimate and stylish boutique hotel in Tribeca. Contemporary rooms and suites have sleek black headboards, high ceilings, hardwood floors and oversize windows with city views. An easy base for exploring Lower Manhattan.
For great value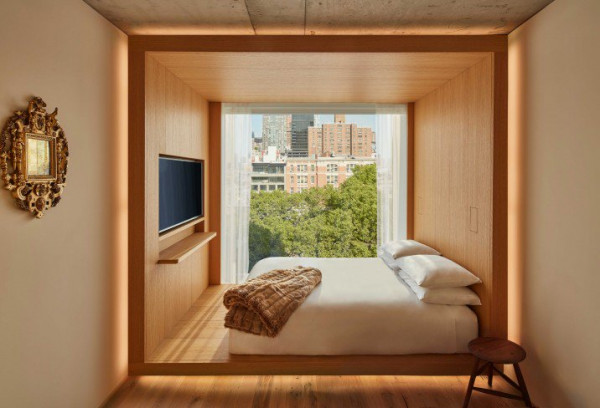 Public is a revolutionary hotel in the trendy Lower East Side. It's all about public spaces here, from the cafe-bar-boutique that replaces the lobby, to the rooftop bar boasting panoramic views and the vibrant New York-centric restaurant. A supremly luxurious hotel, without the luxury rates.
Still not sure where to book?
posted Wednesday, 15th November 2023