Top Tips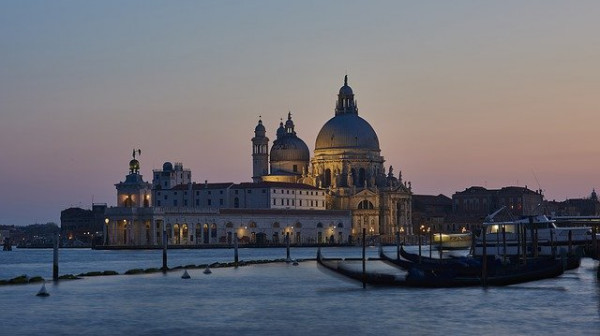 Samuel Busetto from Pixabay
Our detailed guide to Venice's neighbourhoods is full of tips to help you work out which one is perfect for the trip you're planning, whether you're here for a romantic escape, to marvel at the sights, to live very well, to write a novel, or just to lose yourself in the wonder of a city of marble palaces built on a lagoon… Or a combination, the Hotel Gurus can recommend a neighbourhood to you.
Neighbourhood Guide to Venice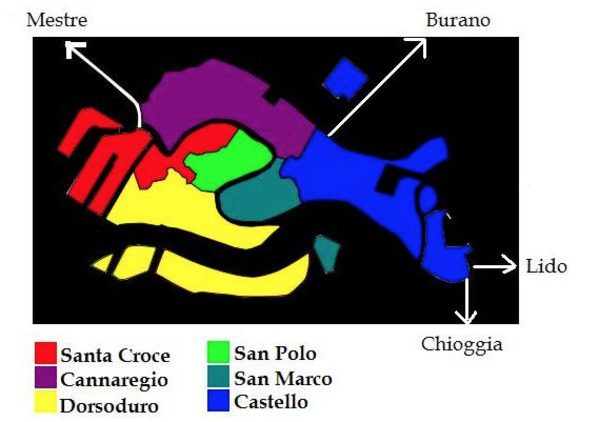 FranzJosef, CC0, via Wikimedia
At first, and possibly second and third and fourth, glance it's magical, but there's a lot to get your head around about Venice. When it was built, a collection of marble palaces sitting almost at water level on a collection of tiny islands surrounding a lagoon, there must have been many reasons not to start constructing palazzi and villas here, but the Venetians went ahead. And made the magic, that has remained unchanged for about the last 600 years. Fewer than sixty thousand people live here, but around two million visit every year, so getting to experience something of the regularities of life in such a special place has to be on your to-do list. Venice is so packed with major sights that even if you get so lost that you miss the central hub of the Piazza San Marco entirely you'll still see some incredible feats of architecture and art. So it's worth trying to get lost here. You can't escape the grandeur of the Grand Canal or the Rialto, but the quieter canals have specialness in spades too: churches squeezed in between villas and townhouses, neighbourhood osterie and bacari, where you can order a Bellini here and a Vivarini there, shops selling shoes you'd only really wear on the red carpet, or the frailest glass.
Venice is the world's only pedestrianised city, and you can walk from one side of central Venice to the other in about an hour. The downside is that space is a hugely limiting factor, and even though many of Venice's gorgeous palazzos have been converted into hotels and guesthouses there's still a limit on accommodation. Which means it can also be expensive. But if you compromise on location and stay in a remote neighbourhood you can easily spend a lot of money on travelling by vaporetti, water taxis or gondolas.
San Marco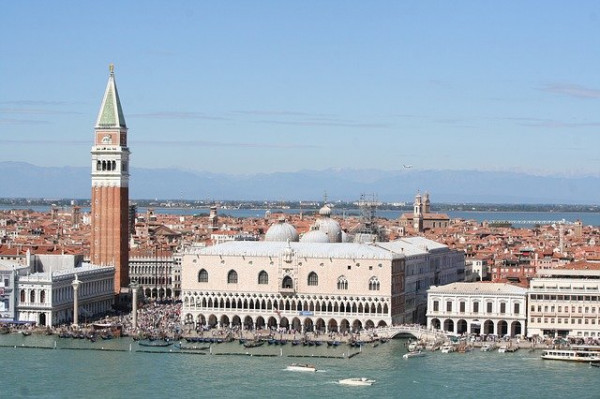 Artheos from Pixabay
The Piazza San Marco is a hub of loveliness, a great central square lined on three sides by great feats of architecture, and on one side by water. These buildings are among the world's most famous: the beautifully exotic looking Basilica di San Marco and its Campanile, known from a thousand postcards; the Doge's Palace or Palazzo Ducale, and the Clock Tower, plus the arcades with their cafes and bars. Beyond the piazza the neighbourhood of San Marco spreads outwards encompassed by a hook in the canal which includes more major sights, like the Correr Museum, the Scala Contarini del Bovolo; the jewel-box like theatre Teatro La Fenice; the Palazzo Fortuny; and the Fondaco dei Tedeschi, which is on the San Marco side of the Rialto Bridge. It's entirely possible to visit Venice and never leave the San Marco neighbourhood, for even its backstreets are packed with galleries, an eclectic collection of boutiques, and bars and restaurants. The San Marco neighbourhood is a beautiful, yet pricey, place to shop, but Venice has always been a city of merchants and it's worth buying the real thing when it comes to Venetian treasures. If you want to shop for Italian designer clothes the San Marco area is the place to do it, but you do need to be careful where you eat and drink in this part of town, this is the tourist hub too, and not all bars and restaurants will offer you an equally excellent experience.
Pros and Cons
Pros: central, historic, atmospheric, major sights, major hub, very special
Cons: busy, touristy, expensive
Ideal For: sight-seers, one-in-a-lifetime trippers, history buffs, romantics, couples
Discover our recommended hotels in San Marco, Venice.
San Polo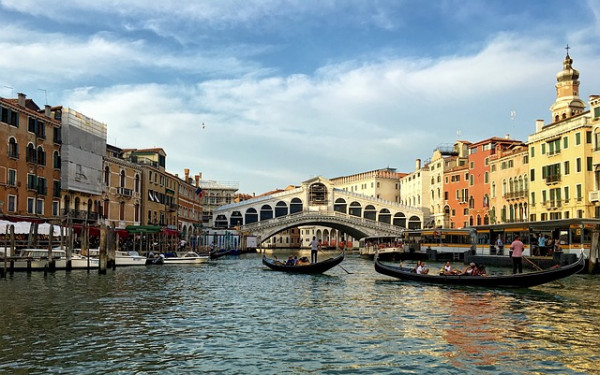 Hans Kramer from Pixabay
The small neighbourhood of San Polo is San Marco's neighbour, on the opposite side of the Rialto Bridge, on the upper curve of the Grand Canal. It's a wonderful warren of little lanes and narrow canals, with small squares lined with little boutique-y shops and cafes, and then the large square Campo San Polo, lined with more bars and restaurants. San Polo's most famous landmarks, apart from the Rialto and the Grand Canal, are probably the fresh produce markets beside the bridge; the Santa Maria Gloriosa dei Frari church, which has a treasure trove of art inside; Case di Goldoni, home of the playwright of the same name; and the Scuola Grande di San Rocco, another impressive art collection. San Polo is a great place for a little spot of shopping, and there are some good places to eat and drink too, some even have views of the Grand Canal.
Pros and Cons
Pros: central, historic, close to major sights, atmospheric, good restaurants and cafes, great shopping
Cons: busy
Ideal For: sight-seers, couples, romantics, history buffs, one-in-a-lifetime trippers
Santa Croce
By This Photo was taken by Wol
Santa Croce is another small neighbourhood, next-door from San Polo, so it's still very central, and on the upper curve of the Grand Canal. On its other side is Dorsoduro. Santa Croce has plenty of charm, but it also has Venice's main bus station and ferry hub, at the Piazzale Roma. Away from the bus station and it's much more peaceful, especially around the picturesque Campo San Giacomo dell'Orio and its old church of the same name. The main routes through Santa Croce are between the Piazzale Roma and the Rialto, but off these beaten paths are small streets and alleys, and little squares that might come as a surprise because of how tightly packed the buildings seem to be. Santa Croce's main attraction is the Venice Museum of Modern Art, housed in a Baroque palace. There's a good selection of bars and restaurants here, especially around the squares.
Pros and Cons
Pros: centrally located, great transport links, atmospheric, good bars and restaurants
Cons: few major sights, busy, touristy
Ideal For: sight-seers, couples, families
Dorsoduro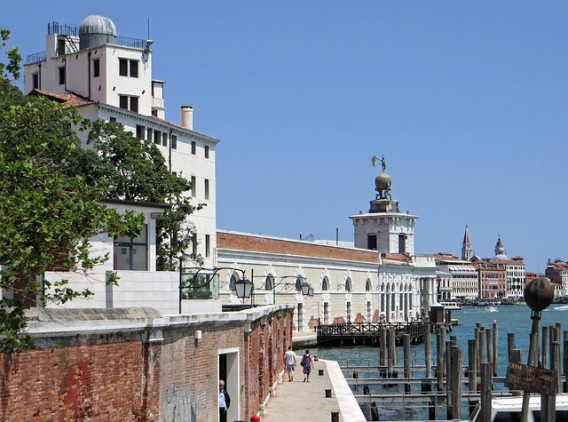 DEZALB from Pixabay
Dorsoduro is to the southwestern side of San Marco, running along the southern shore of Venice, and overlooking the lagoon and the Isola Della Giudecca. It's a picturesque part of town, close to a university, with more residents than the neighbourhoods mentioned above, so these picturesque canals and squares feel a lot less touristy. Dorsoduro is a fantastic neighbourhood for art lovers, because this is where you'll find the Accademia and the Guggenheim, which is housed in a fascinating Grand Canal-side palazzo. The other highlights of Dorsoduro include The Zattere, which is a long promenade along the Grand Canal; the church of San Sebastian; the Church of the Carmini, and Ca' Rezzonico, the Grand Canal-side villa where Robert Browning died.
On the edge of Dorsoduro is one of the most beautiful stretches of the Grand Canal, and off it run numerous smaller canals. At the centre of this neighbourhood is Campo Santa Margharita, which is a lively spot for cafes and restaurants and shops, and a great place to come of an evening.
Pros and Cons
Pros: major sights, canal-views, atmospheric, lively nightlife, local-style cafes, bars and restaurants
Cons: residential, lots of students
Ideal For: art-lovers, couples, cool-cats, visitors who want to meet some locals, sight-seers
Discover our recommended hotels in Dorsoduro, Venice.
Cannaregio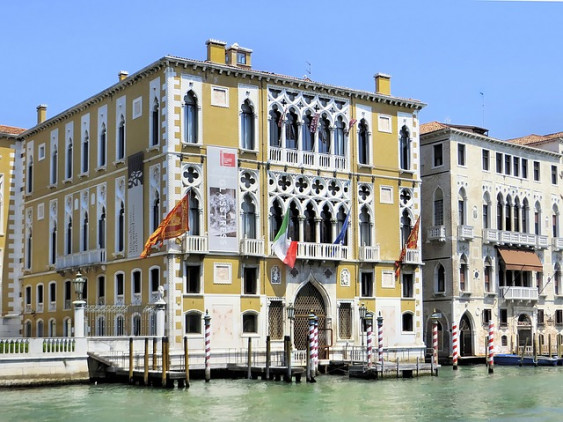 DEZALB from Pixabay
Close to the railway station, Cannaregio is a neighbourhood many people pass through when arriving in Venice, but most of them head straight for the Rialto and the Grand Canal, assuming this isn't one of Venice's more charming neighbourhoods. But Cannaregio is a peaceful, atmospheric area, where you'll find the old Jewish Ghetto, and beautiful synagogues, as well as the Madonna dell'Orto church with its impressive art work, and the Gothic palazzo Ca' d'Oro with its own art collection. This is the kind of neighbourhood with secret corners and surprise turnings that will place you in front of tiny picturesque canals.
Cannaregio doesn't have the tourist cachet of some of Venice's other central neighbourhoods, but it does have great transport links: both the train and the many ferry stops, and it is well located between the station and the Rialto, with a main thoroughfare that runs parallel to the water, with regular little avenues to catch a glimpse of the Grand Canal through. Along this route are many restaurants, bars and cafes, but they're on a main tourist thoroughfare, so if you're looking for a bit more atmosphere then head northwards, where there are quieter squares and a class of cafe and restaurant designed to please locals too. Cannaregio is also where you'll find Venice's casino.
Pros and Cons
Pros: great transport links, good choice of restaurants and cafes, atmospheric, walking distance from major sights
Cons: busy, touristy in parts
Ideal For: visitors who want to meet some locals, families
Discover our recommended hotels in Cannaregio, Venice.
Castello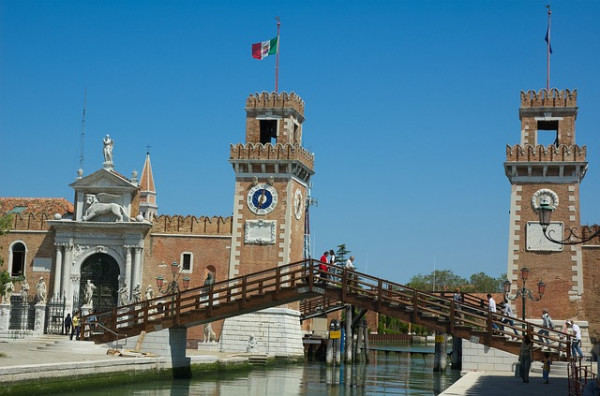 WikiMediaImages from Pixabay
Castello is central Venice's largest neighbourhood, and stretches to the east of San Marco, past the Arsenale and Giardini Pubblici, all the way to Sant'Elena, which is a really residential part of the city. At the eastern end you'll see people walking their dogs along the canal, in the middle are the pavilions of the Giardini Pubblici famous for the Biennale, and from there on it starts to get busier and busier as you head along the river towards the Rialto. And the bars, restaurants and cafes, as well as the shops, follow a similar trend. As far as famous local landmarks go, Castello's headliner must be the Santi Giovanni e Polo, which is probably one of the city's most famous churches, the Museo Storico Navale or naval museum, and the Arsenale, which is Venice's historic shipyard.
Pros and Cons
Pros: historic, varied, residential, canal-views, walking distance from major sights
Cons: residential, a bit drab for Venice
Ideal For: value-seekers, explorers, visitors who want to meet some locals
La Giudecca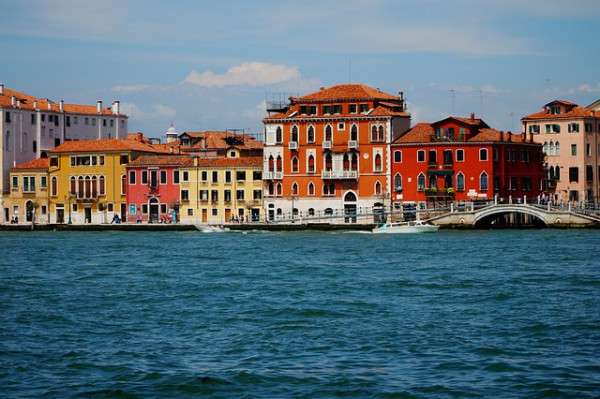 awsloley from Pixabay
La Giudecca, or the Isola Della Giudecca, is where you'll find a cluster of Venice's best luxury hotels, mostly converted from palaces built by the wealthy aristocrats of the early Renaissance. Aside from these grand hotels La Giudecca is actually quite a quiet, residential island, with homes, workshops and boatyards belonging to Venetians. It's a good distance from the hubbub of the Grand Canal, but the views of the city are quite something. The island's main attraction, other than the views of central Venice across the lagoon, is the Redentore, a 16th century Franciscan church built to celebrate the city's survival of bubonic plague, and, on a neighbouring island, the white, Palladian style church of San Giorgio Maggiore.
Pros and Cons
Pros: perfect for avoiding the crowds, incredible views, luxurious, quiet, romantic
Cons: off-centre, totally reliant on boats
Ideal For: romantics, luxury-lovers, peaceful escapes, treating yourself
Discover our recommended hotels in La Giudecca, Venice.
Lido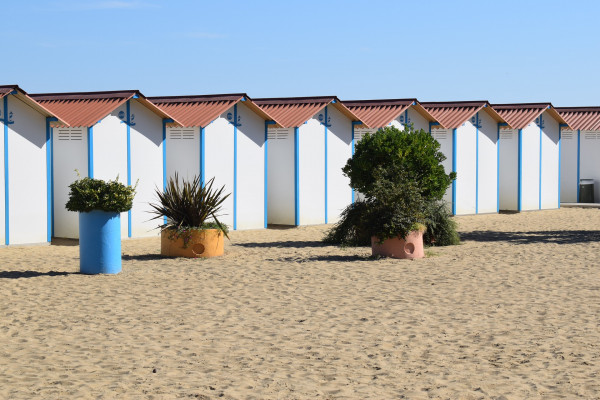 Image by Polak Gerhard from Pi
Lido, or Lido di Venezia, is a long, narrow, sandy island that separates the Venetian lagoon from the Adriatic Sea, and it's come to be Venice's seaside. Lido is different from the rest of Venice in a similar way to that of seaside resorts and cities: it's leafier, slower, with wider streets, and plenty of ice cream shops. The buildings are very different from Venice's too, as it was mostly built in the 19th century, in Liberty and Art Nouveau style, with a couple of modernist Fascist-era buildings thrown in to really contrast the elegant curves. In season, meaning in summer, it's busy with visitors, and the cafes, bars and restaurants are lively, but out of season it's relaxing and residential. The beaches are the main appeal, long, wide and sandy, and lined with beach huts and hotels. And you're not overlooking Venice, but out to sea.
Bikes are banned in Venice, but they're one of the best ways to get around Lido.
Pros and Cons
Pros: ocean-views, beach, relaxed atmosphere, good value
Cons: quite different from Venice, very busy in season
Ideal For: value-seekers, beach-lovers, families
Murano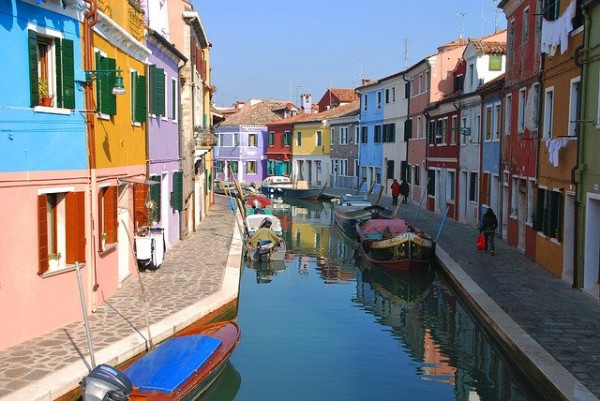 Mojca J from Pixabay
You've probably heard about the glass produced on Murano, but it's a lot more than just a glass factory! It's almost a miniature Venice, with its own fine churches, Grand Canal, and smaller ones, lined with both small townhouses and elegant palazzi. Prior to 1291 Venice was the hub of fine glass making, but in that year all of Venice's glass furnaces were moved to Murano to protect the city proper, and this little city sprung up around them. Today glass is the reason most people come to Murano, and it's everywhere, in factories open to visitors, to shops and boutiques. Fresh off the ferry is Murano Colonna, which is the busiest part of the island, and a hub for touristy bits and bobs, but if you're serious about buying some glass while you're here you need to head inland. It's worth it for the brightly coloured houses and their decoration, and this is also where you'll find the least touristy restaurants, cafes and bars. Murano is less than a mile across, so your feet are all you need to get around.
Pros and Cons
Pros: picturesque, colourful, historic, unique
Cons: busy, touristy in parts
Ideal For: explorers, visitors who want to say somewhere unusual
Burano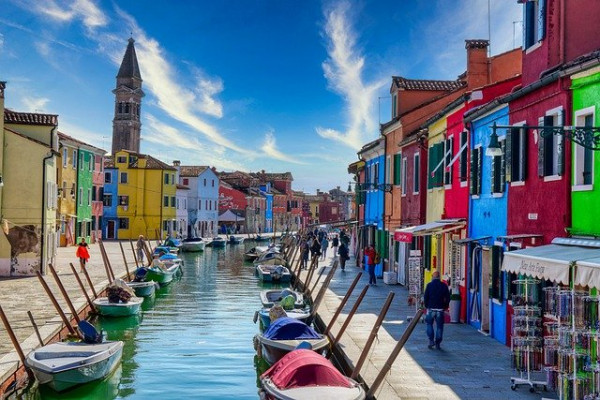 gabmarjan from Pixabay
Burano is another of Venice's smaller neighbours on the lagoon, famed for its lace. Like Venice, Burano is a collection of smaller islands connected by bridges, but it's no where near as grand, with colourful fishermen's houses instead of grand villas and palazzos, a handful of small squares and just the one church, San Marino, which has a bell tower with a Pisa-like lean. The other main sight is the lace museum. It's all very photogenic, with wonderful views of neighbouring islands, and on a clear day you can see the mountains across the lagoon. But this isn't a place tourists usually stop long in, so it's a good place for more authentic meals, and peaceful evenings. It's small enough for the village to cover the whole island, and for you to walk across quickly. If you want to buy lace make sure it's the real thing, which usually means it will be quite expensive…
Pros and Cons
Pros: peaceful, off-centre, small
Cons: small, off-centre, limited places to dine and drink
Ideal For: peace-lovers, photographers, explorers, visitors who want to say somewhere unusual
Torcello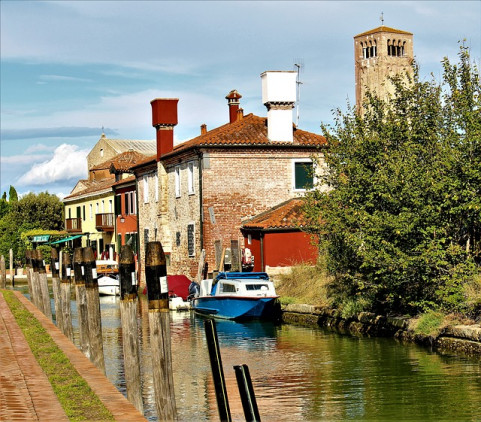 Lena Lindell from Pixabay
Torcello is another of the small islands on the lagoon, but this one is famous for its history, rather than unique products: it's said that this is where the original inhabitants of Venice came from, but these days much of it is elegantly abandoned to fields and lush marshland. This is a really atmospheric place, its cathedral, the Basilica of Santa Maria Assunta, is older than San Marco, and the views of Venice from its bell tower are incredible. Beyond the churches and main square Torcello is just a village now, with canals and streets, but only two bridges. There's not a huge range of accommodation, but it does include the Locanda Cipriani. You can get to Torcello by ferry via Burano.
Pros and Cons
Pros: historic, peaceful, off-centre, small
Cons: off-centre, small, limited places to dine and drink
Ideal For: romantics, luxury-lovers, peaceful escapes, treating yourself, visitors who want to say somewhere unusual
Search the best hotels in Venice