Top Tips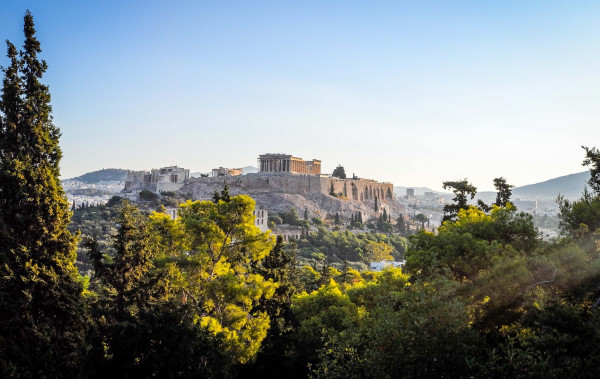 Image by Leonhard Neiderwimmer
The Hotel Guru's guide to the best neighbourhoods in Athens has tips and information to help you decide where to stay in Athens, whether you're visiting this incredible city for its 5th century BC temples, and unrivalled historic treasures, or for its contemporary art, culture and vibrant, sunny lifestyle. Whichever of Athens's neighbourhoods you decide is perfect for your visit, you'll find a lot of life lived outdoors, in the narrow streets with their geranium-filled window boxes, or in the leafy squares.
Neighbourhood Guide to Athens
Athens may be Europe's oldest city, with temples built in the 5th century BC, but it's still cool. It's always been a lively and creative place, and is constantly being reimagined; even if you're a regular visitor you'll find new businesses, new places to eat, fresh art and architecture, and fresh street art too. Since the Athens Olympics in 2004, the centre of the city has been pedestrianised, and the tram and metro systems upgraded and updated, which has made it even easier to get around. But one of the best things about Athens is that you're constantly getting around amongst historic wonders. They're just everywhere, so even if you're planning to visit one site in particular you're likely going to have to pass a few bonus ones on the way there. And Athens is beautiful. Most visitors are lured here by the museums and millennia old architecture, but once here you're also exposed to incredible markets, fantastic old tavernas, an historic coastline that also doubles as a beautiful beach destination, inspirational modern art galleries, and neighbourhoods where every wall is daubed with the technicolour work of 21st-century street artists.
Syntagma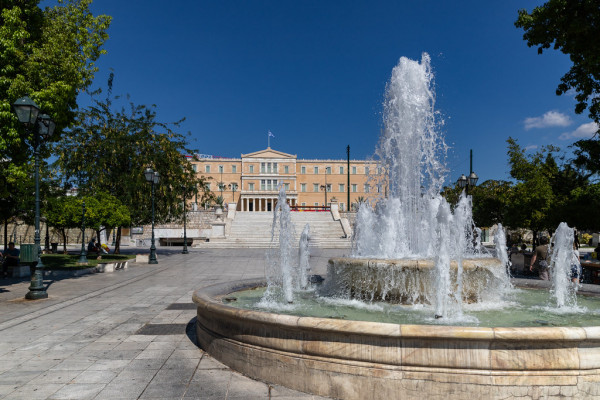 Flickr user Falco Ermert
Syntagma is the most central part of Athens, its busy beating heart, radiating outwards from Plateia Syntagmatos, which translates to Constitution Square, but is usually referred to as Syntagma Square. Syntagma is where you'll find Greece's Parliament, housed in the former Royal Palace, the National Historical Museum, the beautiful Numismatic Museum, and some of the city's most luxurious hotels and the best shopping — both antique and boutique. It's also neighbours with the Acropolis, and several museums, including the National Archaeological Museum and the Benaki Museum. Plus it's only a 15-20 minute stroll from the Roman Agora and the Temple of Olympian Zeus, and Monastiraki, with its funky markets and grill restaurants. The square itself is lined with palm-tree shaded cafes and bars, which are ideal for people watching, and there's plenty of choice when it comes to eating and drinking too. When Syntagma's metro station was being dug out so many ancient artefacts were unearthed that it now has its own museum, and as well as that it connects directly with the airport, the port of Piraeus and Larissa Station.
Pros and Cons
Pros: super central, major sights, great shopping, good cafes and bars
Cons: busy, touristy
Ideal For: city breakers, luxury lovers, sightseers
Discover our recommended hotels in Syntagma, Athens.
Plaka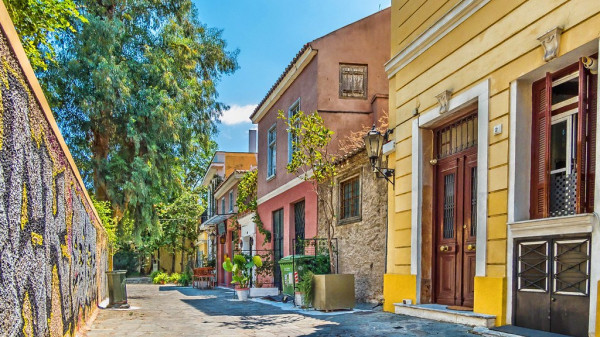 Flickr user Christos Vassiliou
If you want to stay on the doorstep of the Acropolis, stay in Plaka, a labyrinth of car-free streets that sits just beneath it, where you're just as likely to turn a corner and discover an historic landmark as you are a corner cafe or open-air taverna. Plaka's proximity to the Acropolis, the Roman Agora and the Ancient Agora mean that it's just littered with smaller ancient monuments and ruin-ettes, and small niche museums. This plethora of historic treasures does mean Plaka is a popular place to stay, and it can be quite touristy, with the shops along the main street selling all manner of antiques and curios, souvenirs, and clothes and accessories. But its lively cafes and bustling restaurants welcome a local clientele too. You're only ten minute's walk from Syntagma Square, and if you walk in the opposite direction you'll pass through Thissio to get to Monastiraki, and both the Acropolis and Syntagma have metro stations.
Pros and Cons
Pros: atmospheric, historic, major sights, central, walkable, great cafes and restaurants
Cons: touristy
Ideal For: city breakers, families, on-foot explorers
Discover our recommended hotels in Plaka, Athens.
Monastiraki and Thissio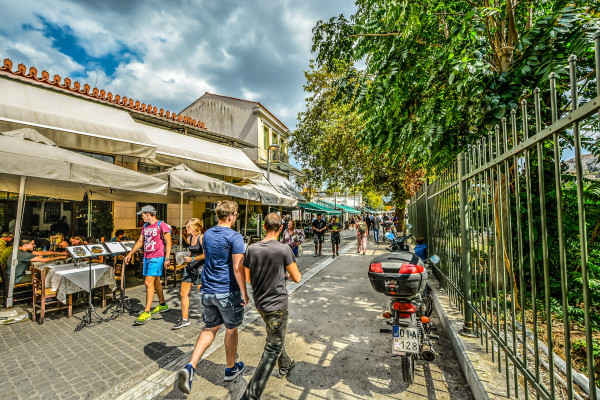 Image by kirkandmimi from Pixa
If you start out in Syntagma and head for Plaka and then keep going you'll get to Thissio and then Monastiraki, and you'll still only have walked about a kilometre. Or you can take the metro one stop. Monastiraki is known for its vast flea market, which is surrounded by streets and alleys crammed with shops selling everything from genuine antiques and gold and silver jewellery, to beautiful handmade clothing and homewares, to fakes and fun souvenir tat. The flea market, and the whole area is at its busiest on Sunday mornings, but it's a fairly lively place all day everyday, and it's got a great collection of cafes, tavernas and restaurants to fuel shoppers and visitors. Monastiraki is known for its traditional grills, and is a great place to come for classic Greek cuisine, especially the main square. The area's name comes from a beautiful, but tiny, 10th century church, and nearby you'll find both ancient Roman and Greek ruins, and an Ottoman-era mosque. Physically in between Plaka and Monastiraki, Thissio is a sort of in between of them in style too, with lots of cafes and restaurants, and a mix of residential streets, shops and historic treasures. There aren't as many hotels here, more guesthouses, and small boutique-style hotels.
Pros and Cons
Pros: atmospheric, bustling, great markets, great shopping, lots of choice of cafes, bars and restaurants, central, close to major sights
Cons: busy, especially on Sunday
Ideal For: on-foot explorers, city breakers, couples
Discover our recommended hotels in Monastiraki and Thissio.
Psyrri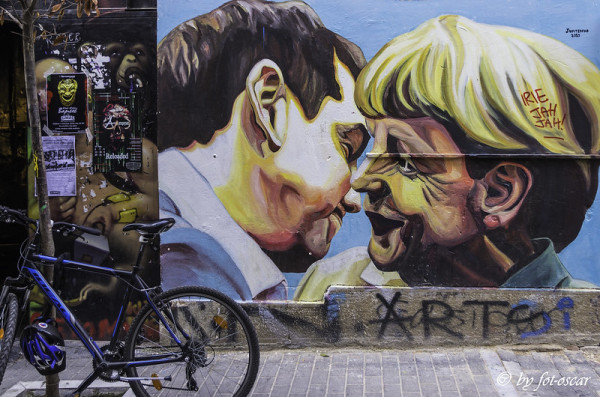 By Flickr user fot-oscar
Just to the north of Monastiraki, Psyrri is one of the hippest, and most happening neighbourhoods in Athens. Ideal if you're here to have a good time and go out of an evening. Or if you like seeing street art, because that's the other things Psyrri is famous for, and it's really something! In the sunshine this is a great place to stroll amongst small galleries, old carpentry and leather-craft workshops and boutiques, old-school souvlaki joints and independent, and hip, cafes, many of them decorated with more of that incredible street art. You many also want to visit Keramikos, one of Athens's ancient cemeteries. Once the sun goes down the small music venues start to light up, and tout their musical wares onto the streets, the area turns into a cacophony of fun, and inexpensive ouzo. The vibe runs from bohemian to genteel, with clubs, bars and restaurants catering to all pockets. You're still very central, though, about a kilometre from Syntagma, or a single metro stop.
Pros and Cons
Pros: atmosphere, historic, lively, fun, great pubs, clubs and restaurants
Cons: busy, noisy
Ideal For: nightlife-lovers, party-people, hipsters, street-art aficionados
Discover our recommended hotels in Psyrri, Athens.
Gazi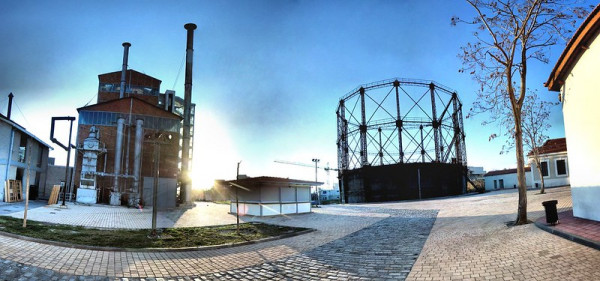 By Flickr user Panoramas
Gazi is on the other side of the Keramikos, but by now about 20 minutes walk from Syntagma and the centre of town. This area is another great place to go out of an evening to eat, drink and be merry, but this neighbourhood is also very different to the rest of Athens in appearance, and that's probably why we're recommending it. Gazi was the site of the old city gas works, and it's interesting because this factory was one of the few to survive German bombing in WW2, due to its proximity to the Parthenon. So it's retained its really industrial look. Today the gas-works building has been converted into Greece's science and technology museum, Technopolis, which also has its own concert hall, gallery and exhibition spaces. Today Gazi also has an outpost of the Benaki Museum. It's also surprisingly green, for an old industrial area; there are parks connecting it to Thissio, so it's quite a good off-centre base. Good value too. The Keramikos metro station on Line 3 is just by the Technopolis.
Pros and Cons
Pros: atmospheric, major sights, green spaces, choice of drinking and dining venues, lively of an evening
Cons: noisy, off-centre
Ideal For: families, value-hunters, night-owls
Discover our recommended hotels in Gazi, Athens.
Pireas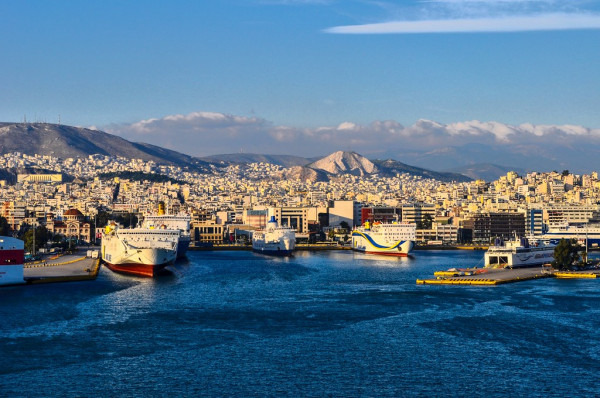 Flickr user Jeffrey
Pireas or Piraeus, as it was spelled until recently, is Athen's ancient port, and a gateway to both Athens and to the Aegean Islands, depending on where you start off. It's big, busy and bustling. In the summer this is where the cruise ships dock, injecting around 25,000 passengers per day into the area. Most visitors move through Pireas, but charming little harbours of Pasalimani and Mikrolimano are packed with elegant yachts, and fancy seafood restaurants, and Pireas has its own beach and a marina. If you walk up Kastella hill you'll have great views of both Athens in one direction and the Gulf and the harbour in the other. The Archaeological Museum of Piraeus, the region's town hall with its impressive marble lion, and the neighbourhood's collection of impressive Greek Orthodox churches are also worth seeing. There's a lively, travel-y vibe in the numerous bars, cafes and restaurants. Being a port, Pireas has great facilities for onward travel, with trolley buses, shuttle buses, airport buses and multiple taxi ranks, as well as the metro and public buses. And you're only eight stops from Syntagma on the metro.
Pros and Cons
Pros: travel hub, sea views, lively atmosphere, great places to eat and drink, good value
Cons: busy, touristy
Ideal For: value-seekers, ocean-lovers, visitors travelling onward
Discover our recommended hotels in Pireas, Athens.
Omonia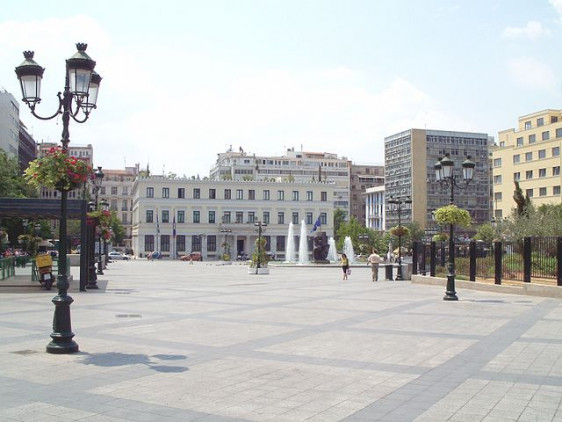 By Badseed - Own workCamera lo
Omonia is just one kilometre, or two metro stops from Syntagma Square, and is a key transport hub for the metro, train and bus services, so it's central, and convenient for seeing the sights. You're within a short stroll of the National Archaeological Museum, the Athens Art Gallery, and right by Athens's City Hall, also known for being the birthplace of the modern Olympics. Omonia is also where you'll find the colourful Central Market, a produce market with accompanying excellent cafes and traditional eateries. Mostly Omonia is a commercial area, with banks and offices, and the Athens Polytechnic, but that does mean that there's a lot of local life here. But no classical architecture.
Pros and Cons
Pros: central, transport hub, major attractions, range of dining and drinking options
Cons: busy, commercial
Ideal For: repeat visitors, sightseers
Discover our recommended hotels in Omonia, Athens.
Exarchia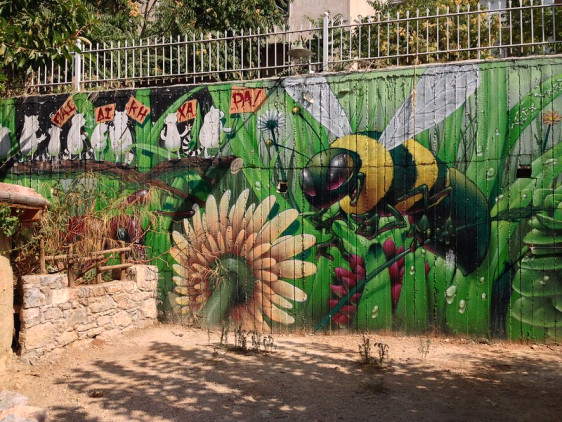 By Flickr user Dimitris Kamara
Head north from Omonia, and around Plateia Exarchion you'll hit grittier Exarchia, home to arty types and the incredible collections of the National Archaeological Museum, the world's most important collection of ancient Greek art. Exarchia is the city's counter-cultural hub, a college neighbourhood with a hip, youthful vibe, and offbeat and adventurous nightlife. Plus more great street art and niche coffee bars, and streets featuring galleries, vintage treasure shops, and second hand books and records. Exarchia is only about a kilometre and a half from the centre of town. It's also a great place to spend an evening listening to authentic rembetika music.
Pros and Cons
Pros: hip, arty, atmospheric, major attractions, lively nightlife
Cons: gritty
Ideal For: night-owls, hipsters, couples, value-seekers
Discover our recommended hotels in Exarchia, Athens.
Koukaki and Makrigianni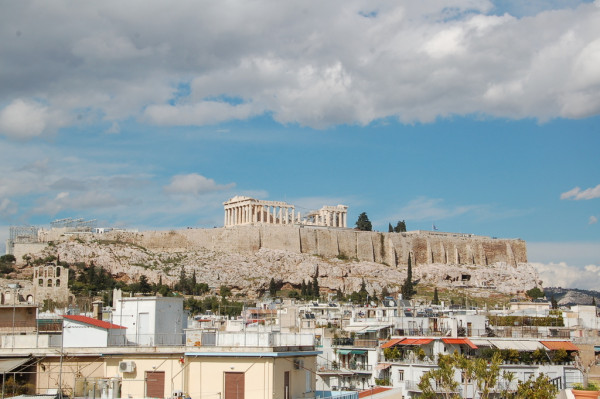 Flickr user Robert Wallace
Koukaki and Makrigianni are just a few blocks to the south of Plaka, close to the Acropolis, and Plaka's pleasures, but greener and more pedestrian-orientated. These neighbourhoods have residential streets and little tree-shaded squares with peacefully pleasant small cafes and restaurants. The top of Filopappou Hill is a great place to enjoy the view, and when it's time to go a bit further afield you're close to both the Akropoli and Syngrou-Fix metro stations.
Pros and Cons
Pros: central, peaceful, green, pedestrianised streets and squares of cafes and restaurants
Cons: residential
Ideal For: families, couples, lovers of peace
Discover our recommended hotels in Koukaki and Makrigianni, Athens.
Kolonaki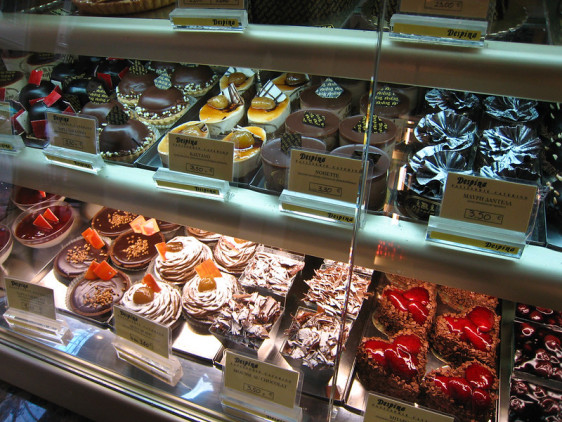 By Flickr user Sharon Mollerus
Covering the southern slopes of Lykabettos Hill, Kolonaki is one of Athens's most up-market areas, where you'll find many of the embassies, and some of the city's most expensive residences. It's quite beautiful too, with elegant cafes reminiscent of Paris, especially the bit around Plateia Filiki Eterias, the main square. Radiating outwards from the square are gorgeous patisseries, cafes, galleries, antique dealers, and designer fashion boutiques. Kolonaki also has several notable museums, including the Benaki Museum, the National War Museum, the Greek National Gallery and the Museum of Cycladic Art. The local metro station is called Evangelismos. And you're about 20 minutes walk from Syntagma and 30 minutes from Plaka.
Pros and Cons
Pros: luxurious, great shopping, major attractions, central, elegant, great dining and drinking options
Cons: expensive
Ideal For: treating yourself, romantics, luxury-lovers
Discover our recommended hotels in Kolonaki, Athens.
Kifissia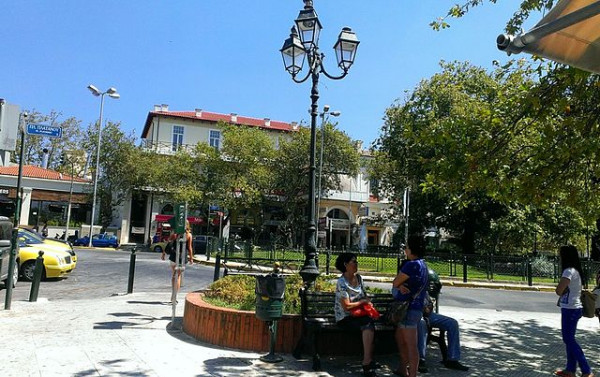 By Dimorsitanos - Own work, CC
Up in the cool, green hills, Kifissia is, for many Athenians, a sanctuary from the hubbub of downtown Athens. It's another well-to-do suburb, with smart shops, elegant restaurants, chic little eateries and chi-chi bars. The residential streets are ideal for anyone who likes an elaborate garden or impressive mansion, the majority of them built in the 19th and 20th centuries. The downside of being outside the centre of town is that you're outside the centre of town, away from the major attractions. It's about 25 minutes on the metro, or you can catch the bus.
Pros and Cons
Pros: luxurious, elegant, great shopping, great dining and drinking options, leafy, peaceful
Cons: expensive, residential, off-centre
Ideal For: treating yourself, luxury-lovers, something different
Discover our recommended hotels in Kifissia, Athens.
Metaxourgeio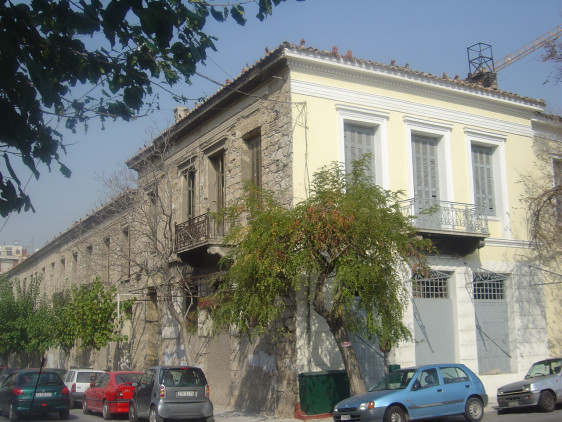 By DIMSFIKAS - Own work, CC BY
Between funky Psyrri and practical Omonia is Metaxourgeio, a down-to-earth neighbourhood that's somewhere in the middle. A bit gentrified, but still affordable, this is the sort of place you'll find artists' studios and hip, young restaurants. Expect street art, but also small galleries, and contemporary music and dance venues too. And a certain amount of guerrilla gardening, which has really helped green-ify the area. Metaxourgeio is a great reflection of 21st century Athens. You're still fairly central, just two kilometres from Syntagma, or three metro stops. Metaxourgeio isn't for everyone, though, and it will definitely be a bit too gritty to appeal to all travellers as a base, but it's a great place to look for affordable accommodation.
Pros and Cons
Pros: hip, arty, bohemian, atmospheric, great eating and drinking options
Cons: gritty, residential
Ideal For: value-hunters
Discover our recommended hotels in Metaxourgeio, Athens.
Search the best hotels in Athens