Top Tips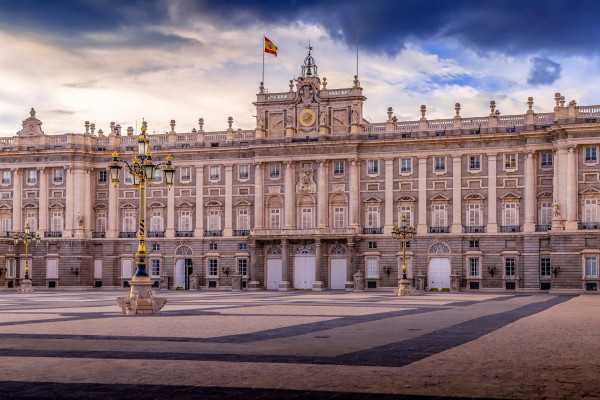 Image by ddzphoto from Pixabay
Madrid's compact centre is a great place for visitors to stay, but there are numerous neighbourhoods within it, and it can be difficult to choose the one that will suit you best. Our detailed guide to Madrid's neighbourhoods will give you an overview of what Madrid's central neighbourhoods have to offer, and tips and recommendations to help you pick. Whether you want to stay right in the thick of the action, or find a quiet neighbourhood within walking distance of Madrid's highlights.
Neighbourhood Guide to Madrid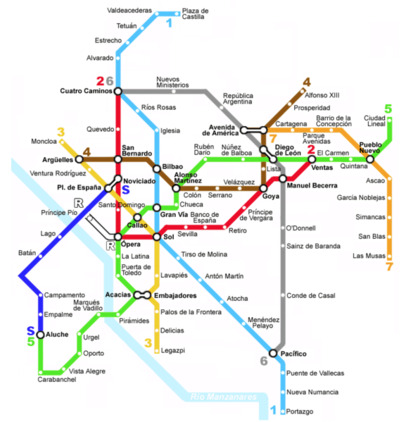 User:Montrealais Creative Comm
Madrid! She's a gorgeous old girl, known for her warmth and hospitality, her art, old world charm and open-all-hours sense of fun. Madrid really knows how to live. Here you can expect to eat and drink well, stroll amongst beautiful surroundings, see great art and architecture and be inspired by what you see around you. Madrid is packed with great art works at the Reina Sofia, the Museo del Prado and the Thyssen-Bornemiza. Its elegant boulevards, royal palaces and ancient mansions and squares make a great backdrop for its fantastic collection of restaurants, bars and cafes. Madrid has really embraced the Spanish culinary revival, and the variety and quality of what you can be served here is really impressive, from complimentary bar tapas to the finest of fine dining. And afterwards you can keep making merry for as long as you can stand up.
Madrid has a huge public transport network, with one of Europe's largest underground metro systems, offering great coverage of the centre of town, with good airport links too. It's also good value, considering its price and reliability, and it's cool (which will be important to you if you're here in summer)! Anything not covered by the metro will be served by buses, and it's all connected to a suburban train network.
Centro Madrid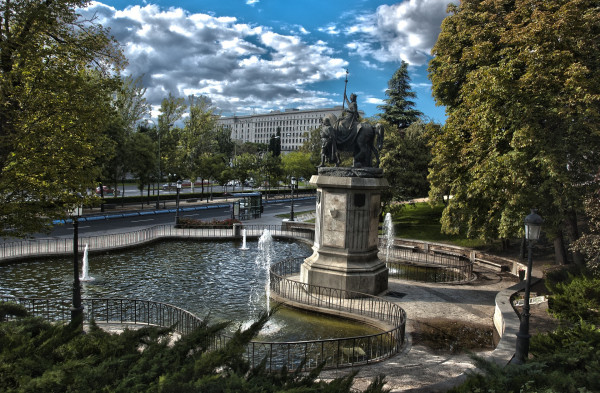 Image by pruebasinstancia2 fro
The heart of old Madrid is the Centro district, about five kilometres square of historic architecture arranged on a pleasurable maze of sweeping boulevards, grand plazas, ambling streets and tiny cobbled alleyways. Within this relatively small space you can see some of the world's most inspiring works of art, experience culinary flights of fancy and good, solid traditional fare, shop, stroll, dance and live life to the fullest almost 24 hours a day. Within the district are several historic neighbourhoods, often called barrios, including Los Austrias, Barrio de las Letras, Chueca, La Latina, Salesas, Malasaña, Lavapiés and Conde Duque. And several smaller neighbourhoods surrounding historic streets, squares and plazas, like the Gran Vía, Paseo del Prado, the Plaza Mayor, and the Plaza de Santa Ana. And several slightly less historic neighbourhoods or barrios, for example Sol and Universidad, which is the neighbourhood around the university. There's quite a lot of variety to these neighbourhoods, so it would be too obvious to recommend you stay in Centro and leave it at that!
Pros and Cons
Pros: central, major sights, historic, spectacular architecture, great bars and restaurants, lively nightlife, lively day-life, great shopping, world-class art
Cons: busy, lively
Ideal For: visitors to Madrid
The Gran Vía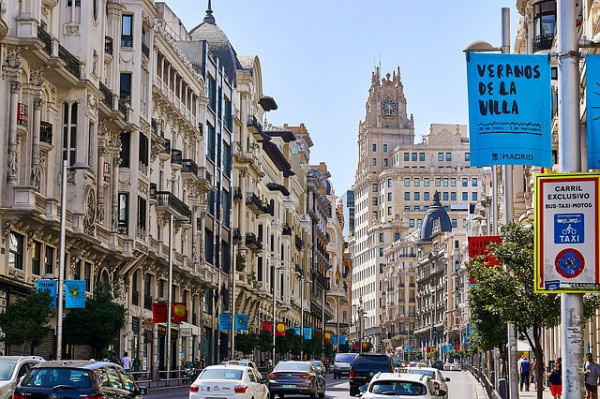 NakNakNak from Pixabay
The Gran Vía is a long, broad street or esplanade running right through the centre of Madrid; through the Plaza de Cibeles, the Plaza del Callo and the Plaza de España, where it finishes. It's often referred to as the 'Spanish Broadway'. Along this stretch you can find some of the best shopping in Madrid, and some of the city's finest hotels. It's almost always teeming with people, being surrounded by places to eat and drink, and little squares and entertainment pockets. The architecture lining its route is a veritable showcase of the best the 20th century had to offer, from various revival styles like Spanish Plateresque and Neo-Mudéjar, to Art Deco, Art Nouveau and Vienna Secession style. This is because this grand, old-looking, boulevard through the most historic part of Madrid is actually quite young. And its creation actually called for the destruction of many really historic buildings that were 'in the way'. The great thing about staying in this neighbourhood is that you're close to pretty much everything.
Pros and Cons
Pros: central, historic, interesting architecture, lively nightlife, great bars and restaurants, excellent shopping, lively, open-all-hours
Cons: busy, lively, open-all-hours
Ideal For: first-time-visitors, sight-seers, nightlife-lovers, shoppers, couples
Discover our recommended hotels around the Gran Vía, Madrid.
Retiro and the Paseo del Prado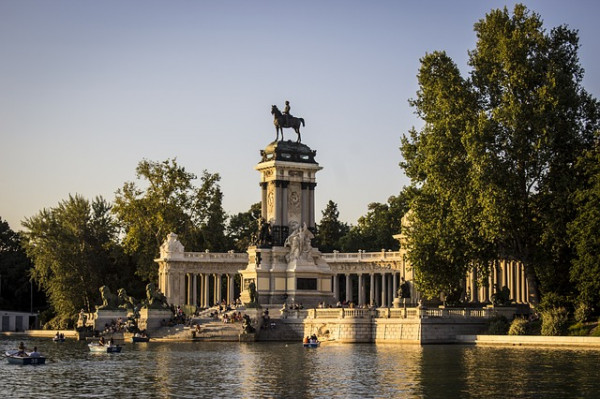 José Manuel de Laá from Pixab
The Paseo del Prado is a wide, elegant boulevard running between Centro Madrid and the Reina Sofía. Stroll along this road you'll find art museum after art museum, including the Museo del Prado, the Gothic Cibeles Palace, and the Thyssen-Bornemiza. And the neighbourhoods along this route are Retiro and Paseo del Prado. This part of Madrid is picturesque, and the bars, cafes and restaurants here run towards the higher end, but that doesn't mean there's not a lot of choice and variety, because that's one of the things Madrid is really good for. In addition to the art museums, Madrid's naval museum, and Museo del Jamon, are in this part of town. Retiro and the Paseo del Prado are also close to the Gran Vía with its shopping and entertainment.
If you keep walking east you'll reach El Retiro, a vast green space and botanical garden, complete with lakes and vistas, marble statues and fountains, and woods, and at the heart of the park is the Palacio de Cristal. This incredible landscape was totally owned by the Spanish monarchs until the late 19th century, so it's historic and regal, as well as spacious and beautiful.
Pros and Cons
Pros: elegant, green, major sights, world-class art galleries, beautiful architecture, excellent restaurants
Cons: busy in places, expensive
Ideal For: families, sight-seers, romantics, couples, once-in-a-lifetime visitors
Discover our recommended hotels in Retiro and Paseo del Prado, Madrid.
Plaza Mayor and Madrid de los Austrias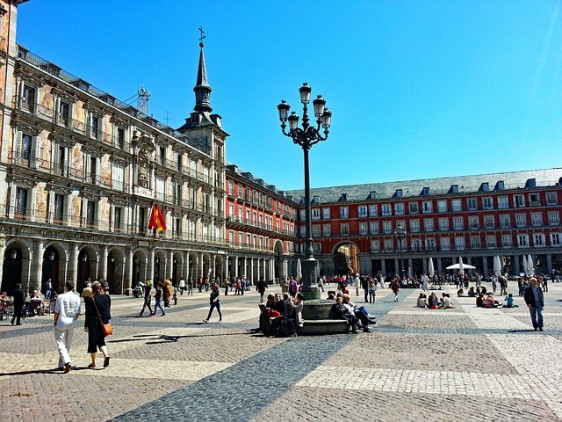 lapping from Pixabay
The name 'Madrid de Los Austrias' is a bit of a mouthful, but it translates to 'The Madrid of the Austrians', meaning the Habsburg's centre of power in Madrid — they ruled here between 1516 and 1700. And this neighbourhood is where they did most of their building works, creating great plazas and palaces, the largest and most famous being the Plaza Mayor, which is rare for being so large! It's also very grand: arcaded, in dark red and orange, with 237 wrought-iron balconies and lovely entrances, which lead out into a neighbourhood of labyrinthine streets that surround it. The Plaza Mayor has hosted bullfights, as well as state occasions. As well as famous architecture, this neighbourhood is known for having some of Madrid's best tapas bars, ranging from both traditional to very modern in style, and some great restaurants and cafes too. It's also close to the Royal Palace, the Teatro Real, the Puerta del Sol, the Rastro flea market and the San Miguel gourmet market.
Pros and Cons
Pros: central, historic, incredible architecture, major sights, great tapas, lively bars, good choice of restaurants
Cons: small
Ideal For: romantics, history-buffs, architecture-lovers, sight-seers, foodies, couples
Discover our recommended hotels around the Plaza Mayor, Madrid.
Lavapiés and La Latina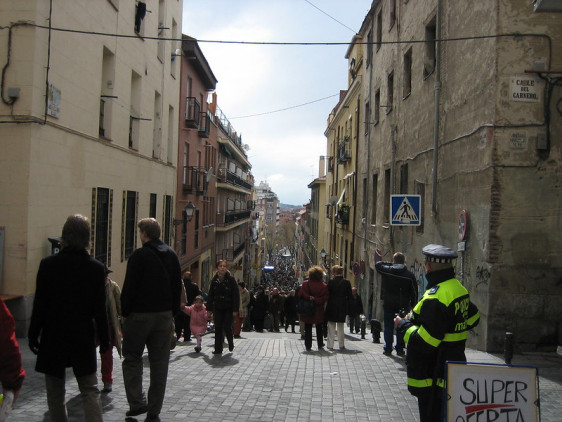 By Flickr user Nick Richards
These neighbourhoods are some of the oldest in Madrid, and the medieval footprint of narrow streets and vast squares speak of a time long before anyone thought you'd need to pass anything larger than a handcart between buildings, but when lots of civic and community life took place in the squares. La Latina is especially old, you can even see some 16th century malice houses here, a style of architecture unique to Madrid. Like the rest of Madrid there's a real mishmash of architecture, though, and the original vast market has been replaced by a mid-20th century version, quite modernist, but still a fantastic place to shop for produce. On Sundays there's a huge flea market, el Rasto, the largest in Madrid, which sits between La Latina and Lavapiés. But what La Latina is really known for today is its tapas bars, with a huge concentration on them on the Cava Baja and Cava Alta. And what Lavapiés is really known for is for its typical residential architecture, with pastel colours and big windows and balconies, and its multicultural, bohemian vibe.
If you're looking for landmarks you've got the Basilica de San Francisco El Grande, La Morería or the Moorish Quarter, and the viaduct that connects La Morería and the Royal Palace.
Depending on where you draw the borders, parts of these barrios can fall within the Madrid de Los Austrias, so very close to all the historic highlights of that neighbourhood too.
This part of Madrid is especially rabbit-warren-y, but there are plenty of metro stops.
Pros and Cons
Pros: historic, atmospheric, major sights within walking distance, fantastic tapas bars, market shopping
Cons: busy, varied
Ideal For: couples, adventurers, history-buffs, sight-seers
Barrio de las Letras, Huertas and the Plaza Santa Ana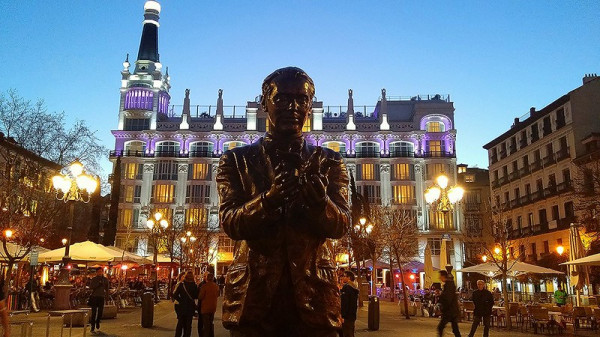 By Flickr user Javi
The Barrio de las Letras is Madrid's theatre district and old literary quarter, centred loosely around the Plaza Santa Ana and radiating outwards to include the Calle de Huertas neighbourhood. The square at the centre of the district is large, leafy and fairly traditional, with elegant white-painted buildings with ground floor terraces filled with restaurants, cafes and bars. The plaza's permanent inhabitants are the author Pedro Calderón de la Barca, and poet Federico García Lorca, who're both bronze, and on the eastern edge is the Teatro Español, Madrid's oldest theatre. These two weren't the only famous authors to grace these narrow, cobbled, traditional looking streets, and there are plaques commemorating them, and immortalising their words, dotted all over the Barrio de las Letras — which is one of the most magical things about this neighbourhood. Cervantes lived and died at Calle de Cervantes 2. And there are several literary museums and arts centres-cum-exhibition spaces. As you might have imagined from the neighbourhood's former inhabitants, this is a really good place for bars, cafes and restaurants, and the pedestrianised streets are lively and colourful of an evening. The Barrio de las Letras also has some fantastic old shops.
Lavapiés, Paseo del Prado and Puerta del Sol are your neighbours.
Pros and Cons
Pros: historic, atmospheric, great nightlife, great cafes and restaurants, literary landmarks, walking distance from major sights, romantic
Cons: touristy, cobbled
Ideal For: romantics, couples, literary-lovers, history-buffs
Discover our recommended hotels in Barrio de las Letras, Madrid.
Salamanca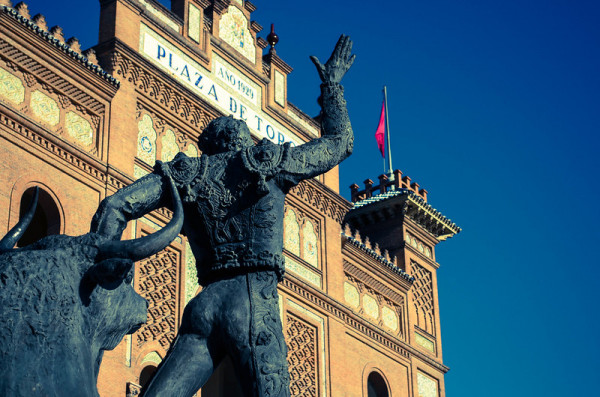 By Flickr user AntoinePound
Salamanca is probably Madrid's most exclusive barrio, a neighbourhood of elegant mansions, graceful, leafy squares, smart shops, and really special boutiques, cafes, bars and restaurants. It also has some quite niche galleries and museums, which are great finds if you're just strolling around. Salamanca's most famous landmark is arguably the Plaza de Toros Monumental de Las Ventas, the world's premier bullfighting ring. The season is roughly between May and September, but even if you're not interested in seeing an event, the architecture is quite something, and there's a fascinating museum, which might help you to understand the how and why of bullfighting. Salamanca also has the elegant National Library and Madrid's archaeological museum.
Pros and Cons
Pros: romantic, historic, luxurious, elegant, world-class shopping, major sights, excellent bars and restaurants
Cons: expensive
Ideal For: romantics, couples, sight-seers, treating yourself
Discover our recommended hotels in Salamanca, Madrid.
Chueca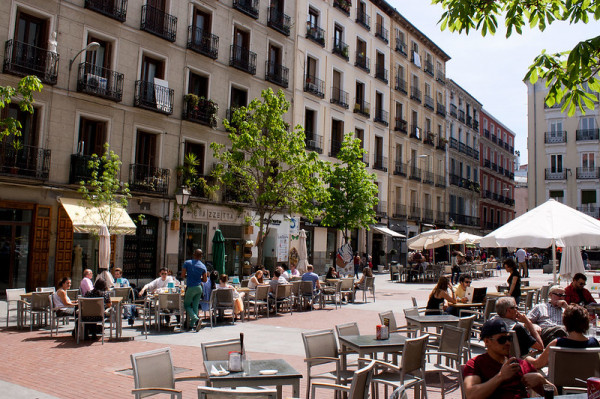 By Flickr user Delaina Haslam
Chueca is central and fashionable, with a lively gay community, nightlife that never seems to stop, and lots of great cafes and boutiques. The centre of the neighbourhood is the Plaza de Chueca, which is a large and elegant hub, close to the Mercado de San Anton (an art gallery-cum-marketplace), and the San Anton Church, where the bones of Saint Valentine are interred. Plaza de Chueca is also the local metro stop. Chueca is close to the Gran Vía and to Malasaña, which is another hip neighbourhood.
The Gay Pride parties held in Chueca every summer are famous world wide, and during this period the neighbourhood heaves under the weight of people having a really good time.
Pros and Cons
Pros: lively, colourful, excellent nightlife, great shopping, great bars and restaurants, central
Cons: busy, some will find it loud
Ideal For: night-owls, party-people, couples
Discover our recommended hotels in Chueca, Madrid.
Las Salesas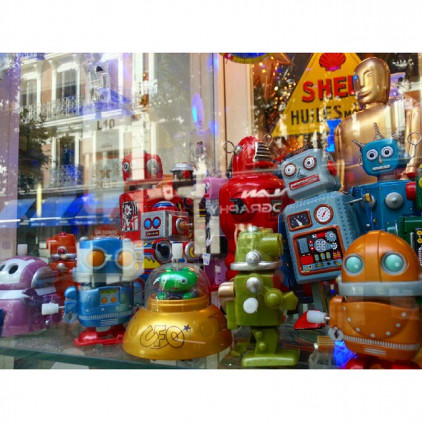 By Flickr user Alfonso Legido
Las Salesas is Chueca's neighbour too, a traditional looking area known for its fantastic collection of independent boutiques, shops and galleries. Las Salesas has the art galleries and concept stores, the artisan grocers and bookshops, and high end fashion, while Chueca has the antiques. Las Salesas' other neighbours are the Gran Vía and elegant Colón, and it's a good mix of all three. The main shopping street here is the Calle Barquillo, which has a wonderful mix of really old shops, and newer ones that have retained some of the original facades, so it's a really unusual place architecturally, and the atmosphere will give any non-shoppers in your party something to muse over. But Las Salesas doesn't just offer your standard shopping experience, this is the sort of place where you can find the largest importer of traditional Japanese products in Spain, or a shop which just sells toy cars, or a maritime specific bookshop! But there's also beautiful design stores, and beautiful cafes and bars to match. And beautiful people to look at too, dressed head to toe in treasures from Las Salesas, probably…
Pros and Cons
Pros: excellent shopping, hip cafes, bars and restaurants, central, elegant
Cons: busy
Ideal For: shoppers, fashionistas, sight-seers, couples, treating-yourself, luxury-lovers
Discover our recommended hotels in Salesas, Madrid.
Malasaña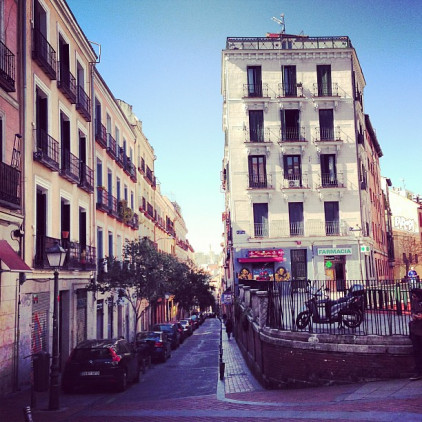 By Flickr user Andrea Benassi
Malasaña is hip, creative and happening, with a blurry border into the student-y neighbourhood of Universidad, and lots of cool cafes and restaurants along this stretch, which are lively places, especially of an evening. Malasaña is known for its vintage and retro boutiques, but they haven't edged out the traditional shops, bakeries, florists, delis and bars yet, and some of Malasaña's regular markets have been running in much the same way for hundreds of years. So this neighbourhood has a great mix of youth and age, vigour and experience. Plaza del 2 de Mayo is the neighbourhood's central square, close to the Tribunal metro stop, which is just a few minutes from Sol and within a pleasant walk of many of Madrid's highlights. But when it comes to landmarks of its own, Malasaña has the Museo de Historia de Madrid, which is Madrid's history museum, and the Museum of Contemporary Art.
Pros and Cons
Pros: hip, lively, colourful, independent shopping, excellent cafes and bars, great restaurants
Cons: busy, open-all-hours
Ideal For: couples, value-seekers, party-people, night-owls
Discover our recommended hotels in Malasaña, Madrid.
Conde Duque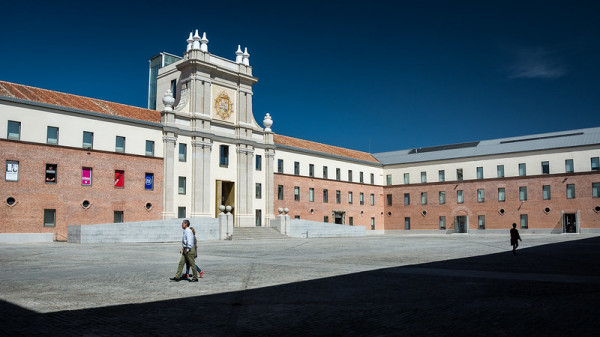 By Flickr user kuhnmi
In the 18th century the Cartel del Conde Duque was created as the barracks for the elite Spanish Royal Guards, a vast Baroque building designed to comfortably fit 600 men and 400 horses. Today this building of terracotta-coloured brick is a huge cultural centre, which plays host to shows, concerts and big exhibitions, and Madrid's historical library, and it is such an important part of Madrid that the area around it is now thought of as the Conde Duque neighbourhood. Adjacent to Malasaña, and somewhat similar in atmosphere, this has become a hub of cool cuisine, with cafes, restaurants and bars moving in to help lubricate the cultural centre's visitors. Conde Duque's cobbled streets, with their neoclassical buildings and fin-de-siècle street lights are a really pleasant place to explore, and there's plenty of little boutiques and galleries to pique your interest if you let them, especially if you're interested in food, fashion or art.
Pros and Cons
Pros: cultural hub, great cafes and bars, excellent restaurants, independent shopping, charming, historic, atmospheric
Cons: can be busy
Ideal For: art-lovers, foodies, couples, romantics, sight-seers
Search the best hotels in Madrid