20 of the Best Boutique Hotels in Paris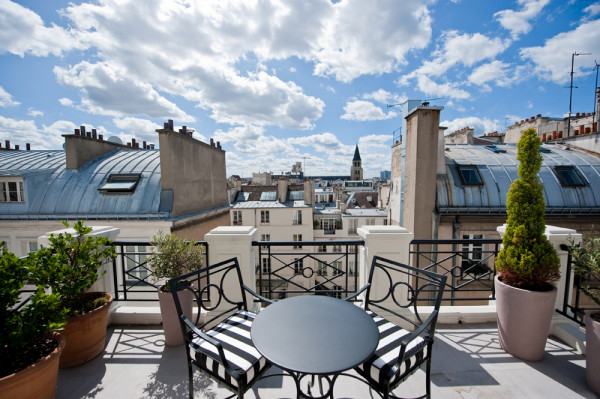 There are certainly lots of hotels calling themselves a 'boutique hotel' in Paris, and that's great because we think a lot of us love a great boutique hotel. And whilst the term has certainly broadened with age, today not all Paris's boutique hotels are as 'boutique-y' as they used to be. Some hotels with particularly great design and use of space are calling themselves boutique, and there are some particularly beautifully converted townhouses that are also appropriating the name, as well as the small, upscale and gorgeously personalised and detailed hotels that the term was originally coined for. We've also included some hotels on our list of the best boutique hotels in Paris that are probably a bit too big to properly qualify in the original sense of the term, and one or two which are probably a bit too affordable! But we certainly feel that our selection is a great place to start your search for intimate, beautiful, personalised and upscale hotels in Paris. And we have been quite strict. Enjoy!
20 of the Best Boutique Hotels in Paris
The Best Boutique Hotels for a Special Occasion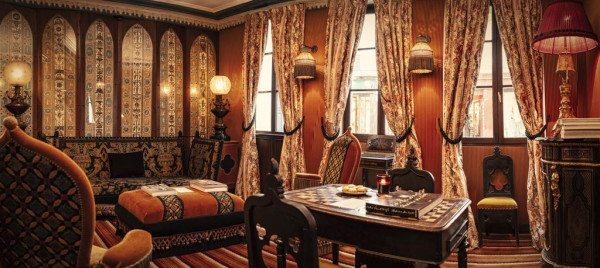 The Hotel Bourg Tibourg is a compact, Parisian townhouse on the outside, but on the inside it's nothing less than a Moorish palace, complete with sultry boudoirs dripping with rich fabrics held in place by tassels, fragranced by innumerable scented candles and dimly, but beautifully lit. Definitely sensual, this 30 room hotel is in a great spot close to the Pompidou Centre and the Marais, and surrounded by cafes, bars, boutiques and galleries. There's no restaurant, but they do offer breakfast and room service and there's a gorgeous lounge which lends the feeling of being a houseguest at a wonderful party…
L'Hôtel has all the accoutrements of a special occasion hotel: a gorgeous and very popular bar: Le Bar, a wonderfully luxurious spa and a candlelit plunge pool, fancy afternoon teas, and a fantastically central location. And it looks every inch the special occasion hotel too, with opulent, flamboyant even, interiors by Jacques Garcia — 20 rooms, arranged around a fabulous central atrium. But what makes L'Hotel extra special is that this was Oscar Wilde's Left Bank address until his untimely death in one of their rooms, a fact that's romantic on so many levels, but probably most relevant here because he's known for having decadent aesthetic tastes, which these days we'd probably call 'boutique'.
Paris's Best Boutique Bolt-Holes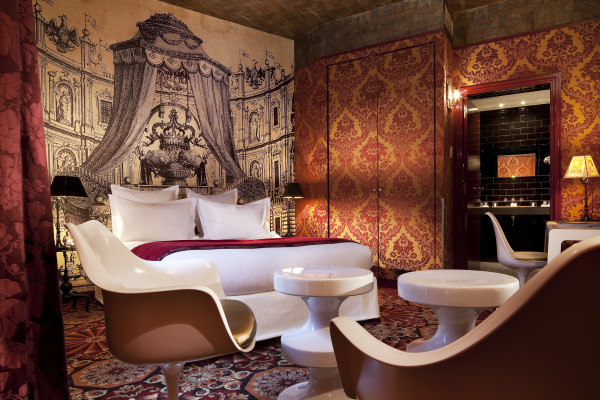 Even amongst this list of beautiful, special hotels, Le Petit Moulin stands out for its fabulousness. Designed by Christian Lacroix, and situated in the Marais (in a building they claim to be Paris' first boulangerie — where they say Victor Hugo bought his baguettes), this 17 room hotel is a jewel box of surprises. It appears that Lacroix designs hotels like he designs for fashion, with a riotous love of colour and richness, and traditional mixed with exotic. Totally memorable, romantic and excellent value all things considered.
There's no error, we are going to list a second Christian Lacroix creation as a boutique bolt-hole pick.But Notre Dame surely deserves it with his newest effort, the transformation of a 400year old riverside townhouse, with incredible views of Notre-Dame, into a super chic 26 room hotel. If you like a bold wall design then this is the place for you: here Lacroix has mixed and matched and collaged some seriously iconic art and design, and a lot of it's on the walls and the floor. There's no restaurant, but they do breakfast. It's worth knowing that you pay a premium for the incredible views and there are often great deals for rooms on the 'wrong side'.
If you want a boutique bolt-hole with a less showy, more elegant design then the Le Roch Hotel & Spa might be more your style. Close to the Jardin des Tuileries, these 37 rooms are cosy and plush, with beautiful carpets and solid walnut flooring, brass detailing and plenty of ocean-coloured velvet. The 6th floor apartment is perfect if you want privacy as you'll have the whole place to yourself. As well as the spa there's a pool, terrace and elegant restaurant.
The Most Romantic Boutique Hotels in Paris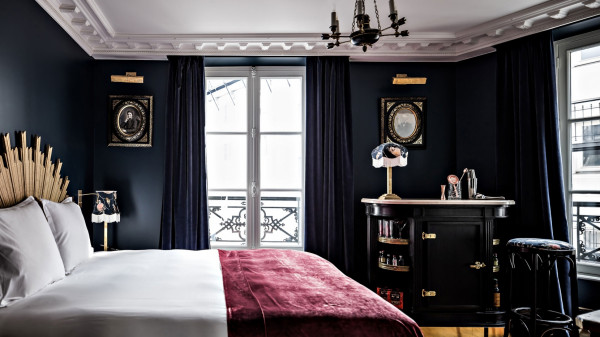 The Hôtel Providence has been carefully converted from an upscale townhouse in the 10th Arrondissement, and is now an 18 room hotel which fits very neatly into the original concept of a boutique hotel. As well as being small, very personal, and having individually decorated rooms and suites, this hotel has been carefully curated with antiques, designer pieces and flea-market treasures. If you opt for a suite, which are quite affordable, they come complete with a mini-cocktail bar. You don't need it though, there's a stylish bar and restaurant on site. if you want a view as well book the penthouse suite for sweeping views of Montmartre.
If you find the red velvet and gilt of theatres a romantic palette then the Maison Athénée's beautiful opera-inspired interiors might be for you. The 20 rooms invoke a boudoir with satin drapes and damask trims, Hermès toiletries add to the luxury experience. There is a petit salon for breakfast and you can order food from the bar if you need to, but the central, Opéra Garnier, location means you're close to some excellent bars and restaurants. Intimate and choc-a-bloc with Parisian charm.
The Hotel de Banville is a bit off centre in the 17th Arrondissement, in the 'Ternes' district north of Etoile, but that means that its upper floor rooms have panoramic views of the city, which is one of the reasons we think it's romantic. Its beautifully restored Art Deco exterior we find romantic too, and its 49 individually decorated rooms are elegant, peaceful, and fun in varying combinations, which you can suit to yourselves. There's no restaurant, but they do offer breakfast and you're just a few minutes from the Place du Maréchal-Juin where you'll find some of Paris's most renowned restaurants and bars.
Some of the Best Design Hotels in Paris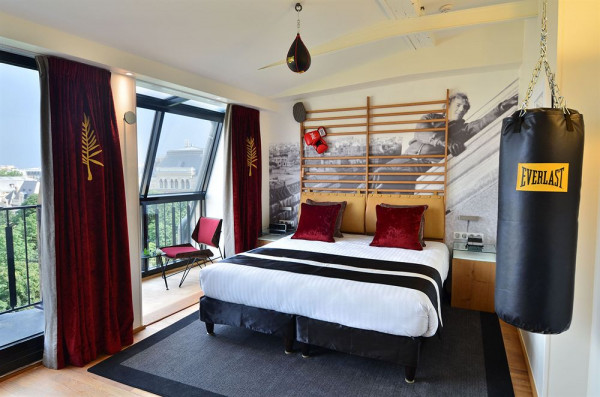 The grey area between boutique hotels and design hotels is quite large, in our opinion, especially when you accommodate different definitions of both words. So we've included some of the best in that grey area here.
Boutique Chic On Paris's Left Bank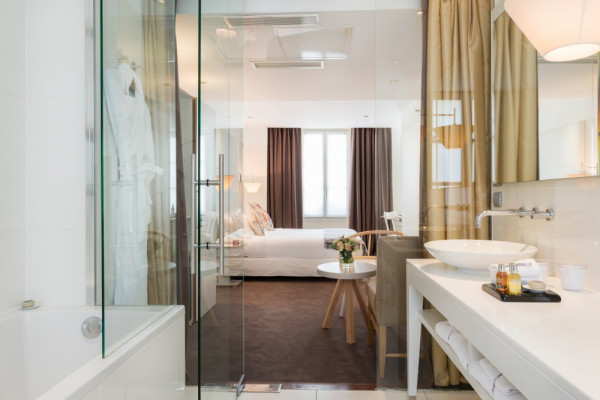 Perfectly positioned in fashionable St Germain des Pres, Le Placide Hotel is small and elegant, with eleven rooms which are much more spacious than your average Parisian hotel room. The decor is relatively simple, but very clever, designed by Bruno Borrione, an associate of Philippe Starck, and features lots of natural light, wallpaper with a stylised tree pattern, Missoni rugs and leather and mirrored furniture.
Just a short stroll from the Latin Quarter, the Hôtel Henriette is a beautifully converted townhouse with a chic, industrial feel. There are 32 rooms and all feel bright but unique. There's no restaurant but they do offer breakfast.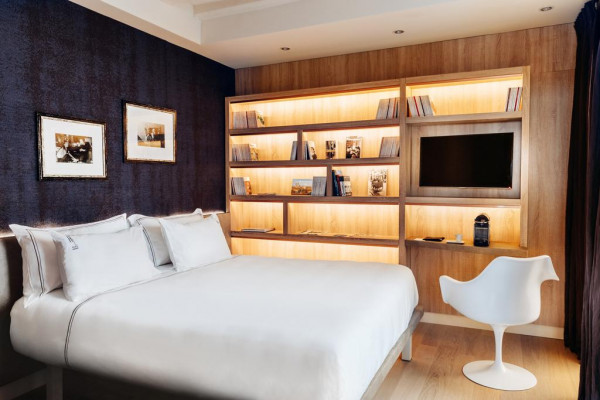 The Hotel Verneuil is a quiet and romantic hotel in the historically arty area of St Germain des Prés. The 26 rooms are cosy but well lit, complete with antiques and books, like the guest rooms in an elegant private house. There's a welcoming sitting room and the breakfast room is in the cellar. This is the perfect boutique hotel for exploring the Left Bank.
The Hotel de Lille is a stylish, 19th century pied-à-terre tucked away in Saint Germain des Prés, with chic, contemporary decor that's on the very softest edge of industrial. They've got great family rooms and the location is fantastic for sightseeing. There's no restaurant but they do offer breakfast.
Boutique Hotels in Perfect Paris Locations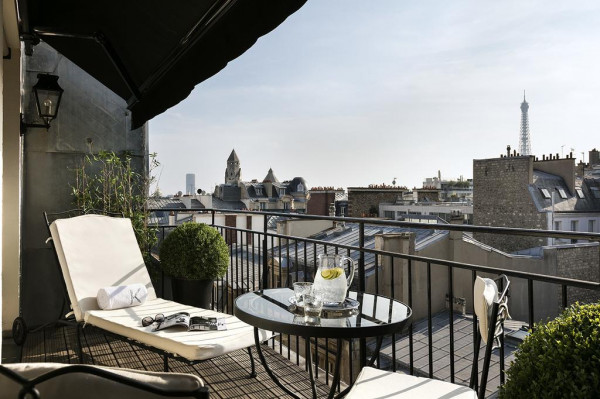 Close to the Champs Élysées and the Arc de Triomphe and all the best bistros and boutiques, the Hotel Keppler has 34 sophisticated rooms and suites with all the latest technology, and some striking design details. There's no restaurant, but they do offer breakfast and the location is superb for going out of an evening.
Some of Paris's Best Value Boutique Hotels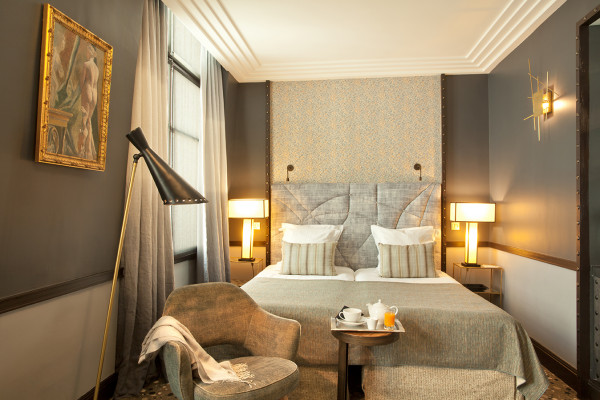 The Hotel Thérèse has a really fantastic position right in the heart of Paris, and occupies a beautifully restored building dating from the 18th century. The Louvre and the Musée d'Orsay are under ten minutes away on foot. It's bijou, but tres chic, with a carefully designed appearance that includes quality beds and linens, Philippe Starck lighting and attractive old-style tap fittings. The breakfast is served in the vaulted breakfast room or in bed, and while there's no restaurant in this part of town you really don't need one.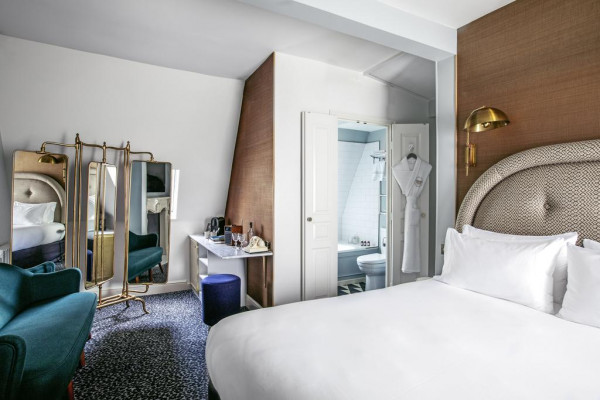 Only 300metres from the Pigalle Metro, the Grand Pigalle Hotel is another easy choice for a stylish and affordable see-the-sights type of city break. Its 37 rooms and suites are modern/contemporary in chic colour combinations, with some great original features in some rooms, and stylish headboards. There's also a comfortable restaurant and a smart bar which is popular with non-guests as well, plus there's a little terrace garden.
Directly, and we mean directly, overlooking the Pantheon, Les Dames du Pantheon is a chic, 35 room hotel with an eclectic range of decor details that come together differently in each room. So have a look at a few before you make your choice. There's no restaurant but there is a bar and breakfast room, and both are stylish and sharp, just like the room decor. They have family suites too, and the best rooms have terraces overlooking the Pantheon roof.
Still not sure which to book? You could:
posted Tuesday, 26th November 2019
Search the best hotels in Paris