The 15 Best Hotels with a View on Lake Garda
The challenge in recommending the best hotels with a view on Lake Garda is in refining your list so that it's not an epic poem marvelling at the wonder of the place. Many poets and writers have loved her, and lived in and on her, and there are some seriously colourful soliloquies to her, from the likes of Tennyson and D.H. Lawrence, to Goethe and the Roman poet, Catullus. And many lakeside properties have rooms named in their honour. But that's not going to help you choose unless we can refine the list... so here's the best 15 hotels with a view on Lake Garda.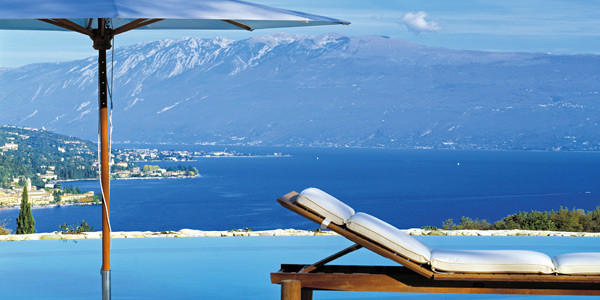 Not all views are created equal, and some towns, like Sirmione, Gardone Riviera and Salò, seem to have the very best of the best as far as position goes, so quite a number of properties on our Guru's final list of the 15 best hotels with a view on Lake Garda come from these towns. But there should be something for everyone on our list, because having the most spectacular views of Lake Garda doesn't have to come with a hefty price tag or a 'no kids' sign.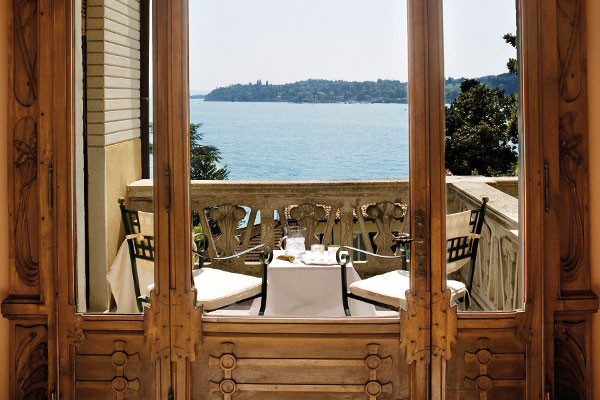 The 15 Best Hotels with a View on Lake Garda
The Best Lakeside Hotels on Lake Garda
The Bellevue San Lorenzo on the water in Malcesine, is a late 19th century Belle Epoque villa turned 52 room hotel. As well as being surrounded by beautiful grounds and having lovely lake views, the villa has an outdoor pool, fitness centre and spa.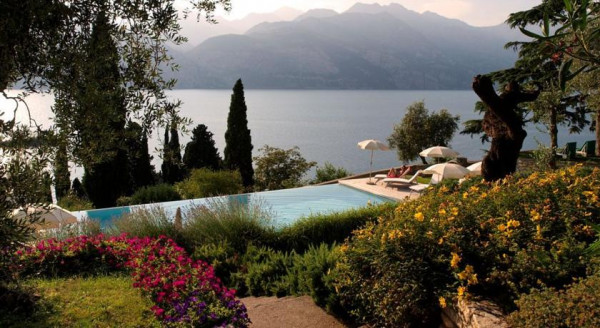 Beautifully positioned right on the water at Gardone Riviera, Bella Riva has 23 contemporary rooms and suites, an excellent restaurant and bar and a very nice pool. And the hotel has great watersports facilities.
The Hotel du Lac is located right by the water, on the outskirts of Gargnano. It has just twelve classically styled bedrooms (six with lake view and balcony), and stunning views across the lake towards the Monte Baldo mountain range.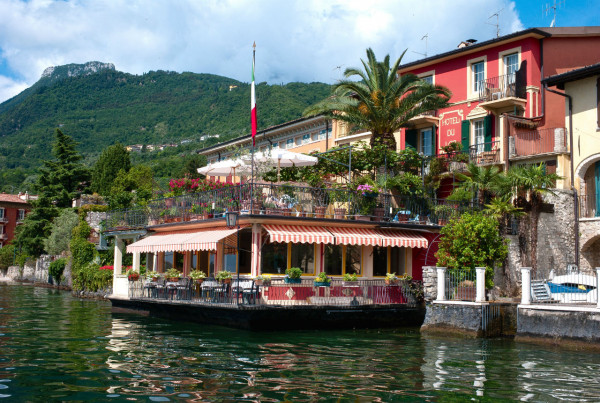 The Most Luxurious Hotels with a View on Lake Garda
Sirmione's Villa Cortine Palace is a grand, old fashioned villa hotel, with 54 rooms and an absolutely splendid setting on a spit of land jutting into the lake. The rooms are grand, and Art Deco in style, with some beautiful frescoes and antiques, and there's a private jetty, a lovely swimming pool and lush neoclassical landscaped gardens all around.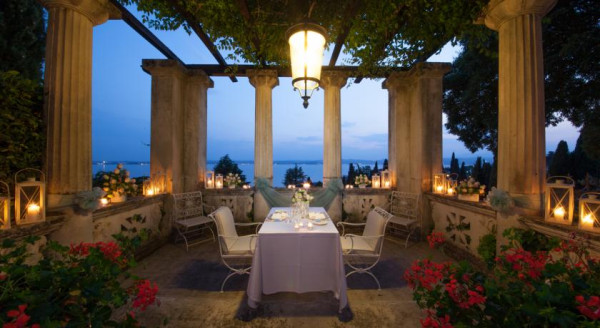 The Villa Feltrinelli in Gargnano is a beautiful aristocratic villa conversion, with 21 rooms boasting restored interiors crammed with antiques, beautiful fabrics and paintings. There's also a Michelin starred restaurant., and views to die for! The perfect honeymoon hotel for anyone who can afford it.
The Most Romantic Hotels with a View on Lake Garda
The lakeside Locanda San Vigilio in Garda is an elegant, 14 room hotel owned and run by an Italian count! It's been a hotel for 500 years and is immaculately decorated with antiques and beautiful objets. The hotel even has it's own Emporium where you can buy beautiful things.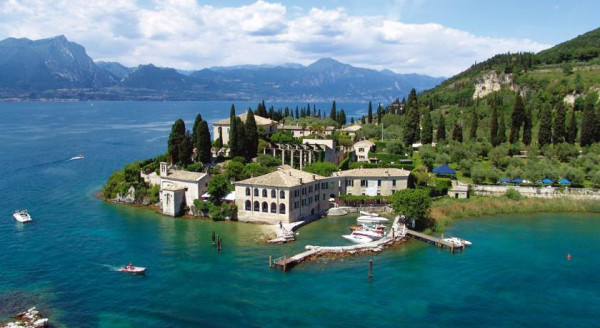 Gardone Riviera's Villa Fiordaliso is a grand 19th Century Liberty-style villa with beautiful, historic interiors and a gourmet restaurant. There are just five rooms, which are traditional but timeless, and all with wonderful views of the lake. There's also Michelin starred dining and lovely gardens and terraces.
Salò's Villa Arcadio isn't right on the water, it's on the lake's slopes so the views are panoramic. A wonderful stone villa converted into an 18 room hotel, and decorated simply, with bare stone walls and just glimpses of frescoes, the villa also has a fantastic gourmet-yet-traditional restaurant, a lovely terrace, a pool and gardens.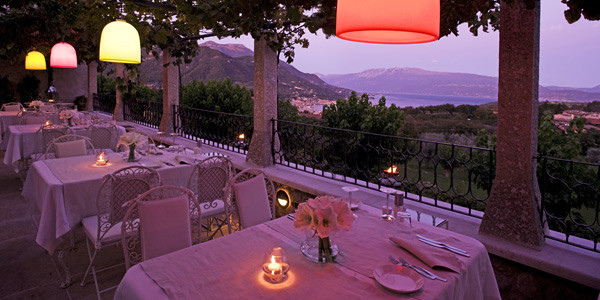 The Best Family Hotels with a View on Lake Garda
The Hotel Laurin is a stunning hotel with 30 rooms and suites, right on the shores of Lake Garda in Salò. Converted from an elegant 20th Century villa, guests can expect parquet floods, frescoes and Art Nouveau furniture. There's also a lovely pool in shady gardens and an excellent restaurant. And of course fabulous views!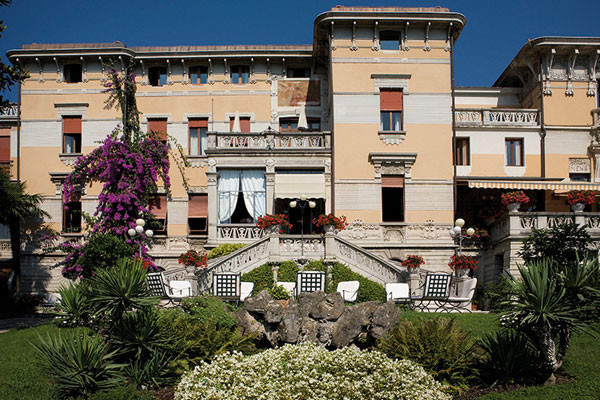 Also right on the water in Salò, the Hotel Bellerive is a charming mid-sized hotel with 46 large, stylish rooms plus an outdoor pool, a fantastic Italian concept restaurant, and sailing and golfing opportunities nearby.
For a great value family friendly option consider the Hotel Castello in Malcesine. It's a small, contemporary hotel right on the lake - guests have their own private beach. Some rooms have private balconies overlooking the water, and there's a lovely terrace and restaurant. Romantic but also family friendly and around £100 per night.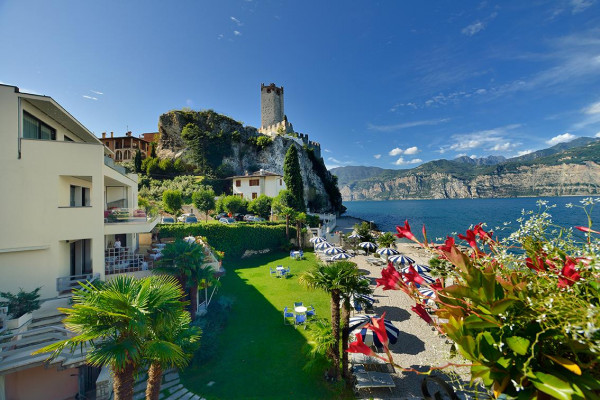 The Best Value Hotels with a View on Lake Garda
Hotel Gardenia al Lago is sitauted just outside Gargnano and offers superb value for money in its seven classically styled rooms - standard doubles start from as little as €100 per night including breakfast.
Gardesana, in the picturesque fishing village of Torri del Benaco, has 34 simple, comfortable rooms, great views and excellent food. It's also wonderful value (and quite romantic), with rooms starting from under £100 per night.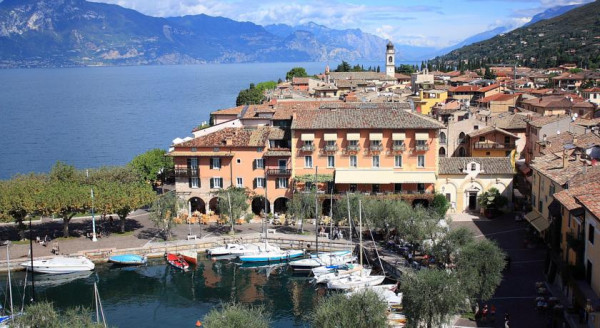 Or there's the Hotel Catullo in postcard perfect Sirmione, a great value hotel with 56 rooms starting from around £100 per night. There are lovely terraces right on the edge of the lake and a private jetty with direct lake access, plus there's a very nice pool. It's also very family friendly.
Originally built for the imperial family, the Grand Hotel Fasano is an historic grand hotel in a privileged lakeside position in Gardone Riviera. The architecture is romantic with fairytale turrets and lovely details, but its private terraces, pebbly beach, spa and tennis courts mean it's also a good choice for families. The 76 rooms start from around £100 per night.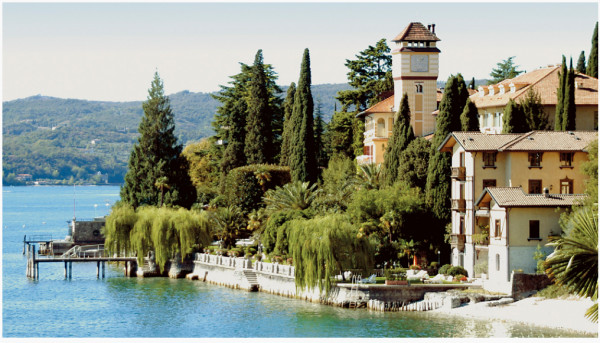 Still not sure which of our Guru's recommendations for the best hotels with a view on Lake Garda might be perfect for you?
The Best Hotels with a View on Lake Garda
posted Thursday, 21st March 2019