25 of the Best Hotels in Tuscan Towns
There's no end of fantastic places to stay in Tuscany, the main challenge is choosing exactly where you want to be based. The Tuscan hills certainly have their charms and our Gurus have put together a useful list of the best hotels in rural Tuscany, but there's also a strong argument to be based in a town - where there's cafes, gelaterias, restaurants and transport links if you're travelling without a car. So our Gurus have helpfully put together a second list, this time of the 25 best hotels in Tuscan Towns.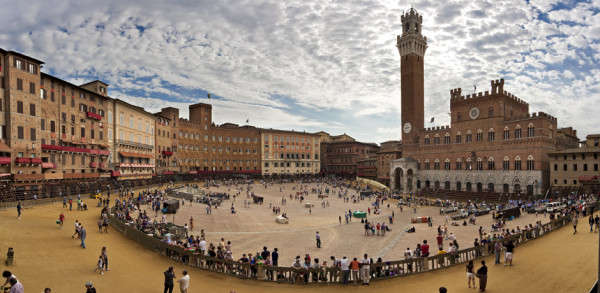 To help with your decision, our recommendations for the 25 best hotels in Tuscan towns only includes properties which are open all year, some of their country cousins close during the winter.
25 of the Best Hotels in Tuscan Towns
The Best Hotels in Smaller Tuscan Towns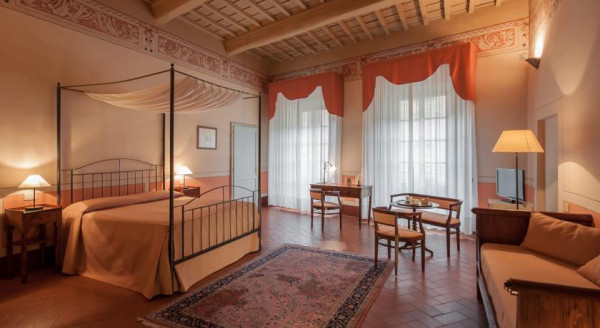 San Gimignano is small, but in size alone, it's got quite a reputation and is a memorable stop for many visitors to Tuscany. After hours, however, it's very quiet, and it starts to feel much more like Tuscany's other small, beautiful, hilltop towns. Here we recommend L'Antico Pozzo, a carefully restored 15th Century townhouse with original terracotta floors and beamed ceilings, and delicate frescos throughout. There are 18 rooms, the best of which are at the top - the views are incredible.
The Palazzo del Capitano also dates from the 15th century, but this mansion with a manicured garden, complete with fountains, is just within the town walls of San Quirico d'Orcia. The rooms have whimsical spiral staircases and four-poster beds, so this is a romantic spot - there's quite a bit of pink around too. And a cosy lounge with a vaulted ceiling and an open fire, plus an excellent restaurant and spa.
Historic Charmers
Tuscany is rich in history and wealthy with charm, and its medieval towns and serene hilltop villages and just rife with elegant, atmospheric places to stay. Many of our suggestions in this list of 25 could feature in this list, but here are some we class as especially historic and charming.
The Albergo Pietrasanta is a stylish conversion of a 17th Century Palazzo in the famed marble town of Pietrasanta. Inside guests discover delicate frescos and intricate plasterwork, interesting antiques - and surprisingly, a very fine collection of contemporary art. And it's just ten minutes from the beach.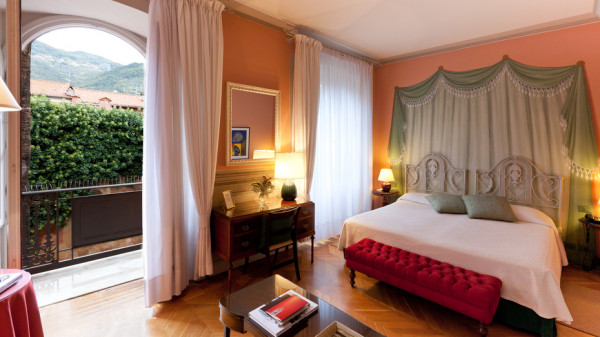 The Grand Hotel Continental in Siena offers a concoction of grandeur, elegant end luxury in a great location close to the Duomo. Some the 51 rooms have stunning floor to ceiling frescoes, as well as having some very nice antiques and art, and the restaurant is excellent. there's also plenty on offer, from truffle hunting with hounds to hot air ballon rides, to cheese, olive oil and balsamic vinegar tastings in house.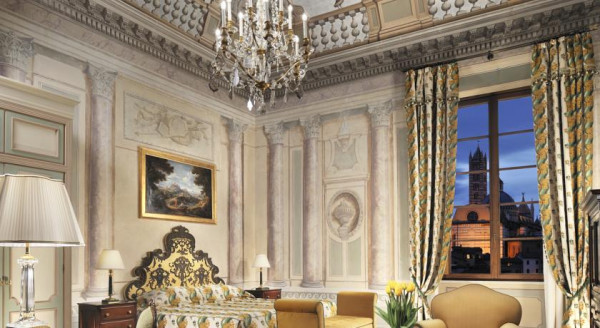 Or, still in Siena, there are the six rooms of the Campo Regio Relais. They're romantic and stylish, but it's the incredible views over Siena which will really make your stay. The hotel itself is tucked away down a delightful, narrow alleyway, and the service is very personal. Rooms start from around £170 per night.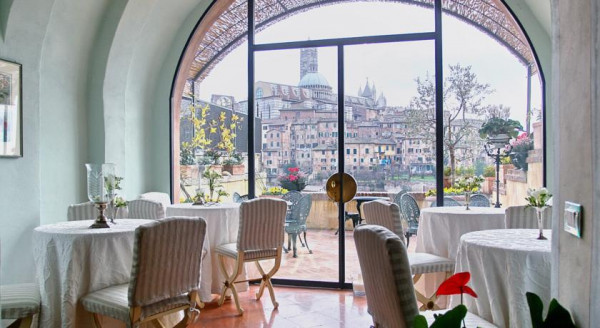 The Best Hotels in Tuscan Towns For Luxury Lovers
If you're looking for luxury hotels in Tuscany then you needn't restrict your searches to Florence and to the luxury hotels in the Tuscan countryside. There's a surprising number of five star hotels along Tuscany's coastline, and some small towns have more than their fair share and glamour and elegance.
The Grand Hotel Imperiale, in the rather glitzy resort of Forte dei Marmi on the Tuscan coast, has 46 airy, sophisticated rooms and suites, some with balconies overlooking the ocean. When it comes to luxurious details they're offering a private beach, a wellness centre and a choice of three restaurants.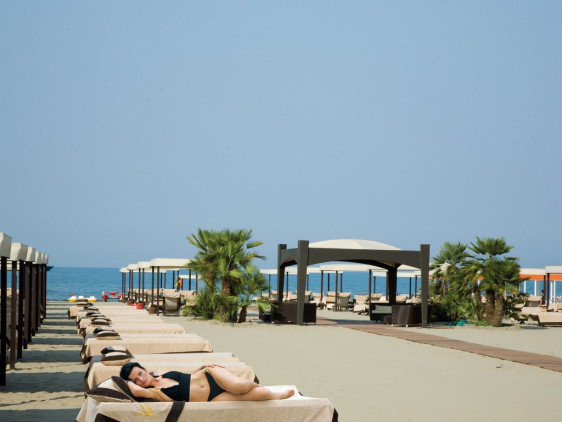 Just outside Forte dei Marmi is the Hotel Byron, also right on the coast, this is a smaller hotel, with 29 rooms, but the restaurant has a Michelin star, the grounds are idyllic, and we think it's one of the best beach hotels in Tuscany. It's fun and unfussy, but with all the luxury that really counts.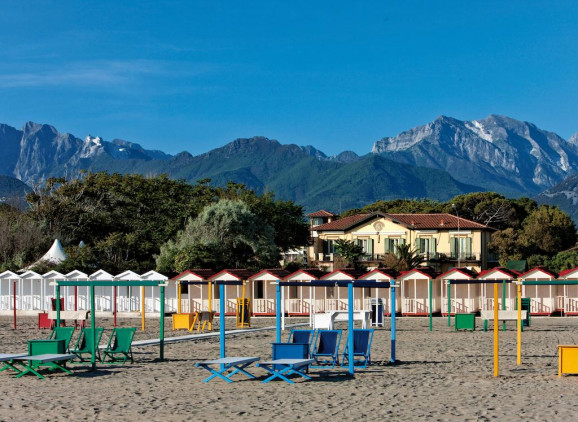 If you like the sound of seaside luxury you might also be interested in the Grande Hotel Principe di Piemonte, a splendid, 1920s-built charmer right on the seafront in Viareggio. There are 106 rooms and suites split over five floors, with a different decorating scheme on each: Art Deco, Colonial, Empire, Modern or International? There's also a great spa and a lovely rooftop pool. And you're just opposite the Excelsior Beach Club, a well groomed sandy beach with all the facilities you might need.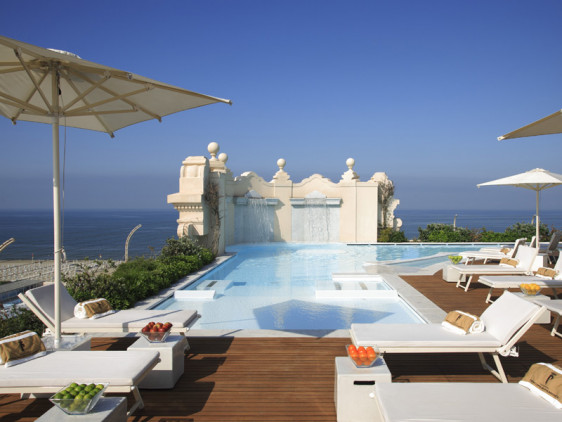 If you were thinking of the hills rather than the sea consider the Fonteverde Tuscan Resort and Spa, a magnificent, 17th century Medici palace turned five star hotel, and thermal spa, in the hills above Siena. The natural hot springs and Renaissance architecture, complete with marble bathrooms and airy suites, make this a memorable stay. Definitely one of the best small luxury hotels in Tuscany. And the food is excellent.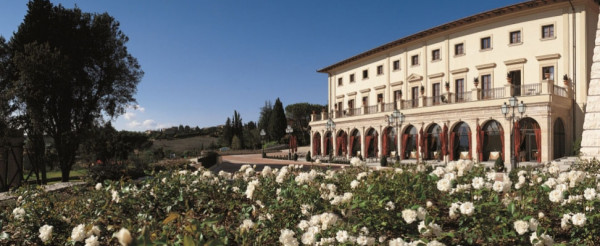 The Most Romantic Hotels in Tuscan Towns
Alla Corte degli Angeli is a charming, upmarket B&B within Lucca's old town walls - close to the Piazza del Anfiteatro and within a short stroll of several very nice restaurants. There are six rooms, beautiful decorated with wonderful murals - and some are suitable for families as well as couples, and all have hot tubs.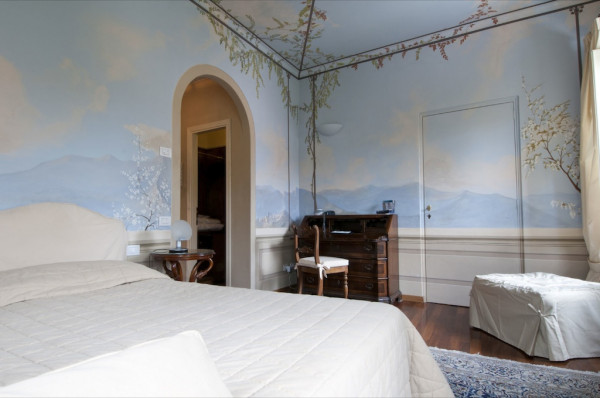 The Villa di Piazzano was built by the Medici family as a hunting lodge, just outside of Cortona, and is now a magical, family-run hotel with 21 romantic rooms, a beautiful pool and Italianate gardens and a restaurant serving excellent Tuscan food and wine. They have an excellent cellar and run cooking classes too…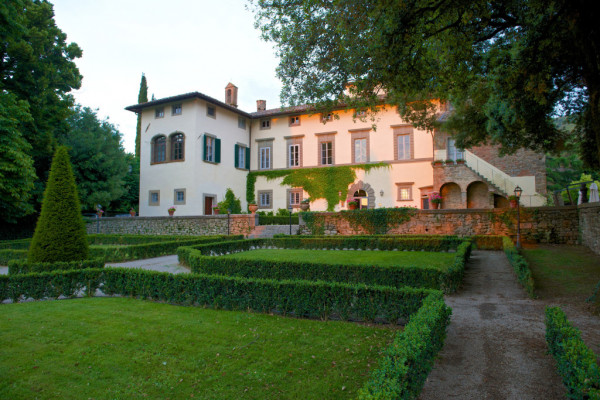 Once a monastery, Il Chiostro di Pienza is now an elegant, 37 room hotel in the heart of pretty Pienza. The decor is traditional, but in natural colours, against arched ceilings and tiled floors, and there's an excellent restaurant, beautiful gardens and a pool overlooking the valley below. Sigh.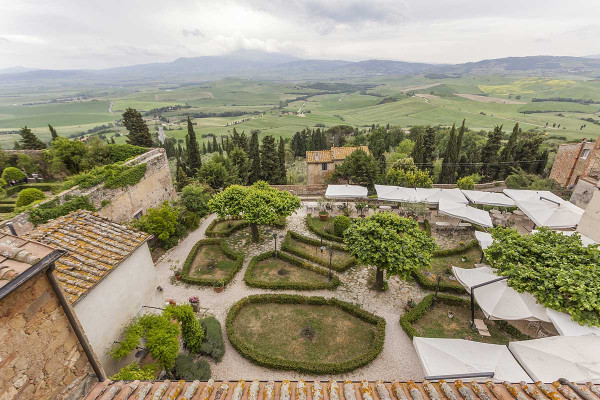 Just outside Siena is the Palazzo Ravizza, a prettily furnished pensione with bags of old-world elegance and stunning views. Built in the 14th century as a Renaissance palace, this quiet, family-run pensione has retained much of its original characters and is tastefully and traditionally decorated. Rooms start from around £90 per night. And the garden is lovely!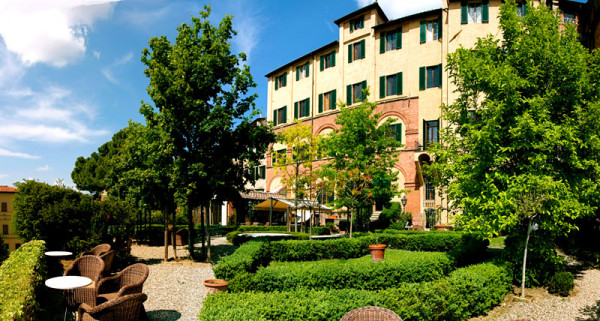 If you're looking for a small, historic, affordable, yet romantic hotel, it's hard to go past La locanda del Loggiato, in the charming medieval town of Bagno Vignoni, which is right in amongst the vines of the Brunello wine region. There are just six unique rooms with wood beams and terracotta flooring.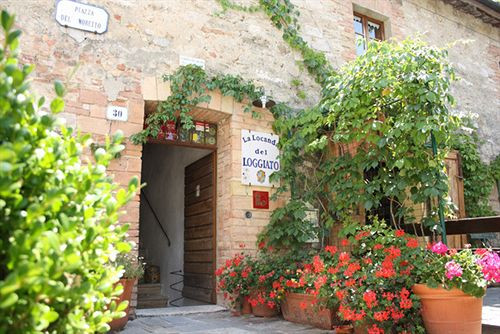 Great Value in Tuscany's Towns
The Casa Della Pia is a chic space in the heart of picture perfect medieval Massa Maritima. The views over the Tuscan landscape are incredible and the decor is comfortable and unfussy. Starting from only €69 per night.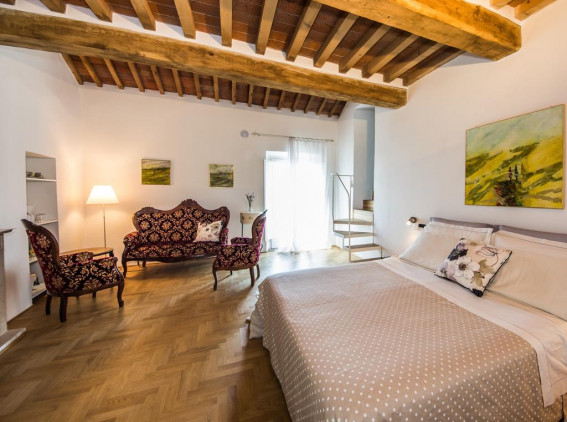 The Casa Mia Suite is a charming, four bedroom guest house just a short stroll from Arezzo's main square. The decor is contemporary and neutral and there's a peaceful garden and complimentary bikes! Rooms start from €95 per night including breakfast.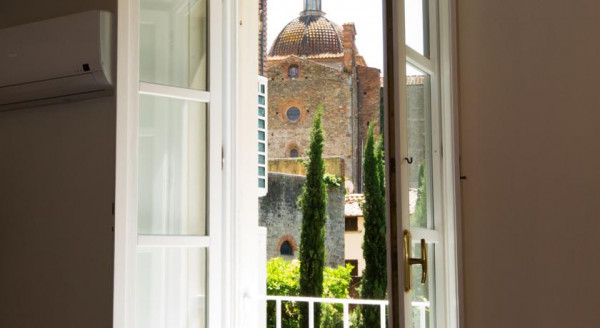 The Palazzo Alexander is an elegant B&B in central Lucca with rooms are beautifully decorated in the noble Lucchese style with original wooden floors, and antiques throughout. The six rooms start from around €79 per night.
The Best Tuscan Towns for Families
In order to recommend the best hotels in Tuscan towns for families, we probably need to think about which are the best Tuscan towns for families to base themselves in when exploring the region.
Florence is never a bad choice, not with the many pedestrianised streets, numerous cafes, markets and impressive squares, but it may surprise you to learn that many of the great museums here have trails or tours for families - and some of them are simply excellent. You might think your children won't enjoy great art, but you should give them a chance. We think Pisa is great for the same reason - plus, even the really small ones are bound to have heard of the leaning tower.
You might equally want to give them a shot at San Gimignano. It might be busy, but the scale of it - small but with so many impressive towers, is really good for kids. Again, it's car-free and there are plenty of shops and views.
If you're looking for something a bit more out of the way the spectacular hilltop town of Pienza is a good choice, there's a lot to see here and it's fairly well contained, so you don't have to walk too far on these car-free streets. This is also a hub of the pecorino trade and there are lots of cheese shops - and lots of friendly people outside offering tasters…
The Albergo san Martino is a well positioned, and comfortable hotel in easy-to-love Lucca. The suites are generous and well designed for families, there's a breakfast courtyard and the hosts are very friendly. And rooms start from €80 per night.
The Best Tuscan Towns for Food and Wine
La Bandita Townhouse in Pienza is a sophisticated, 10 room townhouse with a modern Italian restaurant that people have been known to refer to as 'divine'. The decor is minimalist: think exposed brickwork, whitewashed walls, angular four-poster beds and stand along baths.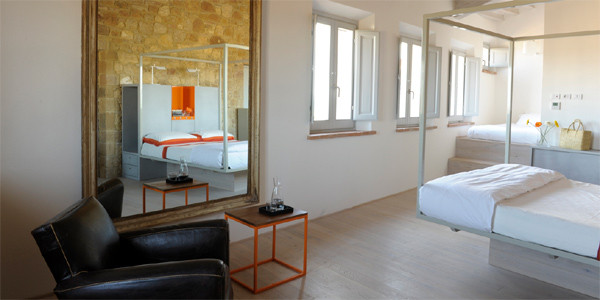 We also like the Villa Tolomei, which is an elegant, 14th century villa converted into a 31 room retreat, surrounded by gardens, olive groves, vineyards and an outdoor pool, yet just five minutes from the centre of Florence. The views over the city are peaceful, and the restaurant is wonderful.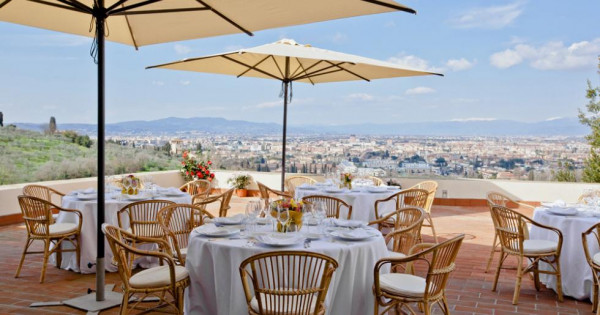 If you're here to learn how to cook like the Tuscans consider staying at the Tenuta San Pietro, a small gourmet hotel with just ten rooms. Its location is superb, just outside Lucca, and surrounded by olive groves and vineyards. And the interiors of this 16th century farmhouse are lovingly restored, yet still charmingly rustic. They also run art classes.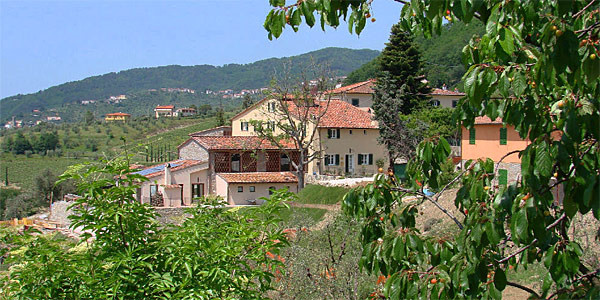 Montepulciano is a big name in Italian wine, and this gorgeously cobbled, Medieval hilltop town bats above its weight in the calibre of its restaurants too. The Locanda di San Francesco is a great gourmet restaurant in the centre of town, with just four rustic chic rooms - all with fabulous views over the surrounding countryside. Their wine tasting events are excellent too…
If you haven't found your idea of the best hotels in Tuscan towns on our list then:
The Best Hotels in Tuscan Towns
posted Wednesday, 26th June 2019