The 19 Coolest hotels in Amsterdam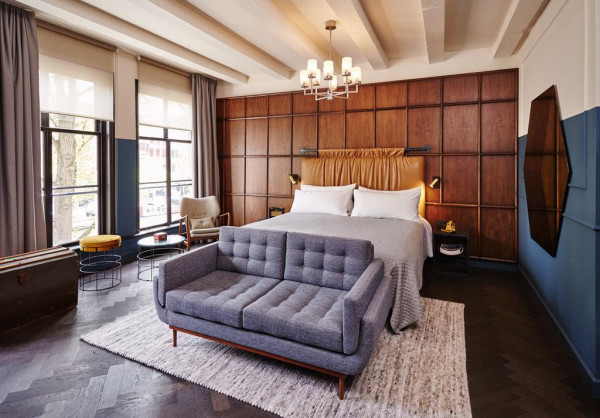 Amsterdam is filled with hip hotels that combine the coolest of 21st-century style with the charm of historic buildings, luxurious rooms and up-to-the-minute bars and restaurants. Many of the coolest hotels in Amsterdam cluster in the Negen Straatjes neighbourhood and elsewhere on the Canal Belt and in the neighbouring Jordaan district. You'll also find ultra-cool places to stay in the newly-trendy Noord and Eastern Docklands neighbourhoods. Our hotel experts have scoured the city to bring you their top picks of the hippest city stays including properties primed for night owls, design hotels, boutiques, luxury stays, and even options with co-working spaces. So why not browse through our collection to start planning your next break?
For night owls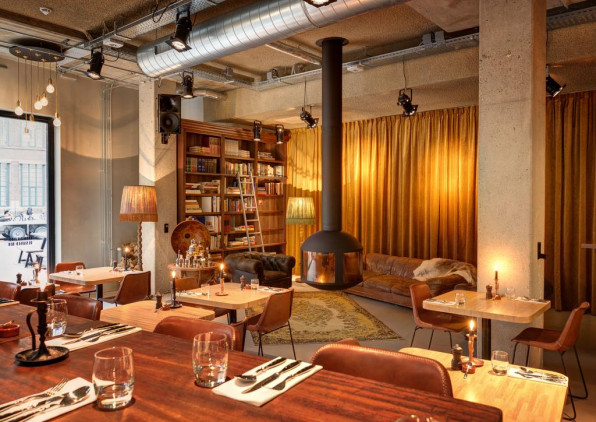 Guests at Sir Adam Hotel can enjoy two of the city's coolest nightspots, smart bars and restaurants and a rooftop bar with breathtaking sunset views atop the landmark A'DAM Toren.
The lobby bar at Hotel V Nesplein is the perfect spot for after-dinner drinks or a nightcap after an evening on the town. Bedrooms are quietly colourful in a stylish minimalist way.
For retro style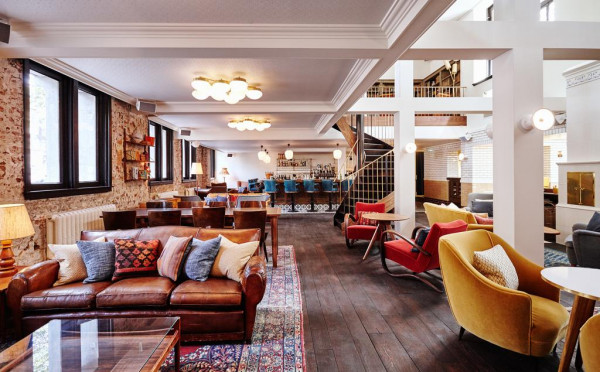 Like its London namesake, The Hoxton is so hip it hurts. High-ceilinged rooms feature brass chandeliers, original wood floors, vintage mirrors and exposed beams and brickwork. A favourite with the young and trendy.
For foodies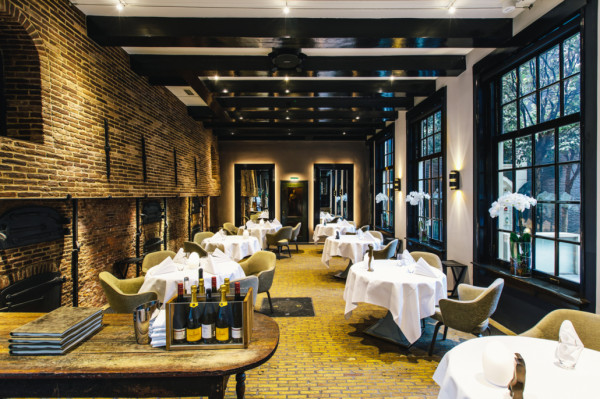 Flawless service is a hallmark of The Dylan, where the menu at the Michelin-starred Vinkeles restaurant matches the flair of stunning luxury suites. A standout stay.
Sir Albert is well known for its restaurant Izakaya which serves Japanese-inspired food, beautifully presented in tapas-style portions. The rest of the hotel is pretty stylish too with a grown-up masculine feel. Expect luxurious rooms decorated in white with dark furniture and all the modern gadgetry.
For co-working spaces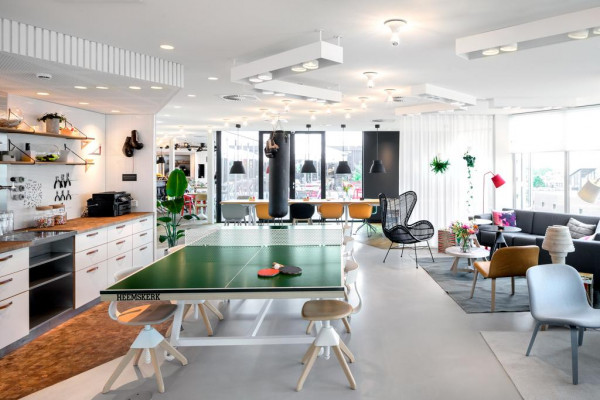 Located in Amsterdam's buzzing Eastern Canal District, Zoku combines sleek and modern rooms with stunning, open-plan communal spaces where guests can socialise, work, and eat together. A perfect base for travelling professionals. Stylish and contemporary living.
Volkshotel is an old Newspaper Office HQ which has been artfully redesigned as a creative hub. The contemporary feel runs throughout the hotel, from the flexi-work space to the exciting bar and nightclub. Ideal for those who want to work by day and party by night!
For art lovers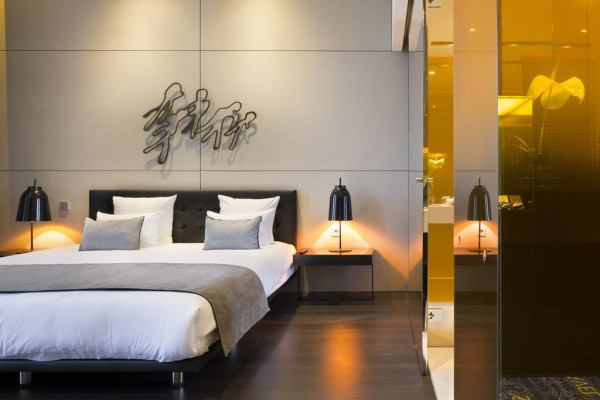 Fantasy design themes in public areas and bedrooms turn Andaz Amsterdam into a virtual art installation. With the Rijksmuseum nearby, this is a real crowd-pleaser for art enthusiasts.
The on-site 5&33 Gallery at Art'Otel Amsterdam features work by contemporary artists, and rooms are filled with work from hotel owner Joep van Lieshout's studio. A very chic choice.
Cocktails on the terrace at College Hotel, beside the Vondelpark, are a perfect way to finish a day at the nearby Rijksmuseum.
For the design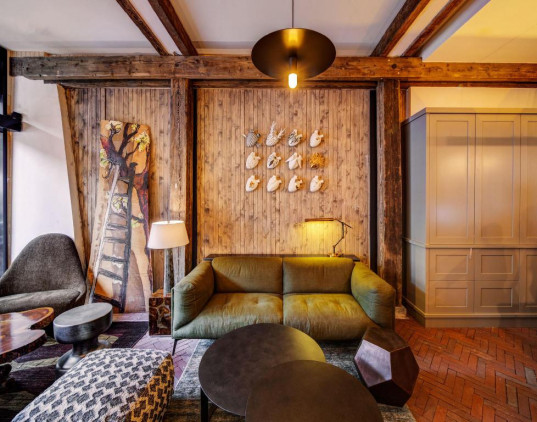 Hotel Van de Vijsel is a beautifully crafted hotel offering cool contemporary aesthetics in the heart of the city. Designed in and out with wood while mixing traditional and modern designs. Rooms are simple with a Scandi-chic feel (plenty of wood again and simple crisp white linen). A stylish choice.
Hotel The Exchange is a central, fashion-themed, hotel occupying three buildings. Each room tells a story and was designed by students from Amsterdam Fashion Institute, from costume drama in the "Marie Antoinette" suite to the "Catwalk" room with an illuminated runway. For style-conscious urbanites.
Hotel de Hallen is a unique design hotel located in a former tram depot. Having undergone a loving conversion, the hotel offers contemporary rooms with vintage touches. Complete with the chic international restaurant Remise47, this is a smart city stay.
For a boutique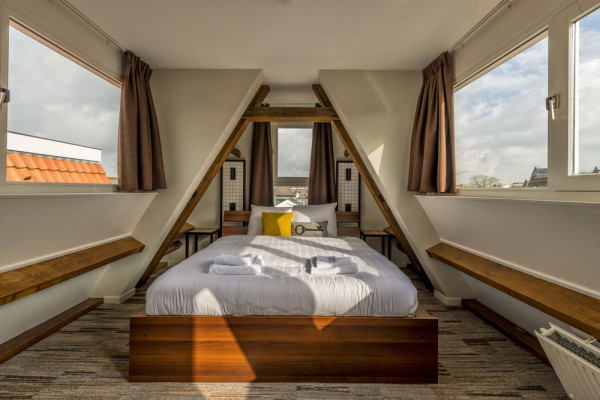 Mr Jordaan is a small boutique hotel in the hip Jordaan district. Chic boutique interiors include bare brick walls, Sixties/Seventies retro designer chairs, and contemporary lamps. A stylish base for a city break.
Morgan & Mees is a cosy boutique hotel located in the bohemian Amsterdam West district. Stylish guestrooms boast COCO-MAT beds, unique artwork and Marie Stella Maris toiletries. With a contemporary hotel restaurant, this is a chic city guesthouse.
For luxury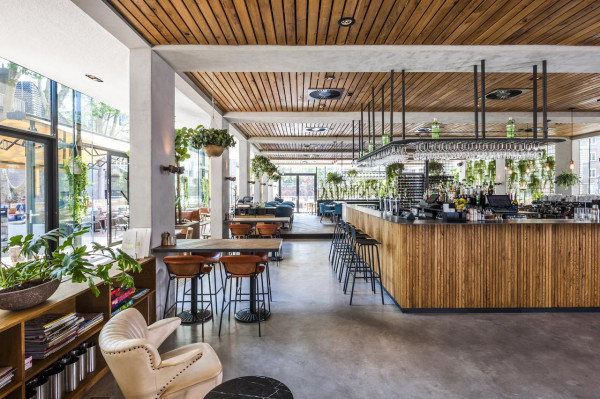 Hotel Arena is a chic four-star hotel located in a heritage property on the edge of Amsterdam's city centre. Rooms are bright and inviting with vintage design pieces. A stylish city option with a good range of amenities and that perfect mix of traditional and modern design.
For great value
Hotel Not Hotel is a unique property merging art, design and hospitality. Rooms, not immediately obvious on first impressions, are in themselves large art installations. There's a lively common area which offers both breakfast and later cocktails and Thai food. A hip and well-priced option.
Max Brown Hotel offers stylish rooms, in a great central location, all at a reasonable price. Larger rooms have great views over the Herengracht canal — one of Amsterdam's prettiest. Major sights and nightlife are all easily accessible. A hipster hang-out ideal for city exploring.
CitizenM Amsterdam South provides accessible modern Dutch design at affordable prices. Small high-tech rooms are bright and airy, with top-notch accessories including rain showers and free movies on demand. The living and canteen area are lively meeting spots. A cool and good value choice for a city break.
Still not sure which to book?
Expand your search to include all our Amsterdam recommendations.
Refine your search and look at our favourite hotels on Amsterdam's Waterfront or our favourite hotels in Amsterdam's Canal Belt.
Alternatively, contact one of our friendly Gurus for advice.

Short break - Just a10-minute walk to Centraal Station (one tram-stop) — this is convenient for a quick city break

Chic - The style is eclectic (classic of the Dutch) giving the feel of staying in a friend's very chic home

Local exploring - You could hardly get more central – a minute from the Dam, on the edge of the red-light district

Theatre - Set on a street that is a focus of Amsterdam's alternative theatre scene

A chic modern hotel located slap-bang in the heart of the city. Industrial-chic rooms and suites have dark wood floors and stylish bathrooms. There's a buzzy restaurant and bar area which occasionally hosts live music. A central and cool spot for a weekend away in Amsterdam. See More

Check Availability

Sir Adam Hotel

Amsterdam

108 rooms from £134

Lively - The gourmet burger joint doubles up as an all-night party pit stop at the weekend and the hotel hosts a nightclub too

Designer - The property has that warehouse-chic feel about it with soaring windows, polished concrete, and bespoke furniture

City Style - A quirky and unique skyscraper conversion, filled with artists, roadies, and fashionistas — uber cool!

Sights nearby - See the beautiful Royal Palace, visit Dam Square or head to Anne Frank House

Recommended by - Mr & Mrs Smith, Tablet, Design Hotels

The trendy Sir Adam Hotel is located in Amsterdam's historic centre overlooking the IJ-river. Plush rooms with funky features such as exposed stone walls and contemporary artworks. The Butcher Social Club serves up wonderful burgers with a great selection of beers. A one of a kind spot! See More

Check Availability

Groups - There's the option of private dining or curated parties in The Apartment — a great option for a special occasion as a group

Local exploring - Located on The Nine Streets, you've got some of the city's best restaurants and stores within minutes of the hotel

City Style - With hip urban style, a central location, and a buzzy brasserie — this is a trendy city base

Designer Shopping - The hotel is just steps from the Negen Straatjes shopping quarter

A retro-chic hotel in the heart of the city. Spacious rooms feature sink-into beds, parquet floors, wood panelling and luxurious bathrooms. There are hotel bikes to rent, a very good restaurant and a lively bar. Just a stroll from many of the major sights and set on one of the prettiest canals. See More

Check Availability

City Style - A wonderfully balanced design hotel with the perfect mix of style and practicality, ideally set within the grachtengordel

Foodies - Michelin starred Vinkeles restaurant serves impeccable cuisine and the lounge bar is one of the hottest spots in the city

Close to nightlife - Located on one of the city's most beautiful canals, packed with chic cafes, hip bars and trendy restaurants

Great walks - Soak up the atmosphere of Amsterdam by walking through the different districts

Recommended by - I Escape, Tablet, Frommers, Kiwi Collection, Small Luxury Hotels, Michelin Travel

One of Amsterdam's coolest canal-side hotels. The contemporary interior design complements a classical exterior. The individually designed suites exude character and luxury. Don't miss the Michelin-starred restaurant or sophisticated lounge bar—a vibrant city escape. See More

Check Availability

Contemporary - Modern touches make for easy living with work spaces, numerous sockets, & a tv that accesses the hotel's video art collection

Designer - Designed and decorated by Marcel Wanders who has let his imagination run wild in keeping with the Andaz's whimsical design

City Style - Andaz always does city chic just right with flamboyant design, luxe touches, and well-trained staff

Sights nearby - The Anne Frank House, Wester Church, Royal Palace, and the Red Light District are all nearby

Recommended by - Tablet, Kiwi Collection

A spectacular five-star hotel, the ultimate in fantastical design. The suites, garden, spa, restaurant, bar and library are designer showcases — fish head centrepieces, chandeliers, ornate cornicing, murals, porcelain, metallic gold etc. Canalside-cool and splendour for a unique city stay. See More

Check Availability

Short break - Located opposite Centraal Station, locations don't get much handier than this for those on a quick city break

Foodies - Renowned chefs at ARCA restaurant create spectacular dishes mixing Portuguese and Asian flavours

Swimming Pool - Boasting one of the largest hotel pools in town (big enough to do short laps)

Artworks - Find works by local artist Atelier Van Lieshout throughout the property

A sophisticated contemporary hotel with its own art gallery. Young, hip and designed for movers and shakers. Shiny rooms and suites offer lots of space and subtle lighting. There's an excellent restaurant and cocktail bar that merges Portuguese and Asian flavours. A trendy spot. See More

Check Availability

Hotel Entertainment - The hotel bar, with atmospheric terrace and tasty cocktails has become an insider secret amongst the trendy young locals

City Style - An interesting and alluring hotel; the design, always slightly irregular or off beat gives it an eccelctic charm

Groups - The hotel has five large function rooms and regularly hosts weddings, high teas and children birthdays

Historic - Housed in a 1895 listed school building, the hotel is packed with character

Recommended by - Mr & Mrs Smith, I Escape, Tablet, Kiwi Collection, Michelin Travel

A four star boutique in Amsterdam's Fashion and Museum District. Welcomed by sensual interiors, the modern guest rooms are spacious and a great base for local exploring. Enjoy the Bar Lounge and the High Tea, a cocktail on the terrace and mouth watering dishes throughout the day. Vibrant and trendy. See More

Check Availability

Groups - With its fun communal areas and rooms that sleep four - this is a good option for young visitors travelling on a budget

Designer - Students from Eindhoven's Design Academy created the rooms and their young and creative flare is definitely apparent

Value chic - With unique design, good amenities, and rooms offered well below the 100 Euro mark, this is a well-priced stay

City Style - A hotel where a room is not just a room but a work of art

A unique property merging art, design and hospitality. Rooms, not immediately obvious on first impressions, are in themselves large art instillations. There's a lively common area which offers both breakfast and later cocktails and thai food. Well located and priced for a city break. See More

Check Availability

Sir Albert

Amsterdam

90 rooms from £148

Hotel Entertainment - Take a unique tour of the city with one of the hotel's in-house specialists: an arts curator, a DJ, a stylist and more

Local exploring - Set in a hip buzzy area surrounded by cafés and foodie hotspots of De Pijp and with the Albert Cuyp Market nearby

Foodies - Izakaya restaurant serves Japanese-inspired food, beautifully presented in tapas-style portions

Industrial conversion - The building was originally a diamond factory and still has many of its original features

Recommended by - Mr & Mrs Smith

Very smart, almost masculine, contemporary hotel with a fantastic Japanese restaurant. Luxury rooms and suites in white with dark furniture and all the modern gadgetry. Wonderful library, wine collection, and access to a gym next door. Sophisticated, smooth, very luxurious. See More

Check Availability

Mr Jordaan

Amsterdam City Centre

34 rooms from £177

Local exploring - Ideally placed for an off-beat Amsterdam experience in the artsy Jordaan district and only a short walk from the main sights!

Boutique - Chic boutique interiors include bare brick walls, Sixties/Seventies retro designer chairs, and contemporary lamps

City Style - A hip and homely boutique-style canal house hotel, with retro furnishings, soft hues and a welcoming atmosphere

Groups - Two triple rooms are well suited to a small group of friends travelling together (or families)

Excellent good value contemporary hotel in central Amsterdam. The rooms are modern and minimalist, focused on maximising comfort and functionality. With the city centre on the door step, it's a great launchpad for exploring the rich culture and traditions of Amsterdam See More

Check Availability

Contemporary - Expect black out blinds, widescreen TVs, power showers, and mood lighting - all the things a modern traveller requires

Value chic - A no nonsense hotel made for practical living with smart design, well-considered amenities, and a good price

Short break - Located just one train stop from Amsterdam Schiphol Airport - this is ideal for a quick break

Business Hotel - Walking distance from the RAI Congress Centre and World Trade Centre

Recommended by - Tablet

Accessible modern Dutch design with affordable accommodation. Small high tech rooms are bright and airy, with top notch accessories including rain showers and free movies on demand. The living and canteen area are lively meeting spots. A cool and good value choice for a city break. See More

Check Availability

Local exploring - Set right between two of Amsterdam's most desirable places — to the east, the canal district, and to the southwest, Vondelpark

Architectural - Once home to the timber trade family business, it has been artfully designed using lots of reclaimed wood - a design masterpiece

Museums - Stroll down to the Rijkmuseum and marvel at the Dutch Golden Age painting masterpieces and vast European art collection

City Style - An architecturally slick property crafted from fine wood craftsmanship in the heart of the city

Recommended by - Tablet

A beautifully crafted hotel offering cool contemporary aesthetics in the heart of the city. Designed in and out with wood while mixing traditional and modern designs. Rooms are simple with a Scandi-chic feel (plenty of wood again and simple crisp white linen). The city's sights are a stroll away. See More

Check Availability

Zoku

Amsterdam

133 rooms from £122

Self catering - Loft-style apartments come with kitchenettes. This along with the hotel's amenities & work setup make it perfect for long stays

Chic - The top floor is a sprawling, open-plan common room that includes coworking space, hangout areas, and games zones

Local exploring - Well positioned within walking distance of the Hermitage, the opera house, and the Canal Belt

Yoga - Yoga classes are frequently held in the open-plan event space

Recommended by - Tablet

Located in Amsterdam's buzzing Eastern Canal District, Zoku combines sleek and modern rooms with stunning, open-plan communal spaces where guests can socialise and eat together. A perfect base for travelling professionals. Stylish and contemporary living. See More

Check Availability

Hotel de Hallen

Amsterdam (Oud-West)

57 rooms from £117

Local exploring - This hotel is in a great location for exploring Amsterdam, situated within walking distance of many major attractions

City Style - Occupying a landmark industrial conversion in Amsterdam, this hotel has plenty of local city style

Romantic Break - Couples love this hotel's contemporary interiors and the stylish restaurant

Sights nearby - Take a tour of Anne Frank House, a short walk from the hotel; the writer's house now also features a musuem

Recommended by - Fodors, Tablet

This unique design hotel is located in a former tram depot in Amsterdam. Having undergone a loving conversion, the hotel offers contemporary rooms with vintage touches; guests love the COCO-MAT beds and industrial interior design. Eat at the chic international restaurant Remise47; a smart city stay. See More

Check Availability

Designer Shopping - Wander around Prinsengracht and head towards the popular 9 Streets, a shopping paradise in the Jordaan neighbourhood

Full of character - From handbags on the wall to beds ensconsed with an oversized sculpted skirt, this is an utterly unique stay

Local exploring - Located right in the heart of the city this is a perfect spot for exploring the city by foot (or bike)

City Style - A unique hotel designed by fashion students this is an undeniably cool spot

A central, fashion-themed, hotel occupying three buildings. Each room tells a story and were designed by students from Amsterdam Fashion Institute, from costume drama in the "Marie Antoinette" suite to the "Catwalk" room with an illuminated runway. For young couples and style-conscious urbanites. See More

Check Availability

Morgan & Mees

Amsterdam (Westerpark)

9 rooms from £191

Local exploring - Located close to the artsy neighbourhood of Jordaan, this hotel is perfectly placed for local exploring in Amsterdam

City Style - With contemporary interiors featuring designer furnishings and toiletries, this hotel has lots of chic city style

Romantic Break - Couples love this hotel's cool, modern feel; book the luxury suite for added indulgence on your romantic getaway

Sights nearby - Stroll down to Dam Square and visit the Royal Palace, a neoclassical gem and the setting for Dutch royal events

This cosy boutique hotel is located in the bohemian Amsterdam West district. Stylish guestrooms boast COCO-MAT beds, unique artwork and Marie Stella Maris toiletries; book the luxury suite for living space and a freestanding bathtub. Dine at the contemporary hotel restaurant; a chic city guesthouse. See More

Check Availability

Volkshotel

Amsterdam

162 rooms from £79

Contemporary - Once a newspaper's office, it has been artfully converted to create chic modern spaces not forgetting the building's history

Business Centre - In the hotel is a vibey co-working space and artists' studios - making this a great environment for those on a 'workation'

Value chic - A stylish yet well-priced hotel perfect for those travelling on a budget

Lively - On Fridays and Saturdays (after 11 pm) the restaurant becomes a club

Set in East Amsterdam, an old Newspaper Office HQ has been redesigned as a creative hub welcoming all guests, 'from stockbrokers to punk rockers.' The contemporary feel runs throughout the hotel, from the flexi work space to the exciting bar and nightclub and into the individually designed rooms. See More

Check Availability

Hotel Arena

Amsterdam

139 rooms from £129

Foodies - Foodies are spoilt for choice at the hotel restaurant, with local and international dishes and a focus on fresh produce

City Style - Located in a beautiful heritage building on the outskirts of the city centre, this hotel has reams of local style

Romantic Break - Book a luxury suite with a freestanding bathtub for added indulgence on your next couples' getaway

Great walks - Explore Oosterpark, the pretty public park which neighbours the hotel, on a long walk

This chic, four-star hotel is located in a heritage property on the edge of Amsterdam's city centre. Rooms are bright and inviting with vintage design pieces; book a suite for beautifully appointed living space and panoramic views of the city or Oosterpark. Eat at the airy bistro; a charming hotel. See More

Check Availability
posted Wednesday, 20th July 2022