19 Best Hotels in Cornwall for Families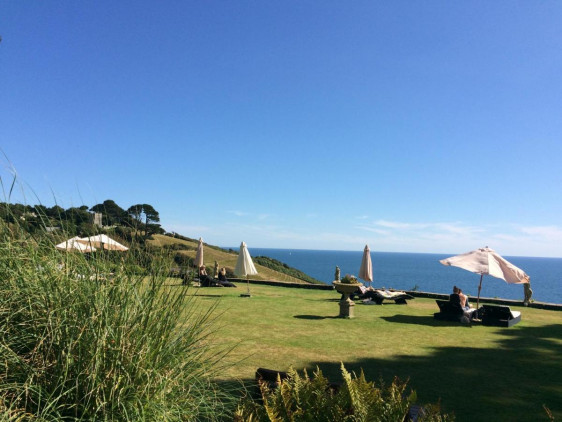 Cornwall's long coastline and wealth of family friendly attractions make it a wonderful place to spend quality time with your kids. So our Gurus have scoured the region to bring you their recommendations for the best hotels in Cornwall for families. And they say the best hotels in Cornwall for families are those which tick all the boxes for all the family. They need views, beach or pool access, a great family friendly restaurant and other facilities, friendly service, the possibility of some time to relax for the adults in the party, and then something special to make them stand out. Their top picks are, naturally, the cream of the crop, but they're by no means the most expensive. And, as well as a range of room rates, we also have a great range of rooms, from adjoining options to family suites, apartments, cottages and villas — but all part of a hotel complex, so you get the benefit of all the facilities.
For a Special Occasion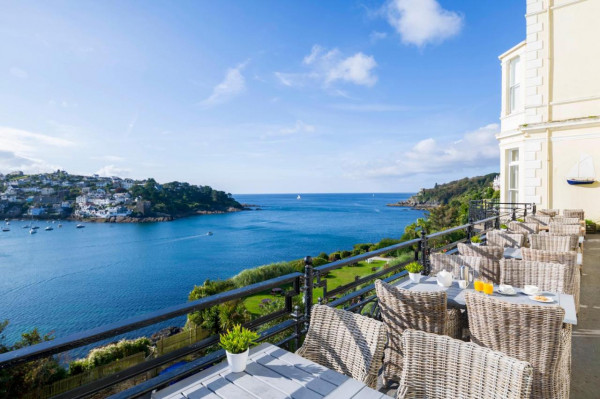 The Fowey Harbour Hotel is an elegant old hotel, in a postcard-perfect position overlooking the River Fowey and the ocean mouth. The vibe and decor are country house hotel meets New England nautique, with just the right blend of tiles and soft furnishings for the beach — and lots of spare wellies! The hotel has 37 rooms and suites, with the Junior Suites and above suiting families best. Families are also provided with crabbing buckets, spades and boardgames. Rooms have a coastal palette and marble bathrooms — plus fantastic views! The restaurant has the views too, and serves Cornish classics. There's also a large garden.
The Hotel Tresanton is a traditional looking seaside hotel in pretty St. Mawes, with a white facade, a huge rear deck looking out to sea, and a relaxed, but stylish atmosphere. The 33 rooms and suites are large, light, airy and individually decorated — with family suites decorated with unfussy details, but plenty of style — no room would be out of place in an interiors magazine. The communal spaces, including several lounges and the terrace, are friendly and comfortable, and there's a childrens' playroom, a well stocked bar, and a popular restaurant with seasonally changing menu that reflects local farming conditions. The hotel also has a private yacht and a fleet of motor boats.
For the View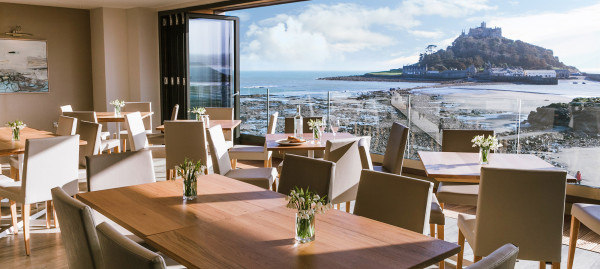 The Godolphin Arms is fantastically positioned just along the coast from Penzance, right on the beach and directly opposite St. Michael's Mount. It has just 12 rooms and suites, all simple, light and well equipped, and decorated in the colours of the beach, plus a friendly bar and restaurant specialising in Cornish cuisine and seafood! The best of the family suites have balconies with sea views.
The Chain Locker is a seafood restaurant with rooms, right on the working port at Falmouth. There's not really a shorter distance your seafood could travel to your plate, and the views across Falmouth from the restaurant's terrace are second to none. And it's got a family-friendly vibe. There are just six rooms, decorated with a contemporary take on nautical industrial style. Some of the rooms are pet-friendly, as well as family friendly. The perfect base for walking, playing on the beach, and tasting oysters.
The Padstow Harbour Hotel sits above the fishing sheds, in a wonderful spot for surveying the Carmel Estuary, or checking out the queue at Steins'. There are 58 chic, nautically themed rooms and suites, with simple decor, contemporary artwork and large, white bathrooms. The Cornish restaurant is laid-back, but very good, and has fantastic views, and the hotel also has a heated outdoor pool, a games room, and complimentary bike hire.
For an Adventure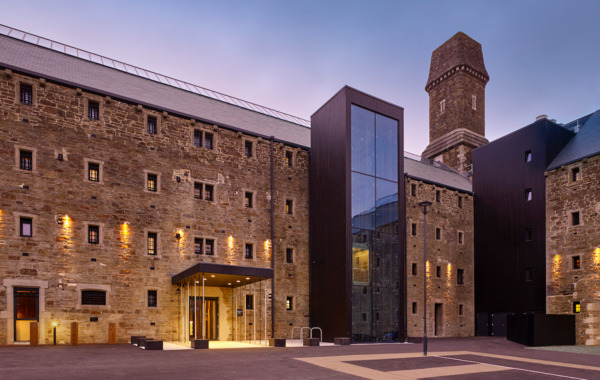 Bodmin Jail Hotel is definitely a stay to remember! Converted from a prison, just as it says on the tin, these 70 slick rooms and suites are still very cell-like, with plenty of original features — like exposed stone walls, cell-size windows and room doors that open onto corridors of balcony. There are even notes and plaques about inmates in the rooms. But the details are luxurious enough to balance it out! There's a s chic champagne bar, and a choice of dining in the fine dining restaurant, or at the Jolly Hangman Tavern. Obviously close to Bodmin, but not far from the coast either.
For a Beach Break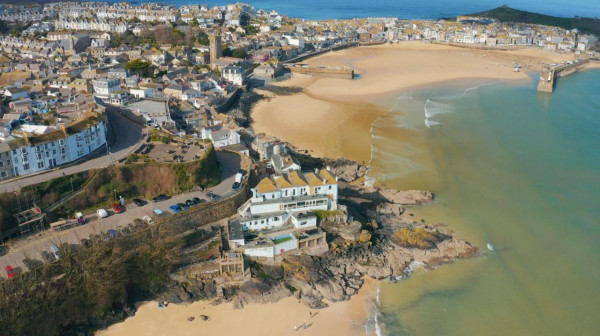 Pedn Olva is built into the cliffs just above Porthminster Beach, St. Ives, so close to the water that when the tide come in the ocean can splash guests using the pool. The best of their 30 rooms and suites overlook the ocean directly from huge windows, but wherever you stay in the hotel the waves will be your lullaby. The white-on-white decor lends a Mediterranean flavour, but the restaurant keeps to Cornish classics, with plenty of seafood. Family suites are spacious, and there's lots to do within a short stroll.
The Bedruthan Hotel is a large, perfectly positioned, hotel, overlooking the beach and cliffs just outside Mawgan Porth. There's an incredible view from both restaurants — they have a family-friendly option and a fine dining option — and from both the outdoor pools. Our favourite rooms and suites share the view too, and some of those suites are family sized: well thought out as well as spacious. There's also plenty to do onsite, with an indoor pool as well as the two outdoor pools, a spa, games rooms, a gym, and direct beach access.
The Nare is a country-house style hotel, but right on the beach, with 36 large, elegant, colonial style rooms and fabulous sea views. The atmosphere is very much that of a luxurious home, with carefully chosen antiques, printed wallpapers and fabrics and Persian rugs. The facilities are stand out as well — there's an indoor and outdoor pool; tennis courts and a croquet lawn; a luxurious spa; an outdoor wooden hot tub with ocean views; two restaurants, a bar and a lounge. And The Nare is extremely welcoming of both families and pets.
For Country House Chic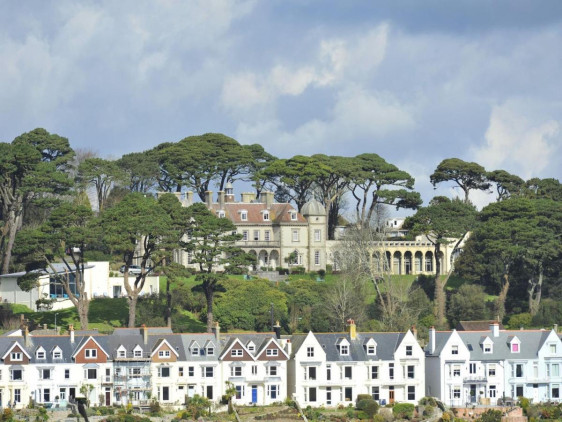 Fowey Hall is a wonderfully elegant country house hotel known for being family friendly. The historic facade gives a luxurious feel, that's not lost when you enter, as the decor is contemporary, but very stylish — its lounges and dining room wouldn't be out of place in an interiors magazine. But then neither would the 48 rooms and suites that make up the accommodation, which are decorated in cool colours, with contemporary art and wood furniture. There's a family friendly spa, with an indoor pool, and an excellent Cornish restaurant. They run excellent kids' activities, there's a kids club, and they have in-house nannies too.
The Talland Bay Hotel is an idyllic country house hotel set in two acres of sub-tropical gardens overlooking Talland Bay. With just two floors, this house stretches sideways to make the most of the views, and the majority of the 27 rooms and suites have water views. The interior varies from room to room, from plush and romantic, to country chintz and New England nautical. The restaurant specialises in Cornish fare, and has AA two rosettes. There's lots of walking trails, including a two minute trail to the beach. Children are welcome here and the cottages are ideal for families of four.
For a Bucket and Spade Holiday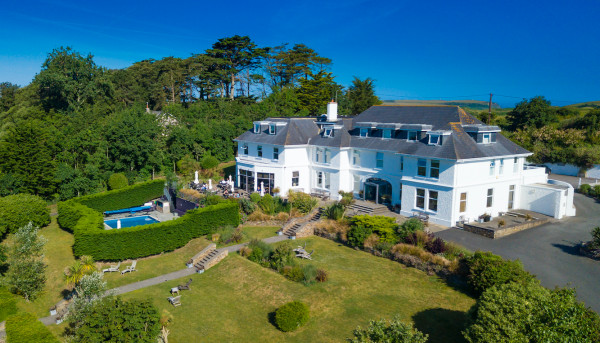 The St Enodoc Hotel is every bit the classic seaside charmer on the outside, sitting on a ridge outside Rock, with great views over the Carmel Estuary. Inside are 20 airy rooms, decorated with contemporary style, art prints, and a nod to the seaside location, plus a lively restaurant with a contemporary menu and a wonderful terrace to float out onto. The family suites are a good size, there's lots to do locally, and the service is really warm and welcoming for families.
The Polurrian on the Lizard is incredibly positioned, just safely back from a cliff overlooking the ocean and The Lizard. Below the hotel is a fantastic — private! — sandy beach, which you can't see, but you can easily walk to. What you can see is the ocean, and from most of the 39 rooms, suites and villas. Additional family facilities include a creche, indoor and outdoor play areas, a cinema, expansive gardens, and a family-friendly restaurant, but there's also a fine dining option, and a pool, spa and gym.
For Don't-Have-to-Leave-the-Hotel Facilities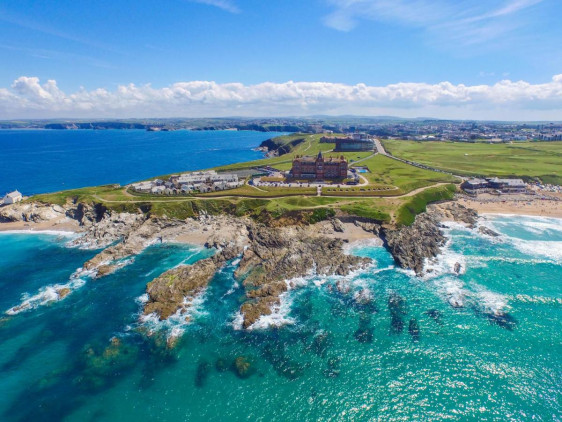 The Headland is a large, Victorian seaside resort occupying a dramatic headland position, just outside Newquay. Since The Headland's birth it has been built upon, and the seaside offering honed. Today it's a luxurious spa hotel, as well as seaside grande dame, with elegant rooms and suites in the original building, but also a raft of self-catering cottages and lodges, which make this a fantastic choice for families looking for a bit of luxury. In addition to incredible views and reams of space, there's also an Aqua Centre, with six pools and a destination spa.
The Carbis Bay Hotel is a luxurious hotel overlooking Carbis Bay Beach, and Carbis Bay, which is just a just along the coast from St. Ives. The views are really something, but the decor is too, and accommodation is in a range of 50 rooms, suites and villas. There's more than just stylish, family-sized rooms on offer here, the hotel has fabulous watersports facilities, it's perfectly located for surfing and walking, and there's a choice of six cafes, bars and restaurants onsite. There's also an impressive spa with a hot tub with ocean views.
For a Rural Retreat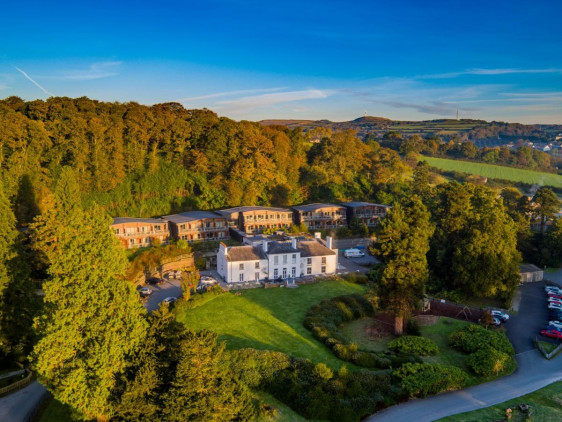 The Cornwall Hotel Spa & Estate is a simple, yet luxurious hotel, country house style hotel, with self-catering lodges and 43 acres of land. With this much space there's room for a playground, an indoor/ outdoor pool, a large spa, a gym, and an impressive Cornish restaurant. The other thing we like about this hotel is the choice of family accommodation — opt for a lodge, a family suite or a series of interconnecting rooms. It's a drive to the beach but you're surrounded by green and leafy countryside.
For Large Families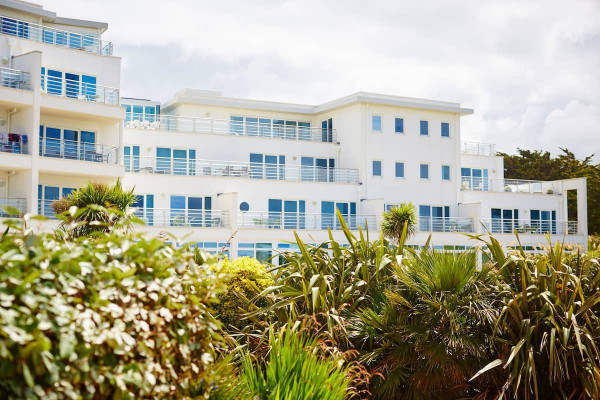 The St Moritz was an Art Deco era seaside institution, but today the hotel has become super family friendly, reimagined as a collection of rooms, suites and self-catering apartments and villas. It's located in Trebetherick, between the beaches at Polzeath and Daymer. The flexible collection of accommodation means this is a great pick for larger families or groups, but there are only 48 rooms in all, so there aren't too many other guests sharing the indoor and outdoor pools, the gym, or friendly brasserie, and there are lots of things to do onsite and off, from tennis to surfing to sailing. There are also numerous beautiful walking paths to follow.
For Self-Catering Facilities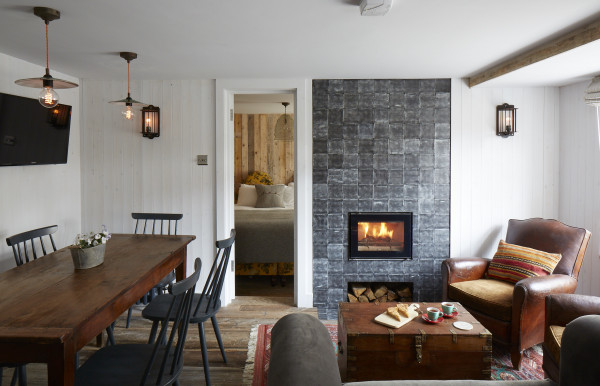 The Artist Residence is a 19 room boutique hotel in central Penzance, just a short stroll from the beach. Each of the rooms is totally unique, sharing just a collection of vintage furniture and eclectic art — and maybe a colour scheme referencing the ocean. Each is cleverly laid out, and some are large enough to offer living space and free-standing tubs in the bathrooms. Our pick for families is The Cottage, which sleeps up to six. There's no formal restaurant attached to the hotel, but there is a lounge and bar, which serves food and drinks all day — and there are plenty of places to eat and drink nearby.
The Rosevine is a charming, family-run seaside hotel overlooking the ocean at Porthbean Beach in one direction, and Portscatho Beach in the other. The traditional white exterior is surrounded by mature gardens set with tables positioned to make the most of the views. Inside are 12 rooms and suites, and several self-catering apartments — which are what we recommend for families. Kids will also appreciate the playroom, indoor pool, and kids' menu in the restaurant; while adults might appreciate the policy of offering a free stay to under 16s!
Still not sure where to book?
posted Monday, 4th April 2022