20 of the Best Hotels for a New York Shopping Trip
New Yorkers would argue that every district of New York could make for a great New York shopping trip. You'll find all the high end brands on elegant 5th Avenue, the hipper high end brands in the Meatpacking District, small boutiques in SoHo and Greenwich Village and a crazy array of markets in Chinatown - and that's just the obvious districts in central Manhattan. So our list of 20 of the best hotels for a New York shopping trip contains hotels dotted all over Manhattan island, and a good range of styles and prices too, depending on how much of your shopping budget you want to spend on your hotel…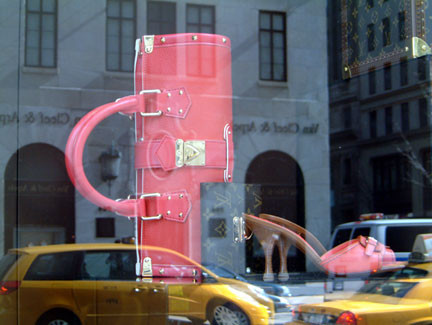 By Flickr user essygie
Columbus Circle, close to Central Park, is a good place to start your New York shopping trip, it's not too big or crowded, but it's still got a good range. If you think you can handle a truly bustling New York shopping experience you could try out Heron Square, with its massive Macy's, or for a non-mall experience try Lexington, which is where you'll find Bloomingdale's.
One of the things to remember about shopping in New York is that many brands have their flagship stores here, and sell pieces in them that you can't get hold of elsewhere. This is also where some trends are tested out, so be prepared for a few surprises, even if you're only planning to shop for brands you already know. Another thing to remember is that opening times can be flexible - some stores are open 24hours! Those tend to be around Times Square, but you'll find many are open until 9pm at night every night, so there are plenty of shopping hours in a New York day, but you will eventually need to head back to your choice from our 20 of the best hotels for a New York shopping trip.
20 of the Best Hotels for a New York Shopping Trip
The Best Hotels for 5th Avenue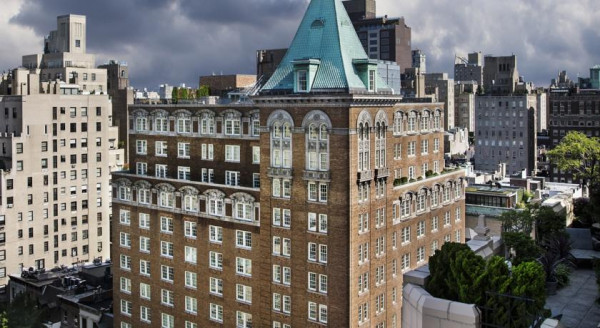 The Mark is right in the heart of the Upper East Side, and offers an old fashioned elegance, despite a recent refurbishment by French designer Jacques Grange, who put in a fantastic, Esher-esque restaurant which has become extremely popular with celebrities and New York royalty.
The Surrey is a grand and gracious, five star Upper East Side hotel with a fantastic Art Deco inspired lobby, a private roof garden, an exceptional spa and a decadent bar. Plus you're right on the doorstep of Central Park close to some of New York's best restaurants.
The Best Hotels for Soho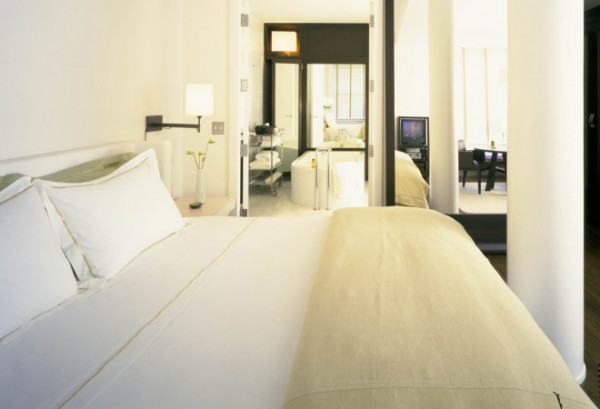 The Mercer is an iconic New York hotel offering the ultimate in SoHo chic. If you dream of being an arty New Yorker living in a fantastic loft apartment and that's not exactly who you are then this is the place to stay to live out your dream, surrounded by artistic cool and modernist designs. The Kitchen restaurant is another institution.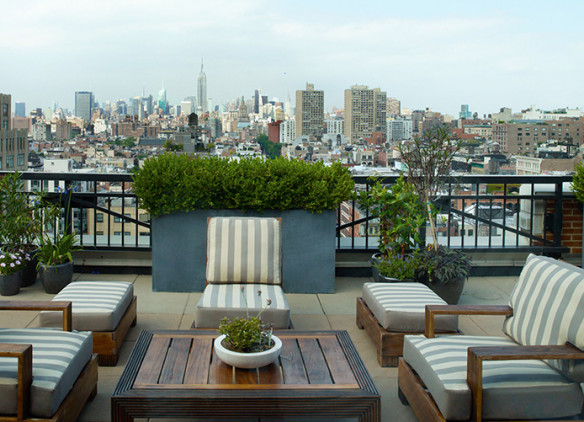 The SoHo Grand Hotel is in lively, fashionable SoHo, and is a sumptuous, elegantly designed 353 room hotel - think the gilded cage of the 1870s meets the lux. fashion of the 1970s? Perfect for your average ultra-chic New Yorker, with the original artworks, the stylish bar, sophisticated club and acclaimed restaurant. Plus, if you didn't bring your pet you can ask for a complimentary goldfish?
The Best Hotels for the Meatpacking District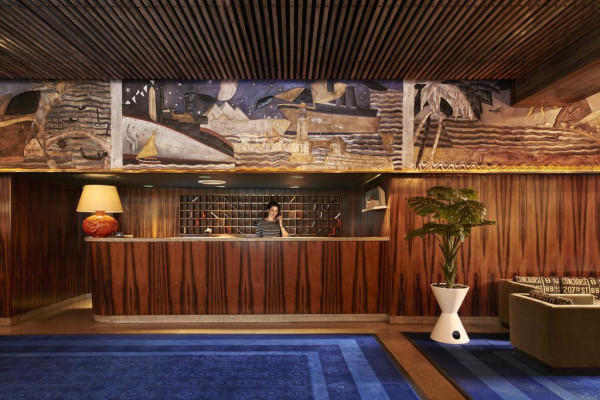 The Maritime Hotel has really taken the nautical theme and run with it throughout its 125 cabin-style rooms and suites, it's library, lounge, it's pool, cafe, bar and both restaurants, and all the way out its porthole shaped windows overlooking the Hudson River. And they have a 10,000square foot terrace.
Soho House New York has the name because of the other Soho, the one in London, as this is the New York outpost of Soho House, the London Private Members Club. But, as with the majority of their properties, you don't have to be a member to stay here and enjoy the epitome of cool that this band has come to represent. In the case of Soho House New York you've got the cool associated with the location in the Meatpacking district, the cool of their 44-seater private cinema, their heated rooftop pool and there's a great spa. Plus, just 24 rooms, and all of them different.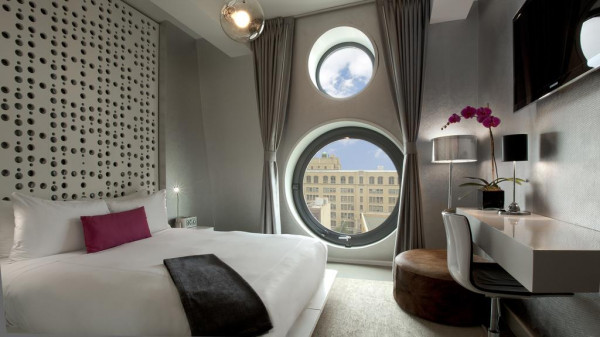 Dream Downtown is in a fantastic spot on the border of Chelsea and the Meatpacking District and has a trendy, industrial vibe that suits both, with large portal windows, metallic walls and tiled floors. It has two nightclubs downstairs and one rooftop pool upstairs.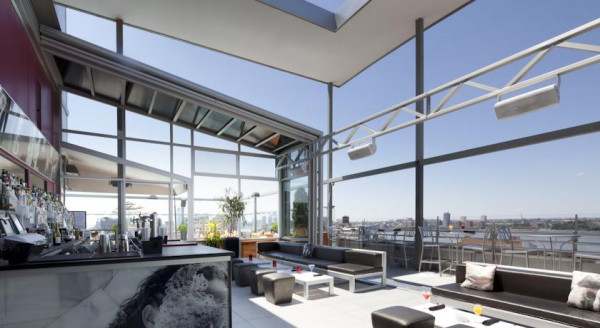 Gansevoort Meatpacking is a vibrant, 186 room hotel with a fantastic rooftop pool and terrace with 360degree views of New York, a relaxing spa and a reputation being being a fun place after dark. The decor is modern in a 60s way and stylish, with an industrial feel that goes with the area, and rooms have big windows and high ceilings. The bistro is good too.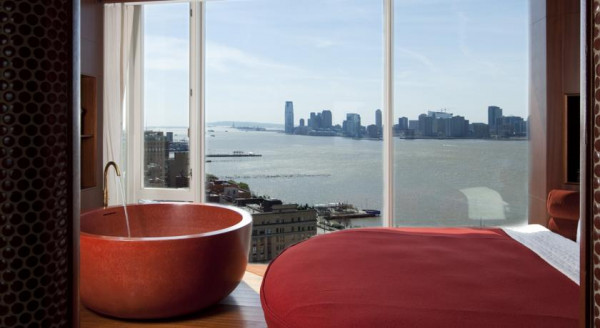 The Standard is tall, thin and covered in windows, so you have views from every room - even from the comfort of your bath. The decor is chic, and a bit edgy to suit the neighbourhood, and the bar and restaurant are places to be seen in, as well as to enjoy hip all-American food. The 18th floor lounge has 360degree views, and becomes a nightclub after 9pm.
The Best Hotels for Chinatown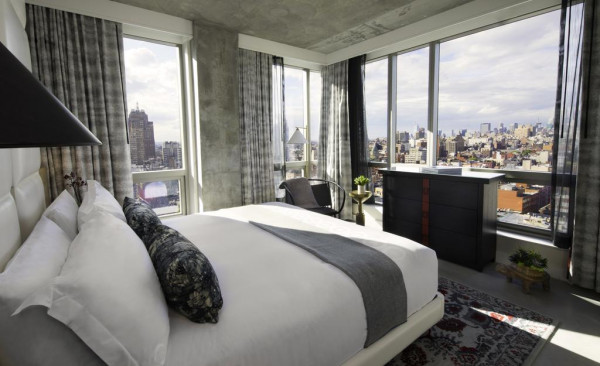 The Hotel 50 Bowery is new and chic, with the latest in design taste - think exposed brick and brushed concrete walls, fantastic hanging lights and trendy colours, the kind you'd see in a Scandinavian film, or an Art Nouveau era factory? There are also Chinatown inspired splashes of red and lantern-esque lights. The views are excellent, from both the 229 rooms and suites and from the incredible rooftop bar.
Right on Canal Street, on the edge SoHo and Chinatown, 11 Howard is another super chic Scandi-style design hotel. The floors are oak, the ceilings high, the restaurant French - with a Michelin star, and the art is original and contemporary.
The Best Luxury Hotels for a New York Shopping Trip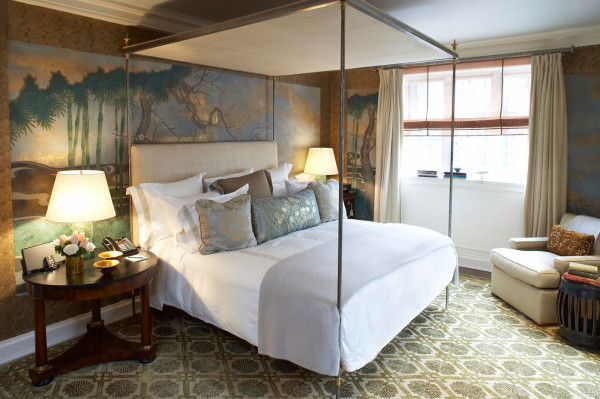 The Lowell Hotel is a charmingly crafted Upper East Side Hotel, just a block to the east of Central Park. The decor is very classical, think marble bathrooms, neutral tones, elegant furnishings and art and even proper wood-burning fireplaces. The location is residential, a quiet, tree-lined street off Madison Avenue, and the overall feels is of staying in a gorgeous, 70 room townhouse.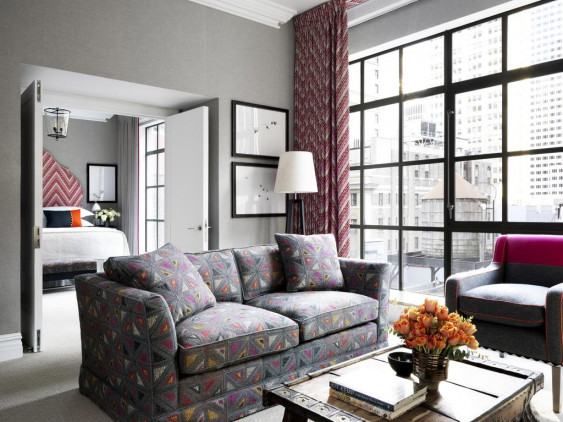 The Whitby is one of the newest additions in husband and wife duo Tim and Kit Kemp's portfolio and it doesn't disappoint. Their beautifully designed rooms makes traditional style contemporary - and the best rooms have large terraces. There's also a chic bar, an excellent restaurant and a cinema!
Classic New York Hotels for Shoppers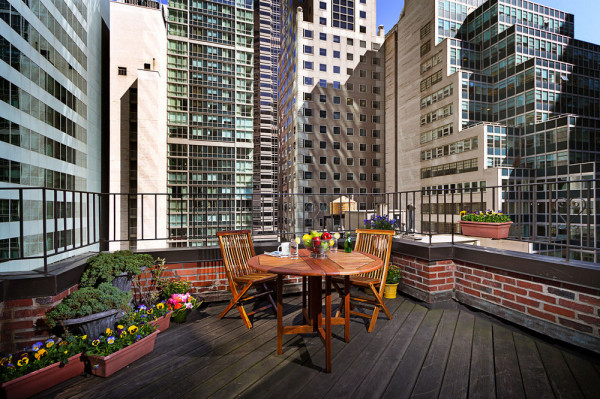 The Hotel Elysee was once hosted Manhattan's literary elite - most famously Tennessee Williams, who spent his final years living here. It's classy, elegant and intimate so you can see why people lived here. The suites feature French style furnishings, rich fabrics and plush carpets and the Monkey Bar has become one of Midtown's most iconic and hip bars.
The Best Design Hotels for a New York Shopping Trip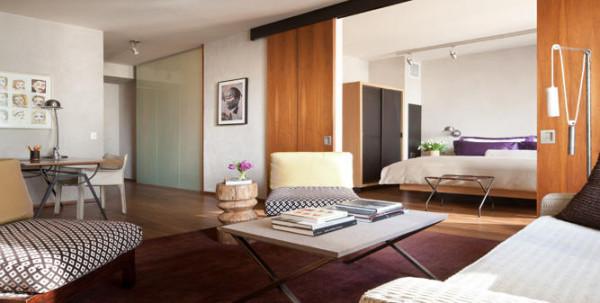 Chambers Hotel is a just off 5th Avenue on 56th Street, so super close to MoMA and Central Park. The spacious bedrooms are on the edgy-side of modern with architects' drawing lamps, as well as a roll of tracing papers and coloured pens to release the inner designer, on the hip glass desk. It probably feels like staying at a very creative friend's smart, central apartment - which is a great vibe for art museum visitors.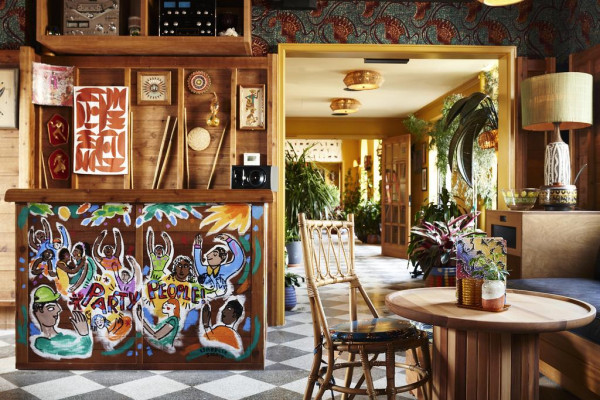 The Freehand hotel is hip, affordable and central. The interiors are bold and interesting, with walls covered in murals painted by local artists. It also has three restaurants, two bars and a 24hour gym - and all of them are achingly cool. As are the 340 rooms and suites.
The Best Value Hotels for a New York Shopping Trip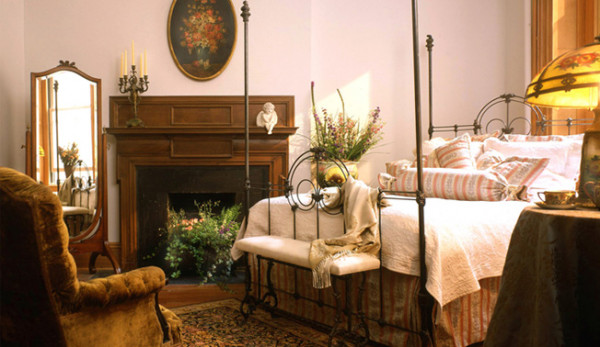 The Inn at Irving Place is a gorgeous inn converted from two 1830s brownstones in a quiet part of the Gramercy neighbourhood. The inside is just as beautifully classic as the outside, with cherrywood floors and beautiful antiques. They serve an excellent afternoon tea in their grand, Victorian-style tea rooms. There are just 12 bedrooms, which start from around £150 per night.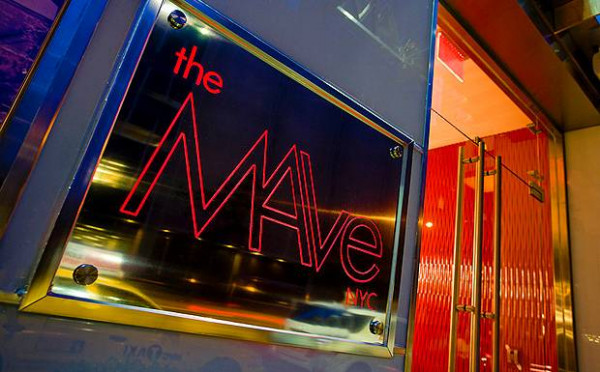 MAve breaks down into M(adison)Ave, which gives away the location, close to the Flatiron Building. Inside it's stylish and chic, with 72 rooms with high ceiling and bigger-than-you're-expecting bathrooms. Expect a fairly neutral colour palette with colour in the contemporary prints on the walls and all the mod. cons.. Rooms start from around £130 per night.
Vibrant and friendly, the Casablanca Hotel is one of the best places to stay if you want to be right in the heart of things. The decor, as you may have guessed, is Moroccan, with beautiful mosaics, tapestries ad paintings, impressive rugs and even ornate ceiling fans. These unique, careful touches, and the fact that it's incredibly well priced for the location, means that the 48 rooms are often booked solid with repeat guests.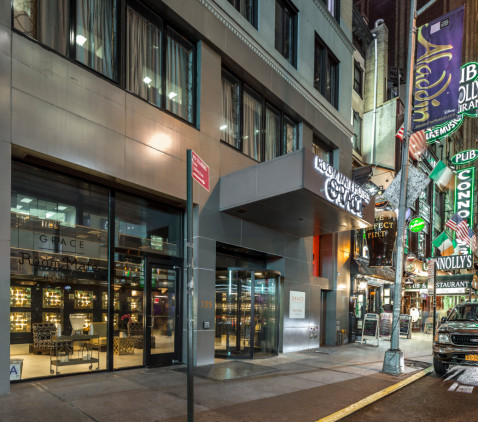 Room Mate Grace is a funky and lively hotel just minutes from Times Square with surprisingly great spa facilities, a colourfully illuminated indoor pool with underwater music and a swim-up bar. Rooms start from about £130 per night.
CitizenM New York is another in that set of innovative, modern, no-frills-hotels-with-funky-design-frills. It's about one minute from Times Square, has wall-to-wall windows and a panoramic rooftop bar.
If you haven't found you idea of the best hotels for a New York shopping trip on our Guru's list of 20 you could try:
20 of the Best Hotels for a New York Shopping Trip
City Style - Upper East Side glamour in all its old-moneyed glory with a clean cut and suave injection of style from designer Jacques Grange.

Foodies - The phenomenal Jean Georges heads the kitchen here, be prepared for some of the best food in NY- and that's saying something!

Great walks - New York was made for walking, this hotels central location makes it ideal for exploring on foot.

Lively - Hip and happening.

Recommended by - Tablet, Fodors, Frommers, Kiwi Collection

An old favourite with spectacular neo-deco Jacques Granges interiors. Right in the heart of Upper East Side, old style elegance meets modern chic. The award-winning restaurant is reason enough to visit. A super stylish way to experience New York. Popular with celebs and New York royalty! See More

Check Availability

The Surrey

New York

189 rooms from £336

Artworks - 31 original works of modern art dispersed through its private and public spaces.

Bicycles available - Take advantage of the Hotel Bike Share Program

Architectural - Interiors by design giant Lauren Rottet.

City Style - Luxury, Upper East Side Manhattan Hotel

Recommended by - Mr & Mrs Smith, Relais & Chateaux

This grand and gracious 5* Upper East Side Manhattan hotel is not one to be outdone. The Art Deco inspired lobby features many unique modern art pieces. With a private roof garden, a decadent bar and surrounded by some of the city's best restaurant - this really is New York City Luxury. See More

Check Availability

The Mercer

New York

75 rooms from £542

Foodies - The automatic table reservation at chef Jean-Georges Vongerichten's Mercer Kitchen is worth its weight in gold.

Families - Interconnecting family suites and babysitting services.

Outstanding location - Located in bustling downtown Soho.

Local markets - Walk to the south-east of the hotel and you'll stumble across Little Italy and Chinatown, both well worth a visit.

Recommended by - Mr & Mrs Smith, I Escape, Tablet, Frommers, Kiwi Collection

Ultimate SoHo chic. An iconic hotel, The Mercer provides the comforts of a home away from home, but in the surroundings of a trendy loft space. Artistic cool and modernist designs. Its world-class restaurant is a must. See More

Check Availability

Rooms with balcony/terrace - Two sprawling penthouse lofts

Sights nearby - Central location means sights of New York are on your doorstep

Designer - Interior designs by celebrated interior designer Bill Sofield

Lively - Hip and happening.

Recommended by - Tablet, Kiwi Collection

Sumptuous and elegantly designed - the 1870's Gilded Age meets 1970's luxury - catering to the ultra-chic New Yorker. Rooms have stunning views and are decorated with original artworks. Acclaimed cuisine, stylish bar and sophisticated club room. A chic urban paradise. See More

Check Availability

City Style - A funky nautical themed hotel in the trendy meat packing district, with a fabulous restaurant drawing a hip crowd

Close to nightlife - Just minutes from the meat packing district- filled with hip bars, clubs and nightlife spots

Hotel Entertainment - The hotel's two restaurants and bar draw a lively and fun young crowd of hipsters and celebs

Designer Shopping - Just a five minute walk away you will find the West Village, one of NY's top shopping areas

Recommended by - Tablet

A funky and unique nautical themed hotel between Chelsea and the West Village. Compact cabin style rooms boast Queen beds and portholes overlooking the Hudson River. With two exceptional restaurants and the largest outdoor space of any New York hotel there is plenty of space for celeb spotting! See More

Check Availability

Bar - Rooftop bar situated near rooftop pool.

Swimming Pool - Heated rooftop pool with bar

Roof terrace

Views - Great views from hotel

Recommended by - Mr & Mrs Smith, I Escape, Kiwi Collection

Exclusive luxury in lower Manhattan's hip Meatpacking district. Fantastic rooftop terrace with pool, 44-seater cinema, and delux spa. Soho House is the epitome of cool. What more could you want from a trendy trip to NYC. Enjoy the Soho House restaurant, bar and Cowshed spa. See More

Check Availability

Dream Downtown

New York

316 rooms from £201

Local exploring - An uber trendy hotel (complete with rooftop pool) well located for accessing the Chelsea and Meatpacking districts.

Sights nearby - Situated close to Union Square, Ground Zero and Madison Square Garden.

Lively - Hip and happening.

Swimming Pool - Indoor/outdoor

Recommended by - Tablet

A trendy hotel in an enviable locality near both Chelsea and the Meatpacking district. Enormous rooms are industrial in feel with large portal windows, metallic walls and tiled floors. The rooftop hosts a glorious pool whilst downstairs you'll find two exclusive nightclubs. A lively spot. See More

Check Availability

Gansevoort Meatpacking

New York (Greenwich Village)

186 rooms from £174

Groups - The Meatpacking District is renowned for its nightlife: Gansevoort's bar and nightclub draw revelers from all over the city.

City Style - The Meatpacking District is hedonistic and lively, offering fantastic shopping by day, and devilish entertainment by night.

Local exploring - 250 yards from High line Park, 500 yards from Chelsea Market, and well-connected to the sites of NYC.

Spa breaks - The Exhale Fitness + Spa, provides the perfect opportunity for a relaxing spa break.

Vibrant hotel in the Meatpacking District complete with relaxing spa, salon, pool and lively nightlife. The rooftop pool and bar terrace offer spectacular 360-degree views, and each stylishly decorated modern room has large windows and high ceilings. The Chester bistro also serves a delicious menu. See More

Check Availability

The Standard

New York (Meatpacking District)

338 rooms from £365

Romantic Break - Wonderfully indulgent suites feature romantic stand alone baths with stunning views and downstairs expect wonderful cuisine.

City Style - A super trendy creation by Andre Balazs- achingly hip and housing one of New York's most sought after nightlife spots.

Views - Great views of the skyline and Hudson Bay

Romantic - Good for couples.

Recommended by - Mr & Mrs Smith, Tablet, Fodors, Kiwi Collection

Oh-so chic rooms in the edgy ambient neighbourhood of Lower West Side. Ceiling to floor windows offer stunning views across New York, even from your bath tub. Hip all American food at the hotel restaurant and a 'to be seen in' bar. A hyper-modern way to experience New York. See More

Check Availability

Hotel 50 Bowery

New York (NY)

229 rooms from £318

Local exploring - Nestled into New York's Chinatown, with interiors that give nod to their surrondings- the ideal spot for an Eastern adventure

City Style - A trendy and uber chic hotel offering a rooftop bar with fabulous views of the Manhattan skyline

Sights nearby - You are right on the edge of Chinatown and a short hop to Brooklyn so get out and explore all the area has to offer!

Lively - Hip and happening.

Recommended by - Tablet

A hip new addition to the hotel scene on the Lower East Side. Interiors are on point, with exposed brick walls, hanging Edison light bulbs, Chinatown inspired slashes of red and lantern style lamps. The views are remarkable- from the fantastic rooftop bar as well as from the chic suites and rooms. See More

Check Availability

11 Howard

New York (NY)

213 rooms from £421

City Style - A super stylish hotel focused on clever Scandinavian design and original artworks, right in the heart of SoHo

Foodies - Le Coucou, the hotel's restaurant by chef Daniel Rose, has recently been awarded its first Michelin Star

Sights nearby - You are right in the heart of this historic district of SoHo, iconic for its cobblestone streets and cast-iron buildings

Views - Great views from hotel

Recommended by - Mr & Mrs Smith, Design Hotels, Tablet

A design and art focused Scandi-chic hotel in New York's iconic SoHo district. The crisp interiors feature neutral tones, original works by Hiroshi Sugimoto, Katie Yang and Dan Attoe. Oak floors and high ceilings set the tone in the excellent Michelin stared French restaurant. An uber cool spot. See More

Check Availability

Lowell Hotel

New York

74 rooms from £527

City Style - Sleek accommodations in the heart of the city

Great walks - Just one block from Central Park

Sights nearby - Well located for major sights.

5* Luxury - Very high service standards.

Recommended by - Tablet, Frommers, Kiwi Collection

A finely crafted and charmingly intimate Upper East Side hotel, one block from Central Park. Classically decorated - marble bathrooms, neutral tones, paintings, and elegant furnishings. Some rooms have real wood burning fireplaces. A luxurious destination, reminiscent of a private townhouse. See More

Check Availability

The Whitby

New York

86 rooms from £621

Local exploring - Perfectly positioned just two blocks from Central Park and with easy access to many restaurants, galleries and bars.

City Style - An uber chic property designed by the renowned hotelier Kit Kemp.

Great walks - Take a stroll around Central Park.

Designer - Uniquely designed interiors.

Recommended by - Design Hotels, Tablet

One of the newest additions in husband and wife duo Tim and Kit Kemp's portfolio and it doesn't disappoint. Beautifully designed rooms makes traditional style contemporary. The best rooms boast large terraces. Complete with chic bar, excellent restaurant and a cinema this is hotel perfection. See More

Check Availability

Hotel Elysee

New York

100 rooms from £166

Great walks - Central Park is under ten minutes from the hotel with plenty of trails for walking, running and cycling.

Lively - Hip and happening.

Opulent

Lively area - In the thick of the action.

Recommended by - Frommers

The Elysee, formerly a host to Manhattan's literary elite, has retained its iconic old world charm. The suites feature French style furnishings, rich fabrics and plush carpets. The Monkey Bar has become one of Midtown's most iconic and hip bars. Classy, elegant and intimate. See More

Check Availability

Lively - Hip and happening.

Great walks - Good for walkers.

Sights nearby - Well located for major sights.

Freehand

New York

395 rooms from £187

Groups - With triple and quadruple rooms this is the ideal hotel for thos travelling as a group

Value chic - A trendy and fun hotel in an unbeatable location, without the killer pricetag

Great walks - Explore the area on foot and end up soaking up some fresh air in Madison Square Park

Lively - Hip and happening.

Recommended by - Mr & Mrs Smith, Tablet

Finally an affordable and hip hotel in the heart of Manhattan! The interiors are bold and interesting and the walls are covered in unique murals designed by local artists. The three restaurants, two bars and 24 hour gym are all achingly cool. A real winner! See More

Check Availability

City Style - An authentic snapshot of an entirely different era, far from the shiny modern glamour of the big NYC hotels

Hideaway - As much as you can hideaway in NYC, this is the perfect option. An unique, intimate hotel in a quiet but central neighbourhood.

Full of character

Recommended by - Tablet, Small Luxury Hotels

Uniquely authentic inn, a conversion of two 1830s brownstone townhouses in the quiet Gramercy neighbourhood. The hotel is exquisitely decorated with antique furnishings and cherrywood floors, and the charming Tea Rooms serve delectable afternoon teas amid grand Victorian-style architecture. See More

Check Availability

MAve

New York

72 rooms from £124

Lively area - In the thick of the action.

Designer - Uniquely designed interiors.

Sights nearby - Well located for major sights.

Ideally situated in the bustling Flatiron District, this sleek 72-room hotel is a stylish urban retreat with high-ceilinged neutral rooms and larger-than-expected bathrooms. See More

Check Availability

Sights nearby - Located just a few steps from Times Square and Rockefeller Center.

Great walks - Bryant Park is just a seven minute walk away from the hotel.

Lively - Hip and happening.

Full of character

Recommended by - Fodors, Frommers

An individual and stylish hotel just steps from Times Square. The funky Moroccan themed rooms and opulent old school bars featuring live piano sets, will transport you to another time. A warm and welcoming spot in an enviable location - perfect for a charming city stay. See More

Check Availability

Local exploring - Minutes from Times Square, Bryant Park, Rockefeller Centre and the Museum of Modern Art, as well as great brand shops.

City Style - 1970s inspired hotel minutes from Times Square with an indoor pool and bar, and brightly coloured retro rooms.

Swimming Pool - A large, funky indoor pool with colourful light shows, underwater music, a swim-up bar and groovy seating area.

Lively - Hip and happening.

Recommended by - I Escape

Funky and lively hotel just minutes from Times Square with a colourfully illuminated indoor pool with underwater music and a swim-up bar. The modest, modern rooms are brought to life by vibrant Jonathan Adler wallpaper, and great spa facilities are available (sauna, steam room, gym, pool, massages). See More

Check Availability

City Style - In the heart of Manhattan, a few minutes from Times Square and Central Park, and rooms have wall-to-wall windows for great views

Value chic - The hotel is modern, chic, and at the epicentre of NYC, but strives to provide the most reasonable prices.

Local exploring - Located so centrally, this hotel is perfect for anyone wanting to explore New York from its very heart.

Views - The 360 degree views from the panoramic rooftop bar are truly spectacular.

Innovative and modern hotel in the heart of Manhattan, 1 minute from Times Square. It prioritises experience and value: bright, cosy, clean rooms, all with wall-to-wall windows to immerse the guest in the bustle of NYC at a reasonable price. A panoramic rooftop bar also provides spectacular views. See More

Check Availability
posted Monday, 5th August 2019
Search the best hotels in New York