Top Tips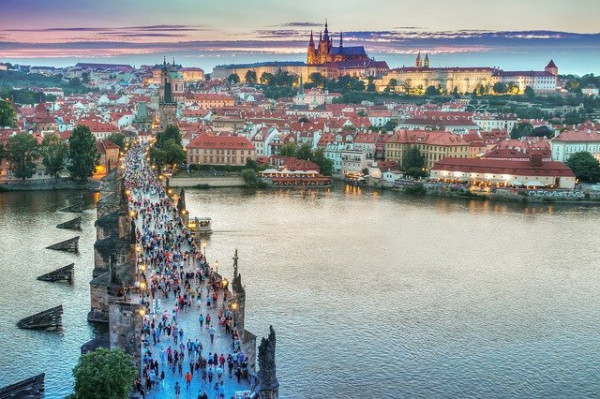 Pexels from Pixabay
Our detailed guide to the best neighbourhoods in Prague is all about helping you decide where to stay in Prague. As well as practical tips about public transport and other facilities, we've included recommendations to help you match the style of your planned visit to the atmosphere of Prague's different neighbourhoods. Whatever the reason for your visit, we have a recommended neighbourhood for you.
Neighbourhood Guide to Prague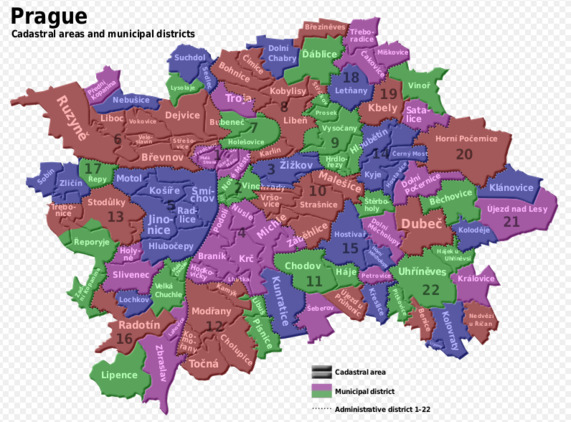 Kubiikderivative:DavidSpanel
You will undoubtedly have read it before, but Prague is one of Europe's great beauties. A stunningly preserved city, with architecture and history that goes back a millennium. A great European capital, remarkably unscathed by the 20th century. There's the castle atop a hill, the graceful bridges across the wide, gentle river, the architecture: Neoclassical, Gothic, Baroque, Art Nouveau and even Cubist, all combining to great effect, and drawing visitors in from far and wide. Some come for the beer, too. And the food. And the atmosphere, which, despite a multicultural influx of new residents, feels tightly wound with the city itself.
The challenges of Prague are the crowds, because everyone has heard how beautiful it is; and the layering of three different district mapping systems on top of each other, which can make it a confusing city to navigate, and choose where to stay. Getting around isn't too difficult, with many of the main sights within walking distance of each other — though the streets are cobbled, which can be another challenge — but there's a convenient public transport system too, which incorporates a metro, tram and bus lines, plus the Petřín Hill funicular, and a handful of river ferries.
Staré Mesto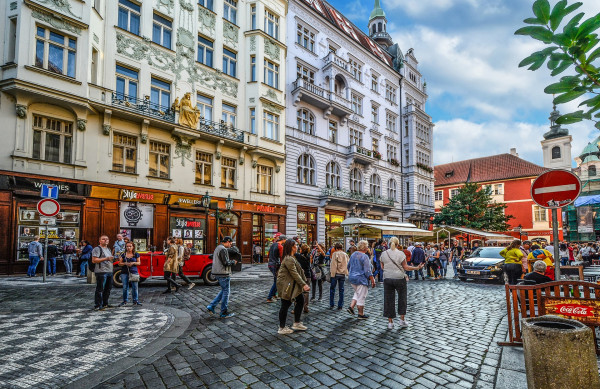 Image by kirkandmimi from Pixa
Staré Mesto is Prague's Old Town, a compact, cobbled neighbourhood packed with attractions and surrounded on three sides by a wide loop in the river. Staré Mesto's many attractions are surrounded by impressive architecture, and the Old Town Square, the Heritage Listed, very centre of Prague, is lined by an incredible collection of Gothic, Baroque and Renaissance buildings, which include the famous Astronomical Clock and the Týn Cathedral. Staré Mesto is also where you'll find the landmark Charles Bridge with its statues, the Convent of St Agnes with its incredible Gothic altarpieces, the Jan Hus monument, the Mucha Museum and the Museum of Communism. The narrow sections of Staré Mesto not packed with monuments are lined with restaurants, bars, cafes and nightclubs, some even boasting views of the castle, as well as Staré Mesto's foreground treasures.
The northern part of Staré Mesto is Josefov, the old Jewish quarter, which is where you'll find the Prague Jewish Museum and the Old Jewish Cemetery.
Pros and Cons
Pros: central, major sights. atmospheric, historic, incredible views, good places to eat and drink
Cons: busy, lots of tourists in season
Ideal For: sight-seers, first-time-visitors, couples, history-buffs
Discover our recommended hotels in Staré Mesto, Prague.
Nové Město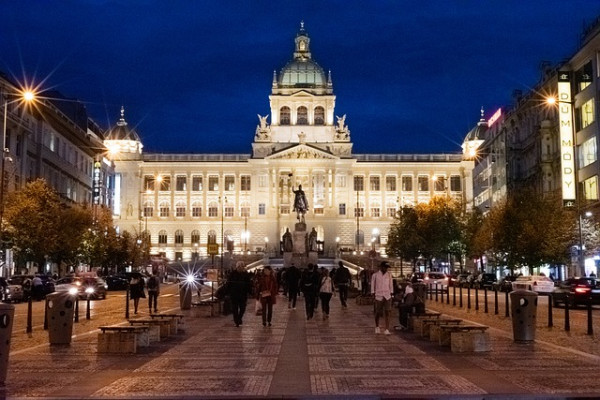 husnerova from Pixabay
Nové Město, to the south of Staré Mesto, sort of sweeping around it, is the New Town, but it was 'new' when it was built in the 14th century, and its last redevelopment happened in the 19th. Nové Město's most famous landmark is Wenceslas Square, which sits at the top of a broad boulevard, the National Museum at its head, so to speak, and the statue of St. Wenceslas on horseback in the middle of the square. Stroll down the boulevard and you'll pass bars, restaurants, casinos, and some of Prague's best book shops. Nové Město is also the neighbourhood in which you'll find the National Theatre and the Charles University Botanical Gardens. All three of Prague's metro lines cross underneath Wenceslas Square, and above ground there are a number of tram stops, so it's very well connected by public transport.
Pros and Cons
Pros: central, historic, impressive architecture, major sights, great shopping, great transport links
Cons: busy, lots of tourists in season
Ideal For: sight-seers, couples, history-buffs, shoppers
Discover our recommended hotels in Nové Město, Prague.
Malá Strana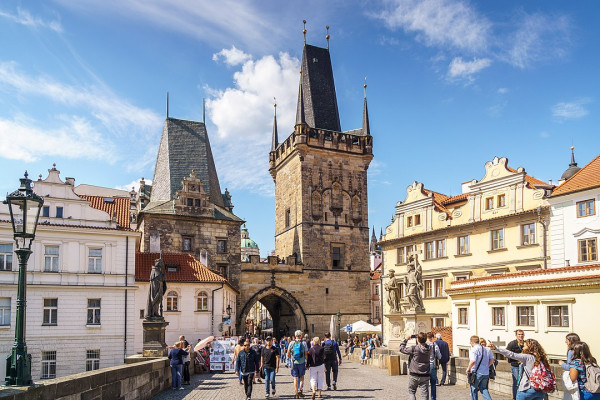 By Radler59 (talk) - Self-phot
Malá Strana translates to 'Little Side', or 'Lesser Side', which refers to its position on the left bank of the Vltava, across from Staré Mesto and below Prague Castle. You can reach Malá Strana using one of a series of bridges, including the atmospheric Charles Bridge. Malá Strana is an elegant neighbourhood of 13th century cobbled alleyways, Renaissance palaces and gardens, impressive churches, and river views. Charles Bridge is probably Malá Strana's most famous landmark, and it's a lively one, often lined with stallholders alongside its monuments and statues. Petřín Hill and Petřín Park, with its observation tower, are also in Malá Strana, as is the bottom of the Petřín Hill funicular. You'll also find John Lennon's Wall, the charming Savoy and the Shakespeare and Sons bookshop in Malá Strana. And for a relatively small neighbourhood there are plenty of places to eat and drink.
Pros and Cons
Pros: central, elegant, luxurious, romantic, waling distance from major sights
Cons: busy, small, expensive
Ideal For: romantics, history-buffs, couples sight-seers
Discover our recommended hotels in Malá Strana, Prague.
Hradčany
Julius Silver from Pixabay
Hradčany is Prague's castle district, and sits on Petřín Hill, behind Malá Strana, peeking over its neighbour to see the Vltava, and the layout of the city. Hradčany is a neighbourhood of historic palaces and noble houses, all jostling for positions closest to the castle. The castle itself is huge; it's the world's largest, and dates, impressively, from the 9th century. Because it's so big many sections of it now house museums and art galleries, including the National Gallery, the Convent of St. George and St. George's Basilica, so there's loads to see here, so much that the basic ticket gets you entry for two full days. Even outside of the castle walls Hradčany's narrow cobbled streets and grand buildings are all there to serve the castle, the St. Vitus Cathedral, and the numerous palaces.
Because Hradčany packs so much into a small area it can get really busy, especially in summer, which is the peak of the tourist season, and while there are plenty of places to eat and drink, you might be glad of your hotel restaurant.
Pros and Cons
Pros: central, major sights, atmospheric, historic, beautiful, luxurious, city views
Cons: busy, expensive
Ideal For: romantics, history-buffs, luxury-lovers, sight-seers, once-in-a-lifetime trippers
Discover our recommended hotels in Hradčany, Prague.
Vyšehrad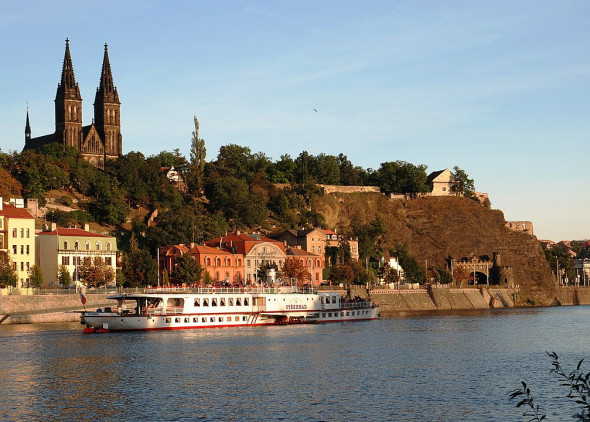 By Stanislav Jelen - Self-phot
Vyšehrad is a neighbourhood just to the southeast of Prague Castle, and is named for its 10th century fort, which legend says also marked the spot where Prague was founded. Today the fort is a powerful looking, Baroque-influenced building, with ramparts and bastions and impressive gates, but outside is a huge park, and a very pleasant neighbourhood. The fort and park are certainly the most famous sights in Vyšehrad, but the Slavín Cemetery is close by, where many famous Czechs have been interred, and the park is littered with impressive statues and monuments, so there's actually plenty to see. Vyšehrad has its own tram stops and metro station, so it's easy to get to using public transport, but it's also within a stroll of Staré Mesto so it's still very central. It's a bit quieter than other parts of central Prague, and you won't be competing with quite so many tourists.
Pros and Cons
Pros: central, historic, major sights, green, city views
Cons: fewer places to eat an drink
Ideal For: families, sight-seers, romantics, peace-lovers
Vinohrady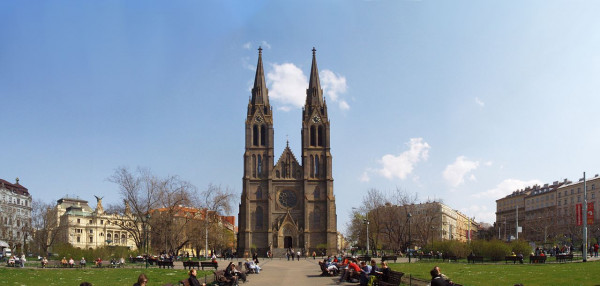 By Svobodat - Own work, CC BY-
Vinohrady is a leafy and pleasant neighbourhood just past Vyšehrad and still within Praha 2. The neighbourhood name translates to 'vineyards', which is what this was before it was built on, and some of the leafy-ness remains.But the most striking thing about how it looks today is probably its Art Deco buildings and apartment blocks, many of them in pastel colours. Occupying the buildings are a fantastic collection of cafes, bars, pubs and restaurants, as well as little boutiques and galleries, and there's a definite arty, international feel to things here. Vinohrady is often said to be the home of Prague's best cafes and restaurants, and there's certainly a huge range and a great atmosphere in the evening. It's also known for its markets, and Náměstí Míru, or Peace Square, is a good place to come to see what seasonal offerings are on sale. St. Ludmila's Church is nearby, another local landmark. The main produce market in the neighbourhood is on Jiřák, where you can pick up your weekly staples and artisanal extras. And Vinohrady is within a pleasant, cafe-lined stroll of Nové Město and the rest of Praha 1, so convenient for sightseeing.
Pros and Cons
Pros: cool atmosphere, great cafes and restaurants, central, leafy, central, noteworthy architecture
Cons: residential
Ideal For: couples, hipsters, foodies, market-lovers, families, sight-seers
Vršovice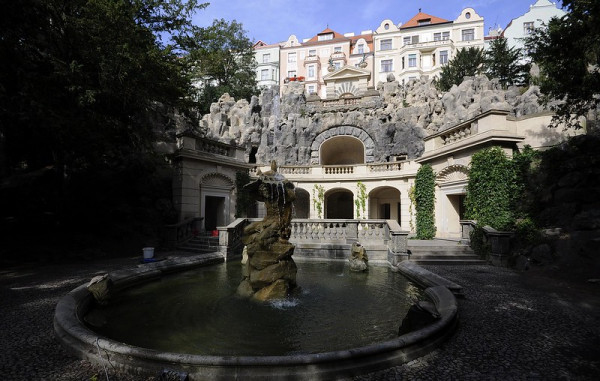 By Flickr user MONUDET
Vršovice is next to Vinohrady, just to the south, and with some similarly charming architecture, though with more of an Art Nouveau look. This is another area being gentrified, with a hip collection of cafes, bars and music venues, and it's a good place to head to of an evening. Vršovice is also great for vintage and boutique shopping. When it comes to major sights, Vršovice is more about the architecture, cafes and boutiques, but it does have two very impressive churches, and Prague's second largest park, Havlickovy Sady, a wonderfully landscaped landscape of waterfalls, fountains, grottos, glades and meadows.
Vršovice has its own train station, Praha-Vršovice, but it doesn't have a metro stop, however if you get off at Náměstí Míru it's a short walk or two tram stops to the main street.
Pros and Cons
Pros: hip, friendly atmosphere, great cafes and bars, great shopping, lively nightlife, beautiful architecture
Cons: off-centre
Ideal For: hipsters, value-seekers, night-owls, coffee-lovers, couples, foodies, urban-explorers
Žižkov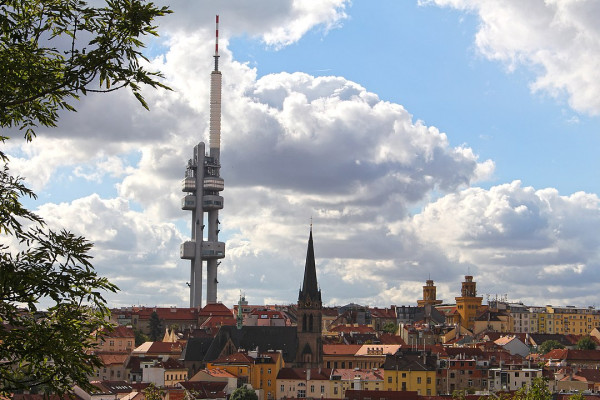 By travelmag.com - Shot of Ziz
Lively and hip, Žižkov is rumoured to have more pubs per square kilometre than any other neighbourhood in Europe. It's also crammed with great cafes and venues. It was gritty, but it's been gentrifying, and its cobbled streets are now lined with cool boutiques and little galleries as well as essential shops and all those pubs. It's named after a general, Jan Žižkov, which is relevant still because a statue of him, on horseback, sits at the top of the local hill: a massive landmark. Beside Jan is the National Monument, which houses the Czech History Museum and the mausoleum of one of the country's communist presidents, and just down the road is the Czech Army Museum (you'll not miss it, it's got a tank parked outside!). The other major local landmark is the Žižkov TV Tower, which you can see for miles around. At the top of the tower is an observation deck and restaurant and all the way up are statues of crawling babies… Žižkov also has a huge cemetery (where Franz Kafka is buried) and a major farmers market.
Pros and Cons
Pros: lively nightlife, great pub culture, atmospheric, great value
Cons: residential, gritty
Ideal For: value-seekers, hipsters, pub-crawlers, visitors who want to stay somewhere a bit different
Search the best hotels in Prague