Stay Fresh in Marrakech: 10 of Marrakech's Best Hammams and Spas
The sunshine, colour and commerce of Marrakech make it an exhilarating destination, but they can also make it a tiring one! Once you've been out in it for a couple of hours the sun may begin to feel relentless, and the crowds and dust of the medina are easy to become lost in. And of course it begins to feel as if everyone is trying to sell you something, because, well, everyone is trying to sell you something. But Marrakech has the perfect answer to the problem of Marrakech, a glorious tradition of pampering spa treatments - the hammam, or Turkish bath. And our guru's have selected the properties with the best hammams in Marrakech for you.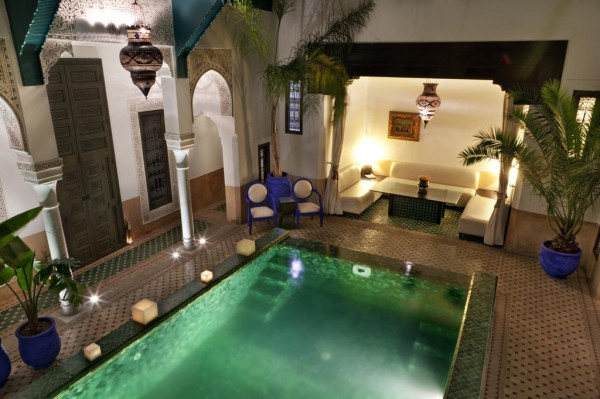 The hammams work on the principle that if you've come in off the desert you'll need a good steam followed by a darn good scrub. The basics are:
you lie on a slab in a dim and very humid room,
then are sloshed over with warm water infused with different oils and scents,
then you're soaped up with black soap, made from olive oil and vegetable soda, so it doesn't lather,
wait for 15 minutes...
then you're attacked - in a good way - with a loofah like kessa glove,
then you're coated in Ghassoul, which is a natural mineral clay found in the nearby Atlas Mountains, before being rinsed over.
Now that your skin is feeling all soft and you're all relaxed you might want to opt for a massage.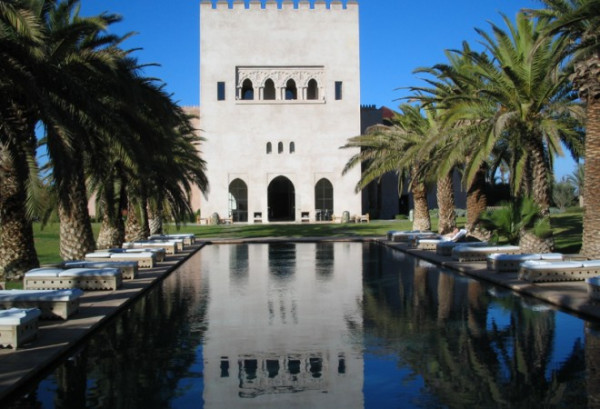 There are public, or local hammams, - and most locals go at least once a week - but there are also private hammams, which offer a range of experiences more like the spas back home. And many of our favourite hotels in Marrakech have a hammam for their guests. So it follows that when you're choosing where to stay here it pays to stay somewhere with a great hammam. It's definitely the key to stay refreshed and relaxed on your Marrakech adventures.
And even if you're not staying somewhere known for having a hammam, many places welcome non-guests in for treatments as well.
10 of Marrakech's Best Hammams and Spas
Marrakech's Best Riad Hammams
Each hotel and riad will offer their own hammam experience, ranging from the basic, as described above, to versions involving soaking, showering and possibly even rose petals. And apart from the feeling of being all brand new afterwards, one of the nicest things about choosing a riad with a hammam in Marrakech is that they're often very beautiful parts of the building.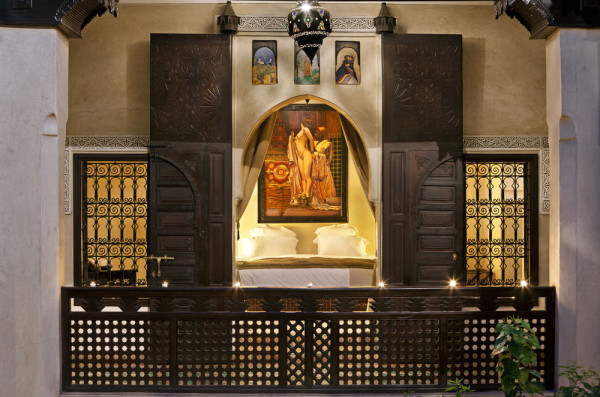 Traditional, but with everything a European guest could want, Dar Les Cigognes has a boutique hotel feels to it, with individually decorated rooms spread between two riads. Very well located for the Saadian Tombs, Badi Palace and the Bahia Palace, Dar Les Cigongnes also has an award willing cooking school - and the excellent restaurant you would expect with it. And of course one of Marrakech's most spoiling hammams if you're looking for a spa style experience.
The Riad Kaiss has once a harem, so it's a great place to stay in you're looking for somewhere with a bit of history to it! It's been very elegantly converted, but many of the most beautiful original features have been kept, including some beautiful tiling and latticework. The central courtyard is a relaxing green haven, perfect for relaxing in post hammam. Or you can arrange to have a massage poolside.
The Best Value Hammams and Spas in Marrakech
You don't need to break the bank to experience the hammams in Marrakech. Many of our favourite properties are accessible even to those on tight budgets.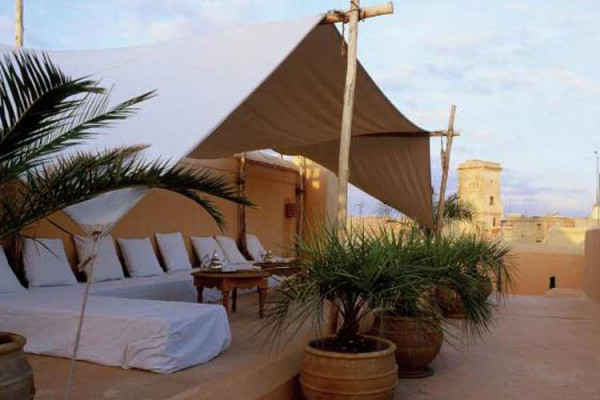 Riyad el Cadi is a well priced riad with a great hammam. Here, as well as the hammam, and the option to have further spa style treatments in the comfort of your room, there's a glorious sun terrace, and plenty of fine antiques and ceramics to entertain your eyes while you relax. Stylish and simple, this place has the air of a calm oasis - starting form just £100 per night.
Marrakech's Most Luxurious Hammams and Riads
The following would be our pick of the hammams in Marrakech which also happen to be located within some of the grandest riads in town!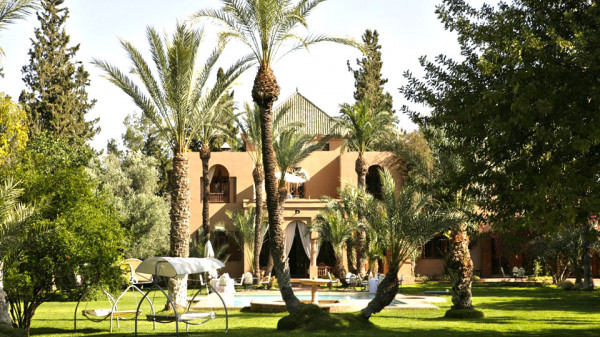 Not all dars and riads are in the centre of town, and Dar Ayniwen is a fine, and spacious, example of the benefits of the ones which aren't. Set on five green acres in the Palmeraie area, this dar has room for a large outdoor pool and giant tiled bathrooms - some of the suites even have their own hot tub. So, as you can imagine from all these watery relaxation aids, there's room for one of Marrakech's most indulgent hammams.
If you'd prefer to try a more traditional looking hammam, Riad Farnatchi has one in creamy white marble, lit by candles. And the welcoming pool has some beautifully detailed tiling. With only five suites in this luxury hotel, you can guarantee personalised service. And apparently the massages are 'knock out'.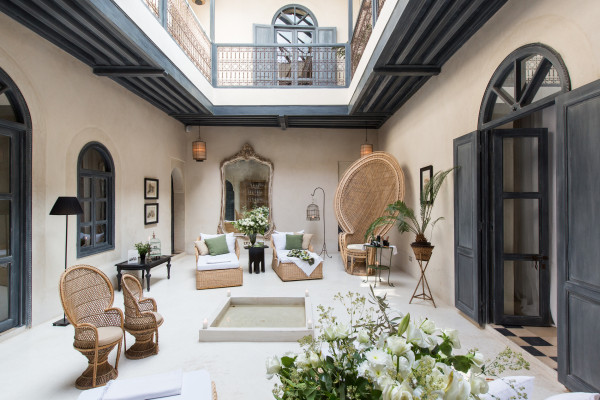 A spacious and elegant riad in the bustling heart of the medina, Riad de Tarabel is the epitome of luxury. The spa is hidden in an adjoining riad and is an oasis dedicated to pampering and spoiling, spread over two light-filled floors and full of the aromas of orange blossom and eucalyptus. Head to the double hammam for the complete traditional Moroccan ritual followed by a revitalising or relaxing massage....sheer bliss!
Villa des Orangers is a charming mix of French and Moroccan decoration and detailing. The inner courtyards are cool and welcoming, there are two pools - one on the roof terrace, and the hammam is luxurious. They've all the polish you'd expect from a top class hotel but housed within a traditional Moroccan home. This villa is geared up to pamper, so they have one of the best spa and hammam services in Marrakech.
The Perfect Marrakech Spa Break
All the scrubbing a hammam entails definitely isn't for everyone - and certainly not for everyday! But the marriage of hot and dusty Marrakech and spa accommodation is still a very sound combination. So many of Marrakech's best modern resort style accommodation also offer excellent spa facilities.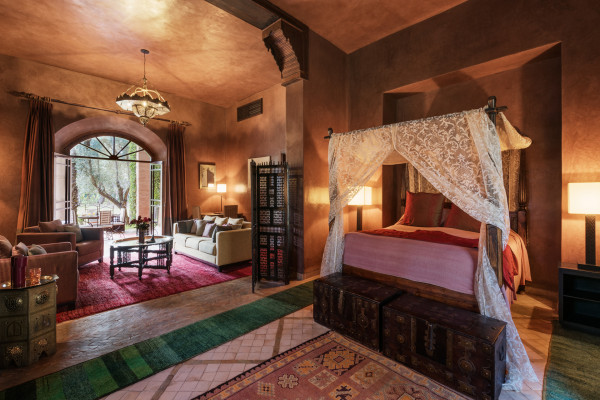 Dar Zemora is a little out of town, but not as far out as it feels once you enter its lush gardens filled with lemon and olive trees and roses. It feels like a luxurious country house escape. There are two suites and three bedrooms in the main house, and then a suite by the heated pool and a two bedroom villa in the garden. The excellent spa is much more along the lines of what you'll find in country house hotels in Europe.
What could be more luxurious than a Moorish palace spa break in Marrakech? And, as well as being designed around the Moorish palace image, Ksar Char Bagh has the long, shimmering, palm tree lined pool and wonderful spa you'd expect of a palace - as well as one of the best hammams in Marrakech. The building looks ancient but it's new - so you have every modern convenience, as well as opulent older ones. When the weather is particularly hot you're welcome to dine with your feet in the pool's shallow end!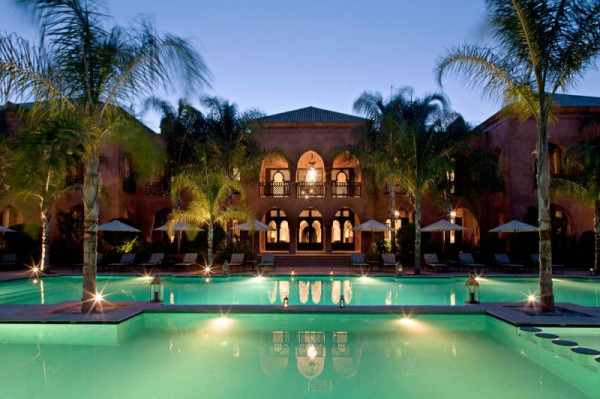 For the real thing when it comes to royal palaces, Mosaic Palais Aziza is owned by a Saudi prince, who lives opposite this romantic, secluded hotel. This is a place to relax - and despite the obvious luxury it's unfussy and peaceful. The pool is large enough, and has enough private pockets so that couples will feel like they're the only ones here. Mosaic Palais Aziza is ten minutes drive from the medina, but it's tranquil, lush and green, and with the luxurious pool, spa and hammam, and the choice of two restaurants on site, this is the perfect place to come to relax.
If you haven't seen your idea of your idea Marrakech pad on our Guru's list of 10 of Marrakech's Best Hammams and Spa you could:
10 of Marrakech's Best Hammams and Spas
posted Monday, 25th November 2019