The Best Hotels in Greenwich Village, New York
Greenwich Village, or simply 'The Village' to fans and locals, is a famous bit of Manhattan known for its arty, bohemian past and for being home to a significant LGBT community. Once a place of artist's garrets and studios, it's gentrified into being one of the most desirable places to live in New York. It's also one of the best places to stay in New York, and some of the best hotels in Greenwich Village are also some of our New York favourites.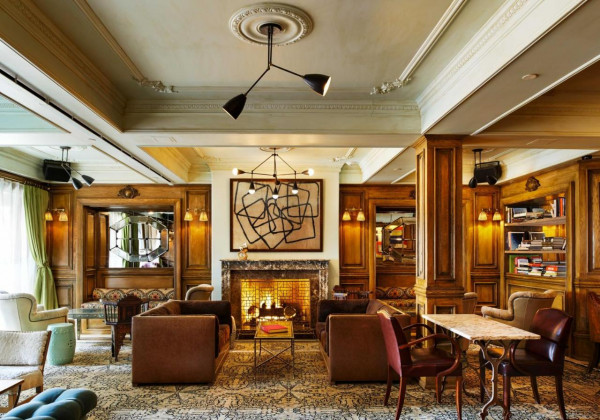 Roughly arranged around Washington Square Park, Greenwich Village is pretty much bordered by Broadway and the Hudson River. But the funny thing about The Village is that its layout is a bit more organic than your standard Manhattan grid, and it's got some pretty narrow streets with some funny curves at the end. Which is part of the reason why a large section of Greenwich Village is considered an Historic District by the New York City Landmarks Preservation Commission. That and the sheer numbers of artists who took studios here, and authors who frequented these streets - Robert Louis Stevenson, Mark Twain, Walt Whitman, Anais Nin, Dail, Jackson Pollock and Andy Warhol to namedrop some of the most familiar names. Greenwich Village is also where you'll find the Cherry Lane Theatre and the Whitney Museum of American Art. Greenwich Village is also known for its jazz and stand-up comedy.
For a classic hotel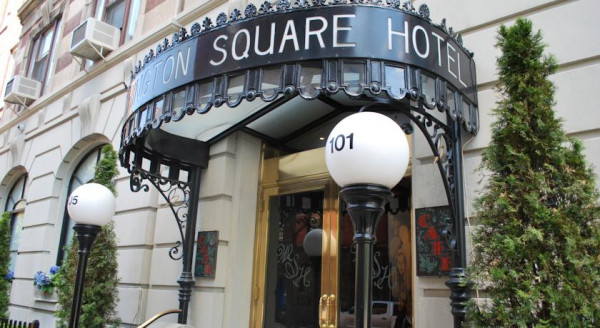 Built in 1902, the Washington Square Hotel is an historic residence turned 150 room hotel. The decor is 1930s Paris chic and the location is perfect, right on the corner of Washington Square Park. Intimate, low key and charming, this was a super hip place to stay in the 60s and 70s and is still friendly and atmospheric. Ask for one of the rooms with a view of the park.
For great value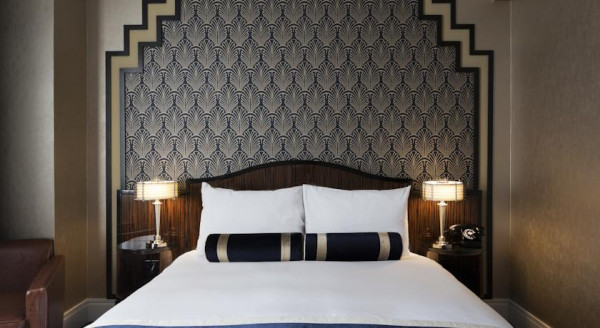 The Walker Hotel is an elegant, 113 room hotel in the heart of Greenwich Village. The decor and feel are vintage 1920s, with peaceful lighting, luxurious leather chairs, richly coloured fabrics and retro rotary phones. There's also a Parisian-feeling bar and bistro.
The Marlton in Greenwich Village has plenty of style and atmosphere, plus marble bathrooms, parquet floors, oak panelled walls and brass fixtures. It also has a cocktail bar, which is lovely, and a very nice French restaurant, also lovely - and an espresso bar! Now you're really talking.
If you haven't found you idea of the best hotels in Greenwich Village on our Guru's list of 4 you could try:
Or you could contact one of our friendly Gurus for personalised advice.

City Style - Furnished with 1920s-inspired decor with a beautiful Parisian bistro-style lounge and bar in the heart of Greenwich Village.

Local exploring - An easy walk from Washington Square and Little Italy, and a few yards from bustling 6th Avenue.

Restaurant - Grape & Vine offers a menu of colourful Mediterranean dishes in a sensual but vibrant setting.

Views - Great views from hotel

Elegant hotel nestled in the heart of Greenwich Village, with vintage 1920s-inspired decor. The rooms feature luxurious leather chairs, richly coloured fabrics and retro rotary phones. A Parisian-style bistro and bar with a carefully selected wine list add to the atmosphere of sleekness and warmth. See More

Check Availability

The Marlton

New York (Greenwich Village)

107 rooms from $188

City Style - A cocktail bar, an espresso bar, and the Margaux all in a restored historic building, previously frequented by great names.

Local exploring - Located in the heart of Greenwich Village, a lively area with plenty to do and see.

Restaurant - The atmospheric Margaux serves a rich variety of dishes, inspired by French, Mediterranean and Californian cuisine.

Sights nearby - Well located for major sights.

Recommended by - Tablet

Atmospheric hotel with 'chic petite' rooms all featuring parquet floors, brass fixtures and marble bathrooms, located in the heart of Greenwich Village. Rich oak-panelled walls and elaborately furnished dining rooms and bars all contribute to its warm, romantic and characterful aesthetic. See More

Check Availability

Local exploring - Right in Greenwich Village, this is an ideal spot for exploring Manhattan by foot.

Local markets - Check out the streets of China Town, packed with stalls and shops of every description.

Sights nearby - All within a few minutes walk are Madison Square Gardens and Little Italy.

Outstanding location - On the edge of Washington Square Park.

Recommended by - Frommers

An historic 1902 residence turned hotel in Greenwich Village. Art-deco style furnishings and dark mahoganies make up the subtly lit rooms. Here it's all about the prime location right on the corner of Washington Square Park. See More

Check Availability
posted Tuesday, 20th July 2021