A Room with a View: The 20 Best B&Bs in Florence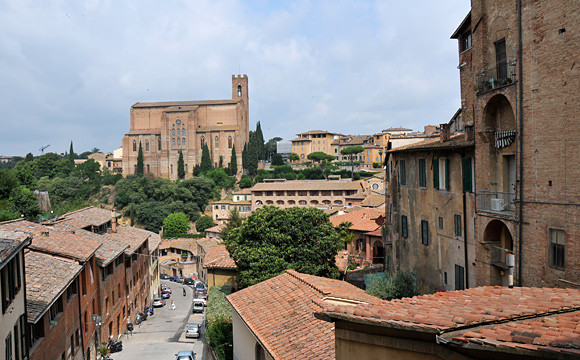 Stroll any Florentine strada and you'll come across places to lay your head. Some are well advertised, but some of the grandest hotels and best B&Bs in Florence are hidden behind courtyards with tiny, inconspicuous entrances, so you may not even realise you're passing these exclusive homes-from-home. Florence, unsurprisingly, is one of the most expensive cities in Italy, so B&Bs can be an extremely cost effective way to stay in Florentine style. For this reason our experts have searched behind these entrances and courtyards to find 20 of the best B&Bs in Florence from chic boutique stays to luxurious converted palazzos and pretty much everything inbetween!
For Location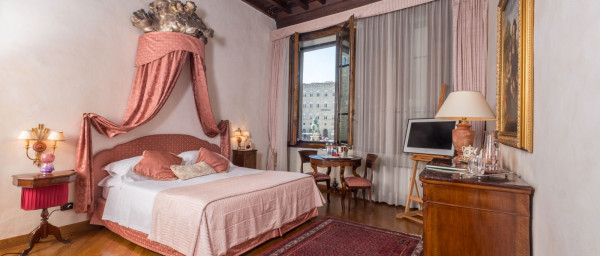 The Residenza d'Epoca is in an incredible spot; its ten rooms occupy the upper floors of a private house on the edge of the Piazza della Signoria. There are few rooms in town with a better view than those on the square side of this B&B, and the three family-sized apartments at the top of the building all have fantastic views. Interiors are traditional and unfussy with a focus on heritage and comfort. Run by the friendly owners, it also provides an excellent daily breakfast.
The Residenza Sassetti is right in the heart of Florence, ideal for sightseeing and browsing the bountiful choice of restaurants and bars. Its five classical, yet minimalist, rooms are comfortable, with tasteful artwork, and the sort of contemporary, stone bathrooms most homes would be proud of. And the rates are extremely reasonable.
The KF Deluxe B&B is a simply, but luxuriously decorated B&B on the Piazza della Republica. Its six rooms and suites are bright and airy, with large windows and pale parquet flooring. The art is period, but the decor is quite contemporary, and the best rooms have incredible city views. An American style breakfast is served in the dining room.
For Traditional Florentine Charm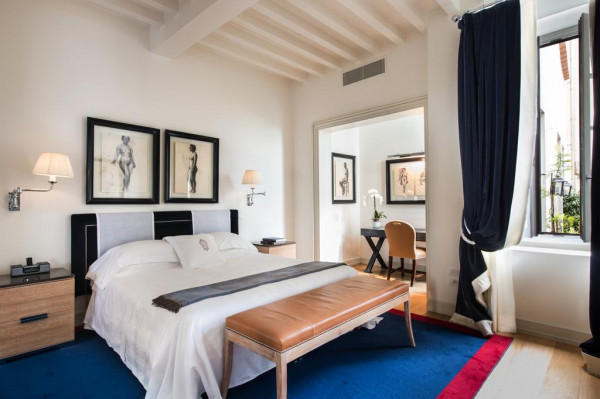 The Palazzo Vecchietti is a distinguished 15th century palazzo named for its former family, and referred to by Dante as 'Paradiso'. Today its high ceilings, terraces and courtyard are a beautiful guesthouse, littered with art, and divided into fourteen suites and apartments. All are blessed with a myriad of original features, some high ceilings, some exposed beams, some tiles, some terraces, and some views.
For Florentine Grandeur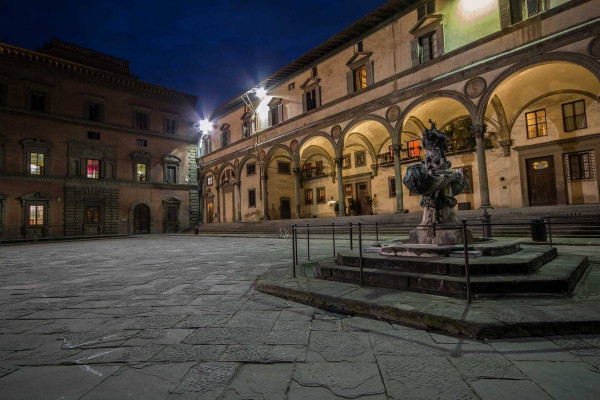 Built in 1517 to be used as a convent, Loggiato dei Serviti is one of the most prestigious historic residences in Florence. Add to this its views across the Piazza SS Annunciata to Brunelleschi's Ospendale deli Innocenti, its impressive antiques collection, its rich fabrics and parquet floors, and you have one of the best B&Bs in Florence if you're after class, character and original features. Several of the 37 rooms and suites have four-poster beds, and breakfasts are served in the courtyard by attentive, knowledgable staff.
For Historic Florence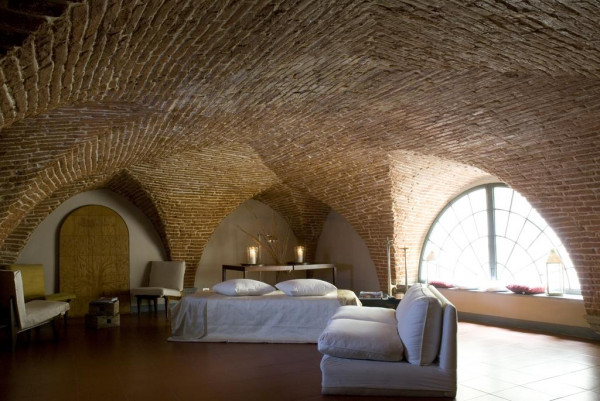 N4U occupies a thousand year old tower just off the Piazza De Donati, which is moments from the Piazza della Republica. Some of its rooms are on the lower levels, and are styled with comfortable contemporary details, or parquet floors and original frescoes, but some are vaulted with brick, offering a really unusual place to stay.
Converted from an 18th century theatre, Relais Grand Tour & Suites is a super special feeling owner-managed B&B with seven beautiful rooms and suites. If you're a fan of exposed beams, frescoes and murals, hand-painted tiles, and access to a beautiful courtyard space, then this is a property to consider. This is a good pick for families and groups, because some of the rooms have configuration potential… Breakfast is served in a cafe close by.
For Families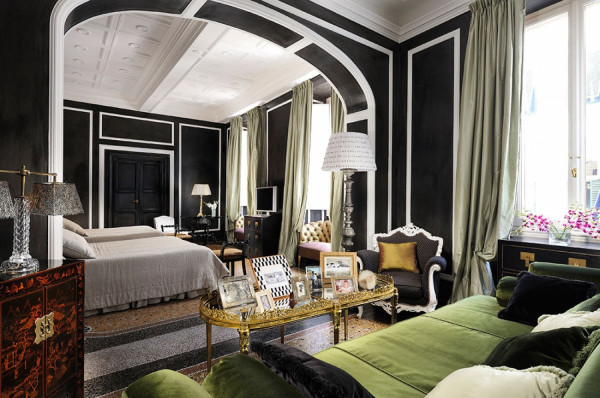 Casa Howard has long been one of our favourite places to stay in Florence, offering beautiful accommodation in an intimate arrangement of just 13 unique rooms and suites, in a perfect spot close to everything. We love the great value too. And it's very family friendly; the famliy suite comes with a climbing wall (!) and a library full of Disney's finest films.
Black 5 is a stylishly simple six room guesthouse about 500 metres from the Uffizi Gallery. There are six rooms, all individually decorated — the most spacious have private balconies and mezzanine levels with living space, and the most romantic have four-poster beds.
La Fonderia is in a peaceful spot, close to the Arno River and just outside central Florence. Its five rooms are spacious, and styled with bold coloured vintage finds and industrial accents. Our favourite rooms have private terraces with pretty views, and the largest sleep up to four comfortably, so they're great for families. There's a communal garden too.
For Italian Chic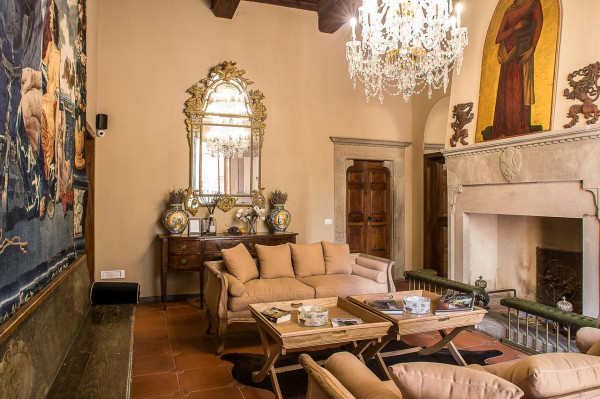 On the first floor of the 16th century Palazzo Cavalcanti, the Porcellino Gallery Art Boutique B&B is a boutique-feeling B&B with five spacious rooms and suites. The decor varies room to room, but there are a lot of period details. like painted ceilings, wood panels and tiled floors. There's also a small, but very charming, gallery onsite.
Alfieri9 is a charming boutique hotel-feeling B&B in a leafy spot on the edge of Florence's historic centre. Converted from an elegant townhouse, these eight rooms and suites have been individually decorated in a vintage-chic contemporary style, using a collection of retro and modern design pieces, and lively wallpapered feature walls. There's a great breakfast room and comfortable communal areas.
For Design Chic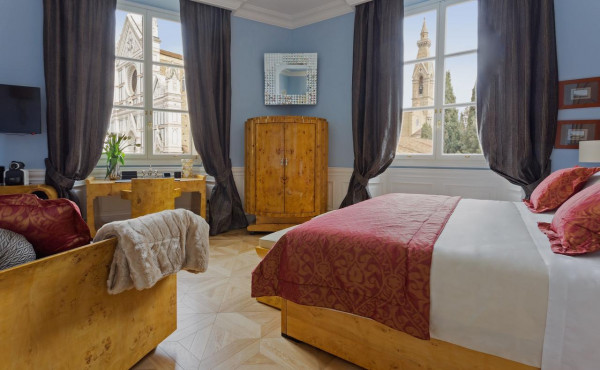 La Maison du Sage is a beautiful building, with five bright, spacious and beautiful guest rooms awash with striking Art Deco furniture. Breakfast is served in a chic breakfast room, and you can see from this photo how close La Maison is to some of the historic highlights of Florence.
For Romance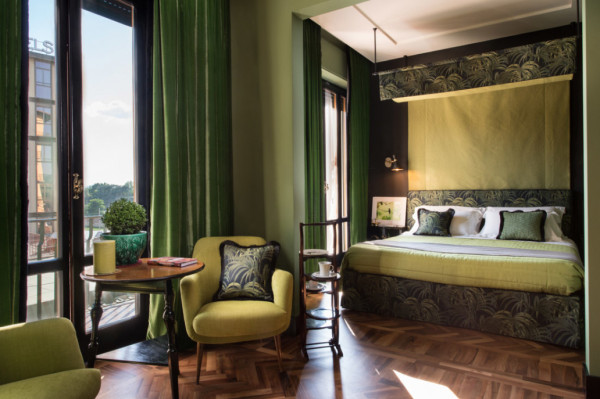 Velona's Jungle has just four luxurious suites, all designed with a wildlife theme, but all different, and packed with fantastic animal prints, vintage furniture and objets d'art. The location is elegant and offers easy access to all the main sights, it's right opposite the historic Teatro dell'Opera and just a fifteen minute amble from the Ponte Vecchio, but it's also quite residential — a perfect place to retreat back to.
For a City Break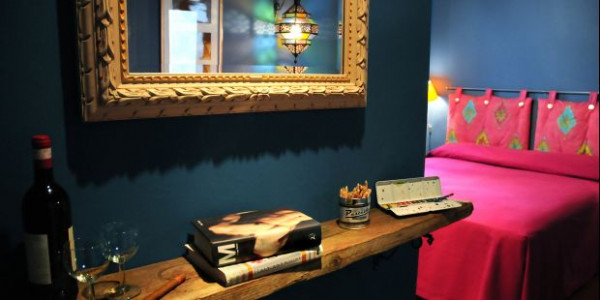 If you're here for the contemporary cultural scene, to eat well and attend chic events, then you might want more of a city break style B&B like Le Stanze de Santa Croce. With fresh, bright, contemporary interiors, and just four rooms, we'd also recommend this property if you're travelling as a group — you could easily book the whole thing. There's no restaurant, but they serve breakfast on a beautiful terrace.
For Great Value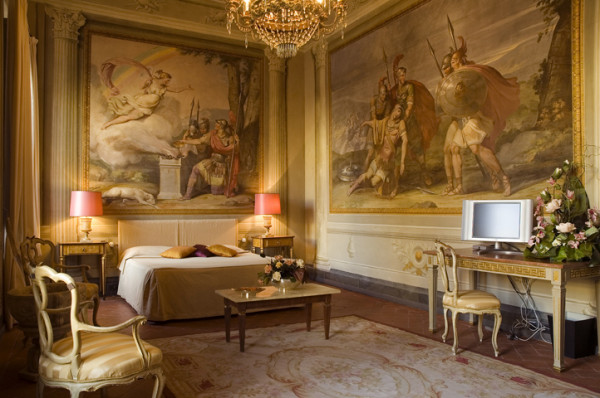 The Palazzo Galletti is an elegant, Neo-Classical palazzo built in 1931, but with elegant wall murals and decorations that make it feel far more historic. Eleven of its rooms and suites now make up the guesthouse, nine of which have cosy but smart semi-contemporary decor, and two of which are spectacular (vast, and painted with wonderful frescoes). So this is an affordable, but also, if you opt for one of the grand rooms, an extremely special place to stay. There's no restaurant, and breakfast is served in your room.
Charmingly traditional and only 10 minutes from the Duomo, the Antica Dimora Firenze is one of the best B&Bs in Florence if you're looking for good value. There are only six rooms in this delightfully chintz-tastic guest house, several have four poster beds and all are airy and fresh feeling.
The San Giuliano Inn is an affordable, yet stylish, six room B&B in the historic centre of Florence. Each of the rooms is uniquely decorated, but they're all simple and contemporary, with wooden floors and crisp linens — our favourites have views over the heart of the city. There's a shared kitchen for guests.
Still not sure where to book?
posted Wednesday, 12th January 2022