The 12 Best Hotels on Lake Garda for Walking Holidays
As diverse as it is spectacular, Lake Garda is a dream destination for a walking holiday. There are walking trails for all levels, from leisurely lakeside strolls to a full-on assault of the 2220m of Mount Baldo. There are plenty of hotels with great access to walking routes, but our Guru's recommendation for the 12 best hotels on Lake Garda for walking holidays all have more than just great access.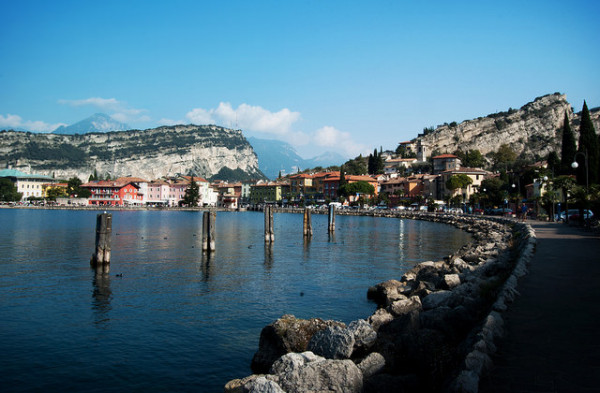 Neil Whitehead via Flickr
Around Salò, Gardone Riviera, Gargnano and Limone is the Parco Alto Garda Bresciano, which is a stunning natural backdrop to walk against, dotted with pretty towns and villages. Monte Baldo is to the north east, and the Morenic hills are to the south, where you'll find vineyards, olive groves and flatter trails trough historic landscapes. But whatever area you choose to walk in you'll be extremely well rewarded with views and points of interest along your amblings.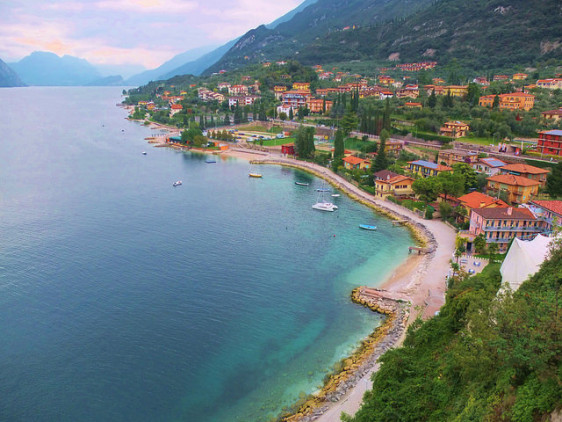 traveljunction via Flickr
Some of our Guru's recommendations for the 12 best hotels on Lake Garda for walking holidays have amazing views, some are in the heart of picturesque villages, and some have great facilities for all sorts of activities. But they're all able to offer advice on the best routes for you.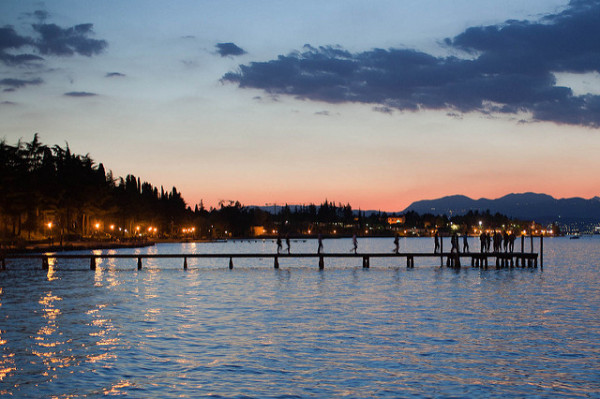 Dino Quinzani via Flickr
The 12 Best Hotels on Lake Garda for Walking Holidays
For a room with a view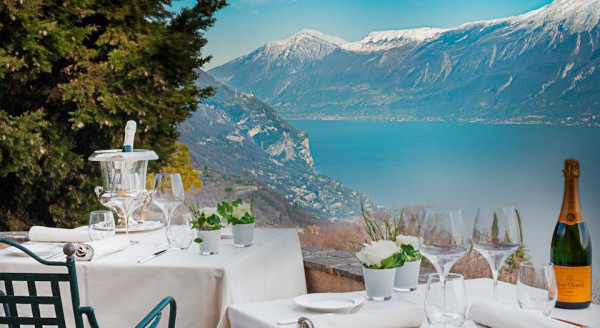 Converted from an old hunting lodge, the Villa Sostaga in Gargnano is now a 19 room hotel, surrounded by 40 beautiful, green acres overlooking Lake Garda. A homey atmosphere and some very nice antiques make this a peaceful retreat with plenty of charm.
Sirmione's Hotel Eden is a wonderful lakeside hotel with 30, simple, contemporary rooms and lovely sun terraces. Just a few minutes walk from the beach.
For couples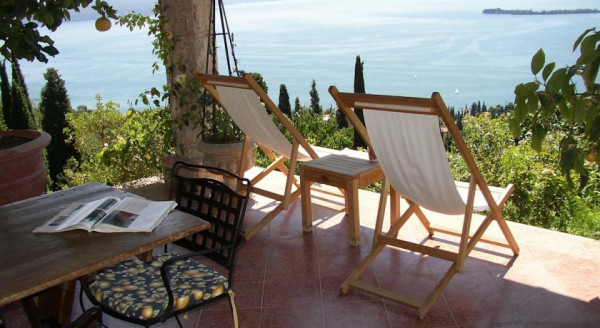 The AQVA Boutique Hotel in beautiful Sirmione is a calm, modernist style hotel with 18 neutral-shaded rooms, a peaceful garden and a small jetty. You're just 600metres from from Scaligero Castle and within a short stroll of Sirmione's thermal baths. Rooms from around £100 per night.
On the hill above Gardone Riviera, Dimora Bolsone is a stylish, ten room B&B in a converted medieval manor house. Quiet and secluded, you get views over the whole area from the house's position above the town, plus there's a lovely garden and simple rooms with nice antiques and objets.
For peace and quiet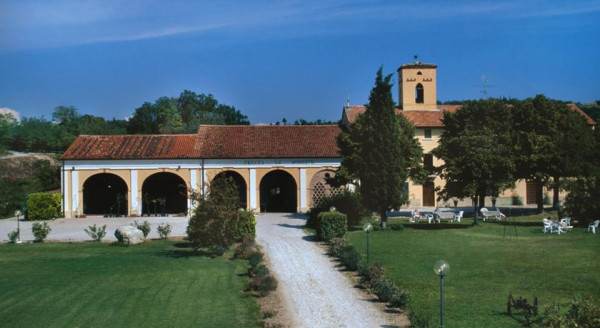 Tenuta Le Sorgive in Solferino is a beautifully restored 19th Century farmhouse on an organic agriturismo farm. You're faraway from the lake, but up in the hills, and there are wonderful walks though the property's own orchards and vineyards, as well as in the surrounding hills.
For families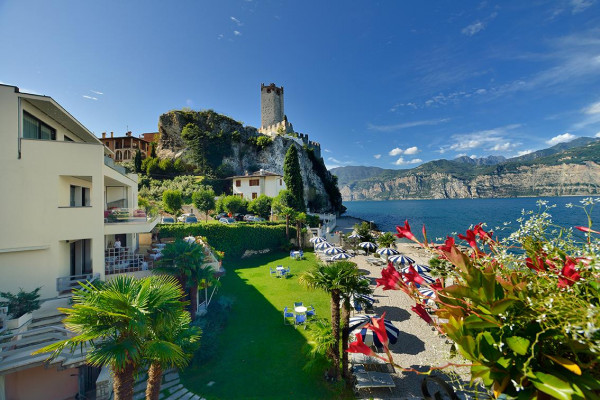 Hotel Castello in Malcesine is a small, contemporary hotel right by the side of the lake. Some rooms have private balconies overlooking the water, plus there's lovely terrace and restaurant, and guests have their own private beach. Romantic but also family friendly. Rooms start from around £100 per night.
For a B&B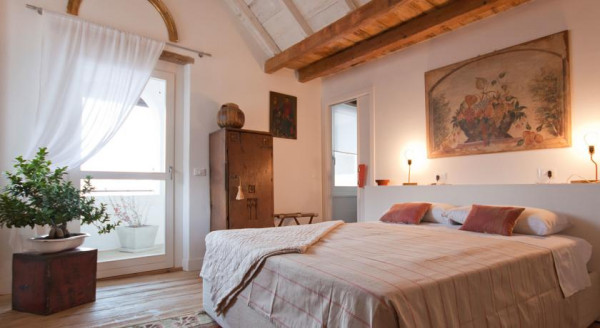 B&B Loggia Marti is a beautiful 17th Century house in the heart of Gargnano, with four rooms offering a clever mix of period and contemporary features. A perfect home-from-home style property in an easy-access location.
The Garni Gianmartin in Limone is a seven room B&B on the main square, just minutes from the beach. The rooms are simple and comfortable, and all have lake views. The suites have their own private terraces as well. The breakfasts are hearty, and the rooms, with breakfasts, start from around £70 per night.
Sirmione's Il Mosaico B&B is a six room, adults only B&B set just back from the lake. There's comfortable, contemporary decor, air conditioning, wifi and plenty of parking, and all for around £55 per night.
For great value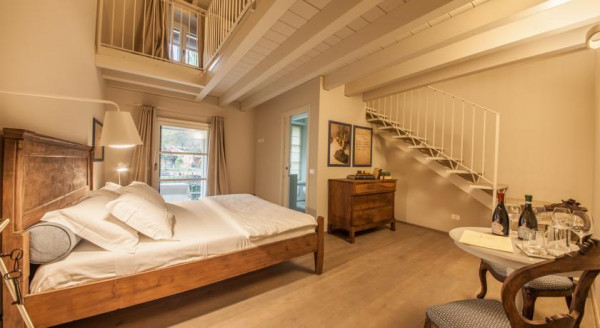 La Dimora del Garda, also in Sirmione, is a simple, sophisticated house with four comfortable, air conditioned rooms and an airy communal breakfast room. Each room has a small outdoor terrace.
The Osteria Antico Brolo in Gardone Riviera is a gorgeous restaurant with four chic, all-white rooms and suites you can stay in. Private and comfortable, and very good value, with rooms starting from around £60 per night. Plus you know you'll be able to refuel in style.
Also in Gardone Riviera, the Locanda Agli Angeli is a similar offering, a charming restaurant with nine romantic rooms - some with four-poster beds. The decor is simple, think whitewashed walls and exposed beams. And there's a small pool. Rooms start from around £70 per night.
Still not sure?
The 12 Best Hotels on Lake Garda for Walking Holidays
posted Monday, 12th April 2021