30 Top Hotels on the Yucatán Peninsula, Mexico
The Yucatán Peninsula's coastline is a colourful display of bright azure waters, lush green jungle, white sands and silvery Mayan ruins. Its colonial cites are graceful, its resorts lively and its landscape - dotted with small villages and run through with national parks and biospheres - is largely unsullied by overdevelopment or unsightly construction. And this is where you'll find some of the world's best diving and snorkelling, both at sea and in the strange cenotes or sinkholes which lie underneath the jungle. Our guide to 30 top hotels in the Yucatán Penisula will help your plan your trip to get the most from this fascinating region.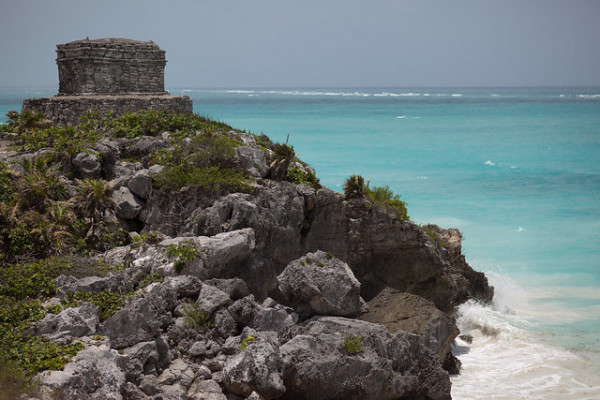 Jimmy Baikovicius via Flickr
For some visitors the best hotels on the Yucatán Peninsula are those closest to the water. Some visitors are here for the pristine white sands of these Caribbean waters. For some people it's the fun side of the resorts, with the party atmosphere which is the main draw and for others it's the region's wonderful history and incredible archaeological treasures and ruins.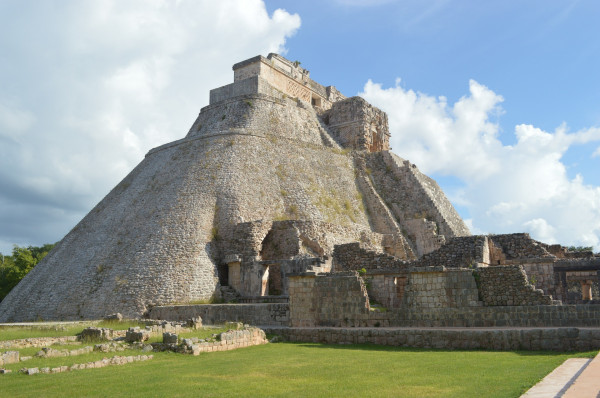 Our selection of great hotels in the Yucatán Peninsula cater to everyone, whether you're looking for a luxurious escape or a beach break - there's something for everyone here.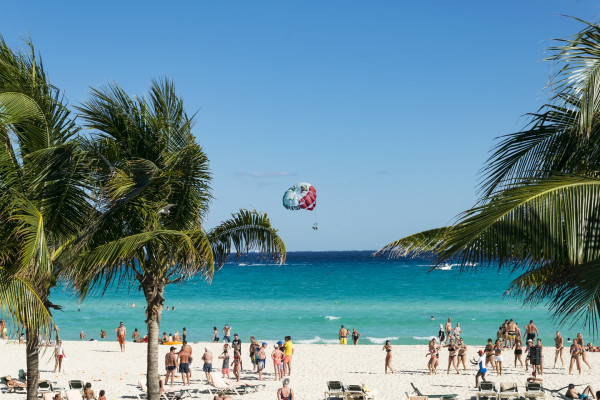 The Mayan Riviera and Quintana Roo is the area on the eastern side of the Yucatán Peninsula, including party-central Cancún, dive centre Cozumel and the ancient ruins surrounding Tulum, the most famous of which is wonderfully ancient and astronomically correct Chichén Itzá. This is the bit with the spectacular Caribbean coastline and a scattering of incredible Mayan Ruins.
Divers and snorkellers will definitely want to visit Cozumel. Between this island and the mainland are the spectacular coral gardens of the Palancar Reef and the Great Mayan Reef. As well as being beautiful the reefs are a magnet for marine life. There are amazing sights to see both for novice divers and snorkelers and for more experienced divers. Right across from Cozumel, Playa del Carmen is definitely one of the best places to stay on the Riviera Maya for divers and snorkelers.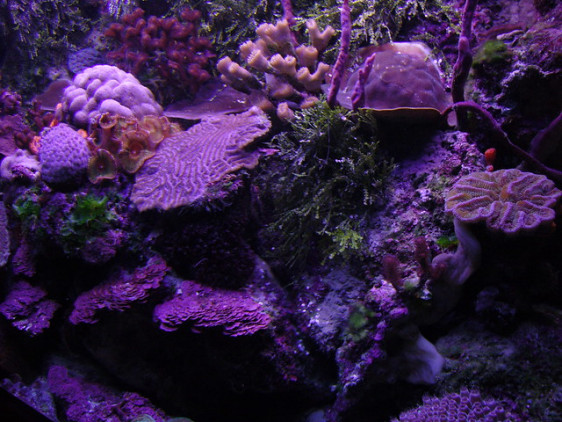 GorissM via Flickr
Quintana Roo's jungle interior has some wonderful Maya-Mexicano communities as well as the spectacular ancient sights at Coba. The region's tourist appeal is relatively new, dating from the 70s, and one of the best things about Quintana Roo is that away from the tourist areas it feels unspoiled and has been largely protected.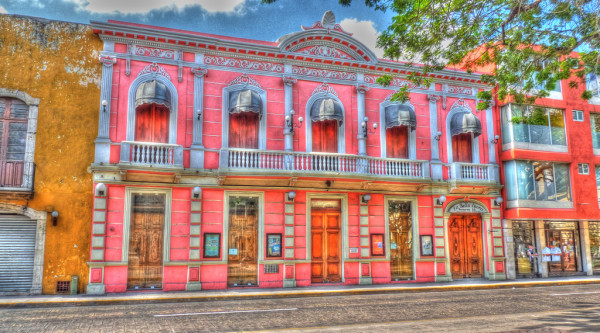 flickr user leduardo
Yucatán is the northern part of the peninsula and where you'll find Mérida, the region's jungle-set colonial cultural capital. Here it's tropical, so people get most of their work done in the morning, take long siestas in the afternoon and come back in the evening when the cooler breezes roll in off the Gulf of Mexico.
Valladolid is the other great Spanish colonial era city in Yucatán and as well as being beautiful in its own right, it's also the closest city to Chichen Itza, the Yucatán's largest and most famous Mayan ruin - which is included in the list of the New Seven Wonders of the World.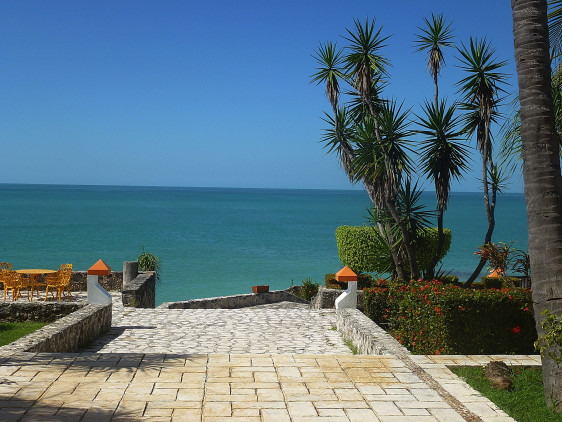 The state of Campeche is the part of the Yucatán Peninsula bordering on the Gulf of Mexico. It's less known than the rest of the region, but it does have some spectacular Mayan ruins and a beautiful colonial capital city. Its landscape, of relatively flat woods and cenote-dotted tropical rainforest, is probably as fascinating as that of the rest of the region. It also has some rather lovely beaches and the huge draw of being less-visited, yet extremely welcoming.
30 Top Hotels on the Yucatan Peninsula
The Best Hotels on the Yucatán Peninsula for a Special Occasion
If you like the idea of a small property right on the beach then Encantada Tulum is a for you. There are just eight rooms and you're set directly against a pristine stretch of white sand. The large terraces have incredible sea views and inside the decor is simple and chic.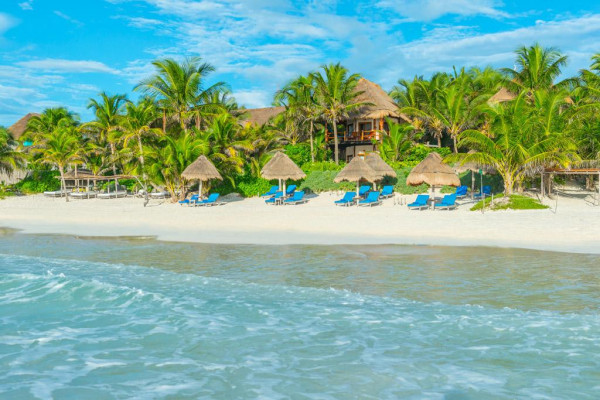 Yucatán's Hacienda San José is a stylish jungle escape with a world class spa. Accommodation is in a collection of 11 rooms and four very private villas. The villas have private jacuzzi pools and hanging double beds.
Or you could try the glorious combination of mustard ruins and chic contemporary design that is the Hacienda Uayamon, a tranquil 12 room colonial escape. Rooms have high ceilings, black and white tiled floors, four poster beds and wonderful old ceiling fans. Three's also a superb spa and an atmospheric restaurant.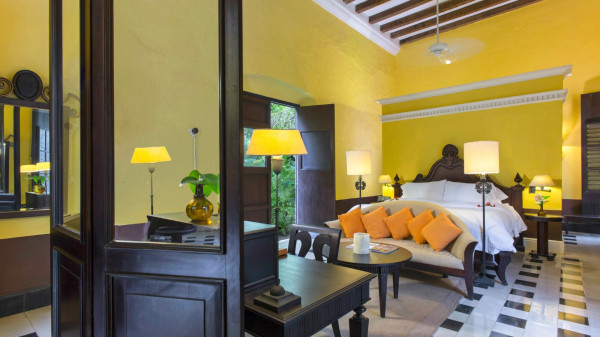 The Best Beach Hotels on the Yucatán Peninsula
Nomade Tulum is a 38 room hotel in a stunning beachfront spot. The accommodation is in a range of rustic tents, villas and suites and there's a retreat feel to the place and a great vegetarian restaurant.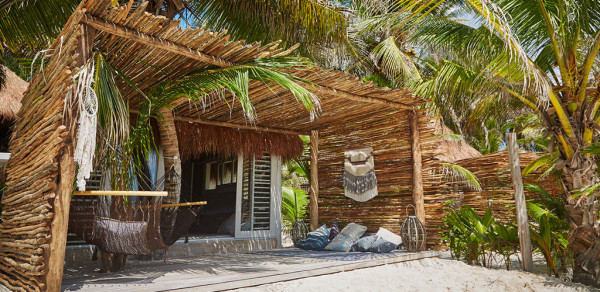 There are plenty of hotels right on the sand in Tulum, but Ana Y Jose Hotel is in a great position even for Tulum's standards, close to one of the best sea swimming spots along this stretch of coast. There are 23 rooms and an exotic spa to top it off.
Tulum's The Beach demands to be included in this section of the list, with 28 boho-chic, white-on-white rooms and lovely views just steps from a secluded stretch of white sandy beach.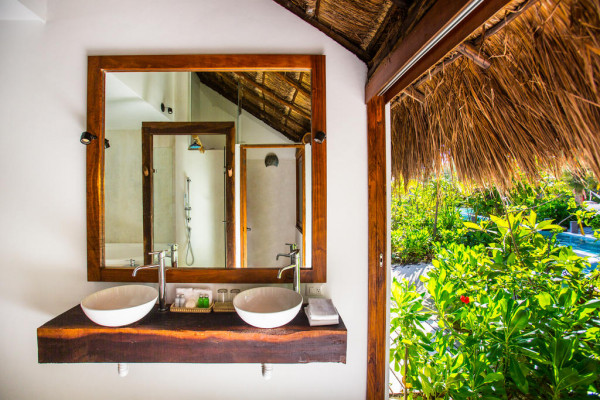 The Thompson Playa del Carmen is a chic beach property with 120 contemporary, minimalist rooms with large terraces and epic views. Their Mexican restaurant is right by the beach, but there's also a hip rooftop bar serving memorable cocktails.
The Nizuc Resort & Spa has a beachfront spot on the Punta Nizuc, which is just out of Cancún proper and offers panoramic views of the Caribbean. This is a big hotel - with 274 rooms and suites and has chic, contemporary decor, a luxurious spa and a choice six onsite restaurants.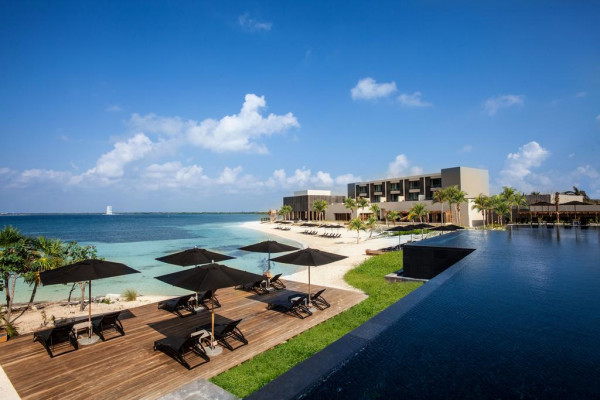 The Best Hotels on the Yucatán Peninsula for Explorers
Just outside Mérida, the Hacienda Xcanatun is a beautifully renovated 18 room hacienda with traditional decor and some lovely antiques. The hacienda has two freshwater pools, a fabulous spa and a renowned gourmet restaurant. You're also very well located for exploring the Mayan ruins.
Lake Bacalar's Rancho Encantado is a collection of 12 chic cabins nestled right in against the lake. The terracotta tiles, draped beds and white-washed walls give a rustic feel but there's plenty of luxury, including a beautiful spa.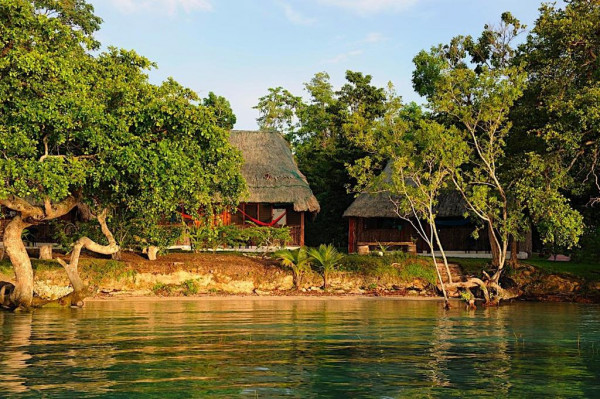 The Best Hotels on the Yucatán Peninsula for Escapers
The Papaya Playa Project is a collection of 73 sustainable boho-chic rooms and cabanas on a secluded stretch of white sandy beach. The decor is hip and Mayan, while the beach club is hip and Mexican.
Playa del Carmen's Viceroy Riviera Maya is a stunning collection of 41 rooms and villas surrounded by tropical forest and white sand. The restaurant specialises in exceptional seafood and there's a fantastic Mayan spa. Great if you want to relax on the beach or try every watersport under the sun.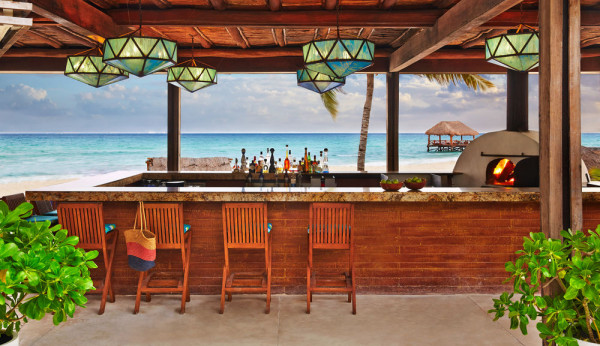 Just outside Tulum, in a beautiful beachfront spot, Sanara is a low-key hotel with 19 rooms and suites and a great spa. There's also a superb restaurant perfect for after your post-sunset-beach-stroll.
La Zebra is a 16 room boutique style hotel on a quiet stretch of beach. The decor is contemporary with plenty of natural light. There's a great seafood restaurant and a lively tequila bar if you need a bit of a kick.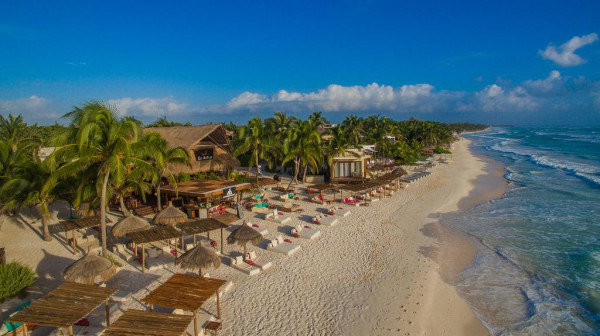 The Most Romantic Hotels on the Yucatán Peninsula
Tulum's Casa de Las Olas is a seven suite boutique deco-hotel on its own private beach. Rooms are traditional and decorated in white and the atmosphere is one of intimacy and peace. No children under five.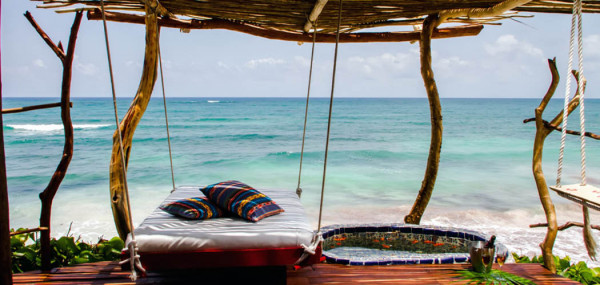 Also in Tulum, Jashita is a luxurious beach-side property overlooking glittering turquoise waters. There are 26 indulgent suites decorated all in white plus spectacular views and excellent Italian/ Mexican fusion restaurant.
The Belmond Maroma Resort & Spa is a 64 room hotel sitting between one of Playa del Carmen's best beaches and the jungle. Maroma has amazing facilities including numerous pools, a beautiful spa and access to yoga, snorkelling, diving, windsurfing, kayaking, riding, fishing, surfing and everything you need to get married.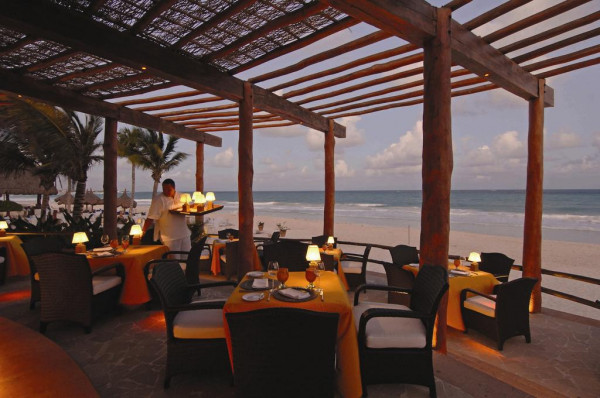 The Hotel Secreto on the Isla Mujeres just off the coast of Cancún is a luxurious 12 room boutique hotel in an extremely private spot overlooking its own private beach. The rooms have floor to ceiling windows overlooking the infinity pool and the beach, and original art works. Apparently the bar serves dangerously good Margaritas.
The Best City Break Hotels on the Yucatán Peninsula
Rosas & Xocolate (Chocolate and Roses) is a themed property converted from two beautiful mansions in Mérida's historic heart. The conversion is luxurious and the themes run all the way to the chocolate spa treatments.
Also in central Mérida, Casa Lecanda is a smart seven room property with tiled floors, high ceilings and large bathrooms. There's also an outdoor pool, a wine bar and a restaurant serving international cuisine.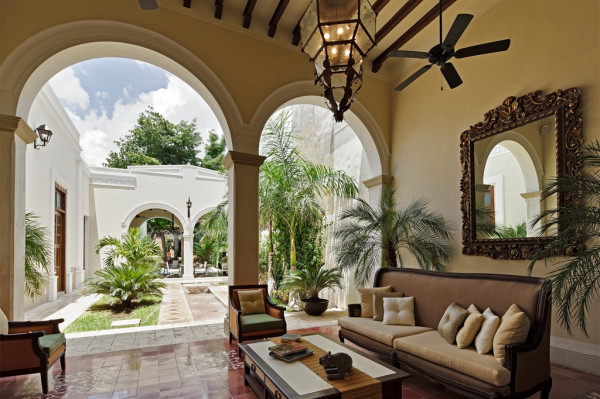 The Most Luxurious Hotels on the Yucatán Peninsula
Chable Resort is a luxurious 43 room property hidden in a stretch of jungle. Converted from a Manor House, there's now a choice of staying in rooms or suites within the house or staying in one of the outlying private villas - which come complete with their own swimming pools. There is a stunning spa and three restaurants.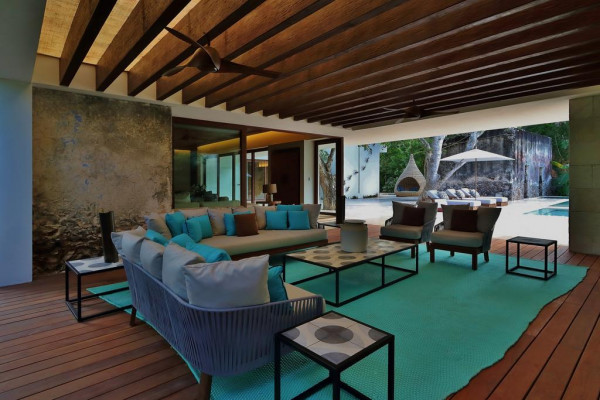 Close to Chichen Itza, the Hacienda Temozon is a beautifully converted estate with 28 luxurious, colonial style rooms. There are some lovely antiques along with the traditional tiled floors and wooden shutters. There's an enormous pool and a spoiling spa. The restaurant serves local cuisine.
The Best Hotels on the Yucatán Peninsula to Relax
Kin Sol Soleil, just up the road from Playa del Carmen in Puerto Morelos, is a tranquil property right against a white, sandy beach. There are just ten rooms with a Mexican feel, contemporary art and antique furniture, There's also a stunning pool.
Tulum's Mezzanine is a nine room, eco-friendly resort beside a secluded beach. There are tropical gardens and breathtaking sea views, plus plenty of activities on offer.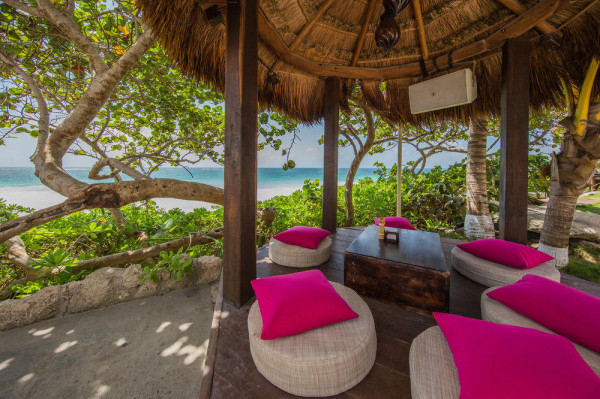 Hidden within the jungle, Be Tulum is a collection of 20 atmospheric suites with rustic chic decor and free-standing baths. The romantic restaurant blends Mediterranean and Mexican flavours and there's a pool and spa as well as the beach right on your doorstep.
Fun Hotels on the Yucatán Peninsula
Tulum's Casa Malca is a trendy private beachside hotel with 40 rooms and suites, three pools and a lively bar. The decor is white on white and contemporary fabulous.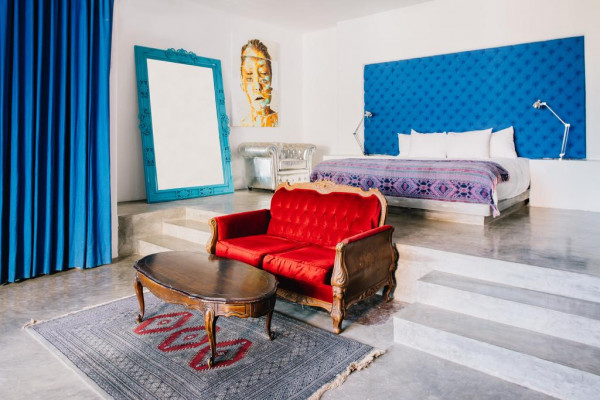 Soho Playa is in just the right district of Play del Carmen, surrounded by cool bars, good shopping and a hip vibe - and all just a few steps from the beach. They help you get into the right frame of mind with yoga and meditation in the mornings.
The Best Value Hotels on the Yucatán Peninsula
Playa del Carmen's Casa Ticul is a relatively new 20 bedroom hotel with traditional decor and all the mod. cons.. There's a small outdoor pool and you're well located for exploring town and the beach. Rooms start from less than £50 per night.
The Hotel Hacienda Mérida offers fabulously stylish accommodation just a short walk from the main square. A traditional exterior belies contemporary interiors plus a bar and two pools. Rooms start from around £65 per night.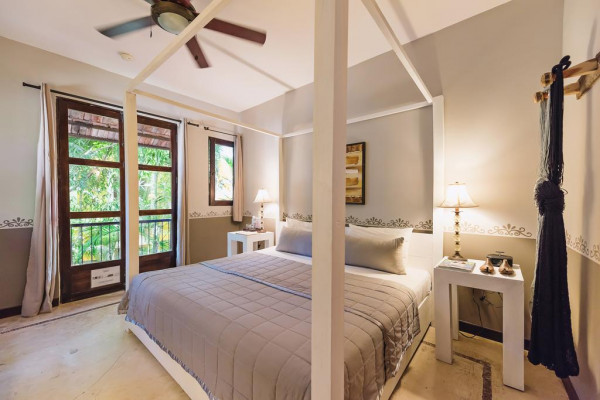 Also in Playa del Carmen, some of the Hotel La Semilla's nine rooms start from less than £70 per night. But this is a more stripped-back and fashionable property with well chosen flea-market furniture and no TVs.
The Zamas Hotel is a laid-back 20 room property on one of Tulum's most beautiful stretches of beach. The decor is rustic chic with wooden furniture in sort of tile-floored huts. There's also a private villa for families and the restaurant has great traditional Mayan fare. Rooms start from around £90 per night.
For around £100 per night you can stay at Tulum's Hotel Tiki Tiki, a 15 room boutique hotel in leafy surrounds. The decor features plenty of glass and minimalist design.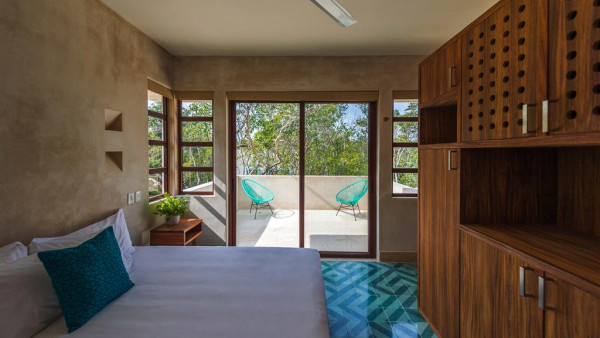 Be Playa in Playa del Carmen is a chic boutique property with contemporary rooms with wooden floors, hot tubs and excellent views. There's also a rooftop pool, a hip bar and a creative seafood restaurant.
For around £130 per night you can stay in Live Tulum, a small, hip boutique property with great beach access, private jacuzzis and which on white decor.
If you haven't found your idea of the best hotels on the Yucatán Peninsula on our Guru's list of the 30 Top Hotels on the Yucatán Peninsula you could:
30 Top Hotels on the Yucatán Peninsula
posted Thursday, 9th August 2018
Search the best hotels in Yucatán