10 Great Hotels near the Colosseum, Rome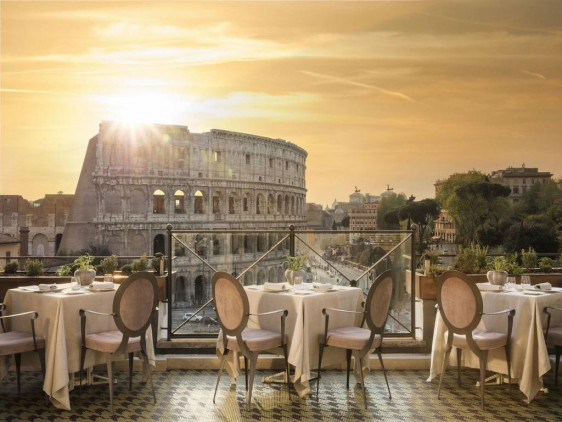 At the heart of Ancient Rome, the Colosseum was a testament to Roman design and engineering when it was built, about 2,000 years ago, and it still is today. Which is why it tops the list of sights for visitors to Rome, and why we're never surprised when people ask for recommendations for the best places to stay near the Colosseum. Conveniently located on the borders of the Monti and Celio districts, there are lots of hotels in this area, including a few which actually overlook, or have roof terraces that overlook, the Colosseum. But there are a few a bit further afield which we recommend as well, especially if you're looking for a city break style hotel, or for a great value Roman hotel. But there's a lot to be said for waking up close to the Colosseum — if you can see it before breakfast you'll have it almost to yourself, and that's quite a special experience...
For a city break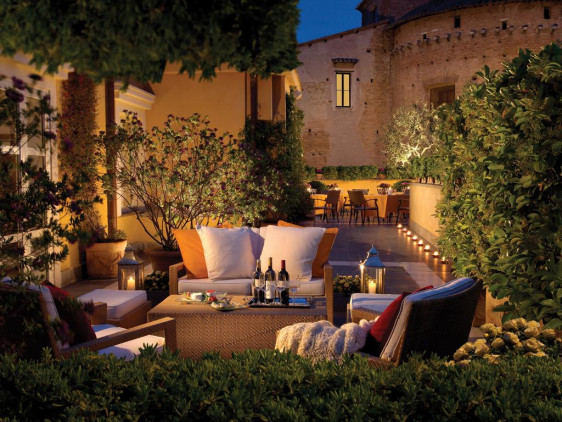 Forty Seven is a contemporary, and affordable, boutique hotel, with 61 rooms and suites and a fantastic roof terrace restaurant. The best rooms have private terraces, but even the simpler rooms have great views of the Palatino and the Colosseum beyond, or of the Tiber in the other direction.
Almost in the shadow of the Colosseum, and with a roof terrace overlooking the site, the Capo d'Africa is a sleek, 65 room hotel. Its rooms and suites are classic city break style, and there's a great little gym and a super bar and restaurant. Perfect for a city break to Ancient Rome!
The K is simple and elegant, with four stars and boutique styling throughout its 62 rooms, family rooms and suites. We love this hotel for its simple elegance, think herringbone parquet and wonderful city views. We also like the chic spa and rooftop jacuzzi.
For a Special Occasion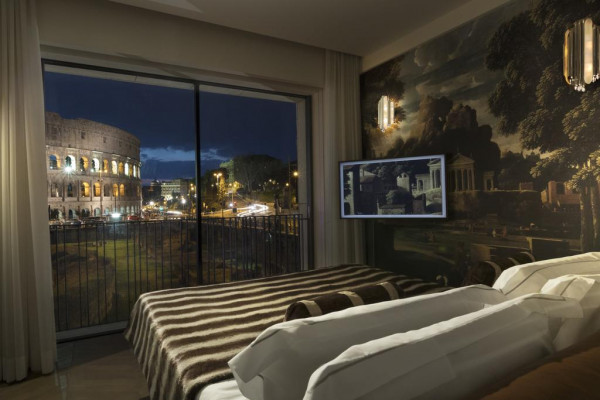 Right beside the Colosseum, and the Forum, the Palazzo Manfredi is a five star property with just 16 luxurious rooms, suites and apartments, all large and luxuriously decorated, and many with private views onto the Colosseum and Forum. But it's difficult to top the views from the excellent rooftop restaurant, which is worth considering for a meal, even if you don't end up staying here.
Or you might try the Hotel Celio. Its romance is traditional, and its 19 rooms and suites have memorable features, like mosaics and frescoes, trompe-l'œil paintings and Murano glass. It's directly opposite the Colosseum too, with a roof terrace with an incredible view, and a small pool.
For a romantic stay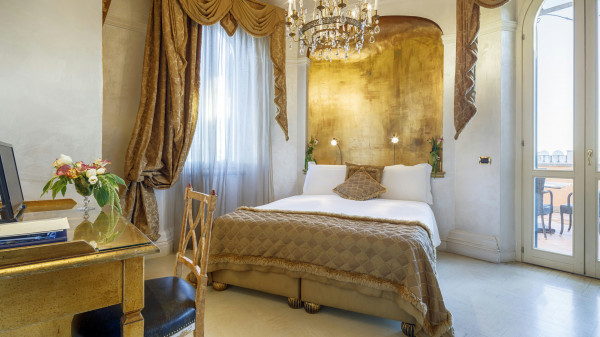 The San Anselmo isn't the closest hotel to the Colosseum, but it's in the smart, hilltop Aventine district, offering wonderful views of it from many of the 34 peaceful rooms and suites. The Baroque decor offers a sense of classic opulence, but with all the mod. cons., and guests find this a peaceful, as well as romantic, choice.
With 30 bright, bold rooms and suites, the Roma Luxus is a fantastic conversion of an 18th century palace in the Forum. All of the rooms are smart and spacious, with well chosen Italian design accents, and the best suites have huge hydromassage tubs and private terraces. The spa is exclusive and the restaurant and bar are gorgeous.
If you're not enamoured by the idea of Baroque, or opulent, touches, then the Residenze Argileto might just provide your idea of romance and luxury, close to the Colosseum. With 20 rooms, carefully decorated with pared back style and the best of minimal Italian design: think four-posters and original art works, but unfussy walls and fabrics, this is a stylish, contemporary hotel. And it's got a great spa and restaurant too, and a fantastic roof terrace with a bar.
Family Friendly Hotels near the Colosseum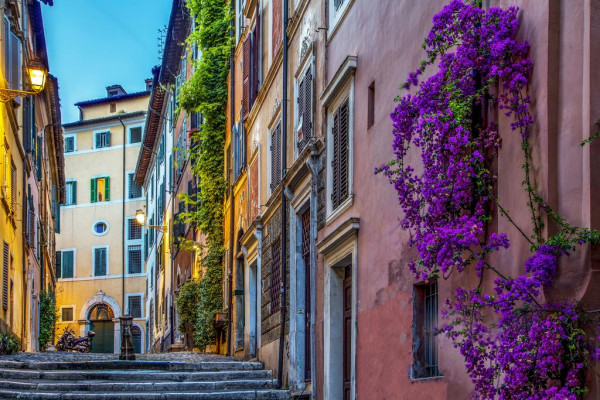 The Inn at The Roman Forum is a beautiful guesthouse, on a quiet, cobbled, pedestrianised street in Monti, close to the Forum, obviously. Its 14 rooms, family rooms and suites, are decorated with plenty of flair, and are deceptively spacious, considering the inn's facade. Expect four-poster beds, fireplaces, private balconies, and an incredible roof terrace.
For great value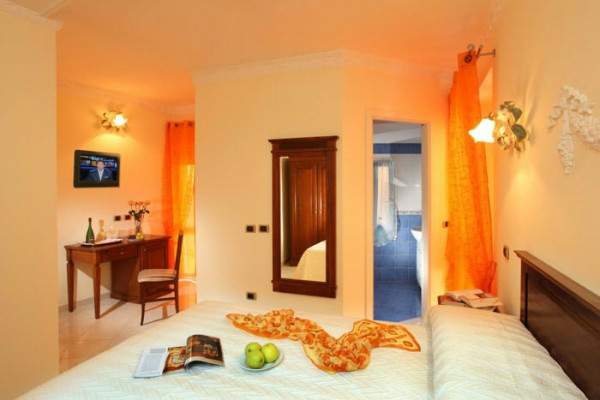 The Hotel de Monti is a bright, contemporary, B&B, with seven comfortable rooms. It's located midway between the Colosseum and the central train station, close to Trajan's Market. There are only seven rooms, all of them furnished in pale colours against dark wood.
If you haven't found your idea of the best place to stay in Rome here, you could:
posted Tuesday, 21st July 2020