The 15 Best Value Hotels in New York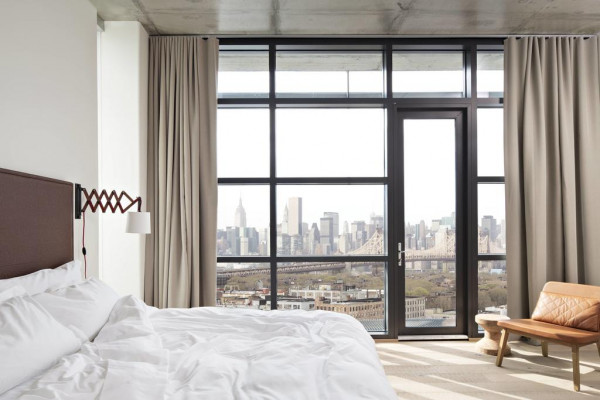 Great value and New York are not generally two things that go hand-in-hand. However, there are ways to make a trip to the Big Apple considerably more affordable. Our Hotel Gurus have scanned the length and breadth of the city to bring you a collection of the best value hotels in New York. Within the list is a range of options from accommodation with bunk rooms, ideal for groups of friends, to downright luxurious hotels offered at very reasonable prices. With options located across the city, there is something for everyone regardless of what your trip entails. So why not browse through our collection to start planning your next city break?
For a boutique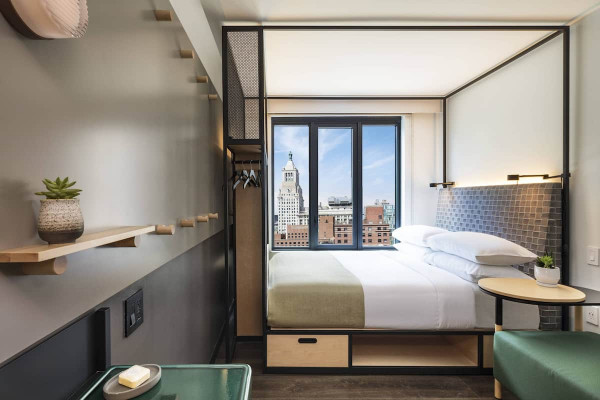 Moxy NYC East Village is a trendy boutique hotel situated in East Village, the neighbourhood synonymous with the birth of the American counterculture. Cosy, stylish and affordable rooms offer walk-in rain showers and stunning city views. Complete three hip bars and a French restaurant, this is a trendy stay.
Hotel Hendricks is a trendy upscale boutique hotel just steps away from 5th Avenue. Luxe rooms have a safari-chic feel. Two rooftop bars serve delicious handcrafted cocktails with incredible Manhattan views. A chic and affordable choice for groups of friends.
For long stays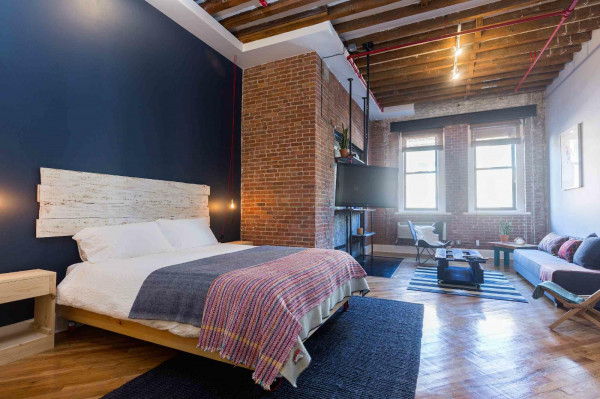 Habitat 101 is a collection of fully furnished serviced apartments in the trendy neighbourhood of Greenpoint. Airy and spacious studios and lofts offer kitchens, workspaces, contemporary artworks, bohemian accents and stunning city views. The ideal solution for anyone planning a longer stay.
For foodies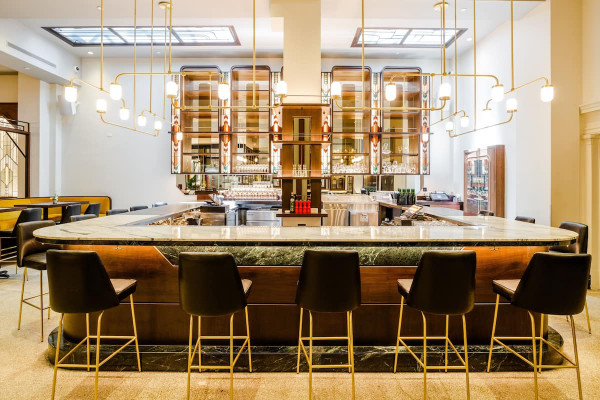 Evelyn Hotel is a surprisingly affordable art-deco hotel. Stylish and sophisticated rooms have vintage touches and antique furnishings. Benno, the hotel's Michelin star restaurant, offers a memorable fine-dining experience featuring coastal Mediterranean cuisine. Complete with a renowned cocktail bar — this is an alluring choice.
For groups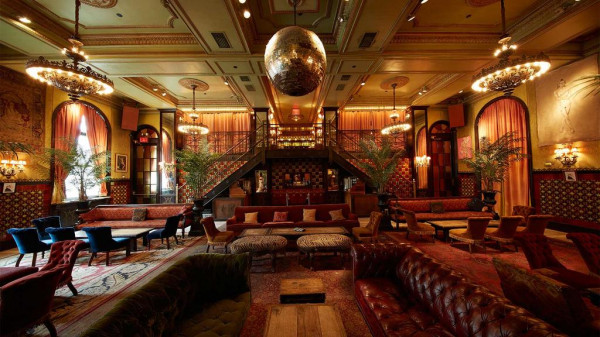 The Jane Hotel is a unique boutique stay offering affordable accommodation in the historic West Village. Accommodation options include bunk rooms, single cabins, or wonderfully retro doubles. The popular rooftop nightclub gives the property a youthful feel. Ideal for groups of friends.
For sightseeing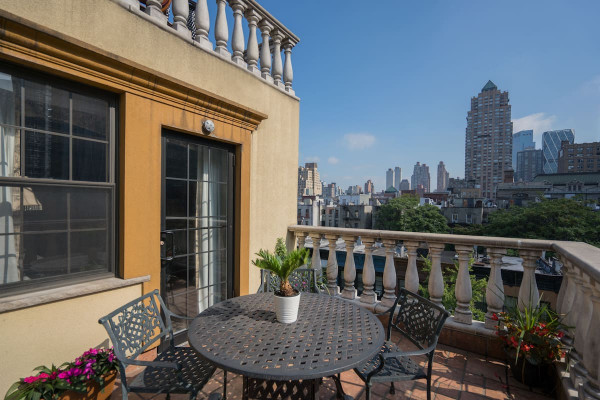 For a quirky stay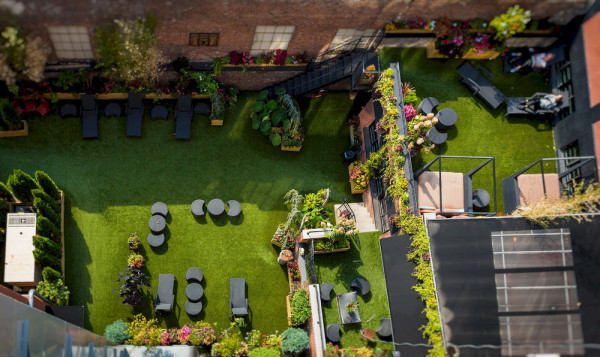 Paper Factory is a quirky and unusual hotel in Long Island City styled as industrial-chic; a modern renovation of a paper factory. The spacious rooms pay homage to the historic industrial architecture whilst featuring upscale and antique furnishings. Mundo serves exotic food, and all communal areas are characterful.
For a hip base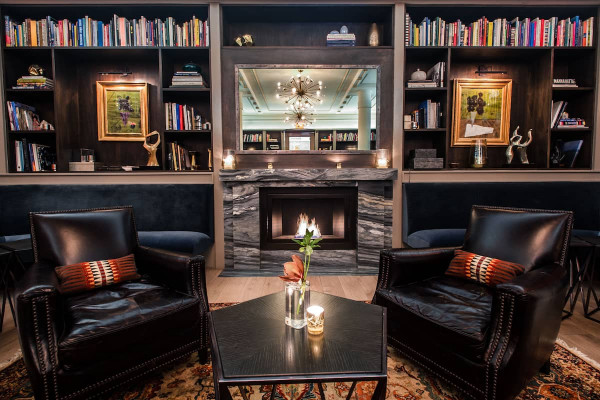 HGU New York is a mindfully designed and eco-conscious hotel in the NoMad district of New York. Luxurious rooms and suites feature chic modern art collections and custom Turkish patchwork. Sip on artisan cocktails on the terrace and eat at the delicious bistro. A very hip choice offered at great rates.
Boro Hotel is an uber-hip Queens property offering cutting edge design and a great location just one subway stop from Manhattan. Interiors mix glass alongside concrete with sharp lines and minimalist furniture. A rooftop cocktail bar and superb pizzeria complete the picture at this trendy stay.
For couples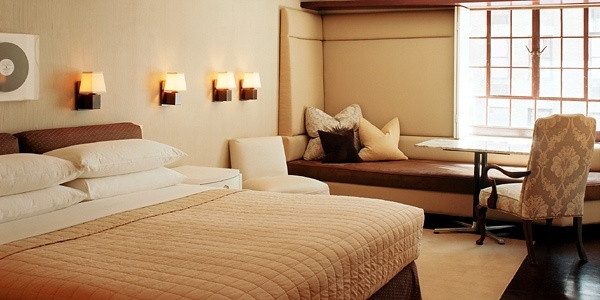 The City Club Hotel feels like a gentlemen's club because that's what it used to be: subtly luxurious, classy and welcoming. The French-American restaurant is curated by award-winning chef Danial Boulud, and it's got a bit of French glamour too.
For luxury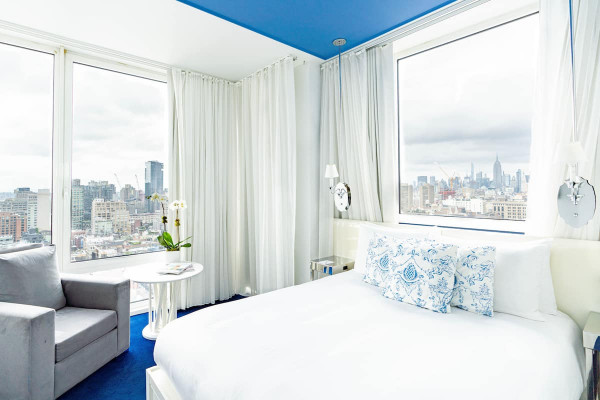 Nomo Soho is a luxury hotel boasting a curated collection of vintage and contemporary art, set in the heart of Soho. Accommodation features bright blue and white hues, floor-to-ceiling windows and indulgent marble showers. Nomo Kitchen is a hip joint for dining and cocktails. A stylish city pad offered at exceptionally good rates.
For a B&B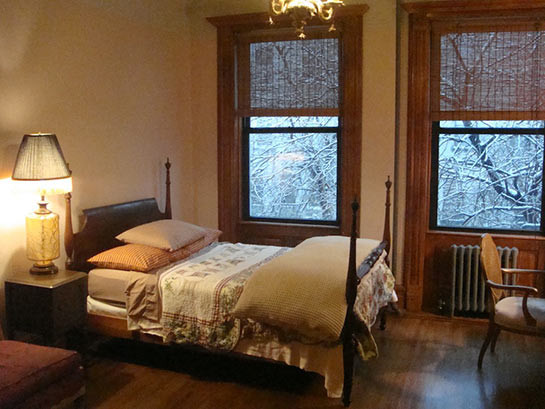 The Harlem Flophouse is one of our favourite New York B&Bs, lovingly, and recently restored, The Flophouse represents an opportunity to stay in a real New York Victorian brownstone, with cosy rooms with wooden floors and fireplaces. This is a really welcoming place to stay, you're on a quiet street in Harlem's cultural quarter, and the place is owned and run by local artists who really want to show you a fantastic time in Harlem. There are just five rooms, so book ahead!
Still not sure where to book?
posted Wednesday, 1st February 2023