The 20 Best Hotels in Provence for Foodies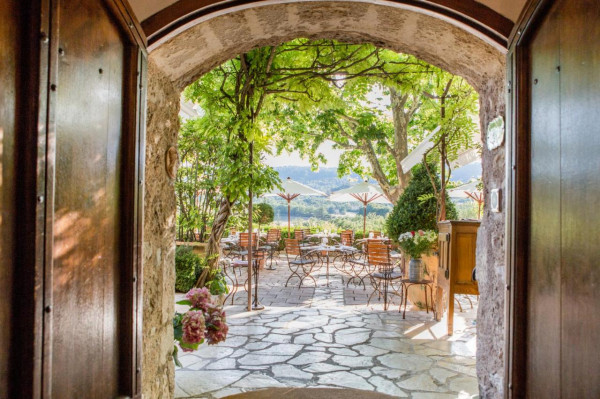 Provence has much to offer lovers of good food and drink. Wine has been produced here since Roman times and there are a number of appellations to traverse and taste. And food in Provence is central to cultural life. There's much pride in local produce and almost every town and hilltop village - however small and picturesque - has a lively market packed with locally grown and produced deliciousness. So a collection of the 20 best hotels in Provence for foodies was an obvious challenge to set for our Gurus. Who of course suffered long and hard enjoying simple soups on farmhouse terraces, terrines overlooking the vines and five hour gourmet lunches beside rows of lavender.
Yes, Provence is the perfect setting for al fresco dining… And they've slaved away under sun, sea spray and the scent of citrus brought on a mountain breeze to bring you their recommendations for the 20 best hotels in Provence for foodies.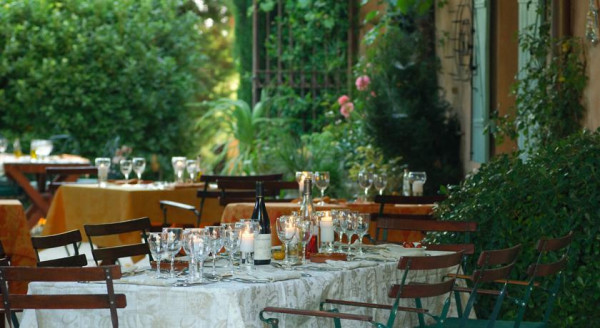 Not all of the properties on our list of the best hotels in Provence for foodies have a Michelin starred restaurant, in fact not all of them have a restaurant! But they all offer wonderful access to Provençal cuisine in one way of another, and range from rural bastides to city grand dames.
For a Provençal Escape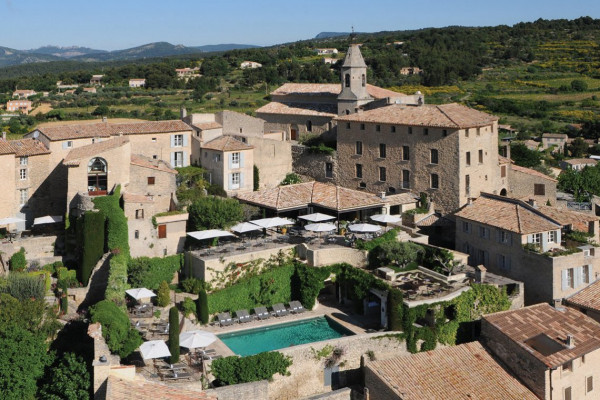 La Bastide de Moustiers is a 17th Century bastide with elegant, understated interiors, lovely gardens and terraces and a restaurant menu by Alain Ducasse. The lavender filled gardens around a large swimming pool and shady terraces are the perfect places for sipping wine.
The Grand Hotel Henri in L'Isle sur La Sorgue, is an elegant, historic hotel in the centre of town with 17 timelessly decorated rooms and a courtyard restaurant brought to you by Michelin starred chef, Pascal Gin.
The Hotel Crillon le Brave in picturesque, hilltop Crillon le Brave, is a smart hotel spread throughout a cluster of atmospheric old buildings linked by cobbled alleys, with fine dining on the terrace and amazing views. This is a luxurious, elegant hotel with every comfort, including a pool and spa.
In Rural Provence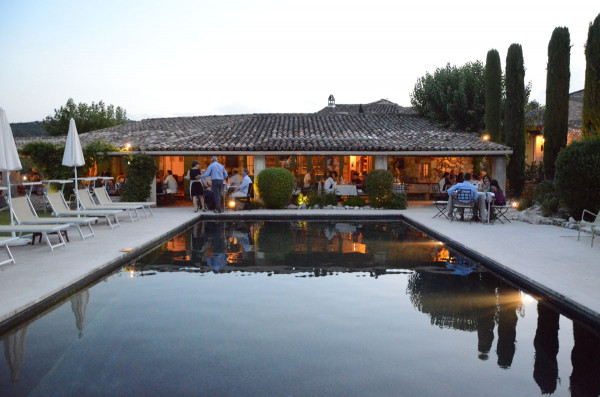 La Ferme de la Huppe is a converted farm with beautiful views over the Luberon and the old village of Gordes. Calm and peaceful with just ten rooms, a tranquil garden and pool and an exciting restaurant, this hotel is a traditional Provençal hideaway.
Le Pavillon de Galon is a delightful 18th century pavilion tucked into the aromatic Luberon landscape and overlooking its own award-winning garden. There are just two rooms, an the accommodation is B&B, but you're right in the midst of a number of well known Michelin starred restaurants, so you have privacy and access to numerous excellent menus. Plus the pavilion has two pools.
La Bastide de Marie is a luxurious converted bastide in a glorious rural setting with 14 elegant rooms and beautifully manicured gardens, surrounded by vineyards and lines of cyprus trees. The food is sourced locally and paired with wines made on the property.
For a romantic stay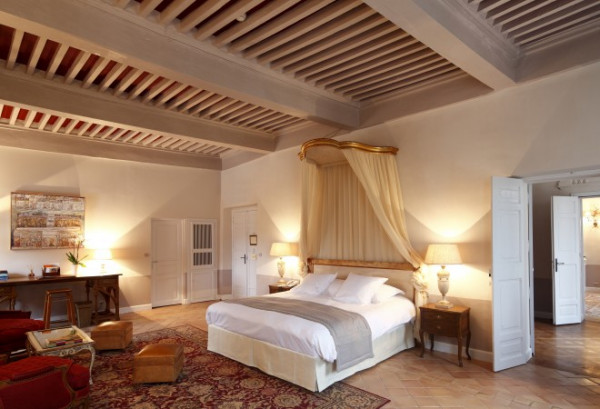 The Hostellerie de L'Abbaye de la Celle in La Celle is a beautiful hotel set amongst vineyards, with elegant Louis XVI style furniture in its 14 rooms. The pool, gardens and terraces are picturesque and there's a Michelin starred restaurant serving local produce.
The Villa Augusta in Saint-Paul-Trois-Châteaux, is a fabulous hotel and restaurant surrounded by a parkland of cedar and olive trees. The 23 rooms mix traditional Provençal design with contemporary furnishings and all the mod. cons.. And of course there's the fantastic gourmet cuisine in the fine dining restaurant. They also do wine tastings and truffling expeditions.
Le Vieux Castillon is a stunning, 30 room hotel in Castillon-du-Gard. A Renaissance building, made from golden stone, surrounded by terraces then cypress and olive trees, this hotel is perched on a hill overlooking a beautiful valley. The cuisine is flamboyant Provençal and the rooms and suites are very romantic.
The Best Michelin Starred Hotels in Provence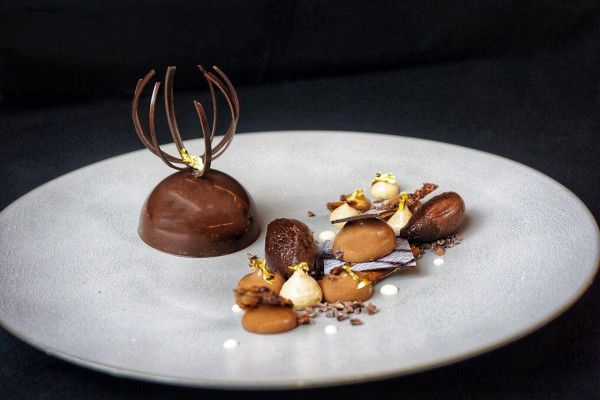 Hotel Michel Chabran in Valence, northern Provence, is a Michelin starred restaurant with ten simple, Provençal style rooms and a beautiful verandah. Close to vineyards of note and a golf course.
For a reasonably priced hotel with a Michelin star you can't go past the Hostellerie Berard et Spa in La Cadière-d'Azur, a lovely hilltop villa overlooking a green valley. There are 40 chicly decorated rooms and suites, most with private balconies, and an excellent spa and wine cellar.
For a Provençal City Break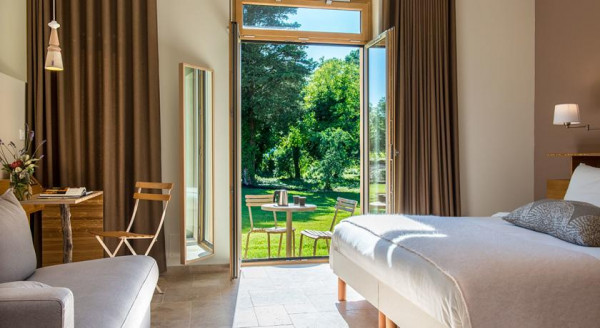 The Château de Massillan in Avignon is a beautifully renovated small château with turret bedrooms and elegant interiors. It's surrounded by parklands, a herb garden and lavender banks, and has a lovely lake, and an excellent restaurant serving regional cuisine.
L'Artemise is a heavenly gastronomic restaurant with five rooms on a hillside just outside Uzès, with superb views and a lovely garden. There's contemporary art on display, an elegant spa in the vaulted cellars including a lap pool, steam baths and a hot tub and the 'surprise' menu changes daily. Allow four hours for the full gastronomic experience…
For families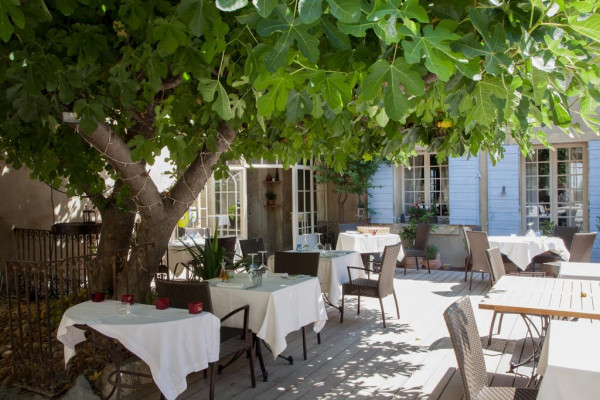 La Maison de Bournissac is a glorious hotel in Paluds de Noves, in the heart of Provence. There are 13 rustic chic rooms, some sleeping four, with exposed stone walls, lots of light and cream furnishings. The gourmet restaurant serves Mediterranean cuisine, there are romantic, fig-lined terraces and a large pool area.
The Best Hotels with Cooking Schools in Provence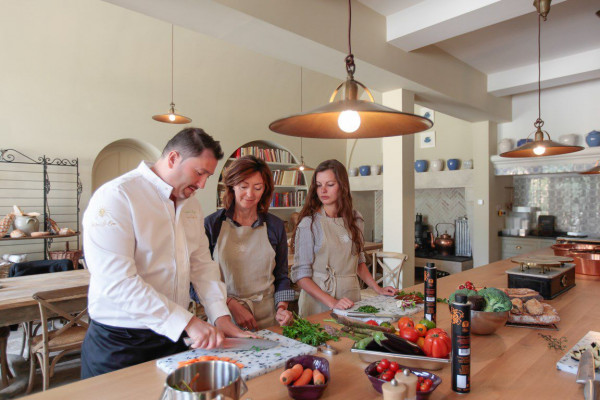 If you want to eat well, but also learn something about what you're eating then Château de Berne is for you. Surrounded by 1,500 acres of private vineyards, they offer wine tastings and cookery classes, and the fine dining restaurant has a Michelin star.
La Mirande, in Avignon, is an immaculately converted former Cardinal's mansion in the heart of the city opposite the Palais des Papes. There are 21 rooms and suites and a sculpture-filled courtyard where they serve Michelin starred cuisine. There's also a cookery school.
For great value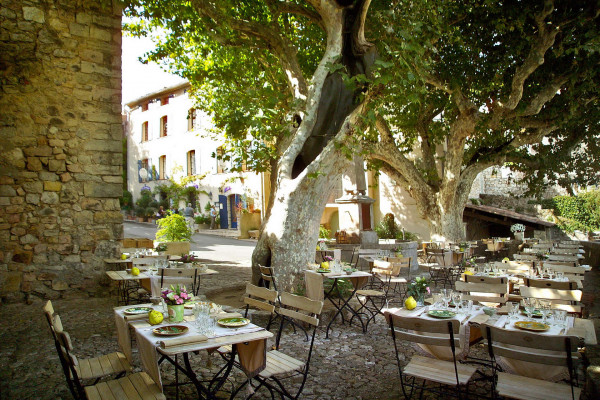 Hotel des Deux Rocs in Seillans, is a sublime restaurant with sweeping valley views and 11 delightful rooms. There are shady terraces on which to enjoy the excellent food when the weather is right. They have three family rooms, and prices for a standard room starts from around €75 per night.
L'Enclos des Lauriers Roses is a fabulous country hotel surrounded by vineyards, orchards and olive groves. There are 23 rooms, arranged in a way that's perfect for families or groups, starting from around €80 per night. Airy and bright, this hotel also has four pools a great restaurant and a great wine list.
Still not sure which to book?
posted Wednesday, 13th July 2022