Where to Stay in Amsterdam
Top Tips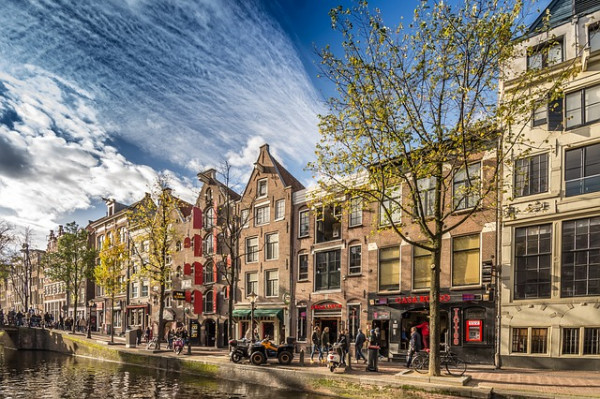 Christo Anestev from Pixabay
Our guide to Amsterdam's best neighbourhoods is just what you need to help you plan your visit to Amsterdam. We have great recommendations, whether you're here to explore this artistic city's history, its architecture, its markets, its cuisine, its museums, or if you're just here to kick back and enjoy yourself. We think the best city breaks are those where you match the atmosphere of the neighbourhood you stay in with the kind of trip you're planning.
Neighbourhood Guide to Amsterdam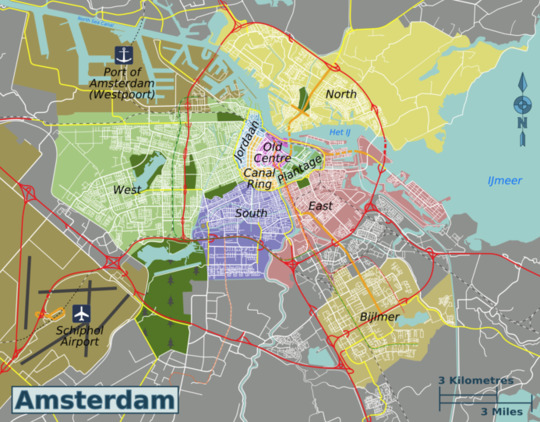 Globe-trotter, based on work b
There are a lot of different reasons to visit atmospheric Amsterdam, the famously artistic and liberal city built on and around concentric circles of man-made canals. Its narrow lanes, arching bridges and tall, gabled houses are close packed within the canal rings, and this is where many people find their reasons to visit, in the museums and galleries, the cosy cafes, creative restaurants, the friendly bars, markets and boutiques. Outside the ring are the up-and-coming neighbourhoods, some chicly claimed and de-industrialised, others green and leafy, and here you'll find the tech start-ups, the craft breweries and gin distilleries, the creative hubs and some of the hottest clubs and venues in Europe.
If you're planning to stay within the rings then you'll find Amsterdam snug enough to get around on foot. A lot of people do it on two wheels, and some people do it on the water. There's a tram network around central Amsterdam and an excellent rail network serving the larger area, and buses and a five-line metro service in some areas too. The main transport hub is Amsterdam Centraal Station.
Amsterdam Centrum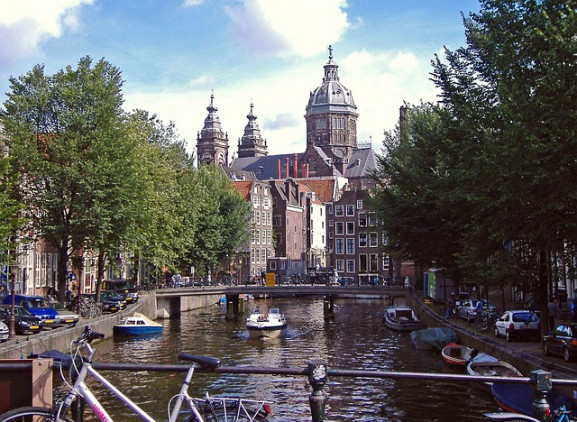 Erich Westendarp from Pixabay
You probably guessed from the name, but Amsterdam Centrum is the centre of this town, the part at the very centre of the canal rings. The part that includes the station, Amsterdam Centraal, and Dam Square, the royal square, and the Royal Palace, the old floating flower market, the Nieuw Kerk, Oude Kerk and Westerkerk, the Amsterdam Museum, Rembrandt House, Anne Frank's House, and NEMO, the science and technology museum. This is almost certainly where you'll need to come for a canal tour, and most probably if you want to experience the full flavour of Amsterdam's nightlife — Amsterdam's Red Light District is in the Oudezijds Burgwal area, which is also one of the oldest parts of the city. Amsterdam Centrum is also where you'll find some of the busiest shopping areas, around Kalverstraat and Nieuwendijk. There are some extremely elegant and peaceful parts of Amsterdam Centrum, with beautiful canal-side homes and charming bars and cafes, but also some faded and rather seedy bits. You can get around all of it on foot if you want to, and if you don't then we suggest the tram, a bike or a boat.
Pros and Cons
Pros: atmospheric, canal-side, historic, major attractions, great choice of dining and drinking, elegant architecture, market shopping, shopping, walking distance from major sights
Cons: touristy in places, grubby in places
Ideal For: city-breakers, couples, families, those who want to be within walking distance, night-owls, foodies, history-buffs, art-lovers, architecture-lovers
Discover our recommended hotels in Amsterdam Centrum.
Dam Square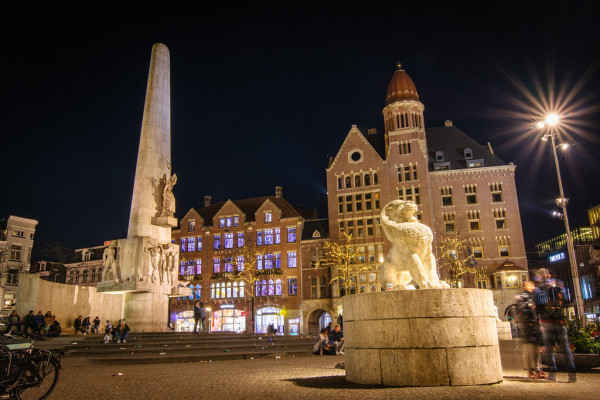 Flickr user Viv Lynch
Dam Square is the very heart of Amsterdam, the epicentre of Amsterdam's busiest tourist neighbourhood. On the west side of the square is the Baroque built Koninklijk Paleis, which started life as the opulent town hall and became the royal palace when Napoleon Bonaparte made his younger brother, Louis, the King of the Netherlands in 1808 — inside it's magnificent, with marble halls and a very fine art and sculpture collection. Dam Square is also very close to the Amsterdam Museum, Madam Tussauds and the Nationaal Monument, which is on the spot where Amsterdam's first castle once stood. This is one of the most central places to stay in all Amsterdam, and known for its affordable, if touristy, hotels and restaurants.
Pros and Cons
Pros: central, affordable, good public transport links, major landmarks
Cons: touristy, busy
Ideal For: value-seekers, fun-lovers, night-owls
Discover our recommended hotels in Dam Square, Amsterdam.
Canal Ring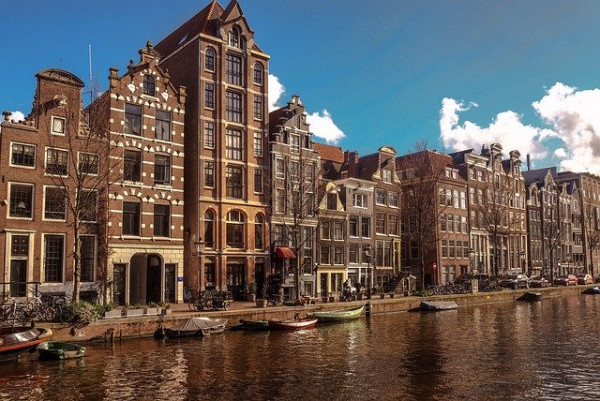 millionairemob from Pixabay
The Dutch call it the Grachtengordel, or Canal Belt, but luckily the rest of us can get away with naming the canals individually, starting in the centre with the Singel, then running in parallel circles, the Herengracht, the Keizergract and the Prinsengracht — which we think are a bit easier to say, especially when you think of them by their translated names, the patrician's, or merchant's canal, the emperor's or king's canal, and the prince's canal. The outer three were all planned as residential, and the incredible buildings built along them were all homes and warehouses. These canals represent 16th century Amsterdam's golden age of wealth and construction, and they're still one of the city's highlights. The canal ring is also where many of Amsterdam's major sights can be found, including the Anne Frank House and the Bloemenmarkt, or flower market, and you're just two canals over from the Rijksmuseum and the Van Gogh Museum. On the western side of the canal ring, between Prinsengracht and Singel is the Negen Straatjes neighbourhood, which is particularly chic quarter known for its clubs and music venues. This is a great area fro strolling around, but if you need to get somewhere in a hurry take the tram.
Pros and Cons
Pros: canal-side, atmospheric, historic, unusual, excellent dining and drinking options, central, romantic
Cons: limited taxi access, lively and busy in pockets
Ideal For: romance, special occasions, first-time visitors, history-buffs, sightseers
Discover our recommended hotels in Amsterdam's Canal Ring.
Negen Straatjes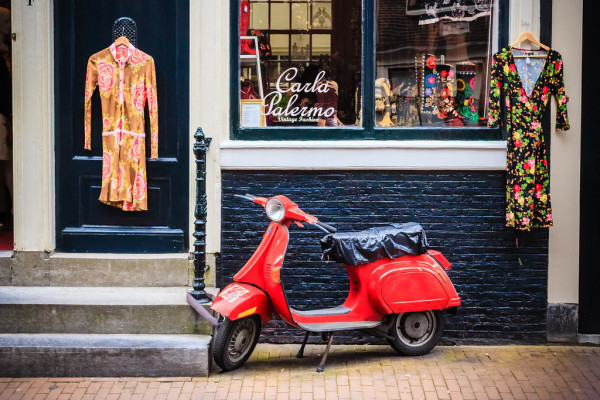 Flickr user Ronel Reyes
Negen Straatjes translates to 'nine streets', which is what it is, a chic little neighbourhood of nine streets lined with galleries and boutiques, alternating with bijou independent bars and restaurants. If you're planning to do a spot of shopping in Amsterdam, be it for design pieces, antique treasures or fashion finds, then these nine streets are for you. This is also a great base for exploring the rest of the canal ring. You're a few blocks, and the Prinsengracht, from Jordaan, and within a really pleasurable walk of the other highlights of the canal ring and the MuseumKwartier.
Pros and Cons
Pros: atmospheric, romantic, independent boutiques and galleries, great cafes, bars and restaurants, canal-side
Cons: expensive
Ideal For: romantics, foodies, shoppers, history-buffs
Discover our recommended hotels in Negen Straatjes, Amsterdam.
Jordaan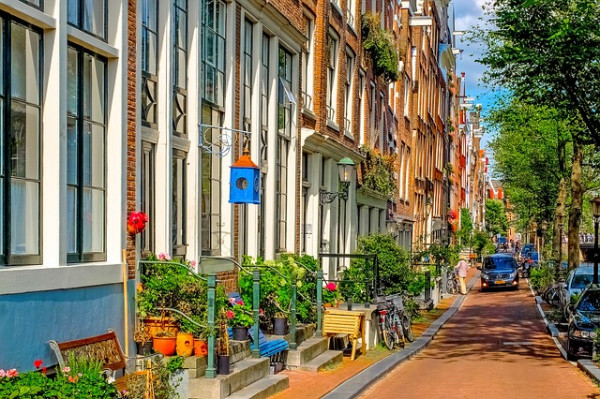 Image by djedj from Pixabay
Jordaan is a really charming, traditional-looking neighbourhood of narrow streets and canals, smaller homes, almshouses and workshops, just outside the canal ring, on the western side, around a five minute walk from Amsterdam Centraal. It's been a popular neighbourhood with artists and bohemians, but these days it's been gentrified even further and features design boutiques, chi-chi galleries and smart cafes and wine bars. But it's still much more independent than Centrum, and has more traditional 'brown cafes' than other parts of town, plus a farmers' market on Saturdays. And its Antiekcentrum is a labyrinth of antique shops that's difficult to match. You're still very centrally located.
Pros and Cons
Pros: atmospheric, charming, historic, great shopping, great cafes, bars and restaurants, central, walking distance from major sights, residential, canal-side
Cons: buildings mean accommodation is often bijou, residential
Ideal For: romantics, foodies, shoppers, couples
Discover our recommended hotels in Jordaan, Amsterdam.
MuseumKwartier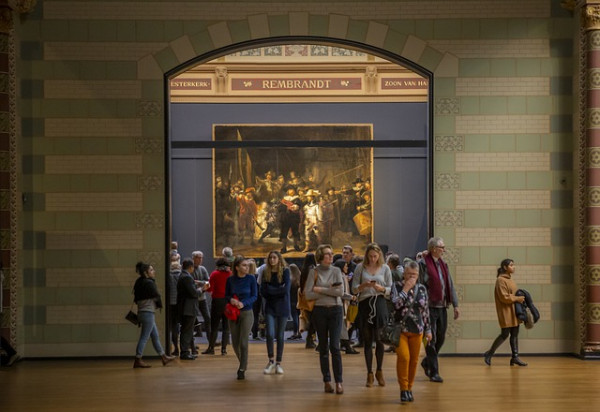 Ron Porter from Pixabay
If one of the key reasons you're visiting Amsterdam is to visit the museums, then the MuseumKwartier is an obvious choice, radiating out from Museumplein, off which you'll find the Rijksmuseum, the Van Gogh Museum and the Stedelijk Museum. These museums are treasuries of visual art, but if you're looking for a good balance of old and new then visit the Moco Museum too, it has a cutting edge collection of street art. The MuseumKwartier is also home to Amsterdam's concert hall. And just behind the museums is Albert Cuypstraat, a street known for its vibrant multi-cultural offerings, along with rows of excellent cafes, and a nice collection of boutiques. It's also got one of the largest, and busiest street markets in Europe. You're minutes from the Vondelpark, and from the canal ring, and you can catch a tram from here to Amsterdam Centraal in minutes.
Pros and Cons
Pros: museums! art! major sights, central, good range of dining and drinking, fantastic architecture
Cons: busy, can be expensive
Ideal For: art-lovers, luxury lovers, families
Discover our recommended hotels in Amsterdam's MuseumKwartier.
De Pijp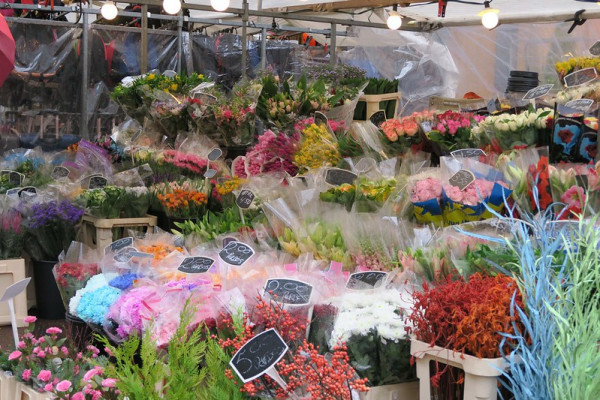 By Flickr user Franklin Heijne
De Pijp sits just behind the MuseumKwartier, on the other side of Albert Cuypstraat, so it's very convenient for visiting the museums and the rest of Amsterdam, but it's got a very different vibe. This is a real residential neighbourhood, known for being multi-cultural, something which is super evident when you stroll the area and peruse menus outside the cafes, restaurants and street-food vans and stalls. You can see that De Pijp's culinary inspiration is coming from all over the world, but especially from the old Dutch colonies. Albert Cuypstraat is the neighbourhood's busy hub, and it's even busier on Saturdays when the market swells in size. If it's a nice day people spill over onto the neighbourhood park, Sarphatipark, next door. De Pijp's architecture is unlike that of central Amsterdam; built in the 20s, it's modernist, influenced but the Amsterdam School. You're close enough to the centre of town to get around on foot, but you don't have to, there are plenty of tram and bus stops.
Pros and Cons
Pros: affordable, central, multicultural, great foodie scene, close to the museums
Cons: busy, residential, grittier
Ideal For: great value, foodies
Discover our recommended hotels in De Pijp, Amsterdam.
Vondelpark Adjacent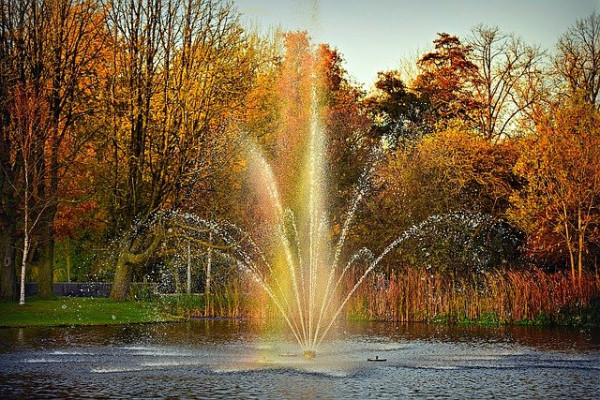 Mabel Amber from Pixabay
Long and narrow, the Vondelpark is the only park in central Amsterdam, so as you can imagine it's pretty popular, but it is big! 120 acres. It's not quite neighbours with the Rijksmuseum, but very close by, and the streets around it are a mostly elegant collection of tall, traditional Amsterdam townhouses. The adjacent suburbs are called Vondelbuurt, Overtoomse Sluis and Willemspark, the latter being the one on the museum-side of the park, and probably the most elegant, known for its leafy streets and high-end cafes, boutiques and restaurants. Among its many facilities the park has a charming modernist tearoom called the Blauwe Theehuis, an open air theatre, several playgrounds and playing fields. And it's very central. So it's worth visiting even if you're not staying here.
Pros and Cons
Pros: green-space, central, close to the museums
Cons: quiet
Ideal For: families, visitors looking for a peaceful base
Discover our recommended hotels around Amsterdam's Vondelpark.
Vondelbuurt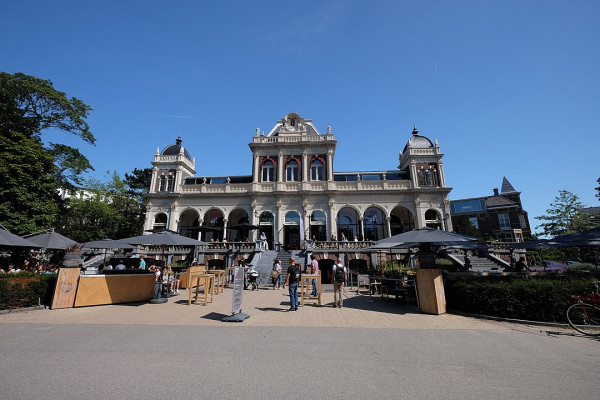 By Ben Bender, CC BY-SA 3.0, h
Right next door to the Vondelpark on one side, the charming neighbourhood of Oud West on a second, and the canal ring on a third Vondelbuurt is a lush and leafy, mostly residential neighbourhood. So it's a peaceful place to stay, with plenty to do around it. And it's just across the Singelgracht from Leidesplein, which has some famous music venues and the Stadsschouwburg theatre, so it's certainly not sleepy! There's also plenty of places to eat and drink along this strip, or on the other side of the park in the MuseumKwartier, or in upscale Willemspark. If you're in Amsterdam for more than a few days you might like to explore west from Vondelbuurt, this is where you'll find the only windmill in Amsterdam open to the public, and the Rembrandt Park, which is much larger, and quieter than the Vondelpark.
Pros and Cons
Pros: peaceful, green-space, central, close to the museums
Cons: residential, expensive
Ideal For: families, visitors looking for a peaceful base, couples
Discover our recommended hotels in Vondelbuurt, Amsterdam.
Plantage and the Jewish Quarter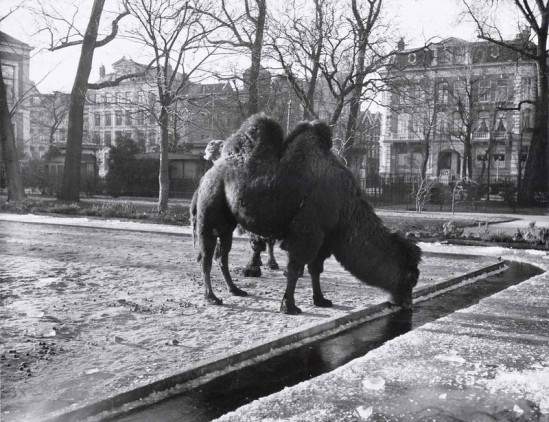 By Flickr user IISG
Plantage is a leafy, fairly residential-feeling area to the east of central Amsterdam, on the opposite side of the Amstel from the canal ring, but the canals still run through it. Most of the architecture in this part of town is in the tall townhouse-stye, and dates from the 19th century, but there are pockets of older buildings, especially around Jodenbuurt, which is the old Jewish Quarter. This was Rembrandt's stromping ground, and where you'll find the Museum het Rembrandthuis museum. It's also where you'll find the Jewish Museum. The neighbourhood's other main attractions are the Stadhuis-Opera complex, which is home to the Netherland's national ballet and opera companies; Amsterdam's outpost of the Hermitage Museum of Saint Petersburg; and the Artis Park, which also has a zoo, aquarium, planetarium and botanical gardens — the world's oldest. These are all pretty big attractions! This area is also known for having some of the most photogenic bridges, and stretches of canal, in Amsterdam. Plantage and the Jewish Quarter are within walking distance of the centre of town, but it also has numerous tram stops, and the Waterlooplein metro station.
Pros and Cons
Pros: leafy, central, major attractions
Cons: residential
Ideal For: families, self-caterers, visitors looking for a peaceful, central base
Discover our recommended hotels in Plantage and the Jewish Quarter.
Eastern Docklands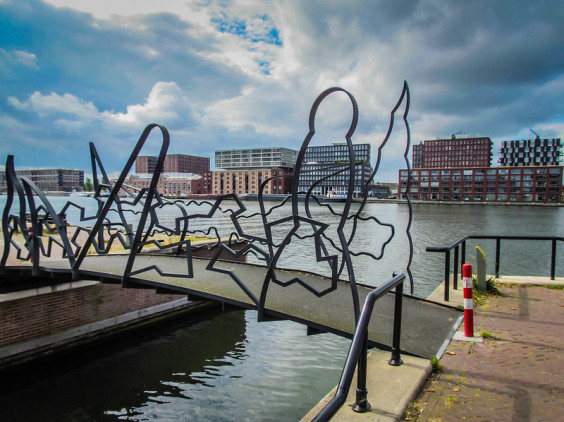 By Flickr user Randy Connolly
If you exit the Amsterdam Centraal and walk directly east, towards a group of angular, modernist looking buildings, you'll be heading in the right direction for the Eastern Dockyards. You'll need to pass NEMO, Amsterdam's fantastic science and technology museum, but once you're on the far side you'll start seeing the ships and boats you need to make a dockyard. As well as seeing ships and boats, and some wonderful old metal machines which could be sculptures, but are actually the real thing, in this neighbourhood you'll also see creatively converted warehouses and eye-catching new architecture. In addition to NEMO, the Eastern Docklands is where you'll find the Scheepvaartmuseum, which translates to Maritime Museum, and the Amsterdam, a replica of a vessel that sailed during the peak of the Dutch empire; the Muziekgebouw, a world class concert hall, and the Bimhuis, one of Amsterdam's top jazz venues. And there are plenty of places to eat and drink, and plenty of good ones too, and the whole landscape just feels like a really fresh, modernist, creative take on the Amsterdam standard of canals and footbridges. You can easily get around on foot, but there are also tram stops, and you're only a few away from Centraal Station.
Pros and Cons
Pros: major museums, canal-side, interesting architecture, central
Cons: has been described as clinical
Ideal For: families, value-seekers, aficionados of modernist architecture
Discover our recommended hotels in Amsterdam's Eastern Docklands.
De Wallen and Oud Zijde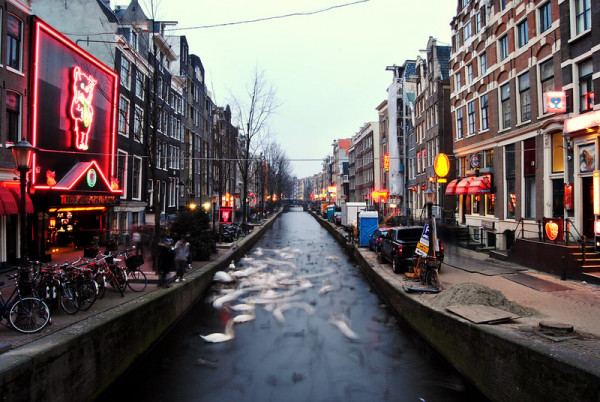 By Flickr user Dani De La Cues
Oud Zijde translates to old side, and this is the oldest part of Amsterdam, built in the 13th century. It's also where you'll find the oldest profession, in the Rosse Buurt, red-light district. De Wallen is a residential neighbourhood running right up against the edges of the more salubrious areas, its cafes and neighbourhood stores and delis are places where you'll come across all walks of life. But this lively area has a lot of cultural richness too, and its sightseeing highlights include the graceful Zuiderkerk, the Oude Kerk, and the medieval Montelbaanstoren, which was one of Rembrandt's favourite subjects. And as well as after-supper nightlife, this is a great supper spot too, with a very broad range of cuisine on offer, and some really excellent restaurants. You do need to have a broad mind, but if you enjoy local colour then these might be the neighbourhoods for you.
Pros and Cons
Pros: great value, central, lively nightlife, friendly atmosphere
Cons: raffish, lively
Ideal For: night-owls, those on a budget
Discover our recommended hotels in Amsterdam's De Wallen and Oud Zijde.
Westerpark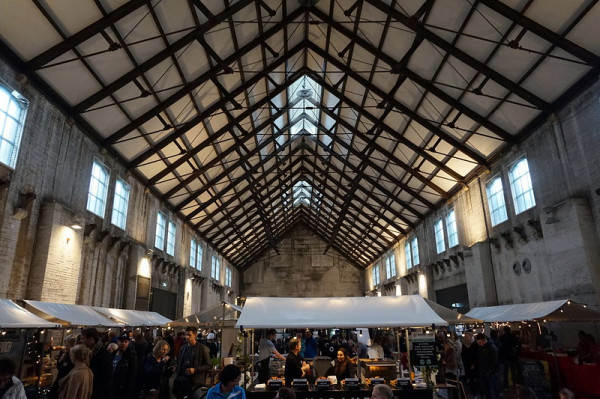 By Flickr user Matt Kieffer
Westerpark itself is a huge park, but the neighbourhood to the south and east of it has also come to be called Westerpark, and this lively, post-industrial area is a hip cultural hub, popular with families and cool kids and cats. The former Westergasfabriek gasworks has been converted into a cultural centre/district, with an art-house cinema, exhibition space, great cafes, bars, restaurants, markets and nightclubs, and the Het Schip Museum, which celebrates the city's modernist era. There are also great playgrounds, as well as the park. And Westerpark is within a short walk of Amsterdam Centraal, the canal ring and Jordaan, and within a short tram journey of the rest of the city.
Pros and Cons
Pros: green, lively, culturally rich, major attractions
Cons: residential
Ideal For: families, visitors who want more space, hipsters, foodies
Discover our recommended hotels in Amsterdam's Westerpark.
Amsterdam's Waterfront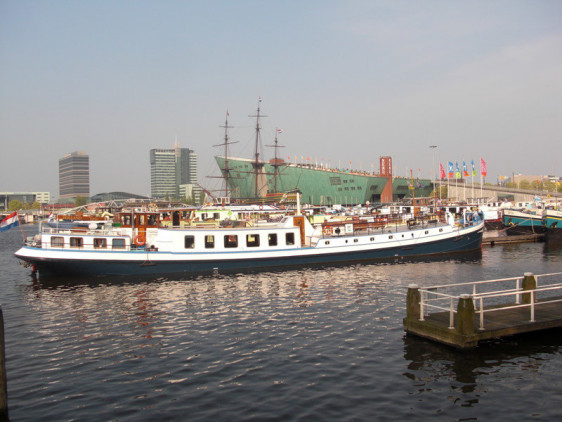 By Flickr user Michael Lehet
Amsterdam's Waterfront neighbourhood stretches from the rather picturesque Westelijk Eilanden, or Western Islands, along Prins Hendrikkade to the wide inner harbour of the Oosterdok. The Western Islands are historic enclaves, former shipowner's homes and warehouses up against IJ's riverside quays. This is a really charming area to stroll around, with an architecturally varied collection of bridges. On the other side of Centraal Station is NEMO, the science and technology museum, and the Maritime Museum, or Scheepvaartmuseum. In front of the station are rows of tour boats, and all around are small cafes and bars. And in Amsterdam if you're staying close to Amsterdam Centraal, you're close to everything.
Pros and Cons
Pros: canal-side, central, historic
Cons: limited places to stay and to eat
Ideal For: families, maritime enthusiasts, history-buffs, visitors looking for a different place to stay
Discover our recommended hotels in Amsterdam's Waterfront.
Amsterdam Noord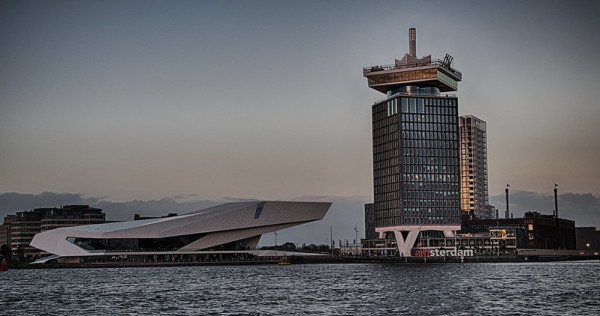 By Flickr user Maximilian Para
On the other side of the IJ from the canals and the big name museums is Amsterdam Noord, once an industrial powerhouse, home to giant shipyards, and now a super-hip neighbourhood. The iconic, 20-storey A'DAM Toren is one of the Noord's landmarks: a city in the sky, home to nightlife venues, eateries, an ultra cool hotel, and a panoramic rooftop deck complete with revolving restaurant, a terrifyingly vertiginous swing, and breathtaking sunset views. With its happening galleries, artists' studios, Europe's largest flea market, music venues and attractions including the EYE cinema museum and a dazzling new museum of street art, Noord is a destination in its own right. But it's also an edgy base, and with the free ferries to Amsterdam Centraal, or a swift metro journey there, you're not far from any of Amsterdam's attractions.
Pros and Cons
Pros: lively, hip, great venues, bars and restaurants, cultural centre, canal-side, central
Cons: lively
Ideal For: night-owls, hipsters, visitors looking for something different
Discover our recommended hotels in Amsterdam Noord.
Search the best hotels in Amsterdam