The 10 Best Hotels on the Dalmatian Islands, Croatia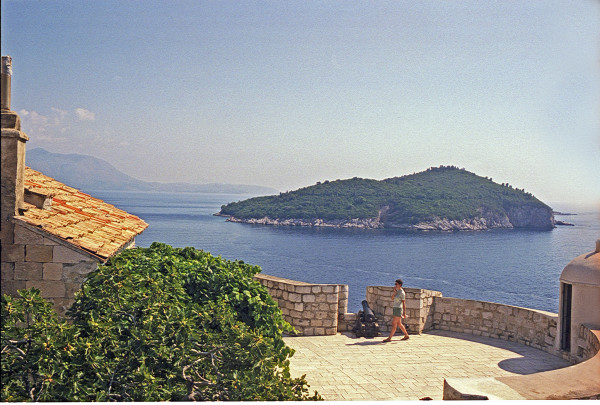 majunznk via Flickr
The Dalmatian Islands are a beautiful bunch, known for their spectacular views of the mainland, their pretty towns and villages, stretches of near perfect beach and historic treasures. Expect variety and expect beauty and you'll not be disappointed. Choosing the 10 best hotels on the Dalmatian Islands hasn't been an easy job. But our Gurus are here to help, and they've got some great recommendations throughout the island group.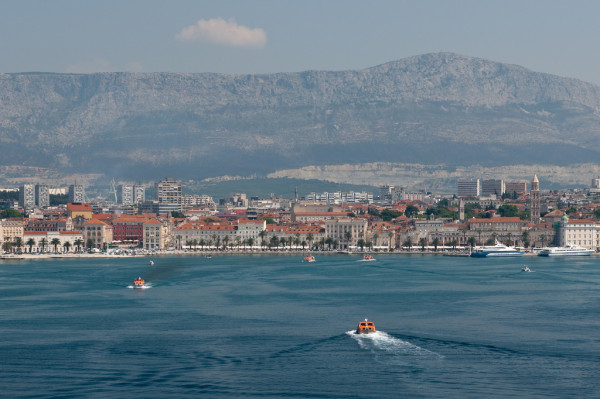 LenDog64 via Flickr
Their list of the best hotels on the Dalmatian Islands includes some great pit stops for those sailing the region, some wonderfully family friendly resort hotels perfect for a picturesque beach break and some of the most romantic properties you can imagine - we're talking good enough for Elizabeth Taylor. But first you might want to consider which islands are for you?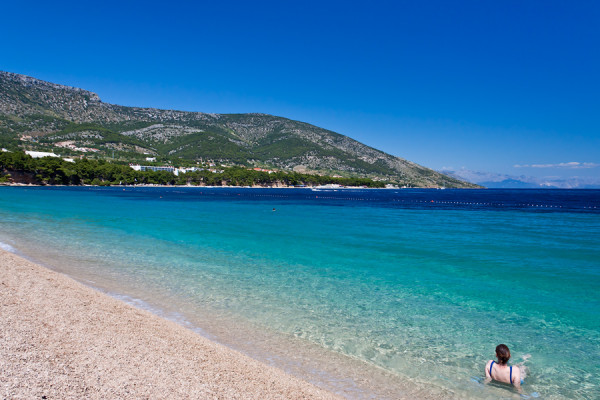 Which Islands to Visit
Northern Dalmatia stretches from the Kvarner Riviera to Split, including Zadar and Trogir. Split is the largest city in the region, so makes an easy base, and its Old Town, built around a vast Roman palace, is exceptionally beautiful. Zadar is the other large town in the region, again with an impressive Old Town littered with Roman ruins, medieval churches and excellent museums. But Northern Dalmatia is probably better known for its scenery, with some breathtakingly lovely National Parks, and some of the least built up islands of the Dalmatian Group - Pasman and Uglijan are prime examples. Beautiful Pag has some of the region's best sandy beaches, as well as the famous party resort of Novalja.
Carine06 via Flickr
Central Dalmatia is also a place of alpine mountains - those ones which roll picturesquely down to the Mediterranean-feeling coastline - castles and unique cuisine, so it's worth heading across to the mainland for a look. The most famous Dalmatian islands are in the centre of the region. Start with Solta, just off the coast from Split, and head south and you'll hit Brač, Hvar, Vis and Korčula.
Solta is well developed and very visitor-friendly. Brač is just a 50minute ferry ride off the coast from Spilt, a large island, lush with pines and figs. This area is known for clear waters and bright white stone. It is Brač stone that the White House in Washington is made from - and, more locally, the Diocletian's Palace in Split. A famous landmark is the long, white sandy spit called Zlatni Rat just outside the town of Bol. The spit rolls right into the spectacular Adriatic and a view of this beach appears in a lot of material advertising the beauty of Croatia. Many of the best places to stay on Brač are in or around Supetar and Bol, the two main towns, but there are also some lovely places to stay in the rocky interior.
Hvar has fertile vineyards and lavendar fields, gorgeous beaches, medieval towns and a huge yachting harbour known for its glamorous parties. It's also considered to be the jewel, among jewels, of the Dalmatian Coast. With a splendid neo-classical harbour, a rich history, and architectural history and an incredible landscape. And she enjoys a climate of warm winters and dry summers. Vis has more of those lovely, sandy bays and beaches, and Korčula, the largest, with her ineyards, olive groves, turquoise seas lapping against quiet, sandy coves and picturesque towns and villages, is loved by cyclists. You'll also find the traditional culture is vibrant and strong here, from the music and dance, to the old religious ceremonies, to the production of the food and excellent wine.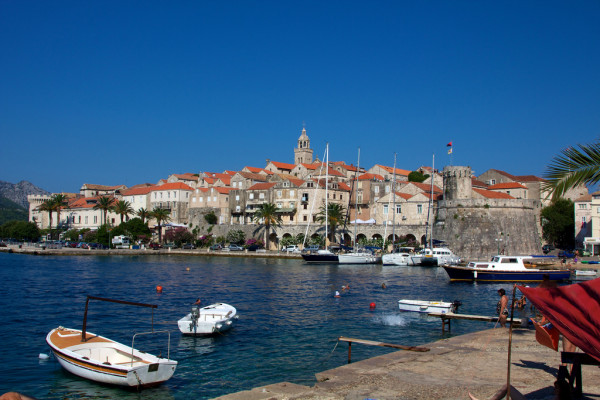 Ramón via Flickr
The southerly part of the Dalmatian Coast and the southerly Dalmatian Islands are where you'll see palm trees and olive groves along the ribbon of Adriatic blue, but the grey cliffs and peaks are still right behind the coast, so it's a beautiful sight to sail on by.
Tiny Sipan, and Lopud, one of the Elafiti isles which lie a few nautical miles off the coast from Dubrovnik. It is a carfree paradise with pure white beaches, scents of mandarin, orange and lemon, olive groves, vineyards and crystal clear waters.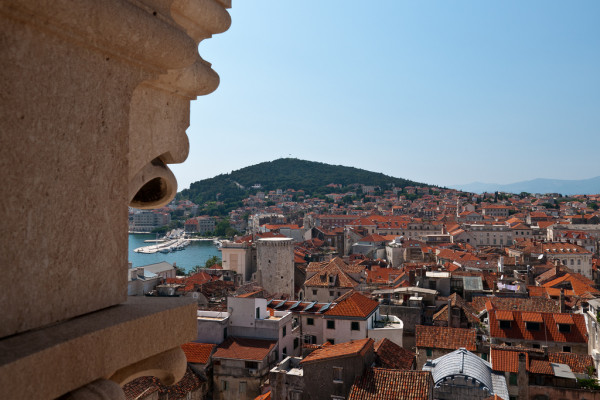 LenDog64 via Flickr
And at the end you'll find Dubrovnik. A favourite of famous aesthete Elizabeth Taylor, Dubrovnik's sheltered, emerald harbour, its 13th century walled town and its Stradun, one of the world's most beautiful main streets, are endlessly enchanting. It sounds over the top, but you'll see...
Start planning your trip and use our guide to the best hotels on the Dalmatian Islands to ensure you have the holiday of a lifetime.
The 10 Best Hotels on the Dalmatian Islands
The Best Hotels on the Dalmatian Islands for Sailors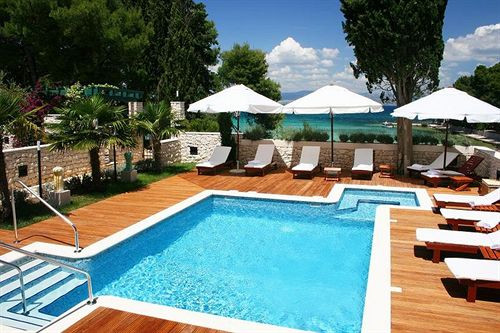 The Bracka Perla Agroresort is a traditionally Mediterranean feeling boutique hotel on Brač. You're right on the water and the views are near perfect, especially when seen from the gorgeous garden terrace with a pool. Almost all the rooms have a kitchen, so this is also a good option for families.
The 59 room Adriana Hvar Spa Hotel is strikingly stylish, with its glass façade and roof top bar and located in a prime position on the yacht harbour of Hvar. it's a boutique spa hotel with echoes of South Beach Miami.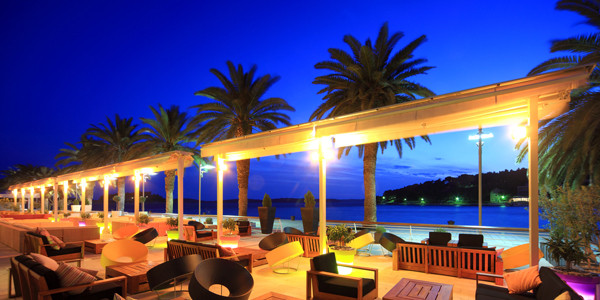 Also by Hvar's yacht harbour, right on the promenade, the Riva Yacht Harbour Hotel has 56 contemporary rooms and suites and an excellent seafood restaurant which also offers cooking lessons. The hotel bar is lively in the evenings.
The Most Romantic Hotels on the Dalmatian Islands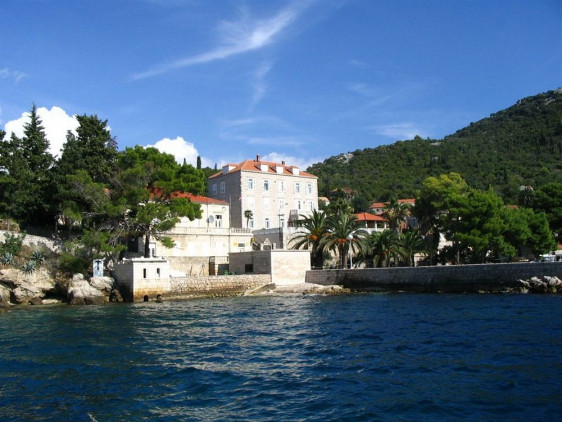 The Villa Vilina on the small island of Lopud, just out of Dubrovnik, is a beautiful stone house right on the water with stunning sea views. There are just 15 rooms, decorated with simple, traditional style. Some have their own private balconies, and there's a lovely rooftop terrace and pool. There's also an excellent restaurant.
The Lesic Dimitri Palace is a gorgeous collection of boutique apartments right on the Bay of Korčula. As well as having beautiful creamy decor and all the mod. cons., the Palace has a lovely Mediterranean style spa and offers wine tastings. Apartments sleep between two and nine.
The Best Beach Hotels on the Dalmatian Islands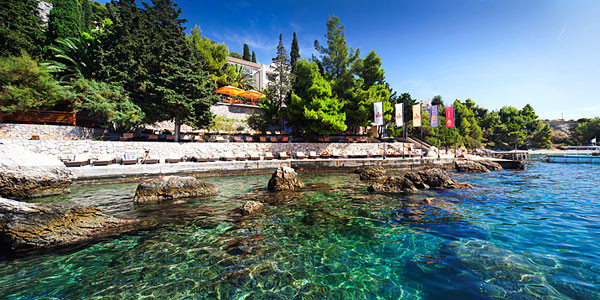 The 40 room Hotel Podstine is on a beautiful bay surrounded by palms, cypress and hundred year old pines. It has a spa with outdoor pool, Finnish sauna and facilities for treatments, massages etc. There is an excellent seafood restaurant specialising in local wines.
The Best Hotels on the Dalmatian Islands for Families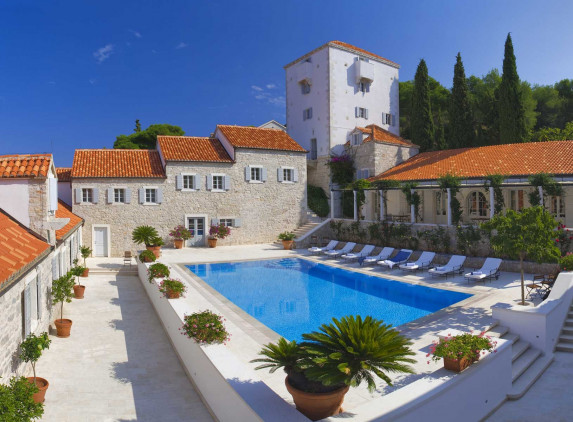 Martinis Marchi is on Solta, a boat ride from Split, and is an excellent Croatian castle conversion with huge suites sleeping between four and six - so, ideal for families. Especially when you consider how pretty and welcoming the island is!
If you'd prefer a villa holiday, consider the Villa Meneghello on Hvar. It has just two apartments overlooking the ocean, with white washed walls splashed with colour. There's a dining terrace, and you can arrange a chef by request. Plus there's a pool, bikes, table tennis and the beach is basically on your doorstep.
The Best Value Hotels on the Dalmatian Islands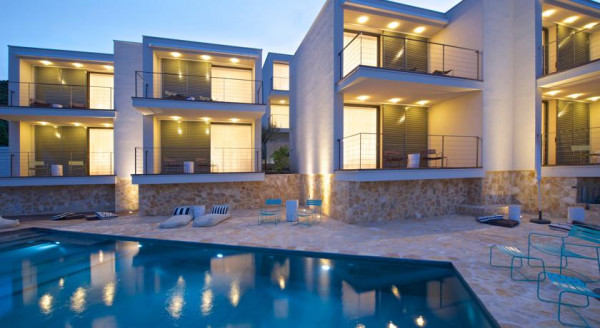 Tara's Lodge on Korčula, is a modern, stylish hotel with 17 sleek, minimalist rooms, whitewashed walls and private balconies facing out onto a secluded, turquoise bay. Rooms start from around £85 per night.
Closer to Dubrovnik, the Hotel Sipan is a pretty, 76 room hotel in a quiet fishing village on Otok Sipan. The rooms have modern decor, some with private balconies facing out onto the water, and there's an excellent Mediterranean restaurant. This is a great base for a kayaking adventure.
Still not sure which of our Guru's recommendations for the 10 best hotels on the Dalmatian Islands might be perfect for you?
The 10 Best Hotels on The Dalmatian Islands
posted Monday, 10th February 2020
Search the best hotels in Dalmatian Coast