Top Tips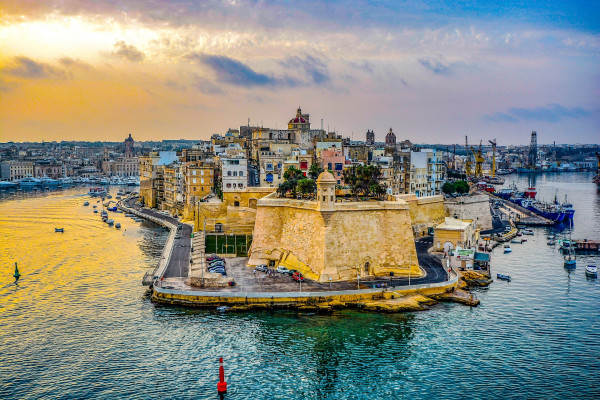 The Hotel Guru's guide to where to stay on Malta is ideal for helping you decide where to base your stay on this incredible, and incredibly varied island. With detailed information about key towns, centres and neighbourhoods, plus practical recommendations, it will help you find the right base, whether you're here to visit all the Crusader forts, to be charmed by the island's history, to dive off Gozo, or to do, and see, as much as you can!
Guide to Malta's Towns, Centres and Neighbourhoods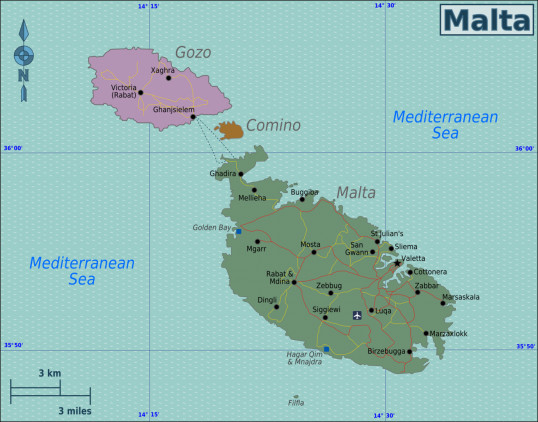 By Burmesedays - Own work base
Small, sun-drenched, and strategically positioned in the sparkling Mediterranean between North Africa and Sicily, every inch of Malta is historic in one way or another. Its incredible Crusader forts and churches are well known, but Malta is also dotted with neolithic temples, its cliffs are packed with fossils, and its coastline is littered with shipwrecks. Malta's landscape is rocky, in warm shades of red and ochre, so it makes for an unusual backdrop to relax against, one that means you're unmistakably on holiday.
Malta has three islands to it, Malta, tiny Comino and Gozo. Most of Comino is a nature reserve, and there are only a few towns and settlements on Gozo, Victoria being the largest. Malta island is small, as far as square kilometres are concerned, but there's a lot to do here, and most visitors plan to do some travelling. You can catch ferries between the islands, and around the main island, which is an especially nice way to explore, though Malta's bus network does a very good job of connecting the island, and there's a fairy regular service between the large centres and places of interest. The roads, and driving conditions, are fairly safe for visiting drivers, but they're not so great for cyclists yet, so a bit more planning is required if this is how you want to get around.
Valletta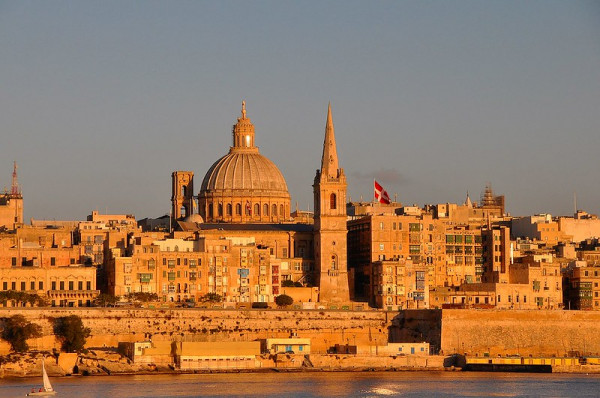 By Flickr user Herbert Frank
Malta's capital Valletta is an absolute stunner: a walled city originally built in the 1500s by the Knights of St. John, and now heritage listed — the whole city. Valletta's charming, narrow streets are lined with historic, and historically beautiful, architecture, and dominated with several magnificent forts and majestic churches, St. John's Cathedral being the sublime highlight. Inside you'll find Caravaggio's 'Beheading of St. John the Baptist', and a floor under which are buried some of the island's most famous knights. The Grand Master of the Knights of Malta's Palace is another landmark, and a useful place to find out about the island's history, as are the National Museum of Archaeology and the National War Museum. The modern city spreads out across several peninsulas, but it's still only a couple of kilometres long, so very possible to explore on foot — but it's built on a ridge and there are some steep sections, and lots of stairs. Parking is limited, so try the 133 bus route as a backup. Valletta is a good base for exploring the whole island, because it has the main bus station, a ferry port, and it's got a fantastic dining and drinking scene.
Pros and Cons
Pros: spectacular architecture, historic, lively nightlife, great dining and drinking scene, several major attractions, sea views
Cons: busy, steep
Ideal For: history-buffs, city-breakers, couples, foodies, families, a special occasion
Discover our recommended hotels in Valletta, Malta.
Birgu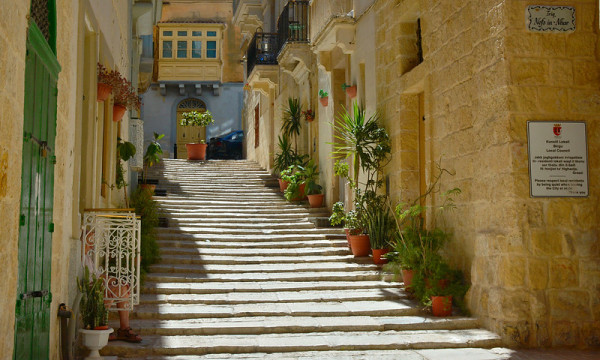 By Flickr user Mike McBey
Just south across the Great Harbour from Valletta is Birgu, another impressively fortified golden city built by the Knights of St. John, but this time with incredible views of Valletta to boot. Birgu's landscape is dominated by an imposing fort, St Angelo, and several impressive churches and palaces. You might wonder why there are two such impressive, historic cities so close together, but Birgu was Malta's first capital, until after the Great Siege of Malta, when Valletta was founded. If you're interested in the part of the island's history tied up with the knights, then Birgu is the place to come, its maritime and Vittoriosa Museums are fantastic. There's a regular ferry service across to Valletta, and taxi boats too, or you can catch the bus. Birgu's lively and charming waterfront stretch has a collection of small, but elegant, restaurants and wine bars, so it's a very comfortable place to stay.
Pros and Cons
Pros: quiet, elegant, historic, sea and harbour views, close to major attractions, charming
Cons: small
Ideal For: romantics, history-buffs, families, travellers preferring a smaller base
Discover our recommended hotels in Birgu, Malta.
Cospicua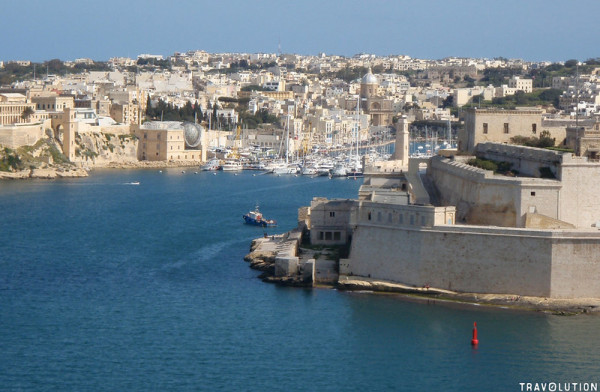 By Flickr user Travolution360
Like Birgu, Cospicua is a city on the Grand Harbour, to the east of Valletta. Before Valletta was founded, Birgu, Cospicua and Senglea were Malta's fortified harbour cities (they were called the Three Cities), surrounded by a line of fortifications which included thick walls and impressive towers. These fortifications are still a bit part of Cospicua's appearance today, and one of the reasons people visit. Built during the Georgian period, Cospicua's docks are another place of historic and architectural interest, as are its numerous churches. Cospicua is larger than Birgu, but not as popular with visitors, so it's got more of a residential feel. There are still plenty of places to eat and drink, though, and a good public transport network.
Pros and Cons
Pros: historic, impressive, atmospheric, ocean-views
Cons: residential
Ideal For: history-buffs, getting off the tourist trail
Discover our recommended hotels in Cospicua, Malta.
Senglea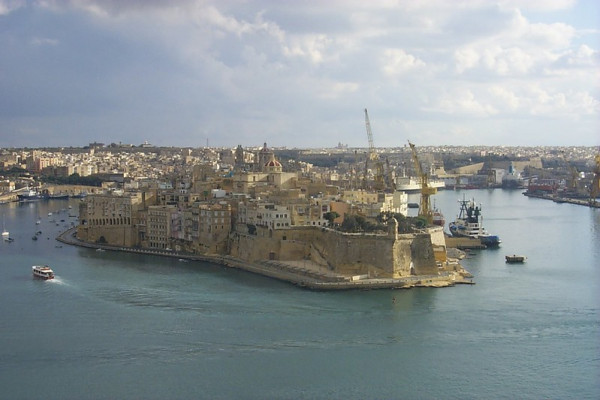 By Flickr user Eric Hayward
Senglea is the tiny third of the three cities built on the Grand Harbour by the Order of St. John, not really a city today, more a town. It's imposing, designed to look well fortified, with many bastions overlooking the harbour. But within the walls are beautiful churches, historic palaces and lush gardens, as well as the forts, and it's also got a very charming waterfront, with some good swimming spots. Senglea has a more tranquil, relaxed atmosphere than Valletta, and the accommodation on offer here reflects that, but it is quite densely populated, so can feel bustling too. One of Senglea's main sights is its magnificent basilica, which has a highly revered statue of Christ the Redeemer. It's easy to get across to Valletta by boat, or to catch a bus, though there are decent restaurants and bars here, just less choice.
Pros and Cons
Pros: ocean views, historic, atmospheric, impressive architecture and sights, relaxed
Cons: quite residential, small, can be busy
Ideal For: romantics, couples, history-buffs, families
Discover our recommended hotels in Senglea, Malta.
Gozo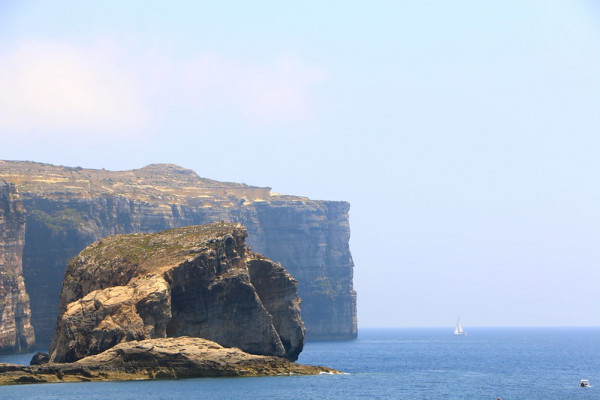 By Flickr user Juan Antonio Se
Gozo is well known and well loved by divers and snorkelers the world over, but there's more to this island than what's off its shores. Gozo is a lot quieter than Malta island, with a rocky landscape, spectacular coastline, and more of an Arabian look to its few towns and villages, and a truly incredible megalithic monument: Ggantija, two temples made from giant, freestanding stones. This World Heritage Site is a thousand years older than Stonehenge and just as atmospheric, mysterious and humbling. If you search in amongst the wild herbs and the gladioli you'll find more of archaeological interest in the island's reserve sites. Considering its small size Gozo has a lot of churches, and hosts some lively market days. Rabat, or Victoria (the name was changed but it's taking a while to catch on), is the largest town, topped by an impressive citadel. And of course there's the 'Inland Sea' dive site, and the wrecks and reefs offshore, and the numerous good snorkelling sites too. There are a couple of sightseeing buses that criss cross Gozo, both a hop-on hop-off variety and tour buses, but the island also has a fleet of public buses and you can use the same sorts of tickets as you do on Malta island. There's a ferry to Malta island which departs approximately once an hour, depending on the time of year.
Pros and Cons
Pros: peaceful, atmospheric, culturally rich, spectacular scenery, historic, ocean views, impressive monuments
Cons: quiet, off the mainland
Ideal For: divers, snorkelers, romantics, couples, history-buffs, explorers, families
Discover our recommended hotels on Gozo, Malta.
Mdina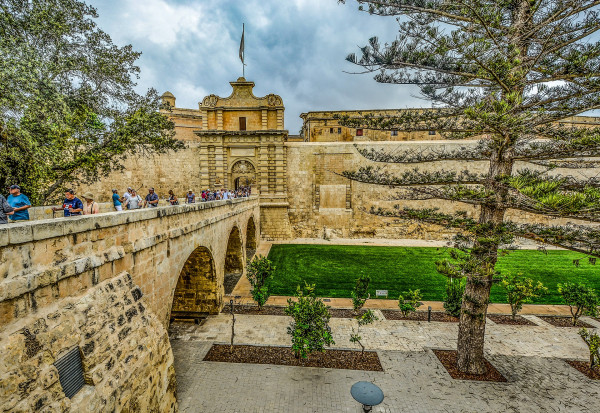 Image by kirkandmimi from Pixa
Before Valletta and Birgu, and before the Knights of St. John, Mdina was Malta's capital. It became the home to Malta's nobility too, so its palazzos are grand and its villas very elegant, decorated with crests and carvings bearing old aristocratic family names. But when it fell from favour many of its great families moved too, and it started to decay. Today hardly anyone lives here, but it's been charmingly restored, and is a really fantastic place to stay or visit, with some very special accommodation. This is a wonderful place to stroll around, with narrow alleys and grand squares, and it's small enough to be difficult to really get lost in. The cathedral and the cathedral museum are well worth seeing, as is the local Roman villa, and you can see a lot of the island from the bastion look outs. There are a couple of other small museums here too, but the main reason to stay in Mdina is the peaceful atmosphere and incredibly historic surrounds. There's not a huge choice when it comes to eating and drinking, but there are still some excellent options.
Pros and Cons
Pros: romantic, historic, atmospheric, incredible views, compact
Cons: small, expensive
Ideal For: a special occasion, couples, romantics, history-buffs
Discover our recommended hotels in Mdina, Malta.
Sliema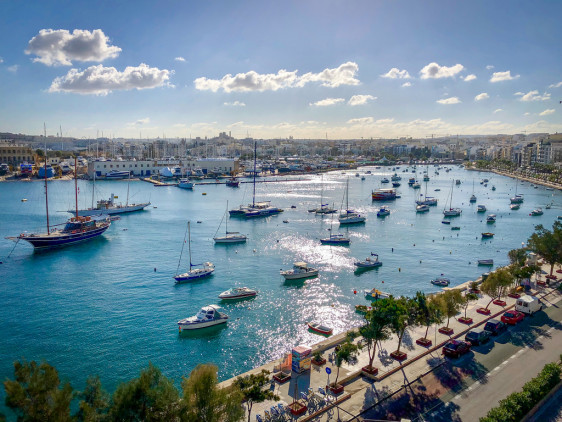 Flickr user Theo K
If you're visiting Malta for Mediterranean warmth, sunshine and fun then Sliema is a good choice. A picturesque former fishing village on a peninsula just north of Valletta, Sliema today is a buzzy seaside town with a promenade that's fun as well as historic, and close to some really beautiful beaches. There are bars and restaurants and cafes overlooking the water, and shops and clubs as well, and there's a cosmopolitan feel, with most people here using English as their first language. Sliema also has the largest shopping precinct on Malta. There's a regular bus service from Sliema to Valletta, and a ferry every half hour.
Pros and Cons
Pros: busy and lively, great summer nightlife, good choice of bars and restaurants, ocean views, beaches
Cons: touristy, busy
Ideal For: beach-breakers, night-owls, value-hunters
Discover our recommended hotels in Sliema, Malta.
St. Julian's
flickr user josem.rus
St. Julian's is Malta's other resort town, similar to Sliema, also just to the north of Valletta, and also know for its restaurants and bars, and for its beaches. If you're looking for a lively evening out this is the place to come, with Paceville, especially offering plenty of choice when it comes to bars and nightclubs. This is probably the most popular package holiday spot on Malta. St. Julian's is on a stretch of coast that alternates beaches and bays, so it's still possible to find your own stretch of sand, or bay.
Pros and Cons
Pros: lively, fun, ocean views, great beaches
Cons: touristy, busy, especially of an evening
Ideal For: night owls, party people, beach-breakers, fly-and-floppers
Discover our recommended hotels in St. Julian's, Malta.
Naxxar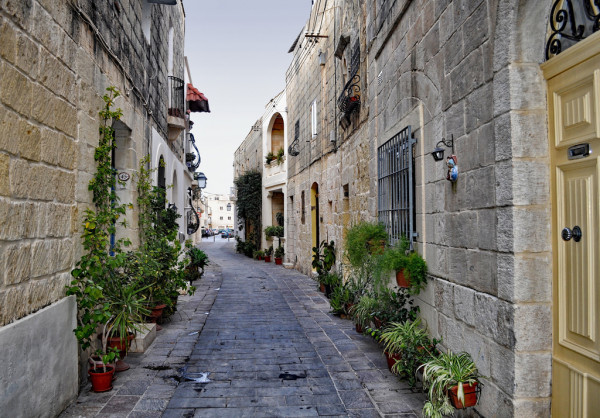 flickr user Jocelyn777
If you're looking for a quieter base you might consider Naxxar, which is a stately old town on the main island's northern coastline. It's charmingly off the main tourist trails, and rather residential, but it has a really impressive ancient heart, with a large square and an impressive church. Naxxar also has four Knight-built towers, which are part of the island's defences, two of these, the Ghallis Tower and the Qalet Marku Tower, guard the entrance to the bay, and it's possible to see inside them. Outside the centre of town you'll find streets of those charming wooden balconies Malta is known for, and a peaceful atmosphere. You can see all the main sights in Naxxar on foot, but there are buses too.
Pros and Cons
Pros: peaceful, historic, atmospheric, ocean views, good base for explorations
Cons: residential feel
Ideal For: couples, history-buffs, explorers, visitors with a rental car
Discover our recommended hotels in Naxxar, Malta.
Search the best hotels in Malta