✓ FREE cancellation on most rooms
✓ Save time, save money
20 of Europe's Best Castle Hotels
Massive stonewalls and baronial bedrooms rich in history are tucked away in some of Europe's most beautiful landscapes. These are the places history lovers will - well - love. Sitting high above landscapes of olive groves and forests, you can get a sense of Europe's rich past in these fortified castles. Each one has its own unique spin and character, though the list below is not arranged in order of preference.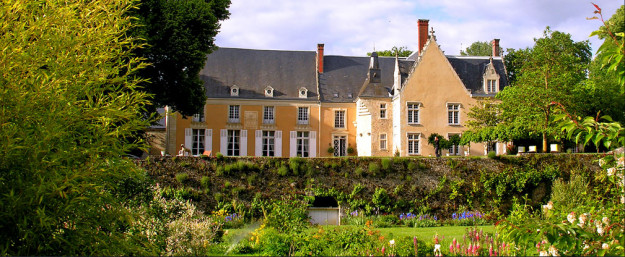 If you want to feel like royalty one of the best castle hotels in Europe is Chateau de la Barre. The decor is sumptuous beyond opulent, collected over the last 600 years by the family who're still the current owners. Twice a week the owners do a formal Grand Siecle dinner for their guests, where you can sample french gourmet cuisine served upon the family's antique porcelain and crystal. Located in the Loire Valley region, to the north of Tours, it is ideally situated for both taking in the awesome sights of the area, or for simply enjoying a luxury country escape.
Built in 1909, this UNESCO World Heritage site boasts stunning views of the Aude Plains from the medieval fortress city of Carcassonne. Enjoy a glass of wine in the gardens amongst the peaceful trees; then after touring Carcassonne, rest your legs by the garden pool overlooking Saint-Nazaire Basilica.
Schlosshotel Igls, Austria
This magnificent white castle, located near Innsbruck, was once fit for royals and now for the lucky traveler. If it is a quiet getaway you are after, look no further - this castle is nestled amongst mountain ranges and surrounded by parks. Generals of WW2 era - both US, German, and French - made it at various times their headquarters, and you can see why.
Castel Porrona, Tuscany, Italy
Soak in the beauty of the Tuscan countryside and head for Castel Porrona. The views from the rooms are of olive groves and vineyards. This restored 11th century castle has uniquely designed each of its 22 rooms to provide a sense of the past mixed with all the modern comforts you would want. Attached is a wellness center equipped with a tennis court, pool, spa, Turkish bath, sauna, gym, and football court.
Castle Hotel Auf Schönburg, Germany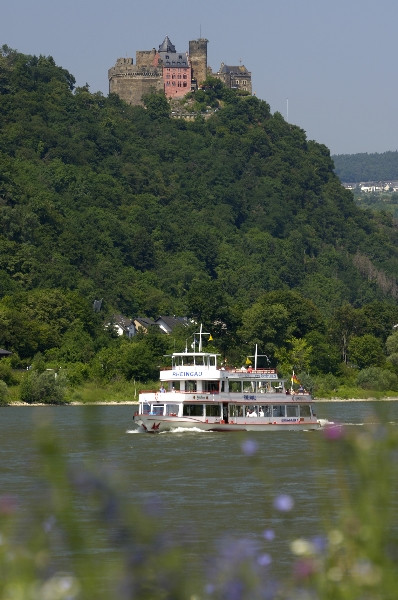 Schonburg Castle has a breathtaking view overlooking the Rhine Valley with the river meandering peacefully below. It was first mentioned around the 10th century so you can imagine the sense of history inside these medieval walls. Make sure you take a visit to their multiple terrace bars that serve you fine cuisine as you soak up the view.
Burg Wernberg, Germany
This 12th century castle located on top of a hillside overlooks some of Germany's most beautiful forests and countryside. Choose from a selection of fascinating rooms, both wood panelled and stone walled, and sit down for a mouthwatering meal delivered by their Grand Chef. Also, do not forget to pack your golf clubs for the Schwanhof Golf Course attached to the castle.
Pousada de Óbidos, Portugal
This walled fortress - Castle Óbidos - is considered one of the 7 wonders of Portugal and is in consideration to become one of the UNESCO World Heritage sites in the near future. It has kept much of its unique medieval design of stonewalls and canopy beds, and retains a really authentic atmosphere.
Château de Bagnols is regarded as one of the most luxurious deluxe château hotels in France and is said by many to be the finest vineyard chateau hotel in the world. As you might expect from a castle, it has a dry moat surrounding it with a drawbridge in the front. The bedrooms are amongst the most impressive of any French hotel.
Ashford Castle, Ireland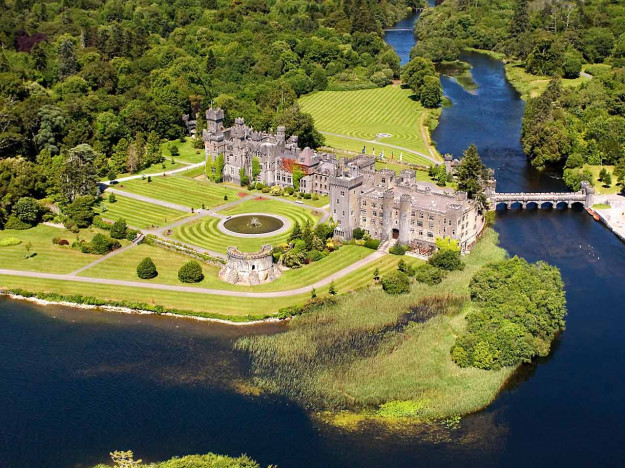 Ashford Casle is an excellent castle getaway for those who love the outdoors. They can sign you up for golf, falconry, lake cruising, horseback riding, fishing, and even clay pigeon shooting. You can select from four different grades of rooms, which are all decorated with luxurious fabrics.
Abbaye de la Bussière, France
Nearly 900 years ago this abbey was founded by a group of monks from the Cistercian Order and is now a castle hotel that still retains something of its religious ambience. The hotel earned awards for "Hideaway of the year in 2008" and Michelin Stars for great cuisine. Choose from a variety of 16 elegantly designed rooms and take a walk through their breathtaking gardens and around the peaceful lake nearby.
Colmberg Castle Hotel, Germany
After one of the most scenic drives in Germany you arrive at this hilltop getaway towering over the Bavarian countryside. Enormous ancient stone towers mark the entrance. The castle offers either modern or medieval rooms, but for romantics there will be no hesitation of which to go for.
Amberley Castle, England
This castle screams English history dating all the way back to Henry I in 1100. Today, it is one of England's best castle hotels full of ancient artifacts and elegant rooms, if sometimes a little caricatured. Inside the thick walls you will find lush gardens and even a tree house. Each room is designed a specific way with four poster beds and lavish drapes with views of the Sussex countryside.
Aquitaine 
Château du Peyruzel, France
Château du Peyruzel is a 13th century castle, which sits on a hill in the French countryside between Domme and Castelnaud. This smaller castle still manages to provide guests with large-scale rooms, beautiful French linens, and 14 ft high ceilings. Inside the castle walls is a tranquil swimming pool, and the chateau's location allows for a scenic bike ride to the surrounding towns. This castle is a hidden gem.
Zamek Reszel Kreativ Hotel, Poland
The walls of the Reszel may be medieval but the comfort is as modern as it gets. Elegant woodwork is spread throughout the bar and dining area where you can enjoy some of the finest local cuisine in the area. The staff can arrange various leisure activities, such as cycling tours, horse riding, angling, sailboat trips, and hunting. The castle is well known for its modern art exhibits and is stuffed with Polish history.
Castello Delle Quattro Torra, Italy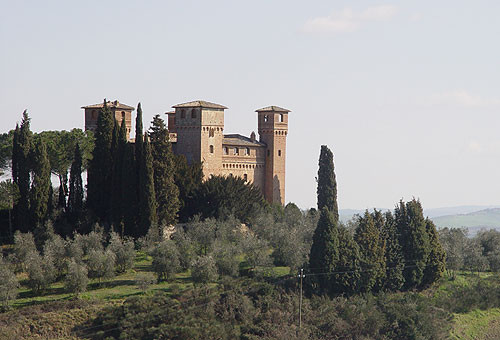 This hilltop castle overlooks Siena and the surrounding countryside. Olive groves and the sleepy neighbouring hills are best viewed from the Tower Room with its 360-degree view of the area. Guests can sign up to take one of their cooking classes and learn what it takes to be a gourmet Italian chef. The castle is a family run bed and breakfast.
Inverlochy Castle is the finest luxury hotel and restaurant Scotland has to offer. Built in the Western Highlands, it is surrounded by glens, lochs, and mountains, which makes for a perfect holiday destination for any outdoorsy type. To make your stay even more special you can hire the castle's very own Rolls Royce Phantom to pick you up at any Scottish airport. You can play a round of golf, shoot clay pigeons, and go white water rafting.
Falkensteiner Schlosshotel Velden, Austria
This luxury hotel, located on Wothersee Lake, will have you wishing you had booked your stay for longer. It is just a short drive to Vienna, Milan, Salzburg, and Munich, that is, if you have already discovered the beauty of Velden first. This castle hotel is perfect for a summer escape on the lake where you can do all kinds of different water activities including water ski school.
Prepare to be greeted and treated as a royal when you arrive at the entrance of Swinton Park. The well trained staff here will take the best care of you and will make sure you have the most relaxing experience possible. All of the rooms are extravagantly designed and provide a homely feel. There are plenty of activities to take part in around the estate, such as riding and hiking through their extensive nature trails.
Chateau d'Audrieu , France
Chateau d'Audrieu is only a short drive to the famous D-Day beaches. The hotel was built as an 18th century residence and offers a wide array of luxurious rooms. Just outside the gates you will find some of the most beautiful gardens and views of the Normandy countryside. There's also an outdoor pool.
Dornröschenschloss Sababurg, Germany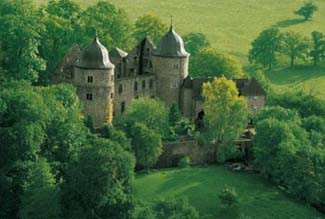 This castle tucked into a forest was the model used for the book Sleeping Beauty. Take a stroll through lush forests which eventually lead to an animal park located just a short walk down the road. Book the tower room - it mixes modern design with castle heritage and comes with a view of the forest and rolling hills beyond.
comments powered by

Disqus
Search & Book the Best Places to Stay