16 of the Best Hotels on the Canary Islands for Families
The Canary Islands are a near perfect family holiday destination. The climate is subtropical and there's plenty of sunshine, the coastlines of these seven islands are beautiful and varied, there are national parks, impressive volcanic mountains, and there's plenty of cultural appeal and local colour. The Canary Islands are also well developed for family travel, so our Gurus had plenty of choice when it came to curating their recommendations for the best hotels on the Canary Islands for families.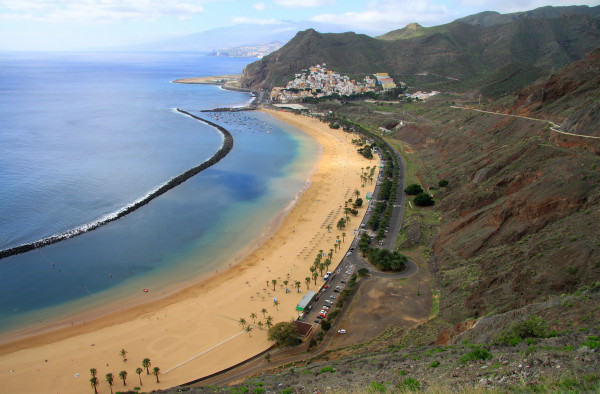 vil.sandi via Flickr
But that doesn't mean choosing family friendly hotels on the Canary Islands is a simple task. Each of the islands has its own charm, and they're all quite different, so you'll have to choose your island to begin with.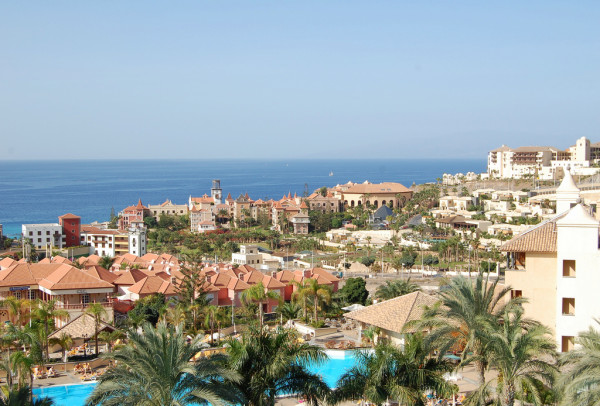 Flickr user dartisan
Tenerife is the largest and busiest, this is where you'll find the Pico del Teide volcano and, on the beaches to the quieter north coast, the famous black volcanic sand. Gran Canaria offers everything from ever-changing sand-dunes to verdant valleys and wonderful beaches along the eastern coast, on a mini-continent with its numerous micro-climates. Lanzarote feels the most tropical, with whitewashed, flat-roofed houses in small hamlets and fishing villages, in amongst the strange, almost lunar landscapes and the golden sandy beaches.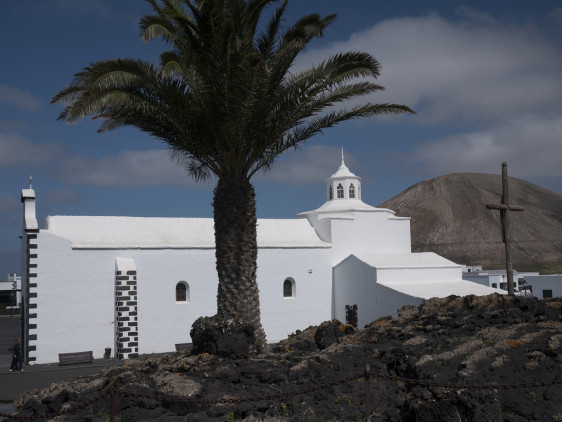 Flickr user Britt-Marie Sohlst
Tiny La Gomera offers laurel forests and banana plantations, rather than the usual resort lined beaches, with a steep volcano and impressive rocky gorges. Fuerteventura is the closest island to Africa and probably the most colourful, with its long stretches of sand backed by a volcanic backdrop. And remote El Hierro, in the middle of the Atlantic, is a UNESCO geopark with a rocky coastline and a slow pace.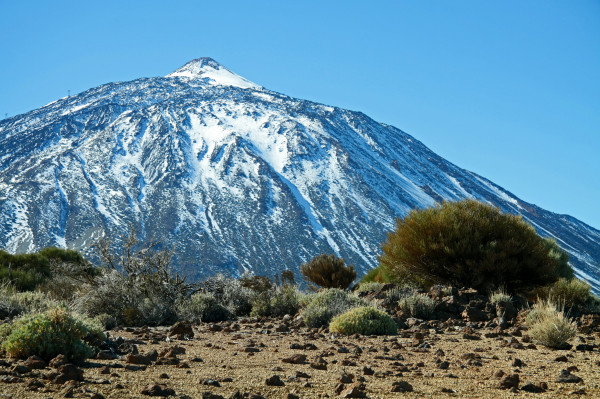 vil.sandi via Flickr
16 of the Best Hotels on the Canary Islands for Families
The Best Beach Hotels on the Canary Islands for Families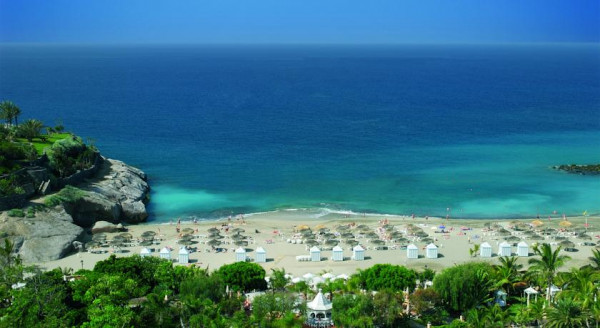 If you want all the bells and whistles, including the pick of eight restaurants, numerous bars, acres of private subtropical gardens and direct beach access then the Bahia del Duque is for you. There are around 350 rooms, suites and deluxe private villas in this complex, but there's around six acres of land, so you'll certainly not be cramped.
The Hotel Santa Catalina in Las Palmas, Gran Canaria, is a great value beach resort with excellent facilities. There are around two hundred rooms and suites to choose from, many of them with sea views, plus a choice of restaurants and pools, lovely gardens and direct beach access.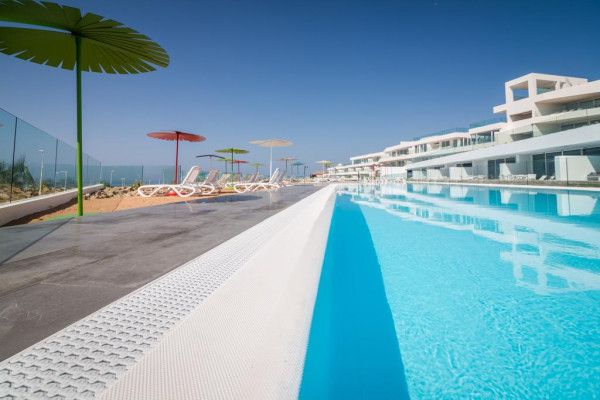 The Baobab Suites just outside Costa Adeje on Tenerife, is a collection of 125 cutting-edge contemporary suites and apartments with minimalist decor and white colour schemes. The seafaring suites have decked balconies, and you can also have a private pool and hot tub. There's also a kid's club offering lots of different activities.
The Hotel Botanico in Puerto de la Cruz on Tenerife is a five-star spa hotel with lovely sea views. There are around 250 simple, yet elegant rooms, suites and penthouse suites, some with private balconies and hot tubs. Plus an excellent restaurant and kid's club, and you're surrounded by tropical gardens.
The Canary Island's Best Value Hotels for Families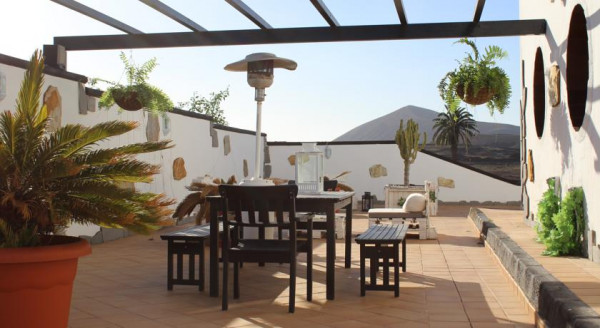 The Finca Marisa is a cheerful, traditional B&B in the tiny village of Tina on Lanzarote. There are just five rooms and a communal terrace with wonderful views of the mountains. Rooms start from around £45 per night.
For around £55 per night you can stay at the Hotel El Patio in Garachio, Tenerife. It's close to the beach and surrounded by nature reserves and there are 26 fairly traditional, yet elegant rooms in pastel colours. There's also a pool, gardens and a terrace.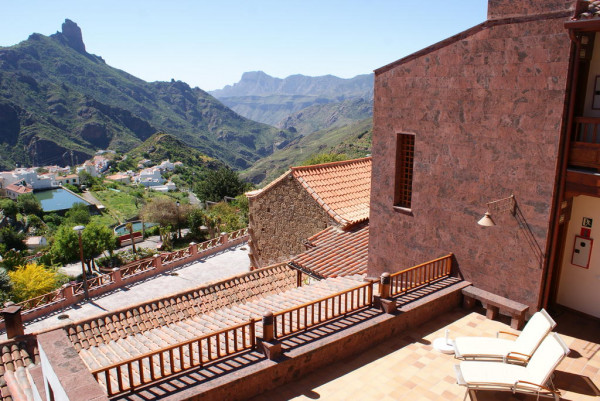 Fonda de la Tea is a great value option on Gran Canaria, set in the hills with stunning valley views from its 11 rooms and one villa. All have private balconies and there are also gorgeous communal terraces and a pool. Rooms start from around £75 per night.
Also on Gran Canaria, the Hotel el Mondalon is a traditional finca with ten rooms, a pretty garden, heated pool and excellent restaurant, right by a national park.
Best Rural Hotels for Families on the Canary Islands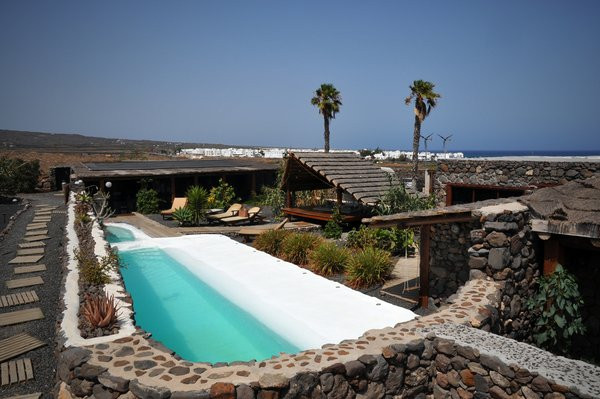 The Eco Finca de Arrieta is a relaxed eco-escape on Lanzarote with accommodation ranging from magnificent, marble-floored yurts to eco villas or 'eco towers'. The complex is surrounded by mango, banana and lime groves and there's a playground and trampoline for the kids.
If you're looking for a small, family-friendly getaway oasis, then Casa Tomarén on Lanzarote might be for you. There are six luxurious, Moroccan-feeling villas surrounded by vineyards, orchards and beautiful gardens. You're close to the beach and they offer a babysitting service.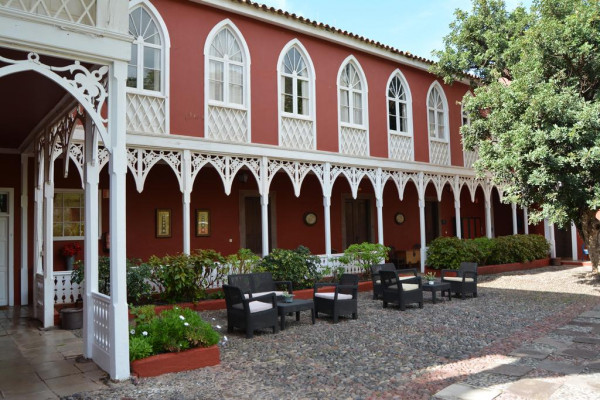 If you want to be close to the beach, the Finca las Longueras on Gran Canaria is a nice choice. This traditional, bright red coloured country house has 10 elegant rooms, lush gardens, a pool and an excellent table d'hote.
La Casona del Patio on Tenerife is a quaint, easy-going hotel converted from a lovely 17th century manor house. There are 20 comfortable rooms with some nice antiques and a wonderful seafood restaurant specialising in traditional dishes.
The Best Family Resorts on the Canary Islands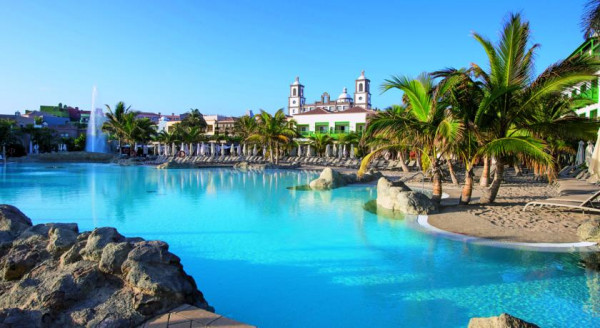 Lopesan Villa del Conde Resort on Gran Canaria is a magnificent seaside resort with luxurious details. There's a Basque-French restaurant, a huge spa and even a piano bar and live music venue to share between those staying in these 560 rooms and suites, plus beautiful lagoon pools and direct beach access.
Fuerteventura's Barcelo Castillo Beach Resort is a great value seaside resort bribing with activities. There are 382 plush rooms, three pools an onsite theatre and a range of restaurants to choose from.

The Jardin Tecina on La Gomera is an elegant, clifftop beach resort with around 460 rooms and suites with private balconies and sea views. There's an excellent restaurant, bars and pools and a beauty centre and spa. There's also plenty of activists on offer - golf, tennis, volleyball and all kinds of watersports.
If you haven't found the perfect sprot for your family on our Guru's list of 16 of the Best Hotels on the Canary Islands for Families you could:
16 of the Best Hotels on the Canary Islands for Families
Finca Marisa

Tinajo, Lanzarote

5 rooms from £43

Great walks - Excellent walking trails in the Montañas de Fuego Mountains.

Sights nearby - Visit the Campesino Monument.

Traditional

Cheerful, traditional B&B in the small village of Tinajo. The traditional rooms are spacious and comfortable and from the communal terrace there are great mountain views. Take a day trip to Timanfaya National Park or hire a bicycle and go to La Santa. An excellent low budget option. See More

Check Availability

Bahia Del Duque

Costa Adeje

356 rooms from £436

Families - Family heaven, with huge private villas, a playground, a pool and babysitting, as well as a range of bars and spa treatments.

Foodies - Dine in the superb Michelin-starred Nub restaurant which merges Chilean, Italian and traditional Tinerfeño cuisine

Beach Life - With direct private access to the whole of the Del Duque beach, on the most exclusive stretch of the Costa Adeje.

Great walks - Take a walk through the extensive botanical gardens and down to the beach.

A stellar beachside resort that will cater to everyones needs with grace, style, and aplomb. All the creature comforts of a five-star hotel including deluxe private villas and eight restaurants set on six hectares of incredible subtropical gardens. A seaside stunner. See More

Check Availability

Baobab Suites

Costa Adeje

125 rooms from £223

Families - The freedom of an apartment, combined with the luxury of a hotel, with free kids club, children's menu and year round sun.

Romantic Break - Pamper yourselves with deluxe seafacing suites, boasting decked balconies, private pools, hot tubs and excellent food.

Great walks - Take a day trip to El Teide, a magnificent natural park full of great walking trails.

Views - Great views from hotel

Recommended by - I Escape

A spectacular ultra-modern hotel on the outskirts of Costa Adeje. The suites boast cutting-edge contemporary design features, minimalist furnishings and chic white colour schemes. Relax by the pristine swimming pools or enjoy cosmopolitan Canarian cuisine. A suave seaside escape. See More

Check Availability

Families - Perfect for a family holiday, with a kids club, playground, large suites, as well as an extensive spa for mum and dad.

Beach Life - Right on the beach, with plenty of spots to splash around, and access to all kinds of watersports.

Sights nearby - Visit the nearby Maspalomas Lighthouse a fascinating sight steeped in island history.

Kids Club - Fully staffed.

A magnificent seaside resort exuding an effortless aura of style and class. Luxury at every turn with highlights including its Basque-French restaurant, extensive spa and lively music venue. Relax by the one of lagoon pools or explore the surrounding coastline. Five-star excellence. See More

Check Availability

Hotel Botanico

Puerto de La Cruz

252 rooms from £143

Views - Fantastic views of the Atlantic Ocean and Mount Teide

Beach Life

5* Luxury - Very high service standards.

City Style

Recommended by - CN Traveller

A FIve Star spa hotel in the city centre with lovely sea views, excellent restaurants, kids club, penthouse suites, and botanical gardens. Simple yet elegant rooms and suites have private balconies, some with hot tubs, all the mod cons, and far reaching views out to sea. A luxury beach holiday. See More

Check Availability

Hotel el Patio

Garachico (El Guincho)

26 rooms from £82

Value chic

Tennis - Astro turf court on site

Swimming Pool - Indoor/outdoor

Traditional

Recommended by - I Escape, Sawdays

A sedate manor house set with lush grounds, close to the beach, and surrounded by nature reserves. Traditional elegant bedrooms have pastel painted walls and attractive furnishings. Swimming pool, terraces and gardens. A family spot at a great price. See More

Check Availability

Fonda de la Tea

Tejeda, Gran Canaria

11 rooms from £78

Views - Stunning valley views.

Families - One house sleeps 4.

Great walks - Explore the wonderful walking in the volcanic heart of the island

Swimming Pool - Indoor/outdoor

Recommended by - Sawdays

A hiker's haven set in the mountains with stunning valley views. Charming traditional rooms and one villa (sleeps 4) with private balconies. Gorgeous terraces, swimming pool, local restaurant, and plenty of outdoor pursuits and quaint mountain villages to explore. Ideal for families. See More

Check Availability

Hotel el Mondalon

Los Hoyos, Gran Canaria

10 rooms from £78

Value chic

Restaurant - Traditional dishes with many of the ingredients grown on the hotel's land.

Great walks - Wonderful walking on the doorstep

Swimming Pool - Heated pool

Recommended by - I Escape

A traditional finca near a natural park with fantastic facilities. Traditional chic rooms, pretty gardens and pool, excellent restaurant, fitness areas, spa therapies, and lots of family oriented activities. A great value spot for families. See More

Check Availability

La Casona del Patio

Santiago del Teide, Tenerife

20 rooms from £85

Local exploring - Off the beaten track, ideal for exploring the stunning surrounding coastline, Teno Mountains and Chinyero Nature Reserve.

Families - With family rooms, a special kids menus, and plenty of room for running around, it's perfect for a family holiday.

Great walks - There are plenty of beautiful options for walking in the nearby Teno Mountains and Chinyero Nature Reserve

Sights nearby - Visit the stunning seaside village of Garachico, once submerged in lava.

A quaint and easy-going hotel, set in a restored 17th century manor house. The comfortable rooms boast a lovely blend of wooden vaulted ceilings, stone floors, funky furniture and antiques. Enjoy traditional recipes at the tasty seafood restaurant brimming with character and unpretentious charm. See More

Check Availability

Families - The group accommodation and self-catering suites are ideal for families, plus playground and trampoline for the kids.

Eco break - Eco-friendly destination, completely off the grid powered by wind turbines and solar panels.

Beach Life - Just 300m from a golden sandy beach

Kayaking - A nearby watersports specialist offers sea kayak safari's, a totally new way to explore the coast.

Recommended by - I Escape, Sawdays

Relaxed family-friendly eco escape. One can either stay in the eco tower, an eco villa or one of the magnificent marble-floored yurts surrounded by mango, banana and lime groves. The plethora of activities and proximity to the beach make it ideal for families or groups. See More

Check Availability

Finca Las Longueras

Agaete, Gran Canaria

10 rooms from £91

Great walks - Great walking on the doorstep for all abilities.

Swimming Pool - Outdoor pool surrounded by palm trees

Birdwatching - Good birding near the hotel.

Sailing - Can be booked nearby.

Recommended by - I Escape

A traditional finca in a rural setting, but close to the beach. A gorgeous red country house with old fashioned, but elegant rooms. Lush green gardens, pool, and an excellent table d'hote. Great value and family friendly. See More

Check Availability

Casa Tomarén

Mozag, Lanzarote

7 rooms from £98

Families - Ideal for a family getaway, self catering villas with pool access, close to the beaches and babysitters on standby!

Birdwatching - La Geria,the neighbouring nature reserve is an ideal spot for birdwatching.

Great walks - Explore the national park and volcanic peaks.

Swimming Pool - Lovely Outdoor Pool

Recommended by - I Escape

Rural chic setting fitted with a film-star pool. Six luxury villas with Moroccan and Indonesian influences and surrounded by vineyards, orchards and gardens. A perfect oasis for families and groups of friends on the island for a relaxing holiday. See More

Check Availability

Families - Packed with sports facilities, as well as a kids club and large family rooms it's a perfect getaway for all the family.

Beach Life - Just two minutes walk from the beach, with access to a whole load of watersports facilities.

Tennis - Enjoy a game of tennis on one of the hotel's multiple courts.

Fishing - Fishing trips can be organised by the hotel and are a great way to explore the coast.

An excellent seaside resort on the east coast of Fuerteventura. Brimming with facilities, the hotel has plush rooms, several restaurants, three swimming pools and an onsite theatre. Packed with activities and large suites, it's perfect for a family holiday to Fuerteventura. See More

Check Availability

Hotel Santa Catalina

Las Palmas de Gran Canaria

202 rooms from £148

Beach Life

Families

Weddings

Restaurant - Award winning La Terraza gourmet restaurant

A fantastic beach resort with excellent facilities. Rooms and suites simple in style with all the mod cons and sea views from balconies. Restaurants, swimming pools, spa, gardens and access to the beach. An excellent choice for families, beach goers, or weddings. See More

Check Availability

Jardin Tecina

San Sebastián de la Gomera, La Gomera

460 rooms from £118

Views - Stunning views over the Atlantic Ocean towards Tenerife and Mount Tiede

Beach Life

Active Holiday

Swimming Pool - Five swimming pools

Recommended by - CN Traveller

A stunning cliff top beach resort. A perfect spot for sports enthusiasts; golf, tennis, swimming, volley ball and watersports. Elegant contemporary rooms and suites with private balconies and sea views. Excellent restaurant, bar, swimming pool, beauty centre and spa. Ideal for families. See More

Check Availability
posted Monday, 2nd May 2022