10 Best Wine hotels in Tuscany
Tuscany is not only the most famous wine region in Italy but, arguably, one of the foremost wine regions in Europe. This is in no small part due to its romantic landscape of rolling hills and valleys, its abundance of sunshine and its striking, orange coloured soil, all which contribute to the flavour of local wines. But the region's natural assets aren't the only ingredients, the hilltop towns, the cypress-lined roads, and the way the grapes have been planted between them influence the flavour too, as does the region's winemaking traditions. And it probably makes sense that some of the best hotels in Tuscany's wine regions are also the best vineyard hotels in Tuscany.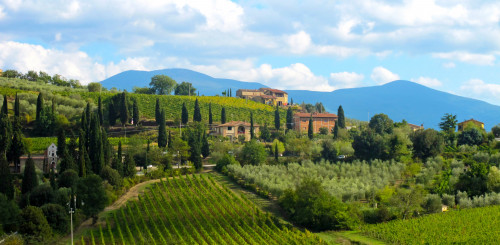 Its signature red grape, Sangiovese, is responsible for the distinctive flavours of Montepulciano and Montalcino wines, while Cabernet Sauvignon is the main grape variety of the so-called 'Super-Tuscan' red wines. Chianti aside - see our separate guide to the 12 best wine hotels in Chianti, we've found our 10 best wine hotels in Tuscany around Montepulciano, Montalcino, Orcia, Livorno and Cortona.
Great Tuscan Wine hotels for food lovers
Food and wine always go hand in hand, and there are a great many hotels in Tuscany that are good at doing both. Here are a few of our favourites.
The Castello di Potentino is a classic Tuscan castle with very friendly owners who create a wonderfully relaxed atmosphere - surrounded by working vineyards and an organic farm. The River Cafe's Avinash Kumar flies in to teach the cooking classes and the rustic backdrops perfect for discovering the region's wine. The 11 rooms start from €180 per night.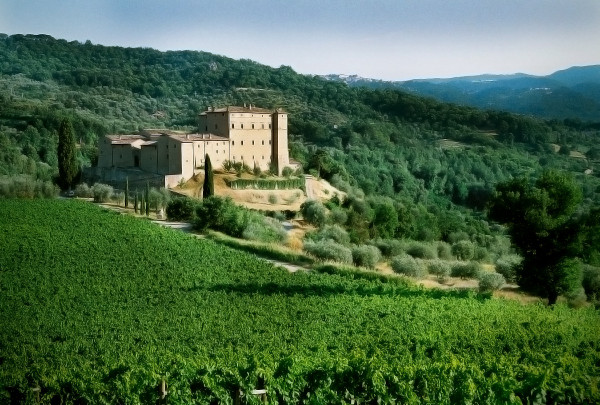 Tuscany is a great place to learn more about Italian cooking, and if that's part of your travel plans then Tenuta san Pietro might be ideal for you. This ten room hotel has fabulous food and cookery classes, as well as sweeping views of the property's olive farm and surrounding vineyard.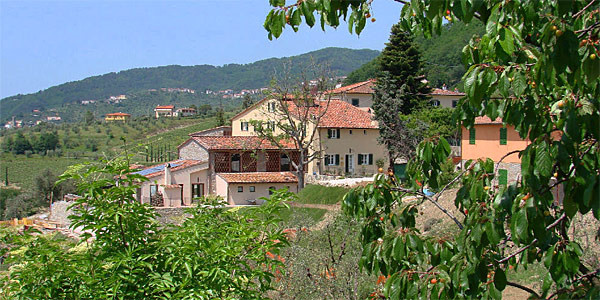 The hotel Il Falconiere occupies a stunning, 17th century manor house, and has 22 spacious rooms and suites. But the hotel really comes into its own in its Michelin starred restaurant where you can also take cooking classes or wine tastings. The pool and spa are completely charming too.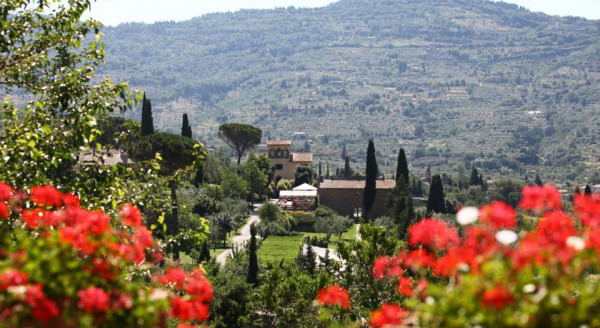 Great value wine Hotels in Tuscany
While some of the top wine hotels in Tuscany offer every luxury you can imagine, plenty of the best wine hotels in the Tuscan region are fantastically good value. You can find great places to stay in small, charming restaurants with rooms, estate agriturismo and in many of the smaller vineyards.
Close to Chiusi, Il Patriarca is surrounded by vineyards, and offers dreaming views over them from the floor to ceiling windows of its 22 comfortable, romantic bedrooms. But it's the Michelin starred restaurant and impressive wine cellar, and relaxed bistro which helped it make the cut on our Guru's list. It's also extremely good value.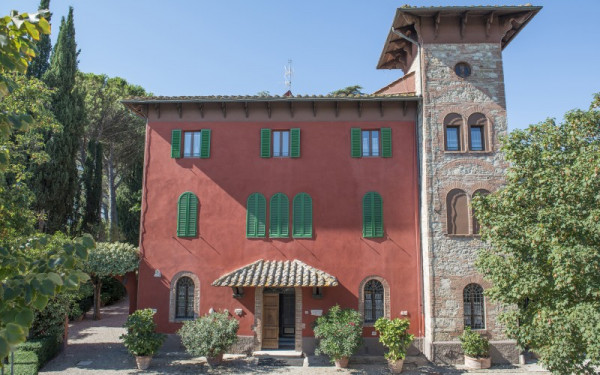 The Antica Fattoria la Parrina is a fantastic working olive farm and vineyard, with a selection of 15 rooms, suites and apartments sleeping up to eight. Traditionally Tuscan in style, and offering fantastic local cuisine - much of it straight from the estate, there's also a lot to do here, from playing tennis or table tennis, swimming in the pool, or borrowing a bike to explore the local area.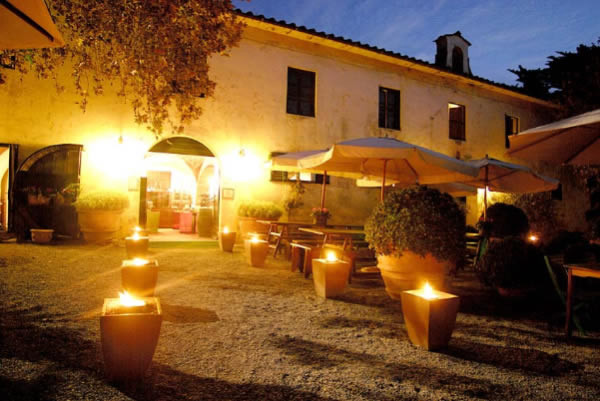 Most Romantic Wine Hotels in Tuscany
During the Renaissance the Locanda dell'Amorosa was a whole hamlet, but today it's a small luxury hotel with 27 beautiful rooms, most overlooking the local vineyards, a fantastic restaurant serving locally sourced cuisine, and a charming wine bar with a vast wine list, and pool-with-a-view. The location is great for exploring the region.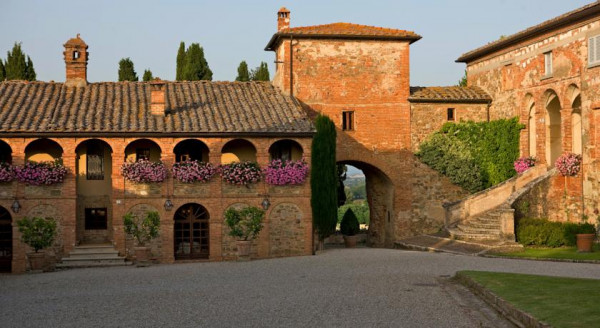 The Castello Banfi il Borgo is a castle and wine estate, built in the 13th century, and now offering nine elegant, boutique-style rooms with arched ceilings, four-poster beds and stunning view. Plus an enoteca or wine shop, a spa and a gourmet restaurant. As well as being luxurious the enoteca probably goes towards making this one of the best hotels in Tuscany's wine regions.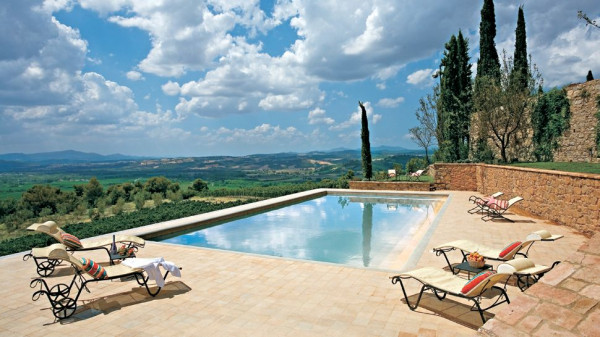 Poggio Piglia, near Chiusi, looks like a typical Tuscan farmhouse from the outside - and it does produce its own wine and olive oil - but step inside to unexpected sophistication: smooth wooden floors, huge windows, funky lights and modern art installations.

Luxury Vineyard Hotels in Tuscany
The Castello di Vicarello is one of the best luxury hotels in the Tuscan countryside, a seven room castle hotel with panoramic views over its own working vineyards. The decor is Italianate opulence: traditional and romantic, and there's a top of the range spa and pool and a restaurant serving local sourced regional cuisine.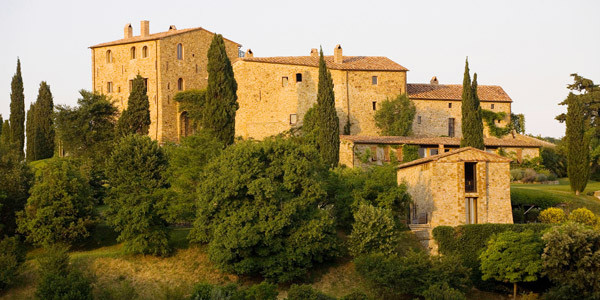 Conti di San Bonifacio is a stunning, five room Tuscan farmhouse renovation set in the hills above its own wine estate. Expect four-poster beds, furniture throws, marble bathrooms, fireplaces and terraces, and an infinity pool with incredible views. And of course fantastic food and wine.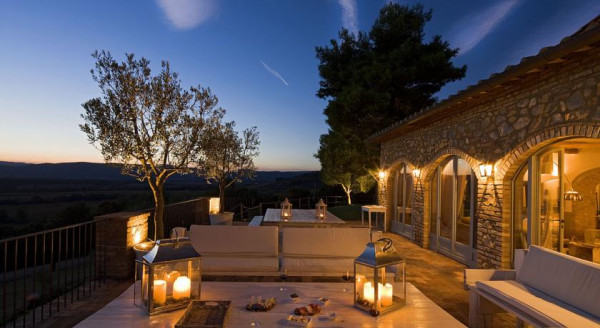 It's a cliché but there really is something for everything in our range of Tuscan wine hotels, whether you want good food, great views, romance, relaxation or just a simple base from which to explore the area. This list only dips its toes in what we have. You can continue dipping on our list of recommendations for the 10 best Tuscan hotels for food and wine. Or, to see our full Tuscan recommendations, check out all our recommended hotels in Tuscany. Or you might like to refine your search to just the best hotels in rural Tuscany, or the best hotels in Tuscan towns.
10 Best Wine Hotels in Tuscany
posted Friday, 2nd August 2019