The Ultimate Guide to UK Hotels with Hot Tubs
We all love a good weekend away, and in this article we're shining a light on the best hotels with hot tubs in the UK. In recent years we've seen an explosion in the quality and choice of hotel getaways in the UK, from country house hotels to luxury B&Bs. We are also becoming ever more discriminating - and for many of us it's the hot tub or jacuzzi that makes the difference, especially if it's romance we are after... So here's our ultimate guide to the best hotels with hot tubs in the UK.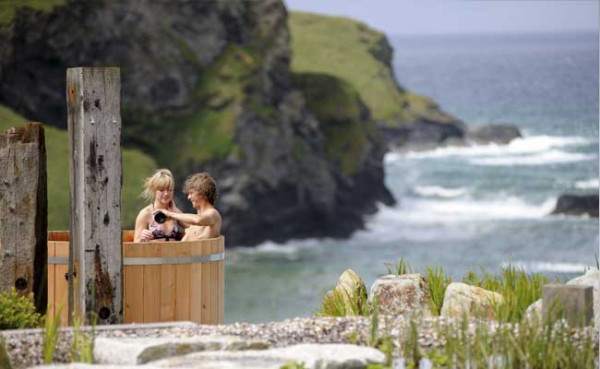 Some of our recommendations for the best hot tubs in the UK - by location
(To check a hotel's availability click the "check prices" button beside the property.)
The Best Hotels with Hot Tubs in the UK - the Ultimate Guide
First off, lets start with those 'all singing all dancing' luxury country house hotels within easy distance of London that have hot tubs.
Here I am thinking of hotels like the wonderful Vineyard at Stockcross, with its magnificent health centre in lovely grounds. The hot tub is inside, so good for all weathers, and can seat up to six comfortably. It's a great place to sip a glass of ice cold champagne before dinner.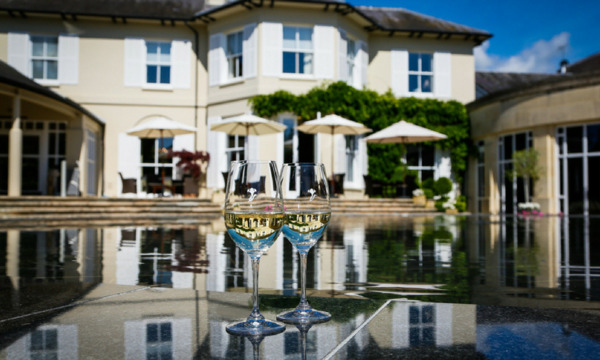 There's also Bailiffscourt, along the coast in Sussex, which boasts a hot tub as well as a steam bath in its magnificent spa.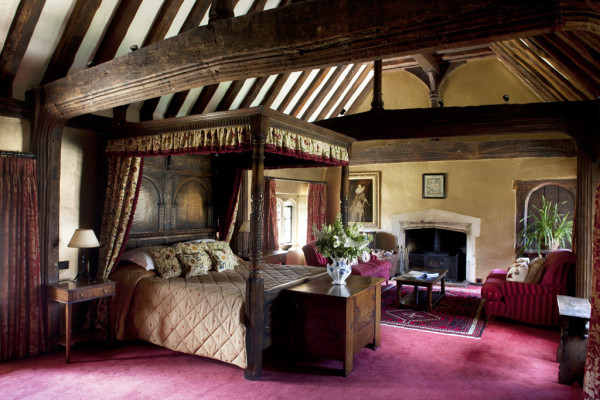 And Rhinefield House Hotel, a magnificent Gothic/Tudor country house hotel in the depths of the New Forest. There are fifty rooms, some of them quite grand, wonderful formal gardens, water gardens and manicured lawns plus a choice of restaurants and a hot tub which accommodates up to four people.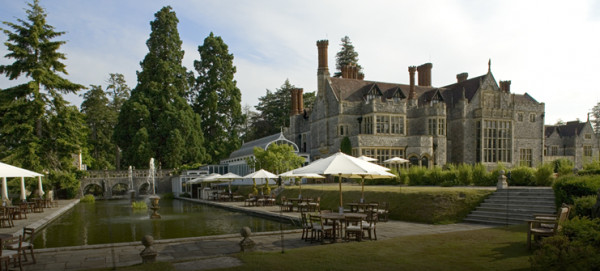 But for the ultimate private hot tub experience for romantics, check in to Lower Slaughter Manor in the Cotswolds. They don't have a health centre as such, but two of the garden suites have outdoor hot tubs in their private gardens, making for a very romantic short break. The hotel has lovely grounds as well as a gourmet restaurant, the Sixteen58.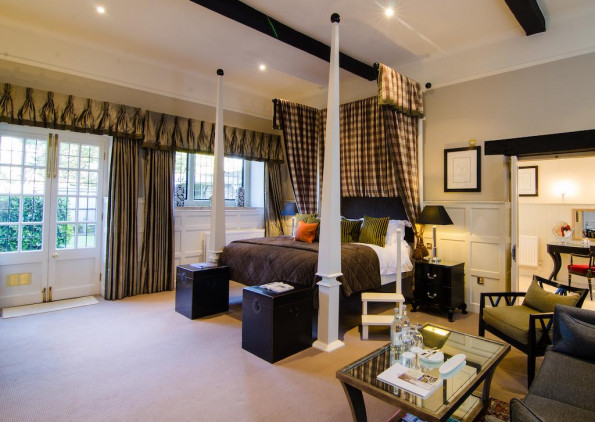 Of course, any list of hotels with hot tubs in the UK would not be complete without properties like Cliveden, which boasts Canadian cedarwood hot tubs as well as a whirlpool jacuzzi. This spectacular country house hotel is just half an hour from London and close to Heathrow airport, so is often used as a first night stopover by newlyweds on their way to a honeymoon in the Seychelles. It's also famous – or infamous – as the place where Christine Keeler seduced John Profumo in the early 1960s. But whether you are getting married or not, seduced or not, Cliveden provides the most spectacular location for a romantic break within easy reach of London, for hot tub aficionados.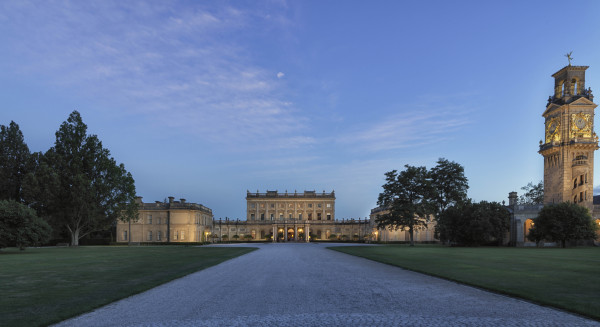 However, it's perhaps not surprising that some of the most memorable hot tub experiences in the UK can be found further afield, along the wilder extremities – Cornwall, the Lake District, Yorkshire, West Wales and Scotland, where you can enjoy the UK's best hot tubs with a view.
Cornish hotels with hot tubs include The Nare, on Carne Beach on the south coast, with it's hot tub looking right out to sea,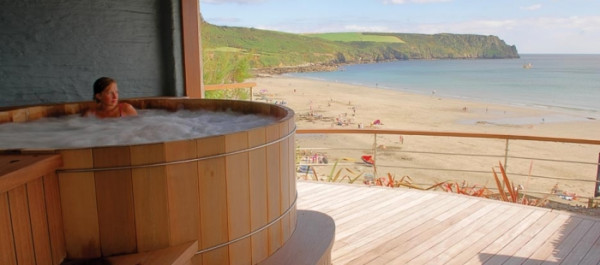 and The Scarlet, a relaxed, adults only (a rarity in Cornwall) eco-friendly designer hotel overlooking Mawgan Porth beach. The hot tubs here are very special indeed – they come heated by real log fires, and are outside, for fabulous sunsets, and star-gazing at night. Of all the many hotels with hot tubs in the UK, this is one of our favourites.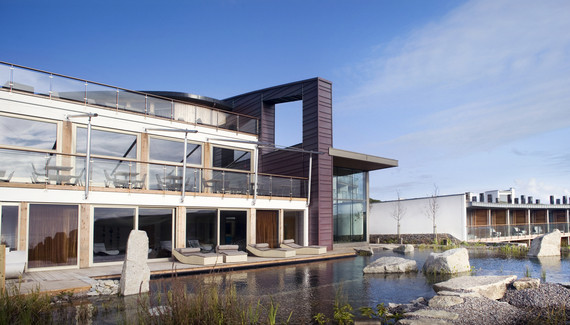 Further north, the Lake District boasts several excellent luxury hotels that offer the hot tub experience. The first, Gilpin Hotel and Lake House, offers a tempting offer of 'us and them', because if you splash out you get the much more private Lake House Suites, which have exclusive use of their own spa, as well as a romantic cedarwood hot tub on the lake edge.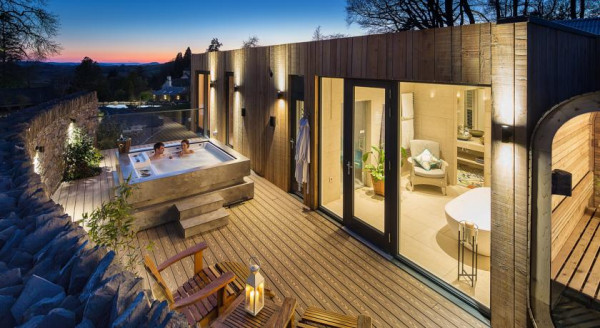 For romantic liaisons where you want absolute privacy amongst the finest landscape nature can offer, Gilpin Lodge is near unbeatable. Second, The Samling above Lake Windemere has long been a favourite of foodies and romantics – it's a small and charming country house hotel set amidst lovely walking country, overlooking the lake. Their outside hot tub is another with panoramic views.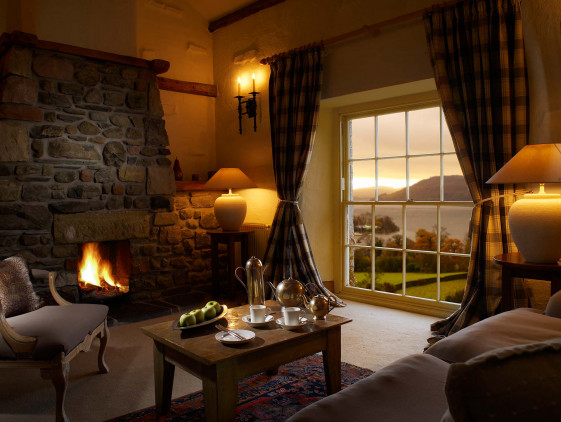 And also overlooking Lake Windermere, the Holbeck Ghyll Hotel was formerly a hunting lodge, but is now a luxurious, 23 room hotel. The decor is classical, allowing the incredible views to be the main focus of every room. The restaurant has a Michelin star and an extensive wine list and the grounds are expansive and beautiful. Both the Miss Potter suite and Ghyll Side cottage have private hot tubs, but there's also an impressive spa.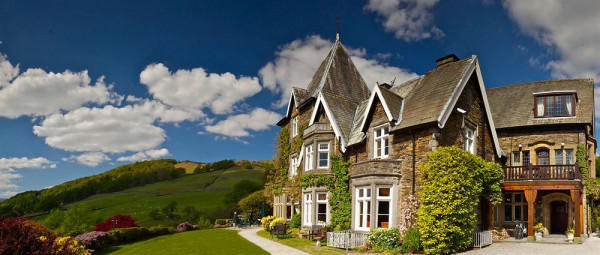 But there's quite a list of hot-tubs-with-a-view in the Lake District.
The Best Hotels with Hot Tubs in Wales
The Lake Country House Hotel is beautifully located on the idyllic banks of – you've guessed it - a lake, with a 15 swimming metre pool and full service spa offering a range of treatments. Here the outside hot tub is sunken into a balcony terrace, with views overlooking the shoreline.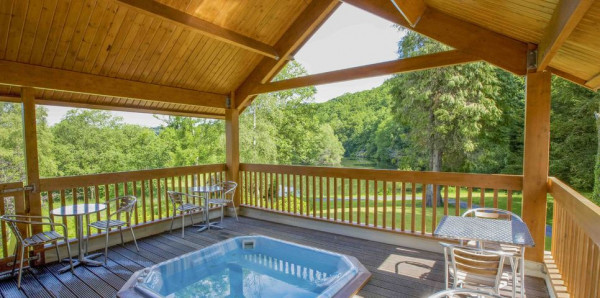 At Chateau Rhianfa, they've a four person hot tub with stunning views over the Menai Straits.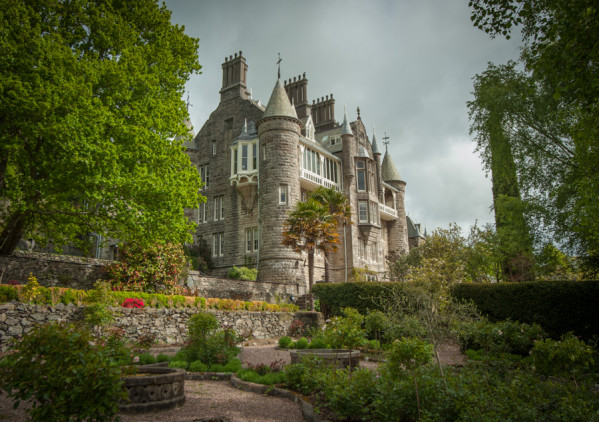 Ffynnon Town House is another option in North Wales. Their hot tub in the garden is the perfect place for a soak after a busy day exploring Snowdonia.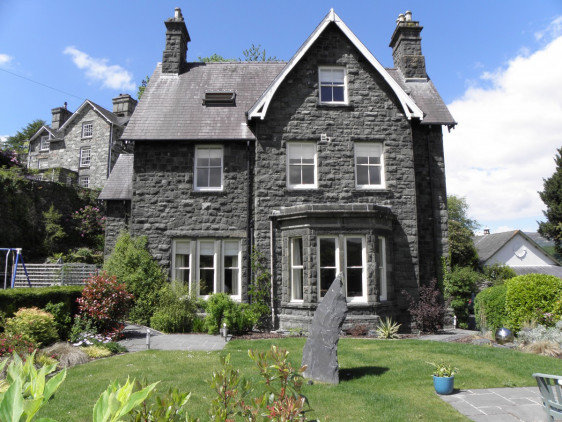 To the north east, in Yorkshire, the one hotel with a decent traditional hot tub is the Feversham Arms, whose award winning Verbena relax centre boasts a 'man spa' (these Yorkshire types...) as well as an outdoor hot tub.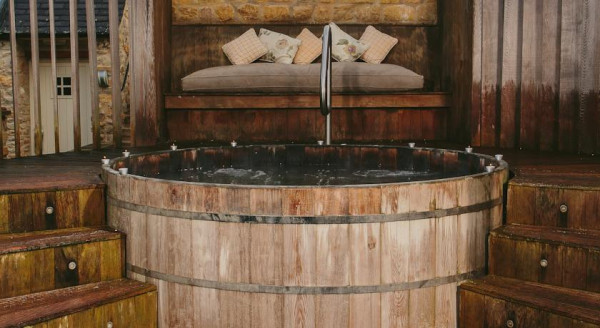 Lastly, hotels with hot tubs in Scotland include the Old Course Hotel at St Andrews, which has a roof top tiled hot tub, from where you get a partial view of the golf with the binoculars kindly provided by the management.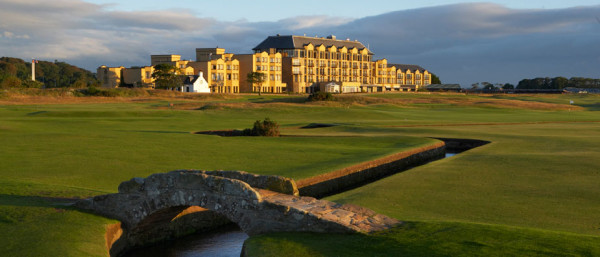 Loch Ness Lodge has a cosy indoor whirlpool hot tub for romantic tete-a-tetes,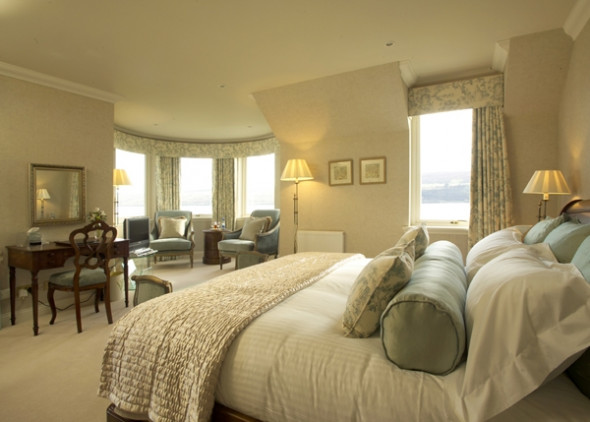 while the lovely Duisdale on the Isle of Skye has a truly magnificent outdoor hot tub on the terrace for some of the best star gazing in the UK: the light pollution here is practically non-existent.
Other UK Hotels with Hot Tubs
Oh, and there's one other hotel we should mention – Ardencote country house hotel in Warwickshire. This boasts an enormous outdoor hot tub made of stone which seats ten, in addition to a smaller jacuzzi hot tub by the indoor pool.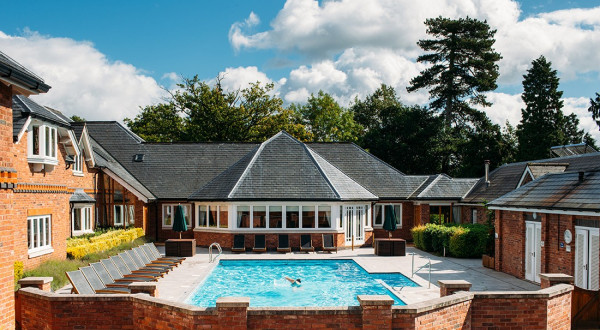 So, to sum up – there are plenty of hotels with hot tubs in the UK if you look carefully, but it's clear that one man's – or woman's – hot tub is another person's jacuzzi. By which I mean it's not hard to find whirlpools and jacuzzis masquerading as hot tubs (and billed as such by the hotels themselves) attached to indoor swimming pools – you know, the sort where that overweight old bloke sits for hours picking his toenails.
No, if you want the real hot tub experience you need to go further afield. The whole point of the true hot tub experience is the view – so they need to be outdoors, and you won't find the best of those anywhere near London. You need to go to the sea or the mountains, or the magnificent lakes of Cumbria, where you'll not only find an inspiring place to sit in bubbles drinking bubbles, but also a place far from the lights of the city, so that you can come out here at night, under the stars, with your loved one. If that doesn't do it for your romantic life, I don't know what will.
Some of Our Favourite UK Hot Tub Hotels
posted Tuesday, 29th January 2019
Search the best hotels in United Kingdom